Scott Rafferty (@crabdribbles): Last week, we graded each player in Toronto's rotation based on their play in the playoffs.
The only person remaining? Raptors head coach Nick Nurse.
I gave Nurse an A+ for how he coached the Raptors during the regular season, but he made a few decisions in Toronto's second-round series with the Boston Celtics that open him up to criticism, enough for his postseason grade to be up for debate.
That's what I think anyway. What say you, Carlan?
Carlan Gay (@TheCarlanGay): I think there were a few decisions he made that are up for debate, but that's the case with every coaching adjustment made from any coach, especially in the playoffs.
Overall, I think Nurse did a good job of getting the most out of his team. We haven't really been critical of Nurse yet - he won a title in his first year as a coach; it's pretty hard to nitpick that - but I think in the Boston series specifically, I can understand where some might have done things differently.
I wonder how much of that is worthy of criticism or how much we are playing the result of what happened. I do agree that his grade should be up for debate, and I don't think it's possible for me to give him an A+.
Rafferty: OK, so let's start with some of the things that jump out from that Celtics series.
First and foremost, Pascal Siakam.
It's well documented at this point that Siakam struggled in the series. Do you think Nurse should be criticized at all for playing Siakam too much or giving him too many shots?
Gay: Man, that's such a tough one.
I'll say this: Normally, there's an obvious better option in those situations, but who would have been able to step in and play the minutes that Pascal plays at a high level? The answer is no one. There was no other option on the Raptors roster that could've given them a higher ceiling in my opinion. So although I may be in the minority here, I think Pascal absolutely should've been on the floor and in the big moments he was in, 10 times out of 10.
Where I can critique Nurse is the way he handled the struggling Siakam.
Look, Nurse knows Pascal more than I can ever know him and I'm sure he did his best to protect his player's psyche, but at some point - even before the Boston series - he would've had to identify that Spicy P was no longer Spicy. He turned into Mild P, and Mild P wasn't going to get the Raptors back to the Finals. I wonder if there was more that could've been done even before the Boston series to help Siakam get back on track.
It was obvious to me watching a million miles away that Siakam wasn't himself, so Nurse would've known or seen that way before I did. I'm not saying he didn't try to get him back on track because he definitely did and expected him to get back to being himself at some point. But whatever he was doing wasn't working. It didn't work in the seeding games, it didn't work in the Nets series and we saw what happened in the Celtics series.
I just wonder at what point you change the approach there. Again, easy for me to say sitting on my couch with no circumstances or repercussions, but I think it's a fair question to ask a coach who is usually unafraid of calling his players out and getting them to respond shortly thereafter.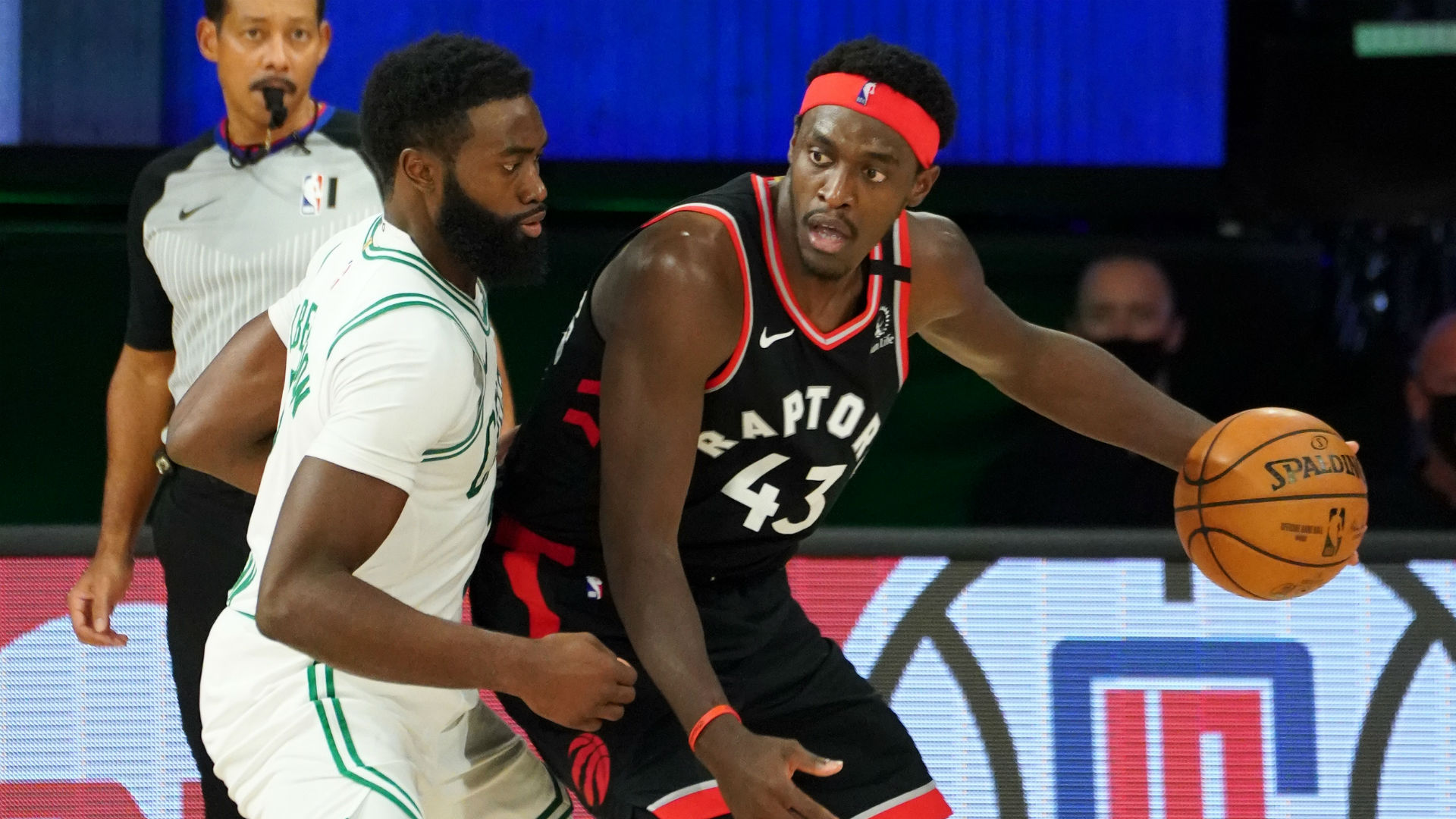 Rafferty: Interesting.
I'm with you in that I have no problem with Siakam being out there, although my reasoning is a little different, which is that it's an important learning opportunity for him. There might not be a player in the NBA who has changed as much as Siakam has over the last couple of seasons, and the way the Celtics defended him and ultimately contained him shows what he needs to do to take the next step. If he's being benched because he's struggling, whether it's Game 7 or earlier in the series, I'm not sure he learns his lesson the same way.
The reason that's important: Siakam is obviously the future of the Raptors. If they're going to compete for another championship at some point in the next few years, they're going to need Siakam to take another leap, maybe not as big as the ones he took over the last two seasons, but the Celtics series shined a light on the parts of his game that he still needs to work on. Painful as I'm sure it was for Raptors fans to see them lose the way they did in Game 7, there's a good chance we look back on this series in a couple of years and point to it being a changing point in Siakam's development.
Either way, we're in agreement with Siakam. What about Nurse's choice of going small with OG Anunoby in place of Marc Gasol or Serge Ibaka at centre at the end of Game 6 and Game 7?
Gay: For me, this was the series.
In my mind, the Raptors had a better chance at winning this series playing smaller for longer stretches of time than they did with Gasol on the floor. Nurse's loyalty to Gasol really hurt Toronto in this series in my opinion. Gasol ended up playing 148 minutes to Ibaka's 158. More of those minutes should've been split between Ibaka and Norman Powell.
All season long, the Raptors were a better defensive unit with Gasol on the floor, and even though his offence wasn't jumping off the page, they were a better offensive unit with him as a facilitator on the floor in the regular season too. That changed in the playoffs. The Celtics dared him to be a scorer. At this point in his career, he's not that anymore.
In fact, he looks as uncomfortable as you can possibly look in those situations.
Against a great defensive team like Boston, you simply cannot afford to play four on five on that end. The Raptors had an offensive rating of 94.7 with Gasol in the game - that number rose to 102.2 with him on the bench. This is why Ibaka, who gave you a more aggressive offensive game, and Powell, who gave you more creativity off the bounce, should've been featured more.
My initial thought was, OK, you lose something defensively without Gasol in the game, which was the case against Boston. With Gasol on the bench, Toronto gave up 2.3 more points per 100 possessions. But that differential was negated by his lack of offensive impact. He ended the series with a net rating of -9.0.
The Celtics did get to the rim more without a solid paint protector - not a rim protector, per se, but a paint protector like Gasol in the game. However, Toronto was able to neutralize Boston on the perimeter. The five-man lineup of Kyle Lowry, Fred VanVleet, Powell, Siakam and Anunoby - the small ball lineup - held the Celtics to just 12.5 percent shooting from 3-point range. They also finished the series with a defensive rating of 85.0. It was a small sample size as that unit only saw 32 minutes total on the floor together in the series, but with their length and range defensively, one would have to believe that those numbers wouldn't have ballooned with more minutes.
Less Gasol would've meant more small ball and Ibaka minutes, and that might have meant a series win versus a series loss.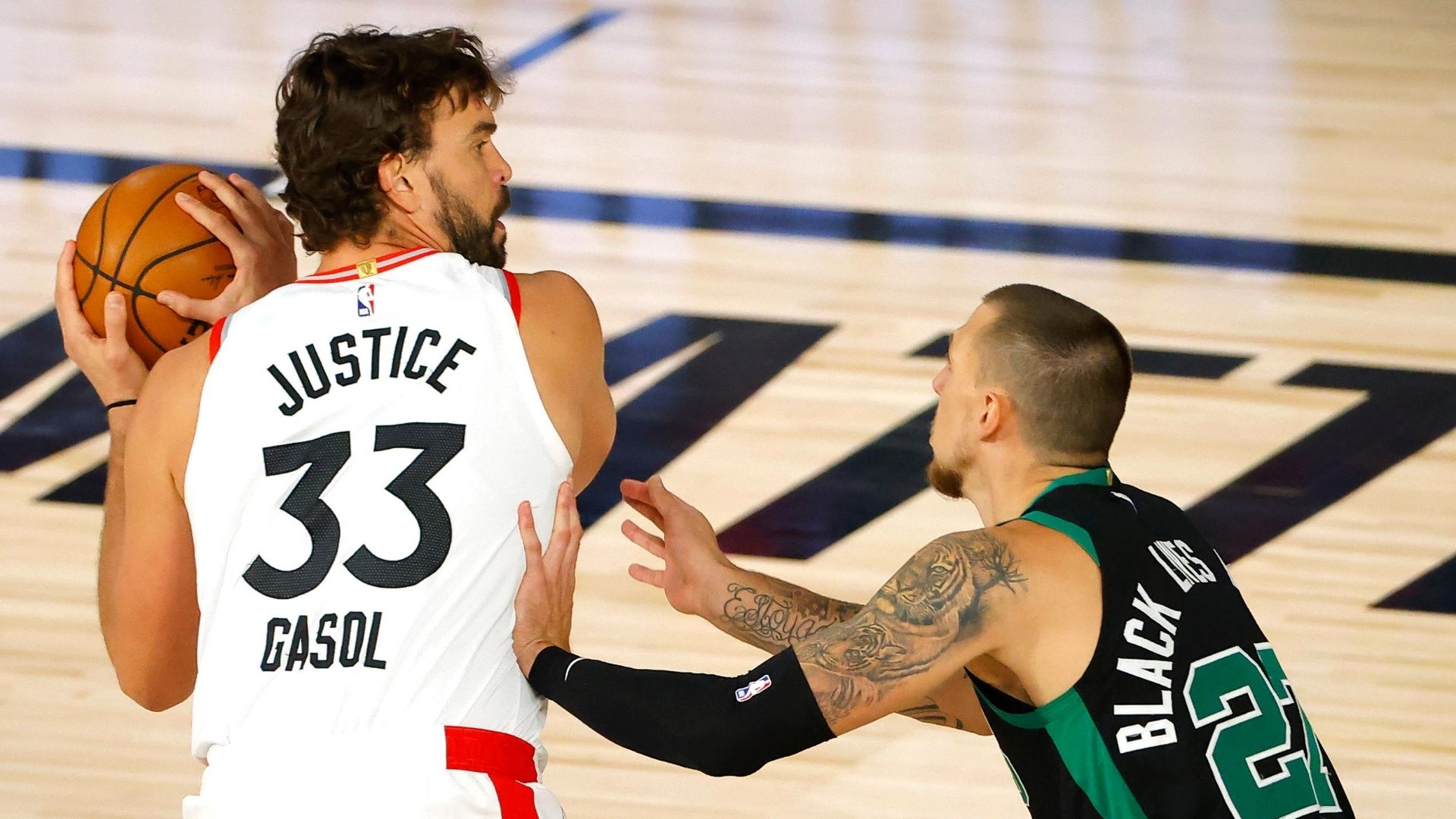 Rafferty: Those Gasol numbers aren't great, although the small ball lineup wasn't exactly lighting it up offensively either. According to NBA.com, they were scoring at a rate of 90.2 points per 100 possessions. That was enough for them to have a positive net rating, but still.
It was a worrying series for even the biggest Gasol believers, one of which you're looking at. I don't think he's done in the NBA, but Gasol didn't give them much in that series against the Celtics. Nurse leaning on him as much as he did despite the amount he was struggling was perhaps the biggest decision he wishes he could have back.
I sort of wish we saw some more of Chris Boucher against the Celtics, although I can understand why Nurse would be hesitant to play considering how high the stakes were.
You stole my third and final point of contention for Nurse which was how much he decided to roll with Gasol. Is there anything else that jumped out to you in the series?
I will say, we've focused primarily on what Nurse did wrong, but he also did a lot right. Taking Kemba Walker out with a box-and-one was a smart decision and although Anunoby was the fifth option, the play Nurse drew up at the end of Game 3 to keep the series alive was quite wonderful.
Gay: Yeah, he does deserve some credit in getting the Raptors to the point they were going toe-to-toe with a team that could potentially win it all in a Game 7.
As you said, he did a good job of neutralizing Walker, which Miami is actually emulating now to a certain extent. He trusted Anunoby to guard a guy like Jayson Tatum with limited help at times, to which he did a very good job of doing. He stuck with Siakam, Lowry and VanVleet, playing them heavy minutes which he should get credit for because not every coach has the guts to do it. (Yes, that is a shot at Bud).
Even with the mistakes we think he made, the team was literally minutes away from moving on to the Conference Finals - that's impressive when you think about how much his best player struggled, how little he used his bench, which was deemed an advantage at the start of the series, and that they could've been down 3-0 if it wasn't for a miracle shot.
The Raptors get a lot of credit for their heart and being able to battle back, but heart alone doesn't get you back into a series. Heart may get you back into single games, but heart AND adjustment get you back into a series, and ultimately Nurse made adjustments to keep the team competitive for a full seven games.
Rafferty: Oh, and trusting the zone defence. That was one of the keys to the Raptors getting back in the series.
So ... with all that in mind, what grade are you giving Nurse for the playoffs?
Gay: I give him a B-. Maybe it's harsh, but he's a championship coach. That's the high standards in which we have to hold him to now. He's reportedly being paid like the best coach in the league, and if that's the case the mistakes we talked about can't happen. The same way we hold players to a high standard, we hold highly compensated coaches too. It's only right.
Rafferty: I was going to say B+.
Talking it through with you, some of the decisions Nurse made weren't as bad as I thought they were at the time. Like you said at the start, it's hard to figure out how much is worthy of criticism and how much we are playing the result of what happened. Other than leaning on Gasol a little too much, a lot of what Nurse did is defensible in my opinion.
Split the difference and call it a B? That seems fair to me.
Gay: Yeah, that's fair. We talk a lot about how the players on this team have been able to learn and develop quickly, and that's helped the franchise see better days lately. We don't talk enough about Nurse and how much he has learned and developed in just two short years as a head coach and how that will impact the team.
The Raptors are in a good spot with him on the sideline regardless of whatever grade you and I give him.
The views on this page do not necessarily reflect the views of the NBA or its clubs.