Now that the season has come to an end for the Toronto Raptors, we're taking the next week to grade how each key player on this season's team performed in the playoffs, from Kyle Lowry and Pascal Siakam to Norman Powell and Serge Ibaka.
After taking a look at Lowry, we shift the focus to Pascal Siakam.
Coming into the 2020 NBA Playoffs, the expectations surrounding Pascal Siakam were high, to say the least.
The lofty expectations came from a good place, though. Siakam, who was named the league's Most Improved Player at the end of the 2018-19 season, made another leap in a season that saw him sign a max contract extension and earn his first All-Star selection - as a starter, no less.
To whom much is given, much is expected, and as Siakam struggled during the opening games of the NBA restart, questions began to loom surrounding his preparedness to be the No. 1 option for a playoff team.
Leading into Toronto's first round series with the Brooklyn Nets, both Fred VanVleet and head coach Nick Nurse expressed confidence in Siakam as the team's No. 1, with VanVleet saying "I'm not worried about Pascal at all."
This would be a sentiment VanVleet echoed after Siakam scored 18 points on 4-for-13 (30.8%) shooting in Game 1 against Brooklyn. While the shooting percentage wasn't great, his misses were largely a product of failing to finish through contact and his being off balance in spots.
It just appeared to be an off night.
In Games 2 through 4 of Toronto's first-round series with Brooklyn, Siakam would average 21.7 points, 6.7 rebounds and 6.0 assists on .441/.294/.533 shooting splits.
He posted a 20-point, 10-assist double-double in the team's closeout victory over the Nets, a testament to his improvement as a passer and playmaker.
While the scoring numbers improved over the course of the opening round, Siakam didn't truly look like his normal self on offence, which remained a cause for concern ahead of the Raptors meeting with a staunch opponent in the Boston Celtics.
Again, confidence appeared to be a factor in the second round, with Siakam shooting a combined 11-for-32 (34.4%) in Games 1 and 2 as Toronto found itself down 0-2 in the series.
As the Raptors clawed back to tie things up, Siakam had his moments, including a 23-point performance in Game 4. While he shot just 2-for-13 from beyond the arc in Game 4, it appeared as though he had made a breakthrough when he let out a roar after hitting a big 3-pointer late.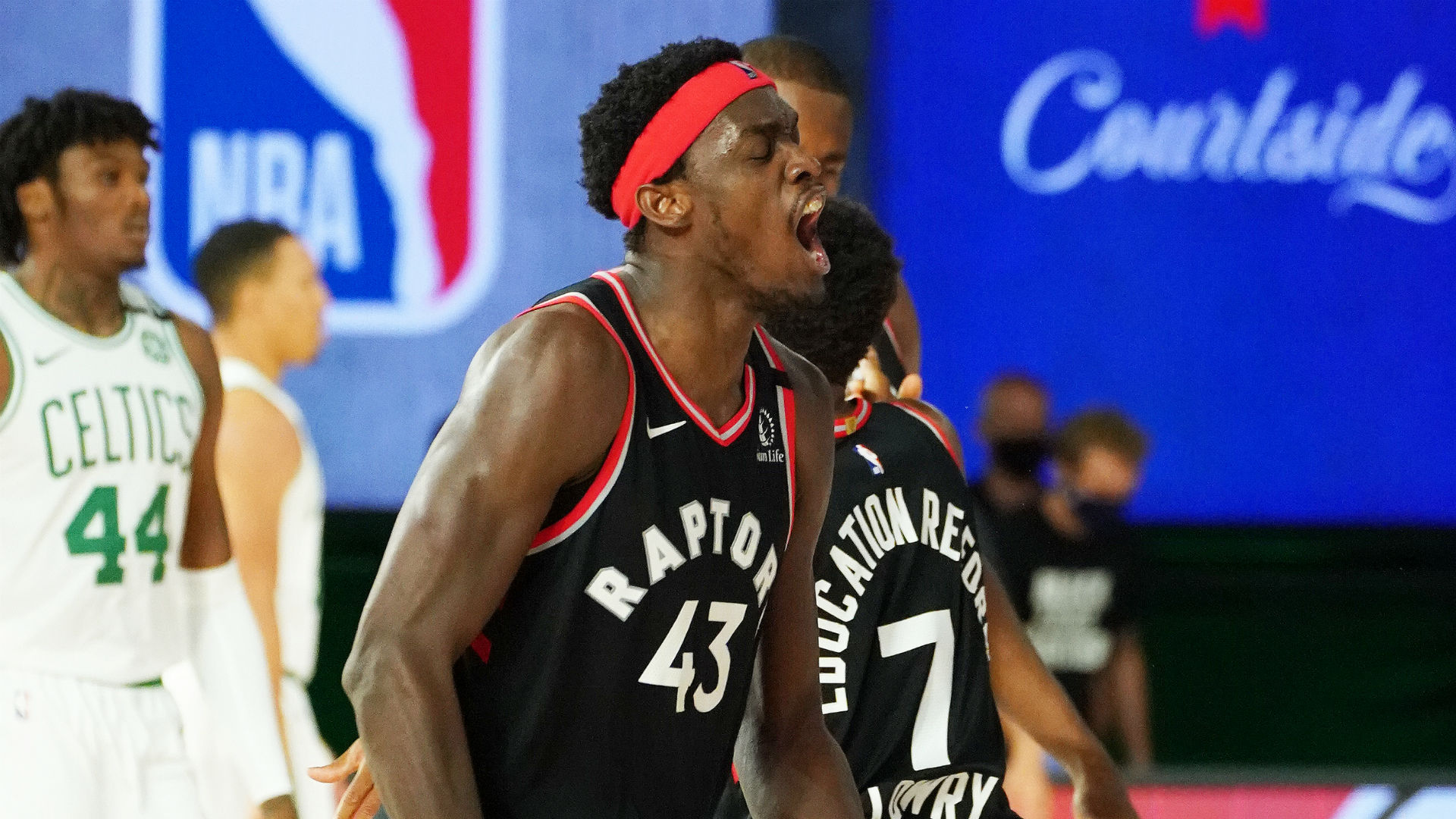 Throughout the entire restart, it felt Iike Siakam was on the brink of making the breakthrough that just didn't come in time.
In Games 5 through 7 of the Celtics series, he averaged just 11.7 points on 37.5% shooting while missing each of his eight 3-point attempts. As he struggled to connect on looks that typically go for him, it appeared as though his confidence had taken another hit.
A missed layup from the first overtime in Game 6 is a clear example of this that sticks out.
These are the types of shots that allow players to get going, and he struggled to connect on these at times, too.
After Toronto's Game 7 loss, Siakam shouldered the blame for the way things went in the series and vowed to improve:
"I have to be better. Definitely a low moment for me, just a learning experience. Just knowing that you gotta be ready and I wasn't able to really help my teammates and stuff so, yeah, I take a lot of the blame."
While he clearly wasn't at his best, the blame doesn't fall solely on Siakam, who, ultimately had to get acclimated to a new role on the fly in a season of unique circumstances.
And that's just through a lens that focuses on his scoring ability.
As our Carlan Gay outlined during the conference semifinals, Siakam still found ways to contribute outside of putting the ball in the bucket, most notably as a defender, rebounder and passer. While the narrative surrounding his postseason performance will understandably be centred on his scoring, you can't lose sight of the other ways in which he contributed to team success.
That we all expected a breakthrough offensively shows that there is a greater understanding that he is, indeed, capable of becoming that guy in due time. It just wasn't this year.
We didn't see the best version of Pascal Siakam in the 2020 postseason but this won't be the last we see of Pascal Siakam.
While there is plenty of room for improvement, the 2020 NBA Playoffs were far from a failure for the 26-year-old. If Siakam's history in this league is any indicator, he'll use this as fuel to bounce back to meet these high expectations next postseason.
Playoff Grade: C
The views on this page do not necessarily reflect the views of the NBA or its clubs.