The New York Knicks' most successful season in nearly a decade has come to an end, as they have been eliminated by the Atlanta Hawks in the opening round of the 2021 NBA Playoffs.
Despite an early exit, things are trending in the right direction in New York, as the team has developed an identity and continues to build for the future.
As the focus shifts to the 2021 offseason, we take a look at where the Knicks franchise stands.
The 2021 NBA Draft
Picks: Nos. 19, 21, 32, 58
Prospects to target: Tre Mann (Florida), James Bouknight (UConn), Moses Moody (Arkansas), Cameron Thomas (LSU), Jared Butler (Baylor)
The Knicks won their draft order tiebreaker with the Atlanta Hawks, rewarding them with the No. 19 overall pick in the 2021 NBA Draft.
On my 2021 NBA Draft Big Board, I had Florida guard Tre Mann as the No. 19-ranked prospect in this class, which actually makes some sense for the Knicks. As a lightning quick scoring guard with a vast arsenal of moves to create his own shot, Mann could certainly help New York's lacklustre offence. The issue would be that Mann is actually eerily similar to last year's first-round pick Immanuel Quickley, so that might be a bit redundant, even if it fills a need.
NBA.com's other draft expert, Eric Fawcett, had Spaniard forward Usman Garuba as the No. 19-ranked prospect on his 2021 NBA Draft Big Board. Garuba is a physical, athletic and energetic power forward, but again, in line with the draft selections made in 2020, he might be repetitive of top-10 pick Obi Toppin, who already had trouble getting on the floor this year because of a congested frontcourt depth chart.
Although the Knicks were impressive and defied all projections this season, I still believe they're at the stage where they should select the best talent available, as opposed to trying to fit a need.
But their need would be instant offence, and this draft class has a number of guards and wings that can provide that.
Two names that come to mind in particular around New York's No. 19 selection - Arkansas guard Moses Moody and LSU guard Cameron Thomas, two of the best scorers in this draft class.
Moody is a sharpshooter from 3-point range and can get to that shot coming off of screens or creating his own offence with the ball in his hand. His 16.8 points per game were second-most in the SEC, only to... Thomas' 23.0 points per game.
Thomas can get you a bucket any way you desire: off the dribble from all three levels, getting downhill to attack the rim or catch-and-shoot off of screens. Both microwave scorers would benefit the Knicks in adding an offensive threat off the bench.
- Kyle Irving (@KyleIrv_)
Upcoming free agents
It's going to be an interesting offseason for the Knicks.
First and foremost, Julius Randle only has a partial guarantee of $4.0 million for the 2021-22 season. As much as he struggled in the playoffs, the Knicks guaranteeing all $21.8 million of his salary for next season feels like a safe bet after the season he had.
Secondly, the Knicks have a number of players in their rotation hitting free agency at the season's end.
The most notable is Derrick Rose, whom the Knicks acquired leading up to this season's trade deadline. In 35 games with the Knicks, Rose averaged 14.9 points and 4.2 assists on .487/.411/.883 shooting splits. He earned enough votes to finish in third place in Sixth Man of the Year voting behind Jordan Clarkson and Joe Ingles of the Utah Jazz.
In addition to Rose, Elfrid Payton, Alec Burks, Nerlens Noel, Reggie Bullock and Taj Gibson will each be unrestricted free agents. Frank Ntilikina, Theo Pinson and Jared Harper will be restricted free agents while Mitchell Robinson has a team option in his contract worth $1.8 million.
Knicks set to be free agents (2021)

| | | |
| --- | --- | --- |
| Unrestricted Free Agent(s) | Restricted Free Agent(s) | Team Option(s) |
| Derrick Rose | Frank Ntilikina | Mitchell Robinson |
| Elfrid Payton | Theo Pinson | |
| Alec Burks | Jared Harper | |
| Nerlens Noel | | |
| Reggie Bullock | | |
| Taj Gibson | | |
That could leave the Knicks with quite a few roster spots to fill around Randle and RJ Barrett, but they will have money to spend.
According to RealGM's Keith Smith, the maximum amount of cap space the Knicks could have in the offseason is $72.8 million, the most in the league.
- Scott Rafferty (@crabdribbles)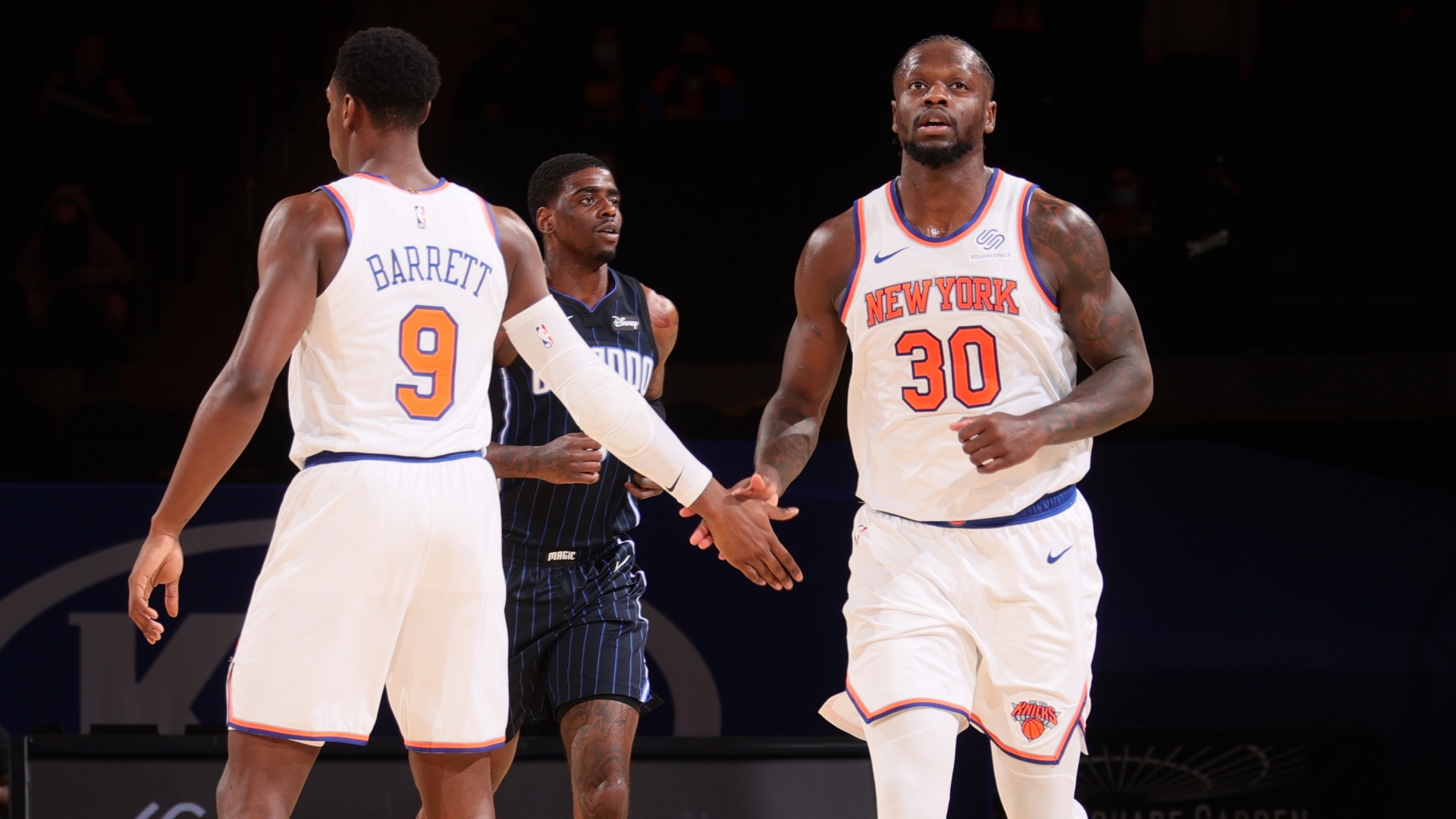 Burning questions
Is Julius Randle fit to be the guy?
Randle is coming off of an incredible season in which he earned an All-Star selection and was named the league's Most Improved Player with averages of 24.1 points, 10.2 rebounds and 6.0 assists over 71 games, numbers that will more than likely result in an All-NBA selection to boot.
But the playoffs weren't exactly ideal for the 26-year-old.
Randle experienced large-scale struggles throughout New York's first-round series loss to Atlanta, bringing about legitimate concerns surrounding whether or not he's fit to be a No. 1 option for this team moving forward.
It seems clear that Randle is a great culture fit and is the heartbeat of this team, but in order to get to the next level as a contender in the East, might the Knicks look to spend a big chunk of change to bring in more talent?
What will New York do with its cap space?
Year after year, it seems the Knicks franchise has had plenty of cap room to make a splash, but they have continued to come up short.
WIth Leon Rose heading a new regime, perhaps this summer marks a change in pace.
The 2021 free agent class isn't exactly as star-studded as others, or as it would have been had some players not signed extensions to remain with their respective teams, but with New York again looking like a desirable destination for free agents, the team could get active in the offseason.
Don't rule out the potential of the team making a big trade, absorbing salary to bring in even more talent.
- Gilbert McGregor (@GMcGregor21)
One key stat
In the first six seasons of his career, Randle combined to shoot 168-for-570 (29.5 percent) from the 3-point line, putting him on the same page as the likes of Stanley Johnson, Corey Brewer and Josh Smith. This season, he went 160-for-389 (41.1 percent) from the perimeter, making him one of the league's better high volume 3-point shooters.
Has Randle turned the corner as a 3-point shooter or did he catch lightning in a bottle this season?
- Rafferty
The views on this page do not necessarily reflect the views of the NBA or its clubs.