The Toronto Raptors have reportedly added another body to their roster in 7-foot centre Alex Len.
At 27 years old, Len has played seven seasons in the NBA after being selected fifth overall in the 2013 NBA Draft. He spent the first five seasons of his career with the Phoenix Suns before signing with the Atlanta Hawks in free agency back in 2018. This past season, he was traded from Atlanta to the Sacramento Kings and now finds a new home in Toronto.
So who is Alex Len? We have you covered with some fast facts on the Raptors' latest signing.
Beginnings
Len was born on June 16, 1993 (27 years old) in Antratsit, Ukraine.
He played for the Ukraine National Team at the 2009 U16 FIBA Europe Championships and 2010 U18 FIBA Europe Championships, where he began to make his name known. Following the 2010 U18 FIBA tournament, Len was picked up by BC Dnipro of the Ukrainian Basketball SuperLeague for the 2010-11 season before being recruited by the University of Maryland as an unranked prospect.
Len committed to Maryland in the summer of 2011, suiting up for the Terrapins for the 2011-12 season.
College
Len was forced to serve a 10-game suspension to start his college career because of his involvement playing professionally in Ukraine before coming over to the States to play in the NCAA.
He had a rather underwhelming freshman season once he was able to suit up, averaging 6.0 points, 5.4 rebounds and 2.1 blocks per game. Len started his sophomore campaign with the best game of his college career, going off for 23 points and 12 rebounds as unranked Maryland nearly upset No. 1 ranked Kentucky and top recruit Nerlens Noel, who Len held to just four points in the contest.
Len was much better as a sophomore, bringing more physicality than he did as a freshman while averaging 11.9 points, 7.8 rebounds and 2.1 blocks per game. He caught the eye of NBA scouts, showing promise as a coordinated big man with a soft touch on the offensive end.
The Terps missed the NCAA Tournament in each of Len's collegiate seasons but with his draft stock on the rise, he left after his sophomore year.
NBA career
Len's potential was enough for him to be selected fifth overall in the 2013 NBA Draft by the Phoenix Suns.
He had trouble staying healthy during his rookie season, only appearing in four of the first 32 games of his NBA career. He'd only play in 42 games his first season, averaging 2.0 points and 2.4 rebounds in just 8.6 minutes per game.
Nagging injuries were a theme of his early career in Phoenix but his best season was in 2015-16 where he'd average 9.0 points, 7.6 rebounds and 1.2 assists over 78 games, starting in 46 of those contests. During the 2015-16 season, he had one of the best games of his NBA career, going for 31 points and 15 rebounds in a win over the Orlando Magic.
As a free agent in 2018, Len elected to sign with the Atlanta Hawks, giving the centre a change of scenery for the first time in his career. In his first season in Atlanta, he averaged a career-best 11.1 points to go with 5.5 rebounds per game. He began to showcase his shooting touch a bit with the Hawks, converting 36.3% of his 3-point attempts for the season.
He began the 2019-20 season in Atlanta but the Hawks traded Len and Jabari Parker to the Sacramento Kings for Dwayne Dedmon and two second-round picks. In 15 games with the Kings, Len averaged 5.9 points and 6.1 rebounds per game.
Player profile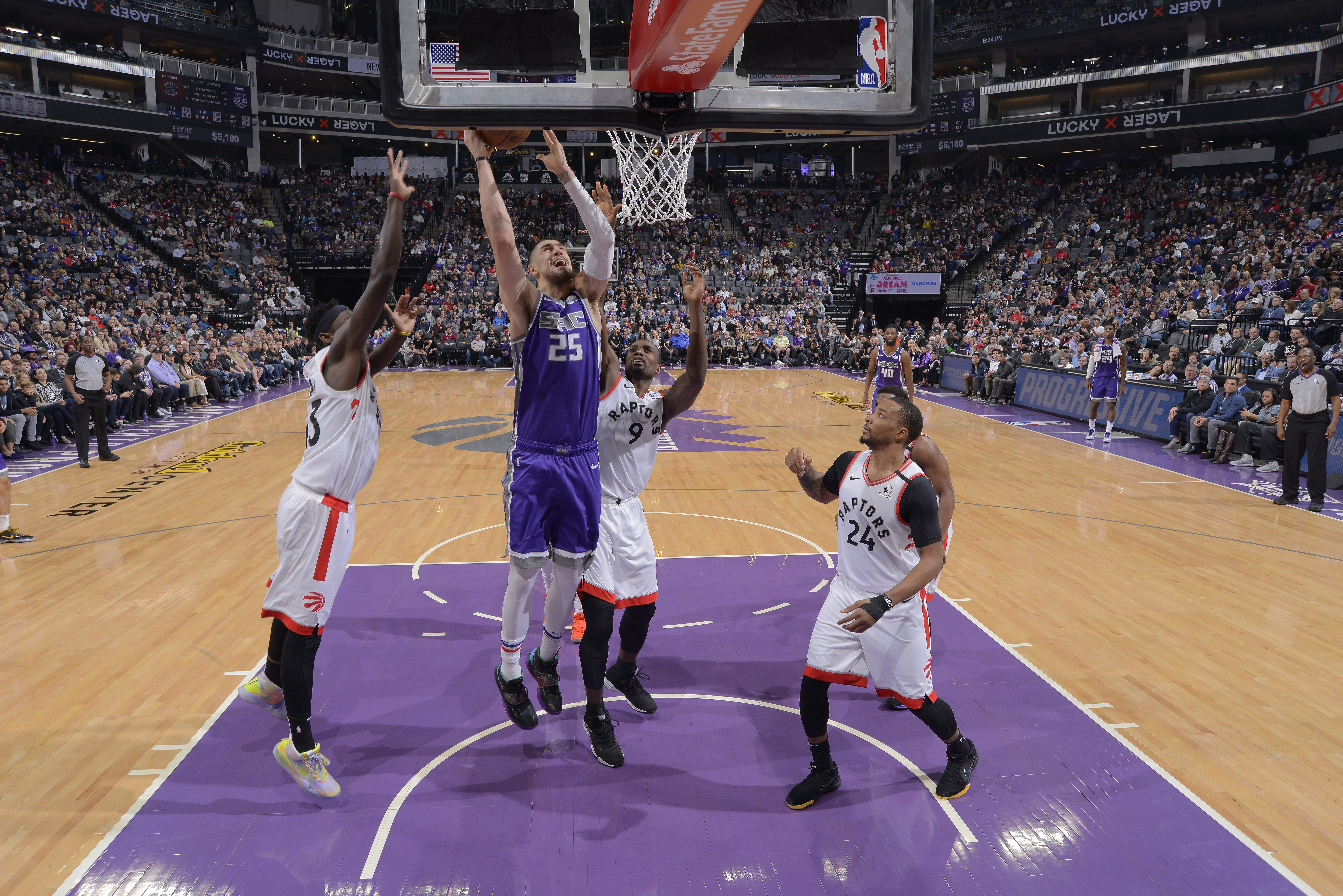 At 7-feet tall with a 7-foot-4 wingspan, Len immediately adds some size and length to the Raptors frontcourt.
He's not an above-average rebounder or shot-blocker by any means, but his physical tools allow him to still come up with boards and bring a presence as a rim protector.
While he may not be mobile enough to consistently switch pick-and-rolls on the perimeter, he does have good footwork for a player of his size. As aforementioned, he's coordinated with a soft touch on jump shots and post moves around the paint.
For a team looking to replenish its depth at the five after losing Serge Ibaka and Marc Gasol to free agency, Toronto is making the right move in taking a flier on the former No. 5 overall pick as a solid second or third option on the depth chart at that position.
The views on this page do not necessarily represent the views of the NBA or its clubs.