On Monday, the Raptors returned to Toronto to gather for media day ahead of the 2021-22 season.
Raptors general manager Bobby Webster opened the festivities and was followed by head coach Nick Nurse. Fred VanVleet and Pascal Siakam also spoke to the media for the first time since the 2020-21 season came to a close.
From updates on Siakam to the team's expectations this season, here's what we learned.
Pascal Siakam is progressing well
On June 11, the Raptors announced that Siakam underwent surgery to repair a torn labrum in his left shoulder.
Though he hasn't yet been cleared for contact, Webster said that Siakam, who has been participating in 1-on-0 workouts, "looks good" and is "in a really positive head space."
Nurse said more of the same.
Nurse also says Siakam looks great, is moving at full speed and is in great shape. Says that if you didn't know he was recovering from shoulder surgery you wouldn't see it in his workouts. Hopes he won't miss much time to open the season.

- Josh Lewenberg (@JLew1050) September 27, 2021
Siakam said that he initially hoped he wouldn't have to undergo surgery - it was his first surgery - but said it was the best choice for the rest of his career.
According to SN's Michael Grange, the "ball park target" for Siakam's return is US Thanksgiving. That means he's likely to miss the opening month of the season.
After earning the first All-Star and All-NBA selections of his career in 2019-20, Siakam averaged 21.4 points, 7.2 rebounds, 4.5 assists, 1.1 steals and 0.7 blocks per game in the 2020-21 season.
Versatility is the name of the game
To no surprise, it seems as though Nurse is excited to see what this team can do defensively.
According to Basketball Reference, the Raptors have 12 players on their roster who are between 6-foot-7 and 6-foot-9, a group that includes Siakam, OG Anunoby, Chris Boucher, Khem Birch, Precious Achiuwa and rookie Scottie Barnes.
Not only could we see more switching from the Raptors this season, but Nurse says they could play more zone.
Nurse expects their length to allow for a lot more zone defense. Was a focus in Summer League and the staff has really dug deep on options there.

Raps have been one of the higher-zone teams under Nurse already.

- Blake Murphy (@BlakeMurphyODC) September 27, 2021
In Nurse's first season as head coach, the Raptors finished with the league's fifth-best defensive rating (106.8). They were even better in 2019-20, finishing behind only the Milwaukee Bucks for best defensive rating (104.7) in the league, but fell to 15th (112.0) this past season.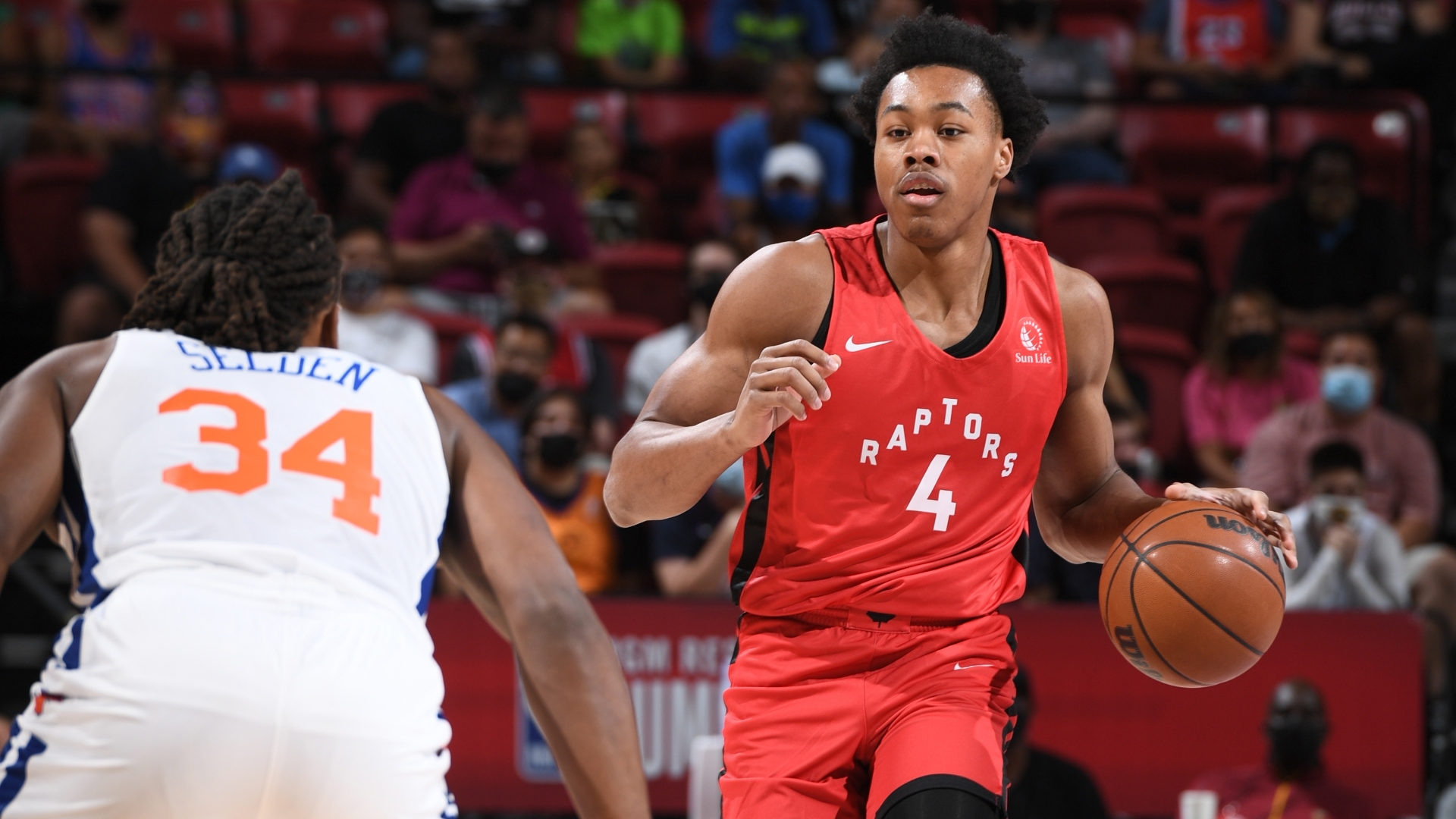 Scottie Barnes to have 'huge' role
Nurse made it quite clear.
"His role's gonna be huge," Nurse said of Barnes. "I'm sitting here from day one ready to give him as many reps as he can handle."
Following their first losing season since 2012-13, the Raptors selected Barnes with the No. 4 pick in the 2021 NBA Draft. Raptors fans got to see him in action in Summer League, where he averaged 12.8 points, 6.8 rebounds and 3.3 assists on .412/.273/.739 shooting splits in 27.3 minutes per game.
"We ended up losing ONE game the entire Summer League. ONE," Barnes wrote in a post on The Players' Tribune this month. "And the whole time I'm thinking it's going to be a playoff bracket, because all we really wanted to do was leave Vegas Summer League as champs. Then ... I found out it was only the top two teams that played in the championship.
"I was pissed. Lol. I'm still a little mad about it. But, that just shows the love I have for this game and this city because all I want to do is play hard for this team. And I'm looking forward to showing y'all that more and more."
To boot, both Siakam and Goran Dragic had nothing but positive things to say about Barnes' personality.
"He's just an excited kid. He's exciting to be around. … He might beat me a little bit in terms of energy." Siakam on Barnes versus a young him.

- (((Meaningful September Baseball))) (@ekoreen) September 27, 2021
Dragic says Barnes has impressed him since arriving in Toronto. "First in the gym, last to go out. He's got that personality, it's unique. I really like him. ... He's got a bright future."

- Joshua Howe (@Howevolution) September 27, 2021
Goran Dragic is already making presence felt
Speaking of Dragic, Webster said the veteran has been "a professional" since joining the Raptors and has been working out with the team for the past two weeks.
Dragic said he's looking forward to being a mentor to some of the younger players on the roster, playing the same role that Steve Nash did early in his career. He also apologized again for his "higher ambitions" comment following the trade.
'He's been a mentor, he's showing he can still play … and we're going to need some of that this year' … Webster on Dragic

- Michael Grange (@michaelgrange) September 27, 2021
It's no secret that the Raptors entertained trading Dragic after they acquired him from the Miami Heat, but Webster previously said that they've been up front with him and his representatives since the start and that they ultimately want him in Toronto.
This is the final season on Dragic's current contract.
In 2019-20, Dragic played a leading role in Miami's surprising run to the NBA Finals. In 50 games (11 starts) last season, he averaged 13.4 points and 4.4 assists.
Dragic said he will wear No. 1, not his usual No. 7, with the Raptors out of respect for Kyle Lowry.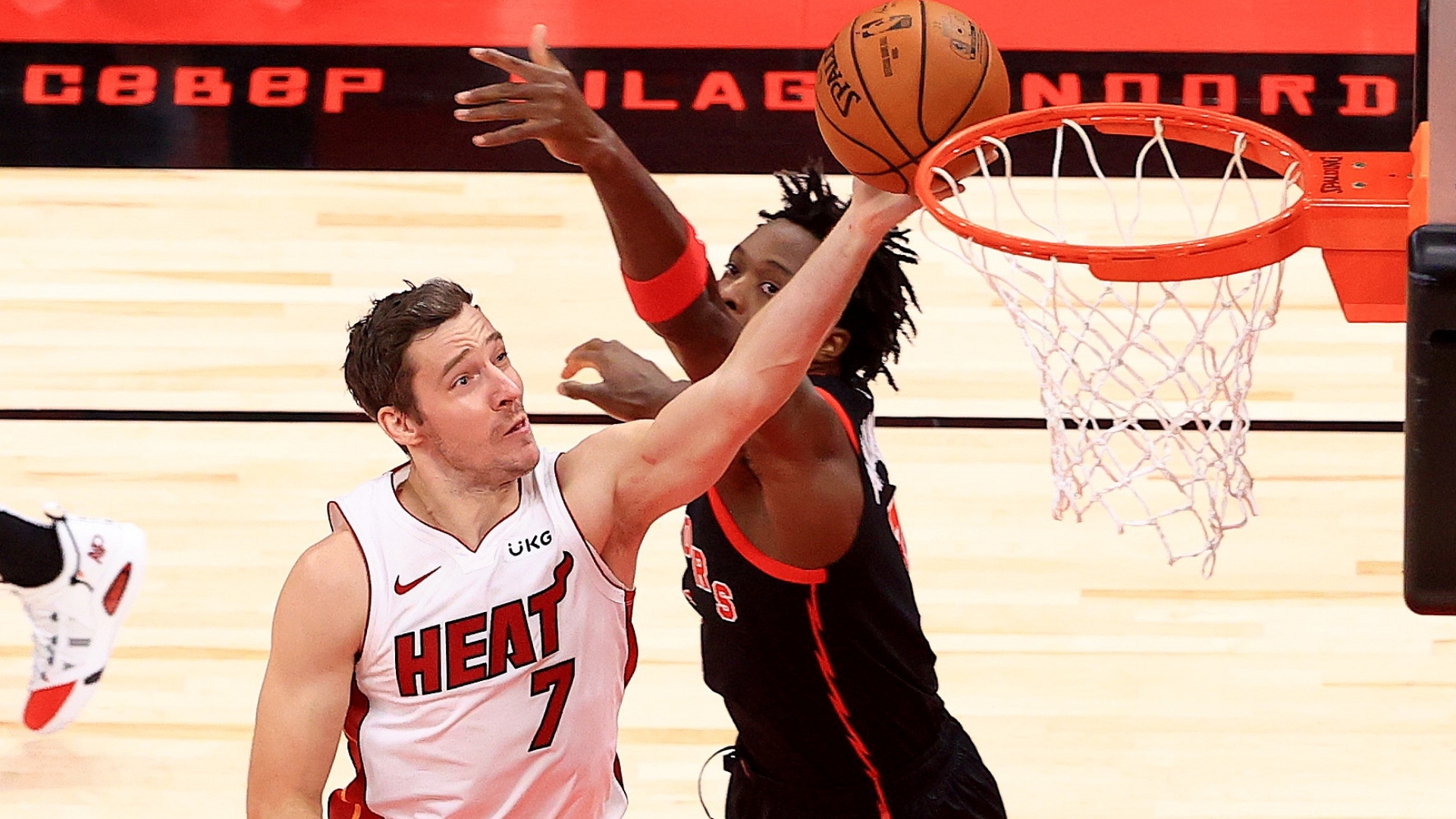 Setting the bar
Siakam said the Raptors want to be a team people don't want to play against. Webster, Nurse and VanVleet, meanwhile, made it clear that they expect this team to win.
Nurse said he looked at some NBA power rankings this AM, saw they were 19th in the league, 11th in the East. "I've never really approached the season with thoughts other than trying to win and win big... There's gotta be a way and we'll figure it out... I expect the team to win."

- Josh Lewenberg (@JLew1050) September 27, 2021
In regards to returning to Toronto after spending the 2020-21 season in Tampa due to COVID-19 restrictions, VanVleet seems excited to play at Scotiabank Arena again.
"I don't know. I just know it's gonna be a movie." - VanVleet on playing in front of Toronto

- (((Meaningful September Baseball))) (@ekoreen) September 27, 2021
The Raptors open the 2021-22 season on Oct. 20 at home with a matchup against the Washington Wizards.
The views on this page do not necessarily represent the views of the NBA or its clubs.