The trade is complete.
On Aug. 6, the Miami Heat announced that they have acquired Kyle Lowry from the Toronto Raptors in return for Goran Dragic and Precious Achiuwa.
OFFICIAL: The Miami HEAT have acquired six-time All-Star guard Kyle Lowry from the Toronto Raptors in exchange for Goran Dragić and Precious Achiuwa. @MiamiHEAT // @ftx_us https://t.co/kmSCASzC5v

- Miami HEAT (@MiamiHEAT) August 6, 2021
A 13-year veteran with one All-Star selection to his name, Dragic is the more established player coming to Toronto and is someone who can help the Raptors in the short-term, but Achiuwa is likely someone the franchise envisions being a part of their long-term plans.
Miami selected Achiuwa with the No. 20 pick in the 2020 NBA Draft, earning a B+ from NBA.com's draft expect Kyle Irving at the time. He appeared in 61 games with the Heat last season, four of which he started in, averaging 5.0 points on 54.4 percent shooting from the field to go along with 3.4 rebounds and 0.5 blocks in 12.1 minutes. While he was one of the older players in his rookie class - Achiuwa will turn 22 years old before the start of the 2021-22 season - he still has a lot of untapped potential.
With that in mind, let's take a closer look at what the Raptors are getting in Achiuwa.
Shot chart
Achiuwa scored 113 of his 124 field goals in the restricted area last season. He was 10-for-34 (29.4 percent) from the non-restricted area part of the paint, 1-for-11 (9.1 percent) from midrange and 0-for-1 from 3-point range.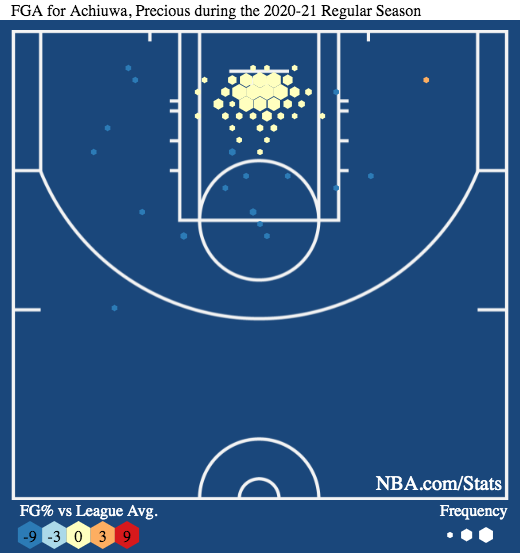 A big-time athlete
Achiuwa was billed as one of the most athletic players in the 2020 NBA Draft.
He's a little undersized for his position at 6-foot-8, but he sports a 7-foot wingspan and is quick off the floor, the combination of which makes him a big-time lob threat.
As he displayed time...
...and time...
...and time...
...and time...
...again in his rookie season, Achiuwa puts that length and athleticism to best use when he's operating out of the pick-and-roll and roaming around the court as a cutter. Prior to signing Khem Birch at the trade deadline, the Raptors didn't have a big capable of rim-running and playing above the rim like Achiuwa can.
Achiuwa is also a presence on the offensive glass. He pulled down a total of 73 offensive rebounds in 2020-21, tying him with Houston Rockets forward KJ Martin for the fourth-most in his rookie class.
Those offensive rebounds were a big source of offence for him, as he scored nearly a fifth (16.1 percent) of his points on putbacks.
Achiuwa doesn't offer much else on offence for now - he's not a shooter and, while he flashed some perimeter skills in Miami, he's not someone who can consistently create offence for himself or others - but he has some intriguing tools to work with. It helps that he's joining a Raptors team that is known for their development staff. After what they've been able to do with Fred VanVleet, Pascal Siakam and OG Anunoby, it'll be interesting to see how much more Achiuwa can add to his game in the years to come.
A versatile defender
The real intrigue with Achiuwa comes on the other end of the court.
For one, Achiuwa has shown the ability to protect the rim. His 28 blocks last season were tied for eight-most among rookies, and the numbers point to him being one of the more effective rim deterrents in his class. He was also an effective shot-blocker in college, swatting 1.9 shots per game as a freshman at Memphis.
The same tools that make him a big-time lob threat (length, speed and athleticism) make him a presence in the paint.
Two, Achiuwa is switchy.
He guarded primarily power forwards and centers last season, but Achiuwa spent around a third of his minutes matched up with guards and small forwards.
Not only does he move his feet well for his size...
...but he can recover quickly, once again using his length to block...
...and disrupt shots.
The Raptors already have some of the most versatile defenders in the league in Anunoby and Siakam. (VanVleet can punch above his weight as well). The addition of Achiuwa gives them yet another rangy forward who can legitimately defend multiple positions.
He still has a ways to go - rarely are rookies a positive on defence - but Achiuwa has the makings of a defensive stopper.
How Precious Achiuwa fits
Achiuwa should fit in seamlessly defensively with the Raptors. Toronto still doesn't have anyone who can really hang with the likes of Joel Embiid and Nikola Jokic, but it sure looks like the Raptors are prioritizing size and versatility in the frontcourt, two boxes Achiuwa checks. (So does Scottie Barnes, who the Raptors selected with the No. 4 pick in the 2021 NBA Draft, for what it's worth).
Offensively, it's hard to see Achiuwa and Birch playing many minutes next to each other unless one of them becomes a more aggressive and efficient shooter. The good news is Achiuwa pairs well with pretty much everyone else on the roster. Chris Boucher is a good enough shooter for them to play together, as are Anunoby and Siakam. Spacing could be tight with Achiuwa and Barnes on the court at the same time, but the Raptors could make up for it by pushing the pace.
Given where they are development-wise, Achiuwa fits what the Raptors are trying to build.
The views on this page do not necessarily represent the views of the NBA or its clubs.