Following a win over the Orlando Magic on Friday, the Toronto Raptors own a 23-34 record, tied for 10th place in the Eastern Conference, currently holding a spot in the Play-In Tournament.
In year's past, this team has shown plenty of fight to keep fans hopeful for an unexpected postseason run, but in a season like no other - playing in Tampa with a roster that was previously decimated by COVID-19 health and safety protocols - that flame of hope is burning low.
There are still 15 games remaining to try to make a playoff push, but as the team has now gone five-consecutive game where at least one of its top-four players is on the injury report for rest, Raptors fans will go to bed dreaming of more promising times.
Not of the past and the first championship in franchise history back in 2019. Instead, they'll dream of the future.
With a core of Fred VanVleet, OG Anunoby and Pascal Siakam already locked up long-term and a 22-year-old, talented scorer in Gary Trent Jr. under the team's control as he enters restricted free agency, there are key pieces already in place. Add to it that rookie guard Malachi Flynn has put forth some encouraging performances in an increased role lately and Chris Boucher is also having himself the best year of his young career, and you'll begin to realize Toronto's franchise has six building blocks, all under the age of 27.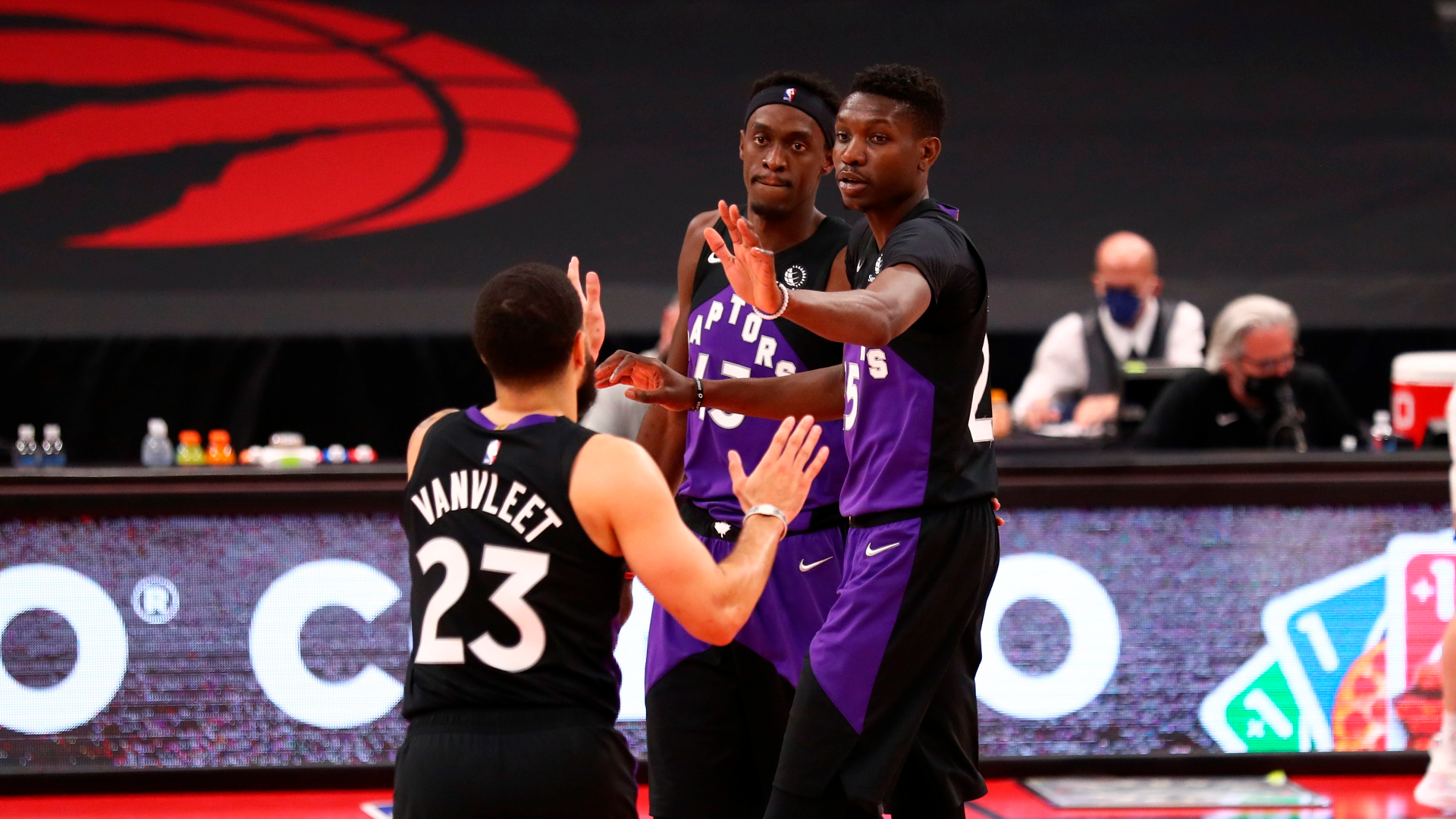 But there is still one piece missing to completely tie together that future.
VanVleet, Trent, Anunoby and Siakam fill out four spots of a high-quality starting five, and Flynn and Boucher appear to be ceiling-raising role players. That only leaves a void in the middle.
MORE: OG Anunoby's breakout season in four stats
As currently constructed, FiveThirtyEight's NBA predictions model gives the Raptors an 80 percent chance to miss the playoffs. Coincidingly, Tankathon's draft odds heavily favour Toronto landing the No. 10 pick (65.9 percent chance) in the 2021 NBA Draft. If you're feeling lucky, they own a 4.0 percent chance to get the No. 4 pick, a 3.6 percent chance for No. 3, a 3.3 percent chance for No. 2 and a 3.0 percent chance of selecting No. 1.
This also might be a good time to remind you that since the NBA Draft Lottery odds changed in 2019, the New Orleans Pelicans earned the No. 1 overall pick with just a six-percent chance, selecting a franchise-altering superstar in Zion Williamson. In 2020, the Charlotte Hornets only had a six-percent chance to earn the No. 3 overall pick, and they ended up with a franchise cornerstone in LaMelo Ball.
All of this to say: there's a chance.
And as of Friday, that final missing piece to the Raptors future is out there in 19-year-old centre Evan Mobley out of USC, who has declared for the 2021 NBA Draft.
LEAGUE BOUND! I've dreamed about turning pro since I was a kid. Come along for the journey: https://t.co/mIpfUaZRy0 #1of1 #NFT pic.twitter.com/nD1uTVkSkv

- Evan Mobley (@evan_mobley7) April 16, 2021
Mobley is a 7-foot, 215-pound big man that would compliment Toronto's core perfectly. He was dominant his freshman season in the NCAA, averaging 16.4 points, 8.7 rebounds, 2.9 blocks, 2.4 assists and 0.8 steals per game on his way to earning every Pac-12 honour there was to offer, headlined by Pac-12 Player of the Year. He was equally as impressive in the NCAA Tournament, leading USC to the Elite Eight with two double-doubles, three games with multiple blocks and even two games with five-plus assists.
His efforts for the year earned him a spot as a Consensus All-American.
Mobley is long (7-foot-4 wingspan), wiry and impressively athletic and coordinated for his size. His footwork is quick on defence, more than capable of switching pick-and-rolls on the perimeter. His instincts and basketball IQ are off the charts as a help defender and shot blocker. It would be a dream for head coach Nick Nurse to mentor a big man with his versatility and feel for the game.
He's a scoring threat from everywhere inside the arc and thrives as a screener in pick-and-rolls, whether it be diving to the rim for a lob...
...popping for a jumper...
...or short-rolling to utilize his agility to his advantage against clunkier bigs.
He hasn't yet developed a consistent 3-point jumper - he shot 30.0 percent on 40 attempts from 3 this past season, going 1-for-7 on catch-and-shoot attempts, according to Instat - but with a smooth shooting stroke and today's focus on a 3-point shot for players of every position, there's a chance he may get there one day.
His most common NBA player comparison is a familiar one for Raptors fans: Hall of Fame-nominee Chris Bosh, who was selected by Toronto with the No. 4 overall pick back in 2004.
Mobley's frame is thin (just like Bosh's was) and there are still areas of his game on the offensive end that need to develop, like his post moves, ball-handling and decision-making as a passer. But in terms of filling a need to go along with an already-young and talented core, Mobley and Toronto would be a match made in heaven.
The views on this page do not necessarily represent the views of the NBA or its clubs.