Kawhi Leonard did something this offseason that we've never seen before.
Like, never ever.
In leaving the Toronto Raptors in free agency for the LA Clippers, Leonard became the first player in NBA history to switch teams after winning Finals MVP. His decision to do so puts the Raptors in a precarious spot moving forward, both this season and beyond. They're still expected to make the playoffs in 2019-20, but whether or not the Raptors actually meet those expectations hinges on a number of factors.
With that in mind, our NBA.com Staff looked at the biggest storylines surrounding the defending champions entering the upcoming season.
Will this turn into a rebuild?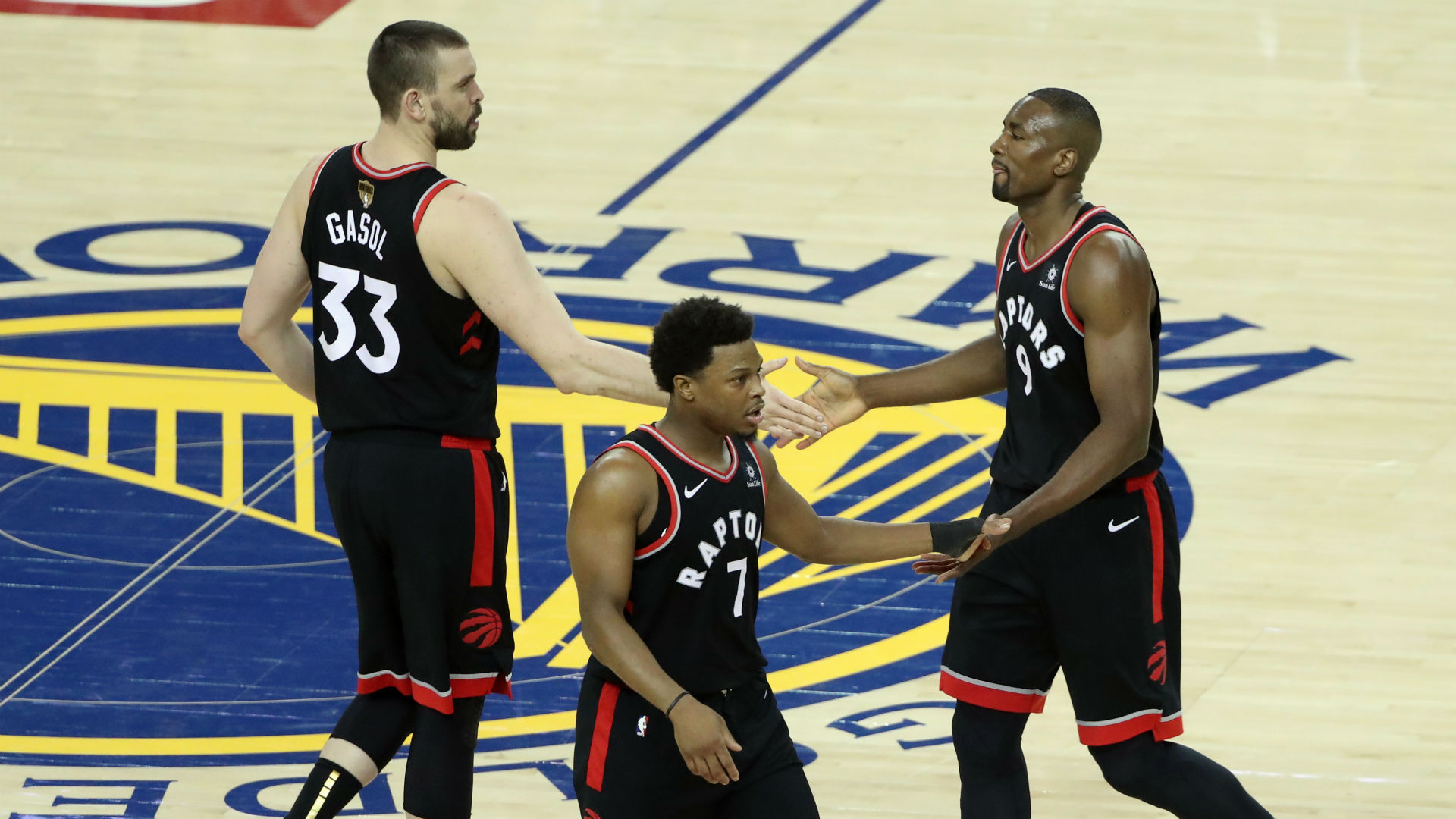 The Raptors could be a completely different team by the end of the upcoming season.
While the Raptors made it known early in the summer that they had no intentions of trading Kyle Lowry, Serge Ibaka and Marc Gasol ahead of the 2019-20 season, it's in the team's best interest to explore trades for them between now and Feb. 6 trade deadline because they're each entering the final years of their current contracts.
It would be one thing if they had a clear future in Toronto, but with each of them being over the age of 30, they don't quite fit the development timeline of Pascal Siakam, OG Anunoby and Fred VanVleet. Additionally, the Raptors might be able to get something positive in return for Lowry, Ibaka and Gasol, seeing as they proved last season that they're still more than capable of contributing to a title contender.
The alternative is keeping them past the deadline and extending them or letting them walk in unrestricted free agency.
MORE: Ibaka is only getting better with time
It could ultimately come down to how competitive the Raptors are entering the New Year. Coming off of their first championship, Masai Ujiri might choose to keep it together if the Raptors look like one of the best teams in the Eastern Conference again. If not, he might choose to get ahead of what appears to be an inevitable rebuild.
That doesn't necessarily mean it'll be a long, drawn-out rebuild. With Lowry, Gasol and Ibaka coming off of the books, the Raptors currently only have $29.1 million in guaranteed contracts next offseason and $15.2 million in the following offseason. Siakam's extension that is almost certainly coming will eat into that space, as will VanVleet's and Anunoby's, but they're set to have the room to offer max contracts in both summers.
Next year's free agent class isn't great, but the 2021 class is stacked with superstars, potentially featuring the likes of Giannis Antetokounmpo, Paul George, LeBron James, Bradley Beal, Rudy Gobert and - dare we say it - Kawhi Leonard.
The question is will the Raptors have more success in free agency than they have in the past?
- Scott Rafferty (@crabdribbles)
Will Pascal Siakam become an All-Star?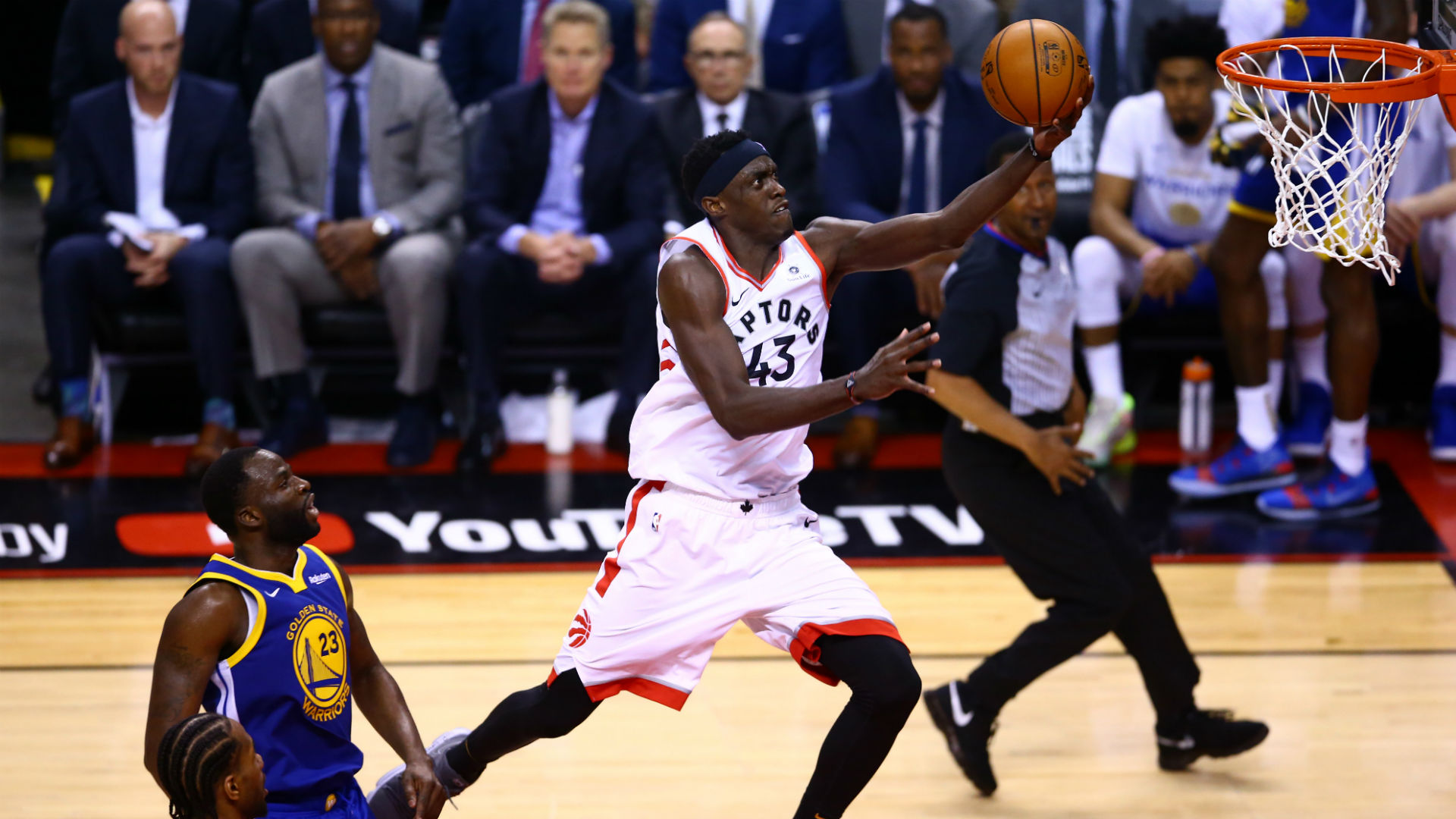 When it comes to the long-term prospects of the franchise, this is the most critical question entering the 2019-20 season.
With Leonard gone and the status of Lowry in question, Siakam becomes the most important player moving forward. There were times last season when he looked like a budding star, especially in those games that Leonard sat due to load management. Just ask the Washington Wizards.
Those moments came and went and while they weren't necessarily flashes in a pan, Siakam had the luxury of coming and going as he wasn't relied on as a nightly volume contributor. It's one thing to go for 22-8 with the opposing team's game plan keyed in on stopping Leonard or even Lowry. It's another to do it consistently as "the guy" as will be the case this season.
If Siakam fulfills his potential as an All-Star, it changes everything.
MORE: The cloudy and confounding outlook for Siakam's future
It means the Raptors could escape years of relying on ping pong balls for game-changing talent. It means the Raptors can maximize that cap space and sell free agents on playing with an established star. It means the Raptors have the opportunity to retool and rebuild on the fly, much in the way that both the Clippers and Jazz have done in recent years.
If Siakam falls short and it turns out that he's better served in a complementary role, things could get ugly sooner rather than later.
At the heart of everything the Raptors can be now and moving forward is the question of whether or not Pascal Siakam can become a star.
- Micah Adams (@MicahAdams13)
How high is OG Anunboy's ceiling?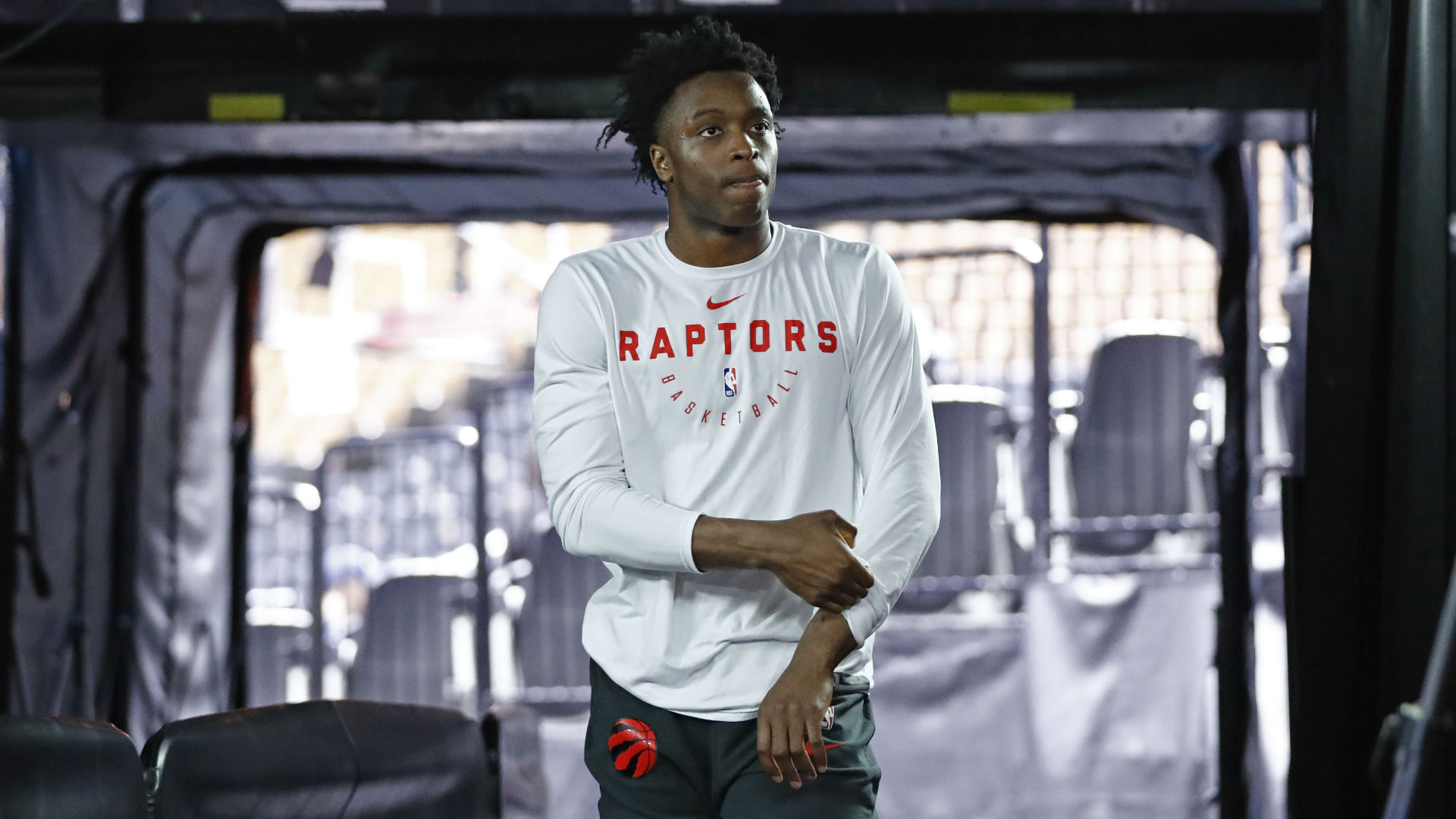 We didn't get the best look at OG Anunoby in the 2018-19 season.
Prior to their acquisition of Kawhi Leonard, Anunoby was the Raptors presumed starter at small forward after earning his stripes as a full-time starter in the 2018 postseason. Still, OG entered last season with an opportunity to be the understudy of one of the league's most elite talents.
Injury and circumstance kept Anunoby off the floor during the regular season and an emergency appendectomy effectively held him out of the entirety of the postseason. After not seeing him play since early April, it's easy to lose sight of what the 22-year-old could potentially bring to the table.
Despite his setbacks, he found a way to increase his production from Year 1 to Year 2.
MORE: How VanVleet, Powell and Anunoby can step up
Let's not forget that prior to Pascal Siakam's breakout, you could argue that OG had the most potential on the team. Now that Siakam's potential is coming to fruition, you could make that same case for Anunoby heading into the 2019-20 season.
OG is often quiet and reserved, and you're not likely to see videos of him working on his game on various social media platforms but that doesn't mean he isn't putting the work in.
With the experience gained in his rookie season and the motivation from last season, OG is primed to make a leap in Year 3. At his best, Anunoby can develop into a scary-good versatile defender capable of being a double-figure scorer on the offensive end.
Under the tutelage of the Raptors development staff, these goals might not be as lofty as they seem.
- Gilbert McGregor (@GMcGregor21)
Is this Kyle Lowry's last season in Toronto?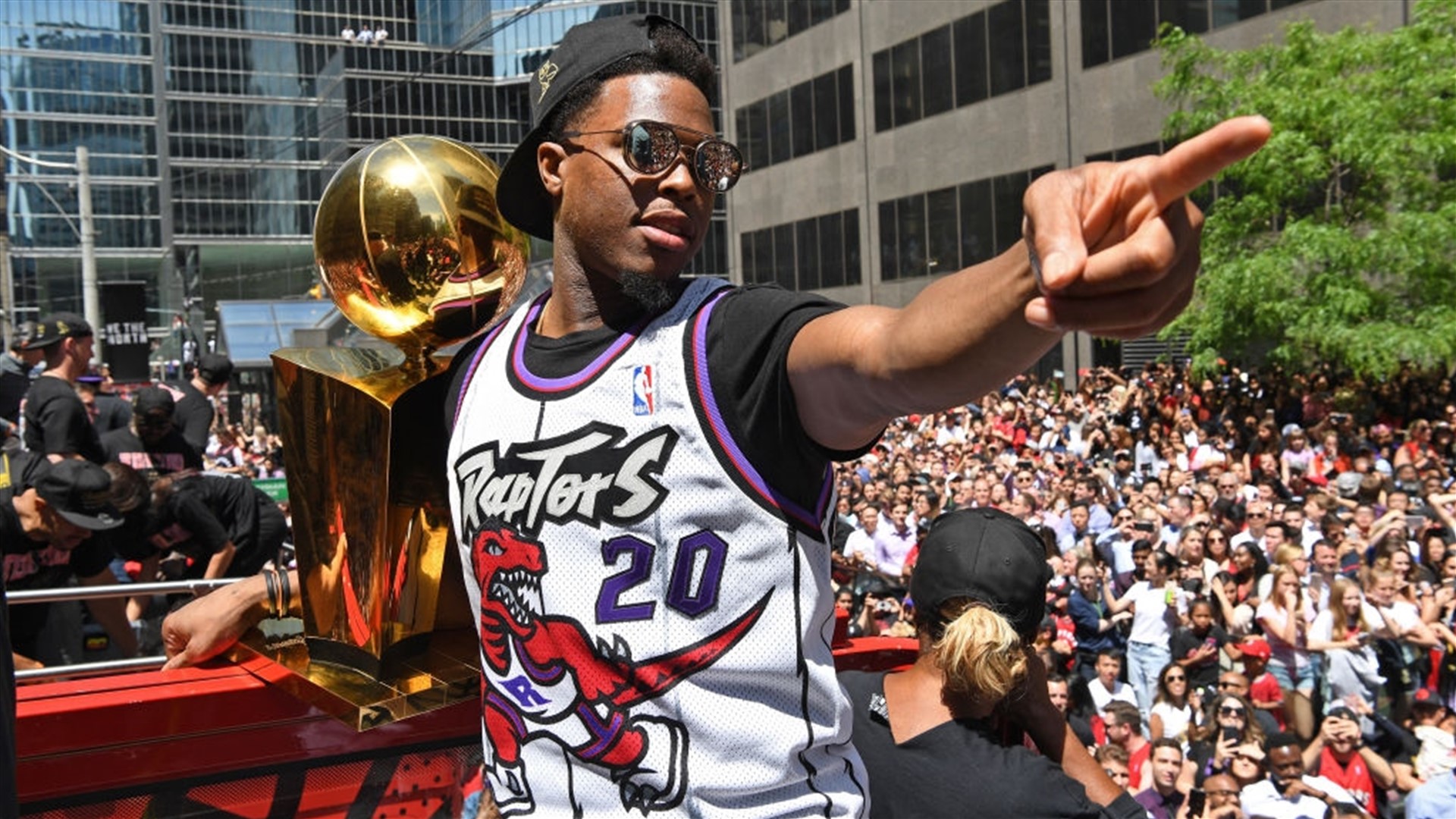 The Raptors have a decision to face this upcoming offseason, but they may have to weigh their options before next summer.
Franchise player and team captain Kyle Lowry is on the final year of his three-year, $100 million contract he signed back in 2017. He's set to make $35 million this year and will become an unrestricted free agent at the end of the season.
If the Raptors' plan is to remain competitive in the East, then it's likely that Lowry will stay put through the end of the 2019-20 season. However, if they choose to move valuable assets to contenders in exchange for pieces that help them build for a future around the likely next franchise player Pascal Siakam, you might see Lowry's name on the trading block.
The 13-year veteran would be valuable for any team trying to pursue a championship - even Toronto if it has plans to defend its title. He's become a staple of the Raptors' franchise and a fan favourite.
This offseason, Lowry stated that he would "love to have an extension," and would "love to be (in Toronto) long term," but what the player wants isn't always taken into consideration.
MORE: Is Lowry a Hall of Famer?
Lowry has had an incredible seven seasons in Toronto. He's led the Raptors to six-consecutive playoff appearances and their only two Conference Finals bids in franchise history. He's a five-time All-Star as a Raptor and also has one All-NBA honour.
Oh, and he brought the Raptors their first-ever NBA championship.
His 7,832 points (and counting) are top-five in franchise history. His 3,506 assists (and counting) are second-most in franchise history, and Jose Calderon's franchise-leading 3,770 assists are in Lowry's sights.
Lowry is the franchise's all-time leader in steals (746) and 3-point field goals (1,223) and he'll likely become second all-time in games played for the Raptors, trailing only his former teammate and best friend DeMar DeRozan.
Whether or not this is Lowry's final season in Toronto, he'll still go down as one of the best - and favourite - players in franchise history.
- Kyle Irving (@KyleIrv_)
The views on this page do not necessarily reflect the views of the NBA or its clubs.