The Phoenix Suns played spoiler to the debut of two new Toronto Raptors.
Chris Paul (19), Deandre Ayton (19) and Devin Booker (16) led the way as the Suns earned a 104-100 win over the Raptors, who were led by 26 points from Pascal Siakam.
If you missed any of the action, check below for live score updates, news, stats and highlights from Friday night's meeting…
Toronto Raptors vs. Phoenix Suns
PREVIEW | BOX SCORE | PLAY-BY-PLAY
Final: Phoenix Suns 104, Toronto Raptors 100
9:42 p.m. - Down two with under 20 seconds remaining, Toronto gets the stop but fails to pull down the rebound.
Phoenix leads 102-100 with 7.3 on the clock.
9:37 p.m. - Under two minutes remain and the Raptors have cut the deficit to two.
Phoenix leads 100-98 with 1:40 remaining in regulation.
This could get good.
9:28 p.m. - Just under five minutes remain and the Suns' lead remains in double-digits.
Phoenix is up 98-88 with 4:43 left in the game.
Do the Raptors have one more run in them?
9:20 p.m. - Phoenix is looking to pull away.
The Suns lead 96-83 with 8:10 remaining in regulation.
With just over eight minutes to play, Toronto will need to put forth another run to get back in this one before the game gets away.
End of Third Quarter: Phoenix Suns 83, Toronto Raptors 77
9:12 p.m. - After leading by as many as 14 in the third, the Suns take a six-point lead into the final frame.
Deandre Ayton (17), Devin Booker (14) and Chris Paul (13) have combined for 44 points to pace the Suns' offence, which is shooting 52.9 percent from the field but just 28.6 percent from deep.
Pascal Siakam leads the way for the Raptors with 22 points while Fred VanVleet is up to 17 points after knocking down five of 12 3-point attempts.
9:07 p.m. - The third is winding down and Toronto is right back in it.
The Suns lead 79-75 with 1:17 left in the third.
Timeout on the floor.
Pascal Siakam leads all scorers with 20 points while Deandre Ayton leads the Suns with 17 points and nine rebounds.
Phoenix is shooting 53.0 percent from the field while Toronto is shooting just 41.5 percent.
9:03 p.m. - The Suns have had their way to open the second half and, as a result, have built a nine-point lead as the quarter winds down.
Phoenix leads 75-66 with 4:00 to go in the third.
Halftime: Phoenix Suns 53, Toronto Raptors 51
8:37 p.m. - Take a look at some halftime stats: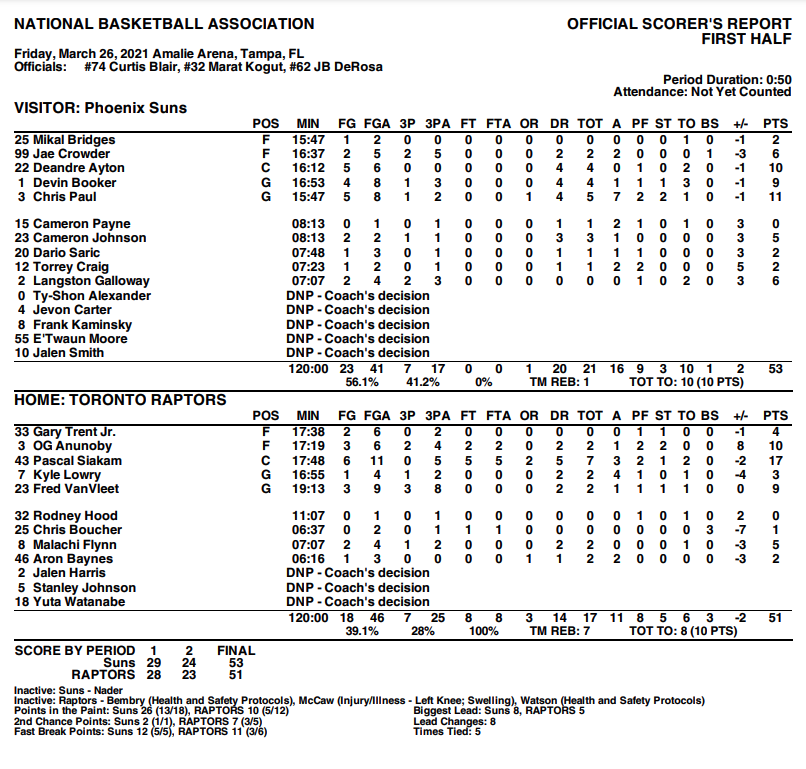 8:32 p.m. - The red-hot Suns take a two-point lead into the halftime break after shooting 56.1 percent from the field and 41.2 percent from beyond the arc.
Chris Paul leads the way for Phoenix with 11 points, seven assists and five rebounds while Deandre Ayton is up to 10 points and four rebounds.
Do ya thing CP!@ConnsHomePlus #MakeItHappen pic.twitter.com/jILMeS9n9f

- Phoenix Suns (@Suns) March 27, 2021
Pascal Siakam leads all scorers with 17 points on 6-for-11 shooting to go along with seven rebounds in just under 18 minutes of action. Siakam has been active on both ends of the floor and his aggression has meant good things for the Raptors' offence.
8:18 p.m. - These teams are going back and forth this quarter and the Suns maintain a one-point lead.
Phoenix leads 43-42 with 5:48 remaining until halftime.
After trailing by as many as eight points, Toronto responded with a 14-2 run before Phoenix countered with a run of its own to get back ahead.
OG Anunoby is up to 10 points to tie Pascal Siakam's game-high while five different Suns have scored at least six points.
End of First Quarter: Phoenix Suns 29, Toronto Raptors 28
8:04 p.m. - The Suns take a one-point lead into the second frame after shooting 12-for-19 in the first period.
Devin Booker led Phoenix with seven points on 3-for-6 shooting while Chris Paul scored five points and dished out three assists.
For the Raptors, Pascal Siakam leads the way with 10 points and six rebounds while shooting 4-for-7 from the field.
Quick 10p & 6r for @pskills43 pic.twitter.com/KaqRd7qxxL

- Toronto Raptors (@Raptors) March 27, 2021
Toronto has found its rhythm offensively but will look to limit Phoenix's offence as the game progresses.
7:48 p.m. - We've reached the first break in the action and neither team has missed much.
The Suns lead 19-18 with 5:40 remaining in the first.
Phoenix is hot to start, shooting 8-for-9 from the field and 3-for-4 from deep. Deandre Ayton leads the way for the Suns with six points on perfect 3-for-3 shooting.
Fred VanVleet has picked up where he left off on Wednesday and is up to a game-high nine points on 3-for-4 shooting from beyond the arc. Early on, this has the makings of a high-scoring affair.
In his debut, Gary Trent Jr. has already made his mark as a Raptor.
First of many buckets to come.@gtrentjr | #WeTheNorth pic.twitter.com/37uVTA80pC

- Toronto Raptors (@Raptors) March 26, 2021
Pregame
7:05 p.m. - The Suns will go with a starting unit of Chris Paul, Devin Booker, Mikal Bridges, Jae Crowder and Deandre Ayton.
March 26, 2021
7:00 p.m.: Starting for the Raptors: Kyle Lowry, Fred VanVleet, Gary Trent Jr., OG Anunoby and Pascal Siakam.
Tonight's @Invisalign starting lineup. #WeTheNorth pic.twitter.com/CrbbFd20JG

- Toronto Raptors (@Raptors) March 26, 2021
6:20 p.m.: Toronto's newest additions are good to go, as TSN's Josh Lewenberg reports that head coach Nick Nurse confirmed the availability of Gary Trent Jr. and Rodney Hood to make their Raptors debuts.
GTJ 🤟🏽 pic.twitter.com/k7Ze6CYH50

- Toronto Raptors (@Raptors) March 26, 2021
What's good, @rodneyhood pic.twitter.com/DNAfYWSzn1

- Toronto Raptors (@Raptors) March 26, 2021
The views on this page do not necessarily reflect the views of the NBA or its clubs.