After a 39-point victory over the Chicago Bulls on Saturday, Toronto made its third stop on a four-game road trip when it visited Player of the Week Nikola Vucevic and the Orlando Magic, who were on a three-game win streak.
In a game in which the Raptors led by as many as 18 points, it took a game-winning jumper from Danny Green after the Magic put on a furious rally in the second half.
If you missed any of the action, check below updates, scores and highlights from tonight's action.
Preview | Box Score | Play-by-play
Final: Raptors 93, Magic 91
9:25 p.m. - Final Stats: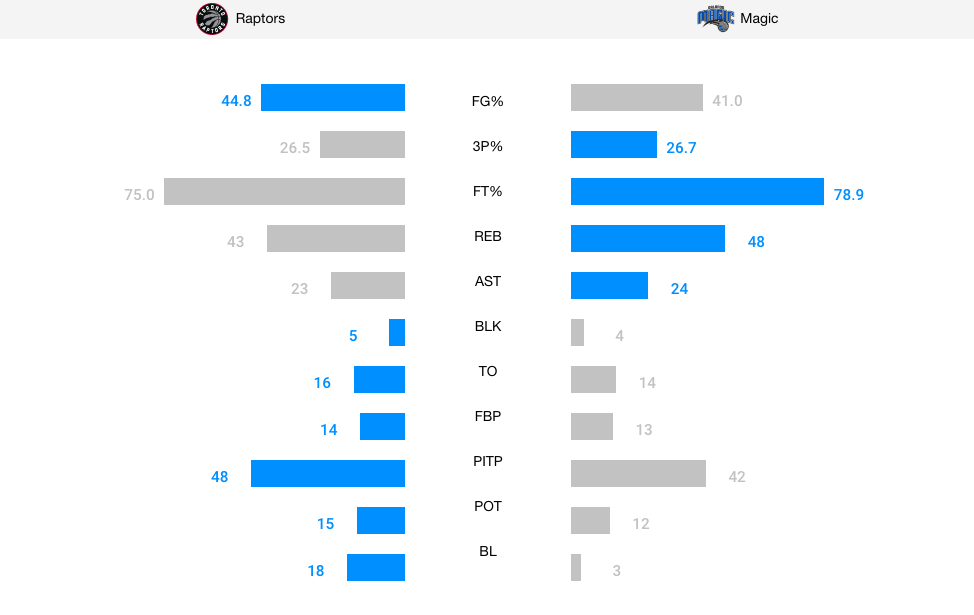 9:15 p.m. - Toronto outscores Orlando 20-16 in the fourth quarter to earn a hard-fought road win in regulation.
Led by 18 points from Kawhi Leonard, four Raptors players finished in double figures. Pascal Siakam poured in 15 points and grabbed nine rebounds while Serge Ibaka added 14 points and grabbed nine rebounds as well. Danny Green, the night's hero, finished with 13 points in 34 minutes of actions. Kyle Lowry, who was questonable entering the night due to an ankle injury, scored nine points, dished out seven assists and pulled down four rebounds.
Magic guard Evan Fournier scored a game-high 27 points - 22 of which came in the second half. Aaron Gordon scored 16 points and pulled down nine rebounds while reigning Eastern Conference Player of the Week Nikola Vucevic scored 14 points and pulled down a massive 18 rebounds. Rookie centre Mo Bamba was impressive in limited time, scoring seven points and grabbing five boards in just 14 minutes.
9:13 p.m. - DANNY. GREEN.
The 10-year veteran knocks down the game-winning jumper with 0.5 remaining on the clock and the Raptors will escape the Amway Center with a win.
"Danny Green for the win... YES HE DID!"

The @Raptors newcomer nails the GAME-WINNER to improve to 14-4 on the season! #WeTheNorth pic.twitter.com/7BKDyA9qlz

- NBA (@NBA) November 21, 2018
9:11 p.m. - Who other than Evan Fournier?
The Frenchman's driving dunk gives him 27 points on the night and ties things up at 91.
Heartbreaker 💔@EvanFourmizz delivered a game-tying slam with 2.3 seconds left, but Toronto's Danny Green answered back with 0.5 secs remaining. pic.twitter.com/E1Mz7SQJ0m

- Orlando Magic (@OrlandoMagic) November 21, 2018
2.3 seconds remain in regulation and the Raptors call for time to draw up a play.
9:09 p.m. - Evan Fournier misses what could have been the go-ahead 3-pointer but forces Kyle Lowry to miss what would have been a dagger 3-pointer with over 10 seconds remaining.
Toronto still leads by two and Steve Clifford uses his final timeout to draw up a play for what's likely his team's final possession in regulation.
9:07 p.m. - SERGE IBAKA!
The Raptors centre knocks down a huge pick-and-pop jumper off of an assist from Kyle Lowry to give the Raptors a 91-89 lead with 43.5 seconds remaining in regulation.
Textbook pick & pop pic.twitter.com/PLWzCxkI0h

- Toronto Raptors (@Raptors) November 21, 2018
Timeout Magic.
9:05 p.m. - Each team's vets are doing what they do best. Back-to-back buckets from Serge Ibaka Kawhi Leonard and Kawhi Leonard give the Raptors a four-point lead, but Evan Fournier responds with two-straight buckets to tie things up at 89 with just over a minute in regulation.
9:01 p.m. - Danny Green sinks a BIG 3-pointer to give the Raptors a two-point lead, but it's short lived.
On the ensuing possession, a floater from Evan Fournier ties things up at 85 with 3:25 remaining in regulation. TImeout Raptors.
8:59 p.m. - The fourth quarter is an offensive struggle for both teams - for the Magic it's poor shooting, while the Raptors have struggled due to turnovers.
In the first eight minutes of the fourth, the Raptors scored just nine points while the Magic scored just eight.
8:52 p.m. - Danny Green hits a 3-pointer to regain the lead and Jonas Valanciunas extends the Raptors lead to three points after a missed 3-pointer by Magic guard Terrence Ross.
Orlando opens the fourth quarter shooting 1-for-10 and, despite the turnovers, Toronto has taken advantage to build a three-point lead.
The Raptors lead 80-77 with 6:48 remaining in regulation and the Magic call for time.
8:48 p.m. - Not a good start to the fourth quarter for Toronto. It's committed five turnovers in the first three minutes of the frame, including an offensive foul on Pascal Siakam - his fifth foul of the night.
End of third quarter: Magic 75, Raptors 73
12 minutes to get it done. #RTZ pic.twitter.com/CsLqLg1XDM

- Toronto Raptors (@Raptors) November 21, 2018
8:42 p.m. - It was a forgettable quarter for the Raptors, who were outscored 38-26 in the frame.
It was an equally impressive quarter for the Magic, who shot 14-for-21 from the field and 5-for-7 from deep in the third. Evan Fournier scored 13 points in the quarter on 5-for-7 shooting from the field including three 3-pointers. Fournier's got a game-high 19 on the night.
Conversely, the raptors connected on just one of their 10 3-point attempts in the quarter.
8:30 p.m. - Evan Fournier, who is up to a game-high 16 points, sinks his fourth 3-pointer of the night to tie things up at 59.
On the next possession, Aaron Gordon gives Orlando its first lead of the night with a hook shot over Kawhi Leonard.
🗣 LET'S GOOOOOOOOOOOOO pic.twitter.com/M4NSBUqJC3

- Orlando Magic (@OrlandoMagic) November 21, 2018
Nick Nurse calls for time as the Magic use a 24-12 run to get out to a 61-59 lead over the Raptors with 5:27 remaining in the third.
8:21 p.m. - A putback from Nikola Vucevic makes it a 9-4 run in the first 2:44 of the second half for the Magic, who now trail 51-46. Vucevic has six points and a game-high eight rebounds.
Halftime: Raptors 47, Magic 37
Defence holdin' it down. #RTZ pic.twitter.com/bBjg1l4hv2

- Toronto Raptors (@Raptors) November 21, 2018
8:10 p.m. - Halftime stats, anyone?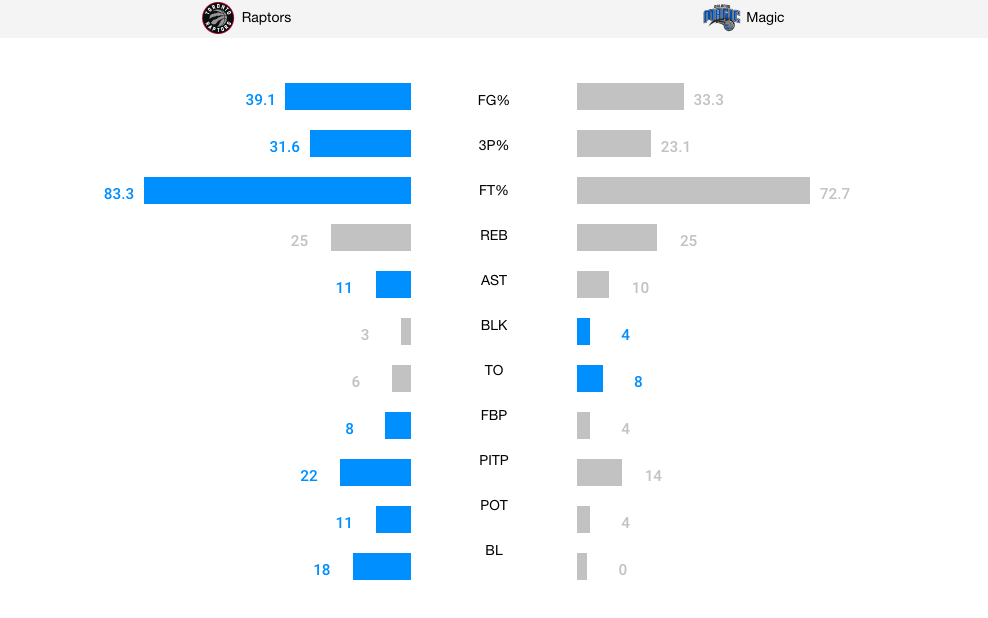 8:02 p.m. - Danny Green's second-chance jumper with 2.6 seconds remaining gives Toronto a 10-point lead going into the half.
Offensively, the Raptors have struggled, shooting 39.1 percent from the field and 31.6 percent from deep. Defensively, Toronto has held Orlando to 33.3 percent shooting from the field and 23.1 percent shooting from deep
Aaron Gordon is up to a game-high nine points while Lorenzo Brown, Serge Ibaka and Kawhi Leonard each have eight points to lead the Raptors.
7:58 p.m. - A Nikola Vucevic jumper makes it a 10-0 run for the Magic, who cut the lead to single digits before Pascal Siakam responded with an interior finish to end the run and push the Raptors lead back into double digits.
It's 42-32 Toronto with just over two minutes remaining in a half in which both teams are not shooting well from the field.
7:54 p.m. - Less than a minute of game action later, Kawhi Leonard picks up his third foul of the night on an Aaron Gordon and-one finish that brings the Magic back within 12.
Gordon leads the Magic with six points despite shooting 1-for-4 from the field while three different Raptors (Leonard, Serge Ibaka and Lorenzo Brown) each have a game-high eight points.
Timeout on the floor with 3:58 remaining and the Raptors lead 40-28.
7:51 p.m. - Kyle Lowry picks up his second foul of the night with 5:15 remaining in the half but will stay in the game.
The Raptors, who have led by as many as 18 points in the half, lead 40-25 and look to continue to distance themselves from the Magic.
7:50 p.m. - When you run the floor, good things happen, just ask Jonas Valanciunas.
Flash of 🇱🇹⚡️ pic.twitter.com/JQUViZt7LU

- Toronto Raptors (@Raptors) November 21, 2018
7:44 p.m. - Terrence Ross and Jonas Valanciunas trade buckets and Steve Clifford calls for another timeout just over three minutes in the frame with the Magic trailing 36-22.
7:43 p.m. - Lorenzo Brown nails his second 3-pointer of the night to give the Raptors a 14-point lead early on in the second.
34-20 Raptors with 9:49 remaining in the half.
End of first quarter: Raptors 29, Magic 17
22-10 run to end the Q. #RTZ pic.twitter.com/cYclPJnIjC

- Toronto Raptors (@Raptors) November 21, 2018
7:36 p.m. - Lorenzo Brown sinks a 3-pointer with less than a second remaining in the first to give Toronto its biggest lead of the night. Brown quickly came in and made his impact felt, scoring five points in less than two minutes of action.
Get to your spot, @FredVanVleet will find you pic.twitter.com/0pR1uB69fX

- Toronto Raptors (@Raptors) November 21, 2018
Led by eight points from Serge Ibaka, the Raptors close the first quarter on a 22-10 run to take a 29-17 lead into the second. Evan Fournier leads the Magic, who are shooting an icy cold 5-for-17 from the field, with five points.
7:30 p.m. - Update: Kawhi leonard is a smooth player.
KAWHI HESI. #WeTheNorth

📺: #NBA League Pass pic.twitter.com/LQc7bOJN8R

- NBA (@NBA) November 21, 2018
7:25 p.m. - A dunk from Serge Ibaka gives him his eighth point of the night as the Raptors take their first double-digit lead of the night.
Kawhi Leonard is not too far behind with six points and three rebounds while Pascal Siakam has dominated the boards early on, grabbing six rebounds in less than eight minutes.
Magic head coach Steve Clifford calls for time as his team trails 19-9 with 4:14 remaining in the first quarter.
7:19 p.m. - The first timeout of the night is called just over five minutes into the first frame and Toronto holds a five-point lead.
It's 13-8 Raptors with 6:54 remaining in the quarter. Kawhi Leonard and Serge Ibaka lead the way with four points apiece while Magic guard Evan Fournier leads all scorers with five points.
Aaron Gordon, who has scored just three points so far, has already blocked three shots.
7:09 p.m. - Things are underway in Orlando and Danny Green gets the Raptors on the board first with with a 3-pointer off of a Kyle Lowry assist.
Pregame
6:30 p.m. - The team has confirmed that Kyle Lowry will start tonight alongside the usual lineup.
Tonight's starting 5. #WeTheNorth pic.twitter.com/fBYPMHuABP

- Toronto Raptors (@Raptors) November 20, 2018
6:00 p.m. - According to Eric Koreen of The Athletic, Raptors All-Star guard Kyle Lowry (right ankle sprain) is a game-time decision.
Either Lowry or Fred VanVleet will start at point guard alongside Danny Green, Kawhi Leonard, Pascal Siakam and Serge Ibaka.