The Raptors are 3-0 in the Orlando bubble and have won seven straight games overall after defeating the Orlando Magic 109-99 on Wednesday.
Seven Raptors finished with double-digit scoring led by Fred VanVleet who had a team-high 21 points, 10 assists in the win. Evan Fournier led the way for Orlando with a 15-point effort in the loss.
If you missed any of the action follow below for the live play-by-play.
Toronto Raptors vs. Miami Heat: Live score, updates, news, stats and highlights
End of 4th Quarter: Raptors 109, Magic 99
10:30 p.m. - The Raptors win their seventh in a row beating the Magic on Wednesday. Toronto got sloppy with the rock in the second half, but the Magic just couldn't capitalize. Orlando was horrible from 3-point range they went 11-for-41 in the game. They had chances to hit wide-open threes late in the fourth to possibly make it interesting but they couldn't find the mark.
Ball game. Raps win! pic.twitter.com/UZNKS4NaM5

- Toronto Raptors (@Raptors) August 6, 2020
10:25 p.m. - This one is all but over. The Raptors did a good job in the fourth of bringing the energy and wearing the Magic down in the final frame. 102-92, 1:27 left before the buzzer.
10:09 p.m. - Time out on the floor, Raptors up 11, 91-80 with 6:55 to play in the game. Balanced scoring for Toronto with five players in double figures led by Fred VanVleet's 15 points. The Magic weren't able to sustain the same energy level they had in the third quarter. Crucial time for the Magic, if they can go on one last run to get back into it now is the time to do it.
10:04 p.m. - Norman Powell had a couple layup attempts fall short, he made sure to pound this dunk home with two hands. Toronto regaining control of the game and looking to close this one out.
Safety first in the bubble pic.twitter.com/kDqtjNMaIz

- Toronto Raptors (@Raptors) August 6, 2020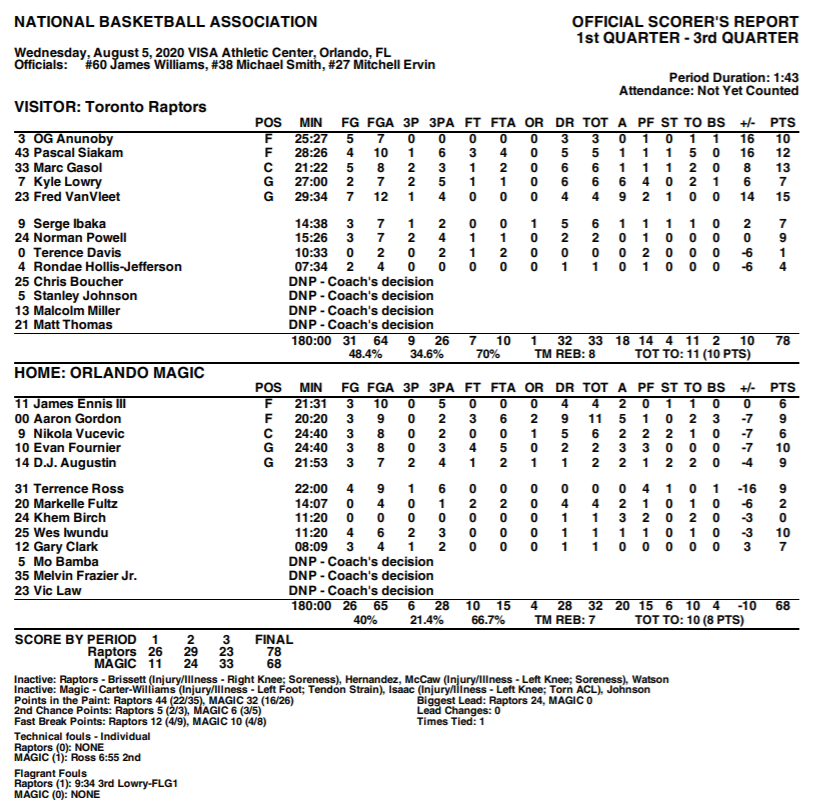 End of 3rd Quarter: Raptors, Magic
9:54 p.m. - Credit the Magic for battling back in a game that looked like it might get away from them. The Magic cut the 20-point halftime lead in half and the Raptors lead 78-68 heading into the fourth. The Magic are still struggling to find the touch from 3-point range that could be the difference in them completing the comeback or falling short right now. They're shooting just 21.4 percent from deep. Toronto had five turnovers in the period and their defence got a bit soft allowing the Magic to punch back in the game.
9:46 p.m. - Timeout on the floor, Raps up 68-56 with 4:07 left to play in the third. Orlando has outscored Toronto 21-13 in the quarter and they've looked much better on offence. They're moving the ball, making the extra pass and attacking the basket - all things that weren't happening in the first half.
9:44 p.m. - After giving it a go, Aaron Gordon exited the game and will not return with left hamstring tightness. Hopefully, it's not a lingering injury for Gordon and the Magic.
Orlando Magic forward Aaron Gordon will not return to tonight's game against Toronto due to left hamstring tightness.

- Orlando Magic PR (@Magic_PR) August 6, 2020
9:36 p.m. - Things getting heated, a lot of talking happening between the two teams. Timeout on the floor with the Raptors up by 13, 8:48 to play in the frame.
9:34 p.m. - The refs reviewed the foul and upgraded Lowry's fourth to a flagrant-one. Gordon looks to be ok after finishing strong at the rim. The Magic have a bit of bounce in their step now 55-44 Raps up.
😤 GO TO WORK, @Double0AG 😤 pic.twitter.com/wiSCWz7lhc

- Orlando Magic (@OrlandoMagic) August 6, 2020
9:31 p.m. - Aaron Gordon driving in and is fouled hard by Lowry who picks up his fourth foul. Gordon goes down in pain grabbing his left hamstring, hopefully, he's ok.
9:30 p.m. - James Ennis finishes inside and has something to say to Lowry...Orlando on a 6-0 run to start the period.
9:28 p.m. - Second half here we go. James Ennis gets us going with the first bucket of the second half.
Halftime: Raptors 55, Magic 35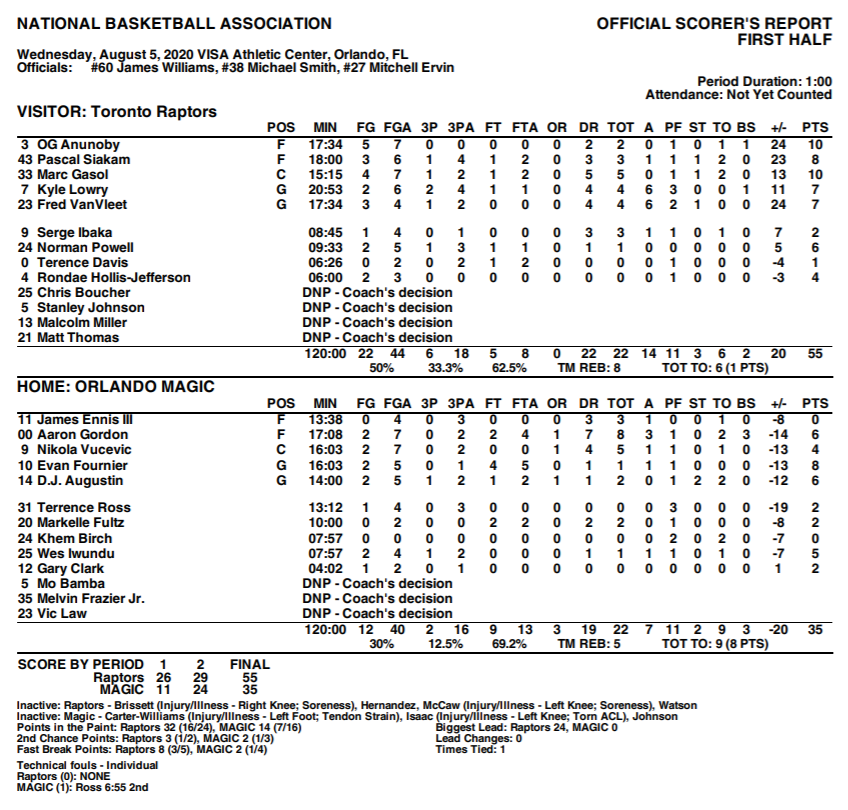 Makin' it look easy pic.twitter.com/J1FK8xvmAx

- Toronto Raptors (@Raptors) August 6, 2020
9:10 p.m. - Raptors simply dominated that first half. They're locked in defensively, sharing the rock on offence and making shots. The Magic have struggled to find any rhythm in this one. OG and Marc Gasol lead the way for the Raps with 10 points each. Evan Fournier has eight at the half for Orlando. Lowry picked up a late foul with 0.5 seconds on the clock, it's his third foul - that's something to keep an eye on for the second half.
8:58 p.m. - Lowry triple leads to another Magic timeout. Toronto up 41-28, 3:18 remaining in the half. All nine Raptors that have played so far have scored. Balanced scoring all around for Toronto. Aaron Gordon doing what he can to keep his team in it with five points, seven rebounds and three blocks.
8:49 p.m. - Timeout on the floor. Raptors up by 11, 33-22. The bench unit came on the floor and kept the intensity up for Toronto, starters are back on the floor now looking to close out the half strong. The Magic haven't been able to get into a rhythm offensive having to fight for every shot opportunity. Long game ahead but a positive performance so far by the Raps.
8:45 p.m. - Aaron Gordon makes a nice pass to Iwundu for a 3-point. The first Magic three tonight. 27-18 Raptors still up in the second period.
Block → Bucket@Double0AG | #WholeNewGame pic.twitter.com/Mk0ItpY77j

- Orlando Magic (@OrlandoMagic) August 6, 2020
8:44 p.m. - There it goes, another charge drawn by Lowry. No. 33 on the season, best in the NBA. Raps up 27-15 with 9:06 to play in the half.
Best in the biz pic.twitter.com/tnlIGT5On8

- Toronto Raptors (@Raptors) August 6, 2020
End of 1st Quarter: Raptors 26, Magic 11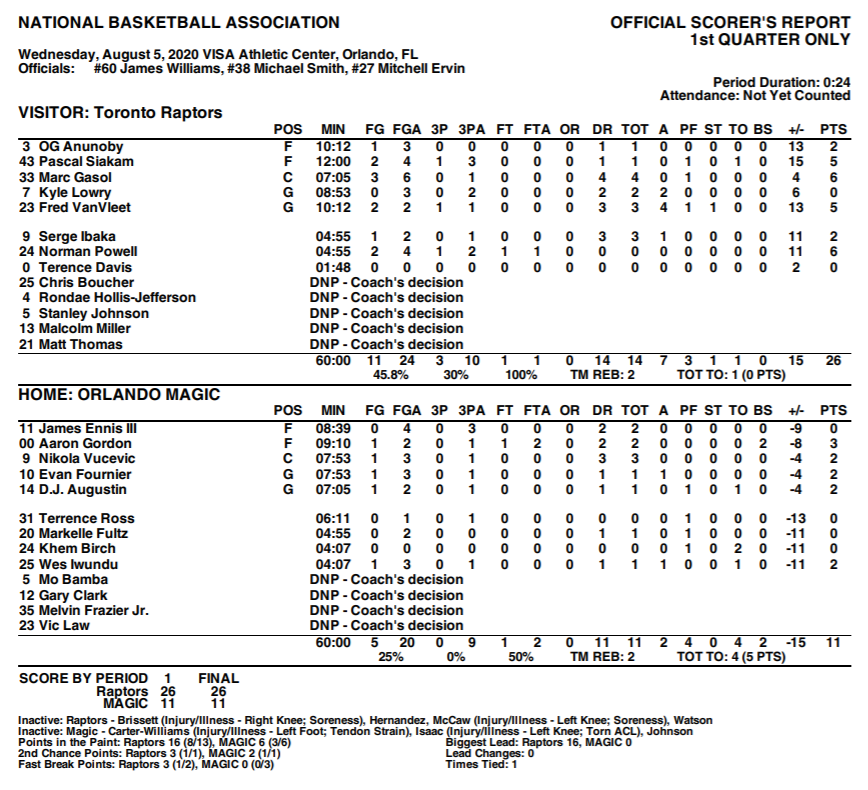 8:36 p.m. - After a sluggish start to the game, the Raptors locked in defensively and then their shots started to fall and they take a 15 point lead into the quarter break. Raptors on-ball pressure really giving the Magic problems to start this game. Toronto looks locked in.
8:31 p.m. - Wes Iwundu with a reserve layup that Serge almost blocked and that puts an end to a 13-0 Toronto run. Raps up 21-8 with 1:37 to play in the first.
8:25 p.m. - 7-0 run by the Raptors to extend the lead to 15-6...timeout Orlando.
Right foot up, left foot sliiide pic.twitter.com/nDcAwepYNY

- Toronto Raptors (@Raptors) August 6, 2020
8:25 p.m. - Ya, we're talking about OG's handle again.
Did @OAnunoby put @pskills43 on spin moves? 🤔 pic.twitter.com/C5O2RpIkxv

- Toronto Raptors (@Raptors) August 6, 2020
8:24 p.m. - Nurse going to the bench early in this one. Serge into the game and Norm subbing in as well. Raps up 10-6 with 4:10 to play in the period.
8:22 p.m. - How good has Marc looked in the first couple of minutes?? The Magic must hate playing against Gasol. Six points, four rebounds early for Big Spain.
8:16 p.m. - Here we go game time!
Pregame
7:41 p.m. - Raps starting five: VanVleet, Lowry, OG, Siakam and Gasol.
Magic starting five: James Ennis, Aaron Gordon, Nikola Vucevic, Evan Fournier and DJ Augustin.
Tonight's @Invisalign starting lineup. #WeTheNorth pic.twitter.com/hCJKPEGg7v

- Toronto Raptors (@Raptors) August 5, 2020
7:26 p.m. - M.O.M...Men on a mission
On a mission pic.twitter.com/mF2jg623PB

- Toronto Raptors (@Raptors) August 5, 2020
7: 25 p.m. - Magic arriving in...Orlando
Here we go! pic.twitter.com/8bpp1wdhiR

- Orlando Magic (@OrlandoMagic) August 5, 2020
7:21 p.m. - A little pregame viewing and a reminder that Fred VanVleet is THAT dude.
Career day for Rockford's finest.

Open Gym: Moment presented by @Bell pic.twitter.com/GZgjixTS5X

- Toronto Raptors (@Raptors) August 4, 2020
The views on this page do not necessarily reflect the views of the NBA or its clubs.