The Milwaukee Bucks (17-8) and Toronto Raptors (21-7) entered Sunday night looking to bounce back from tough losses over the weekend. In the second meeting between the Eastern Conference powers, Milwaukee defeated Toronto for the second time in the 2018-19 season.
Unlike the first meeting, both Giannis Antetokounmpo and Kawhi Leonard suited up, and neither disappointed. In the first meeting between the two All-Stars in nearly two full years, Antetokounmpo finished the night with 19 points, 19 rebounds and six assists while Leonard registered 20 points, eight rebounds and four assists.
If you missed anything from the night, check below for scores and highlights from Sunday's battle between two of the East's best.
Toronto Raptors vs. Milwaukee Bucks: Live scores, updates and highlights
Game Preview | Box score | Play-by-play
Final: Bucks 104, Raptors 99
8:19 p.m. - After the Bucks use their foul to give with 11.2 seconds remaining, the Raptors get Kawhi Leonard open off of a sideline inbounds play. Leonard gets a clean look on a long 3-pointer, but his attempt comes up short.
Ersan Ilyasova is fouled and drains both free throws with 5.4 seconds remaining.
The Bucks are going to win this one 104-99.
8:17 p.m. - Giannis Antetokounmpo dunks to give the Bucks a 102-99 lead with 12.6 remaining in regulation.
Timeout Raptors.
Toronto advances the ball down three points, while Milwaukee has one foul to give.
8:15 p.m. - Milwaukee burns its last timeout after an aggressive trap from Toronto.
14.1 seconds now remain and the Bucks lead by one.
8:12 p.m. - Fred VanVleet's driving layup brings the deficit to one point with about 30 seconds remaining in regulation.
With a five-second differential between shot and game clocks, the Raptors elect not to foul and the Bucks call for time once they cross halfcourt.
It's 100-99 Bucks with 21.3 seconds on the game clock and 16 seconds remaining on the shot clock.
8:09 p.m. - A drive and kick to an open Malcolm Brogdon results in a 3-pointer to tie things at 97.
A Kawhi Leonard turnover leads to a Bucks possession that gets the Raptors defence scrambling. After a series of passes, Brogdon nails another 3-pointer to give Milwaukee a 3-point lead with 40.7 seconds remaining.
Malcolm Brogdon knocks down two triples to put the @Bucks ahead for good!

FINAL in Toronto:#FearTheDeer 104#WeTheNorth 99 pic.twitter.com/4RaXUSjdwm

- NBA (@NBA) December 10, 2018
Timeout Toronto.
8:05 p.m. - Two free throws from Khris Middleton briefly tie things back up at 94 but Kawhi Leonard responds with a 3-pointer on the next possession.
On the very next possession, Leonard forces a Middleton turnover and shows a little bit of fire. Toronto leads 97-94 with 1:53 remaining in regulation.
8:02 p.m. - A transition 3-pointer from Fred VanVleet gives the Raptors a two-point lead.
It's 94-92 Toronto with 3:13 remaining in regulation and the Scotiabank Arena crowd is getting lively.
7:59 p.m. - Serge Ibaka! Mike Budenholzer calls for timeout as the centre's 3-pointer makes it a one possession game.
Ibaka is up to a game-high 25 points on the night and the Raptors trail 90-87 with 5:18 remaining in regulation.
BIG BUCKET SERGE IBAKA pic.twitter.com/miAbSjsOMK

- Toronto Raptors (@Raptors) December 10, 2018
7:57 p.m. - Just past the midway point of the fourth quarter, a Danny Green 3-pointer makes it a six-point deficit for the Raptors.
Bucks lead 90-84 with under six minutes to play.
7:47 p.m. - First timeout of the final frame is called as the Bucks remain in control, they lead 85-79 with 8:58 remaining in regulation.
Serge Ibaka is up to a game-high 19 points while Brook Lopez's 16 points still lead the way for Milwaukee. Giannis Antetokounmpo is having a monster night with 15 points (on 7-for-11 shooting, 17 rebounds and six assists.
End of Third Quarter: Bucks 79, Raptors 74
We've got a close one. #RTZ

Serge - 19p, 5r pic.twitter.com/UVg02YGzxp

- Toronto Raptors (@Raptors) December 10, 2018
7:30 p.m. - Kyle Lowry (0-for-4 shooting) is struggling. A missed 3-pointer leads to a Khris Middleton bucket that puts the Bucks back up three points.
Timeout Raptors.
3:22 remains in the third frame and Milwaukee leads Toronto 70-67.
7:25 p.m. - Defence leads to offence.
This time it's a steal that leads to a Pascal Siakam slam in transition to tie things up at 63 with 6:45 remaining in the third quarter and Mike Budenholzer calls for a timeout.
"He's so fast, he makes fast people look not fast." 🎬 pic.twitter.com/GhxV1VAfDg

- Toronto Raptors (@Raptors) December 10, 2018
7:21 p.m. - It's almost as if Kawhi Leonard finds a new way to show how smooth he is every game.
No stopping that pic.twitter.com/80iBSURoOc

- Toronto Raptors (@Raptors) December 10, 2018
7:17 p.m. - After a poor shooting first half, Pascal Siakam and Serge Ibaka drain two 3-pointers in the first two minutes of the second half to tie things up at 55.
Halftime: Bucks 51, Raptors 49
7:08 p.m. - Some first-half stats: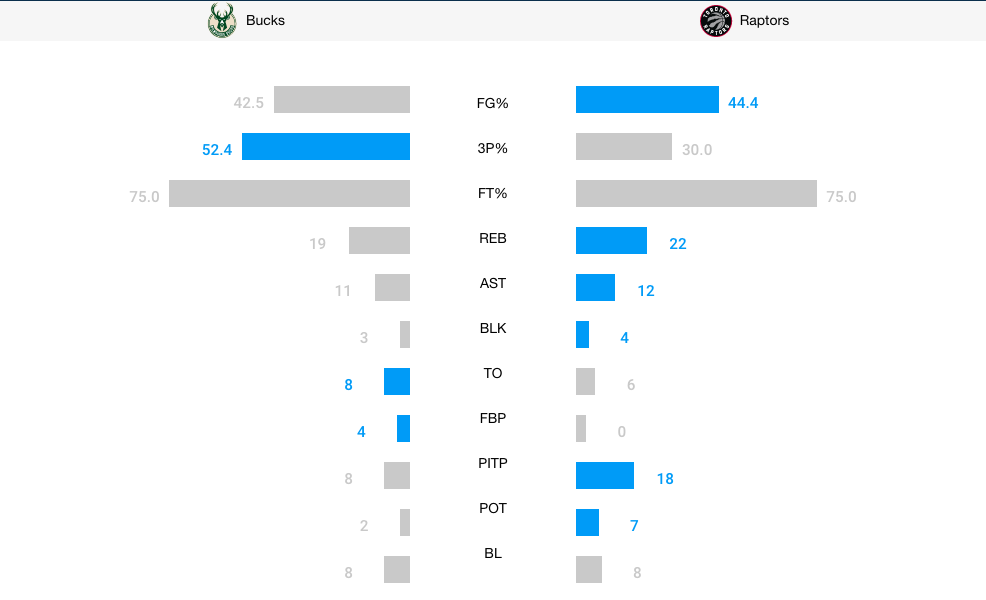 7:04 p.m. - Behind Brook Lopez's 16 first-half points, the Bucks take a two-point lead into the break. All-Star forward Giannis Antetokounmpo has nine points, eight rebounds and four assists for Milwaukee, who is shooting 52.4 percent from 3-point range as a team.
Toronto's balanced attack is lead by Fred VanVleet and Serge Ibaka, who each have scored 11 points apiece. Pascal Siakam is the team's other double-digit scorer with 10 points and Kawhi Leonard has eight points through two quarters. It's a cold night for Toronto, who is 6-for-20 from deep so far.
7:00 p.m. - They're trading 3-pointers at Scotiabank Arena.
Danny Green gives the Raptors the lead with a 3-pointer, but Brook Lopez responds on the next possesion.
Toronto regains the lead courtesy of a trey from Fred VanVleet, but Brook Lopez once again responds with a trey of his own. Lopez has 16 points (on 4-for-5 3-point shooting and Milwaukee is now 11-for-21 from deep and leads 50-49.
4 triples, 16 PTS for Brook Lopez in the 1st half on @NBATV! #FearTheDeer pic.twitter.com/peMgI04zF2

- NBA (@NBA) December 10, 2018
6:54 p.m. - The Bucks have been in command since taking the lead early on in the second, while the Raptors have struggled to find their touch from deep.
As Toronto looks to reverse its fortune, a 3-pointer from Fred VanVleet with 3:12 remaining in the half makes it a 7-0 run for the home team, who now trail 44-43. Timeout Bucks.
6:41 p.m. - A booming dunk from Giannis Antetokounmpo makes it a 10-0 run for the Bucks, who now have a two-point lead.
Giannis steps through for the flush! 👀

10-0 @Bucks run in the 2nd Q on @NBATV#FearTheDeer 32#WeTheNorth 30 pic.twitter.com/gGSeP5isdO

- NBA (@NBA) December 9, 2018
Nick Nurse signals for a timeout as the Bucks lead 32-30 less than three minutes into the quarter.
6:39 p.m. - C.J. Miles draws a charge on Giannis Antetokoumpo early on in the second quarter - it's his second foul of the night, but he's still on the floor.
End of First Quarter: Raptors 30, Bucks 25
6:32 p.m. - A 3-pointer from Thon Maker cuts into the deficit but the Raptors will take a 30-25 lead into the second frame.
Toronto is led by Kawhi Leonard and Pascal Siakam, who have each scored eight points in the first 12 minutes. Serge Ibaka has added seven points through one quarter.
Brook Lopez's 10 points (on 4-for-5 shooting) have led the Bucks while Giannis Antetokoumpo finished the first with seven points, three rebounds and two assists.
6:24 p.m. - Timeout on the floor, 2:54 remaining in the first frame.
Toronto has built a seven-point lead and is up 25-18. Brook Lopez has brought his game-high total up to 10 points while Kawhi Lwonard's eight points now lead the Raptors.
6:20 p.m. - Toronto getting it done on the defensive end!
Sensational, swarming, hungry multiple effort defensive sequences. pic.twitter.com/n4JtkxBjUP

- Toronto Raptors (@Raptors) December 9, 2018
6:16 p.m. - We've reached our first break in the action of the evening with 6:51 remaining in the first quarter - the Raptors hold a 16-15 lead.
Bucks centre Brook Lopez leads all scorers with seven points, while the Raptors are led by five points and three rebounds from Pascal Siakam.
6:14 p.m. - Danny Green with style and substance
Danny Green making plays off the dribble!#WeTheNorth 16#FearTheDeer 15

📺: @NBATV pic.twitter.com/DiNBgGIeFF

- NBA (@NBA) December 9, 2018
6:12 p.m. - Things are underway in Toronto and the Bucks get on the board first thanks to Giannis Antetokounmpo.
Kawhi Leonard quickly responds with a two of his own.
Pregame
5:00 p.m. - Newly acquired Bucks guard George Hill gets loose pregame.
Hill and forward Jason Smith, who were both acquired Friday, are listed as active for tonight's game, but it is unclear whether or not they will see time on the floor.
George Hill hits the court to get loose for tonight's game!!#FearTheDeer pic.twitter.com/XJkJ3FMmwC

- Milwaukee Bucks (@Bucks) December 9, 2018
4:30 p.m. - The Raptors will go with a starting lineup of Kyle Lowry, Danny Green, Kawhi Leonard, Pascal Siakam and Serge Ibaka, who is back in the starting lineup after coming off the bench in Friday's loss to Brooklyn.
Tonight's starting 5. #WeTheNorth pic.twitter.com/uP6RTsulV9

- Toronto Raptors (@Raptors) December 9, 2018