Who's Playing
Matchup: Toronto Raptors vs. Milwaukee Bucks
Records: Raptors (13-15), Bucks (16-12)
Where to Watch
Date: Thursday, Feb. 18
Time: 7:30 p.m. ET
TV: TSN (Canada), Fox Sports Wisconsin or TNT (USA)
Location: Fiserv Forum, Milwaukee, WI
Three things to watch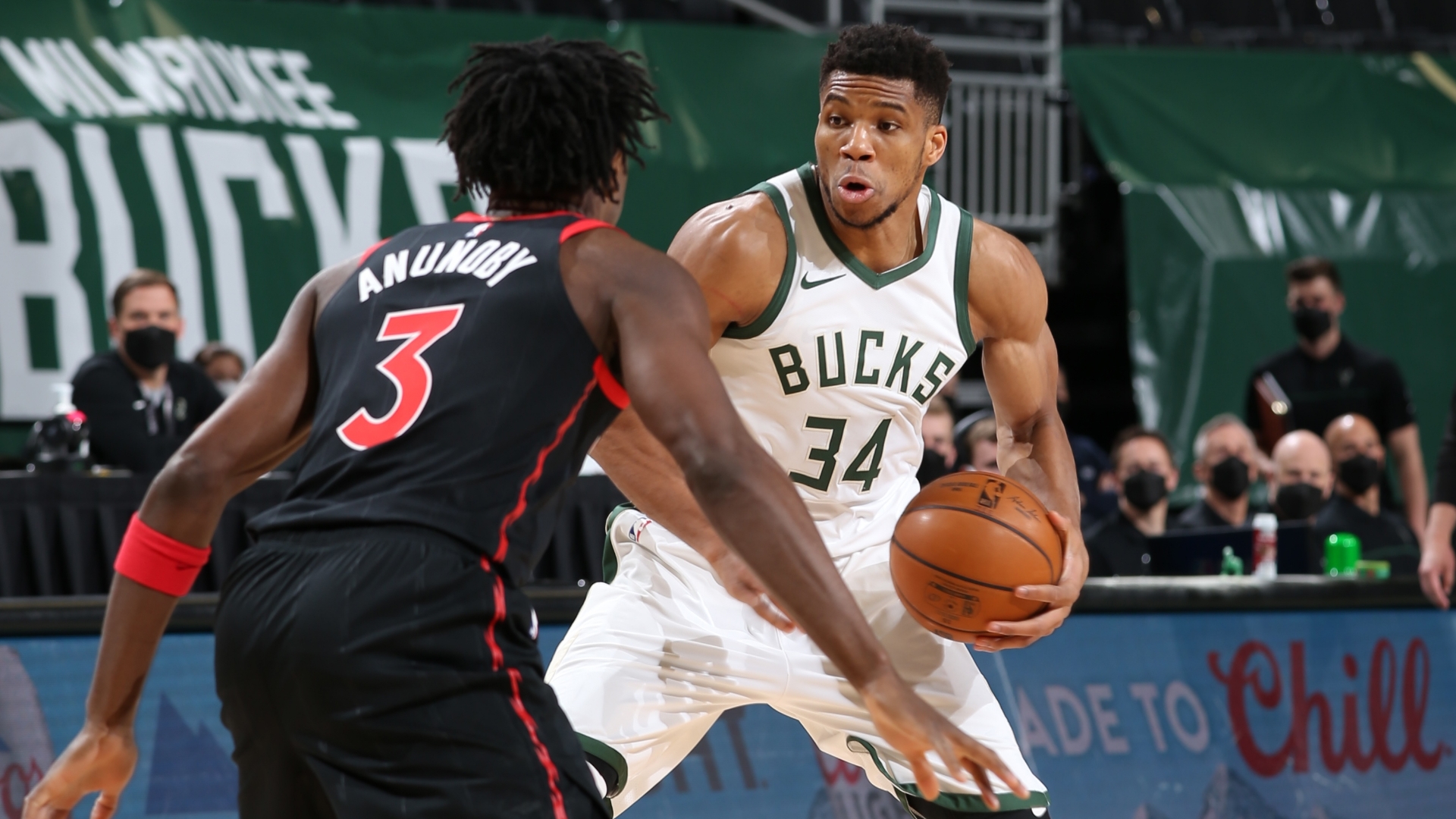 Less than 48 hours after earning an impressive win in Milwaukee, the Toronto Raptors are back at Fiserv Forum to face the Bucks for the third and final time of the 2020-21 regular season.
This marks the fourth 'mini-series' in which the Raptors face the same opponent at the same location in consecutive games this season; Toronto has won at least one game in each instance. The Raptors now go for their second consecutive win over a Bucks team that seeks answers after dropping four in a row.
With that in mind, here are some things to look out for…
1. Milwaukee's response
After Tuesday's loss to Toronto, Milwaukee's reigning back-to-back MVP Giannis Antetokounmpo acknowledged frustration but maintained the perspective of a bigger picture, telling reporters "at the end of the day, we lost four in a row; we're not going home. We're still here. It's not the playoffs. Obviously, it's frustrating. We want to win, especially a game like this. A big game, guys playing hard…
"But always, you've got to look at the bright side of it. You still have another opportunity on Thursday. So, keep getting better, watch the film, improve, keep everybody in a good place, and it's not the end of the world right now."
As if it wasn't already hard enough to beat the same team twice in a matter of three days, the Raptors are now dealing with a Bucks team that will be making a conscious effort to improve upon the reoccurring mistakes from their current four-game losing streak.
Working against Milwaukee's favour is that it will again be without Jrue Holiday, who is set to miss his sixth game due to the league's health and safety protocols. To say that the Bucks are missing their starting guard would be an understatement as they are now 1-4 over the course of his five-game absence.
The biggest name to keep an eye on? Khris Middleton. While he's piecing together a historic season from a statistical standpoint, Middleton finished with just 11 points (on 4-for-8 shooting), seven rebounds, two steals and five turnovers on Tuesday and failed to record an assist for the first time in the 2020-21 season.
Expect Milwaukee to respond to Tuesday's loss in a big way with the intent of making a statement early on, especially in front of a national TV audience in the States.
2. Will we see more small ball?
OG Anunoby's welcomed return to Toronto's lineup on Tuesday also meant the introduction of a new small-ball starting unit that placed Anunoby alongside, Kyle Lowry, Fred VanVleet, Norman Powell and Pascal Siakam.
Based on the result of the Raptors earning the win, the experiment yielded a positive result, although a sore ankle ended Lowry's night early, causing Nick Nurse to get creative with his implementation of Aron Baynes and Chris Boucher.
As Lowry's status is up in the air for Thursday, it might be some time before fans get a second look at the intriguing small-ball unit that started the night off on Tuesday.
NBA.com's Kyle Irving weighed through some of the pros and cons of Toronto's small starting unit, which does face a unique challenge in one of the best paint scorers in league history in Antetokounmpo.
Working in the Raptors' favour is the defensive prowess that Anunoby anchors. Not only did he serve as Antetokounmpo's primary defender in his first game back from injury but OG Also displayed his switchability by making life difficult for Middleton.
Even if Lowry isn't available (to a left thumb injury), Toronto could experiment with different iterations of small-ball lineups, which is worth keeping an eye on.
3. Siakam looks to build on a strong finish
As NBA.com's Scott Rafferty noted in his postgame thoughts, Pascal Siakam was a difference-maker in the fourth quarter, a testament to his persistence after a rough start.
Now, after helping Toronto take control down the stretch on Tuesday, Siakam could find ways to build off of that momentum to get off to a better start in Thursday's rematch. After scoring eight points in the first quarter against the Wizards over a week ago, Siakam has scored a total of eight points on 4-for-13 (30.8 percent) shooting in the first quarter of Toronto's last three games combined.
A common thread among the previous three games is that Siakam has not attempted a free throw in the first frame. More assertiveness and aggression could result in his getting to the line early, which, in turn, could open his offensive game up from the get-go.
With the momentum built in the final six minutes of an impressive win, there's no time like Thursday for Siakam to get into a higher gear early on.
Injury Report
Raptors
Malachi Flynn (G League assignment) - Out
Jalen Harris (G League assignment) - Out
Kyle Lowry (Sprained left thumb) - Questionable
Patrick McCaw (Left knee rehabilitation) - Out
Yuta Watanabe (Left ankle sprain) - Questionable
Bucks
Mamadi Diakite (G League assignment) - Out
Jrue Holiday (Health and safety protocols) - Out
Sam Merrill (G League assignment) - Out
Jordan Nwora (Left ankle sprain) - Out
Raptors vs. Bucks: Betting odds, spread, over/under
Spread: Raptors +6.0 (-110), Bucks -6.0 (-110)
Raptors Money line: +190
Bucks Money line: -220
Over/under: 235.5 (-110)
*Odds courtesy of William Hill Sports Book
Last Time They Played
Date: Feb. 16, 2021
Score: Raptors 124, Bucks 113
Raptors: Fred VanVleet - 33 PTS (12-22 FG), 7 AST, 4 REB, 2 STL
Bucks: Giannis Antetokounmpo - 34 PTS (11-20 FG), 10 REB, 8 AST, 5 STL, 2 BLK
The views on this page do not necessarily reflect the views of the NBA or its clubs.