Who's Playing
Matchup: Toronto Raptors vs. Miami Heat
Records: Raptors (47-18), Heat (42-24)
Where to Watch
Date: Monday, Aug. 3
Time: 1:30 p.m.
TV: Sportsnet ONE (Canada), Fox Sports Sun or NBATV (USA)
Location: HP Field House, Orlando, FL
Game Preview
Less than 48 hours after opening their seeding game schedule with an impressive win over the Los Angeles Lakers, the Toronto Raptors are back in action with another tough test as they face the Miami Heat.
It's the third and final meeting between Eastern Conference powers this season, and Toronto looks to avoid a season sweep after dropping its first two games against Miami.
The most recent game between these two teams came on Jan. 2 and by many accounts, was a statistical anomaly.
In an overall ugly game, the Heat earned an 84-76 win over the Raptors, who shot just 28-for-89 (31.5%) from the field and an abysmal 6-for-42 (14.3%) from beyond the arc. Down Marc Gasol, Norman Powell and Pascal Siakam, the majority of the offensive load went to Serge Ibaka, who scored 19 points (on 9-for-21 shooting) while Kyle Lowry (15 points) and Fred VanVleet (seven points) combined to shoot just 3-for-23 (13.0%) from deep.
In fact, Kyle Lowry has struggled in both games against the Heat this season. Factoring in the first meeting that was his first game back from an injury, Toronto's All-Star guard is averaging 13.5 points and 9.5 assists while shooting 17.6% from the field and 8.7% from deep.
For Miami, starters not named Bam Adebayo (who finished with 15 points and 14 rebounds on 7-for-8 shooting) combined to shoot 10-for-35 (28.6%) from the field in the January win. The difference came from the bench, as the Heat's reserves outscored the Raptors second unit 40-20.
Fast forward seven months later, and things look much different.
The Raptors are at full strength, while the Heat have added Jae Crowder, Solomon Hill and Andre Iguodala to the roster.
Both Toronto and Miami are coming off of wins over Western Conference powers as the Heat earned a dominant victory over the Denver Nuggets to begin their restart on the right note. The Heat put forth an impressive dominant effort and shot 44.8% from deep, thanks largely in part to Crowder, the sharpshooting Duncan Robinson and Canadian Kelly Olynyk, who drained four triples in the fourth quarter.
3-point shooting is something to keep an eye on in this one.
| | | | | |
| --- | --- | --- | --- | --- |
| TOR | Rank | Category | MIA | Rank |
| 13.8 | 4th | 3PM/G | 13.3 | 6th |
| 37.1 | 3rd | 3PT% | 34.8 | 1st |
| 12.9 | 24th | OPP 3PM/G | 13.1 | 25th |
| 33.6 | 1st | OPP 3PT% | 34.4 | 5th |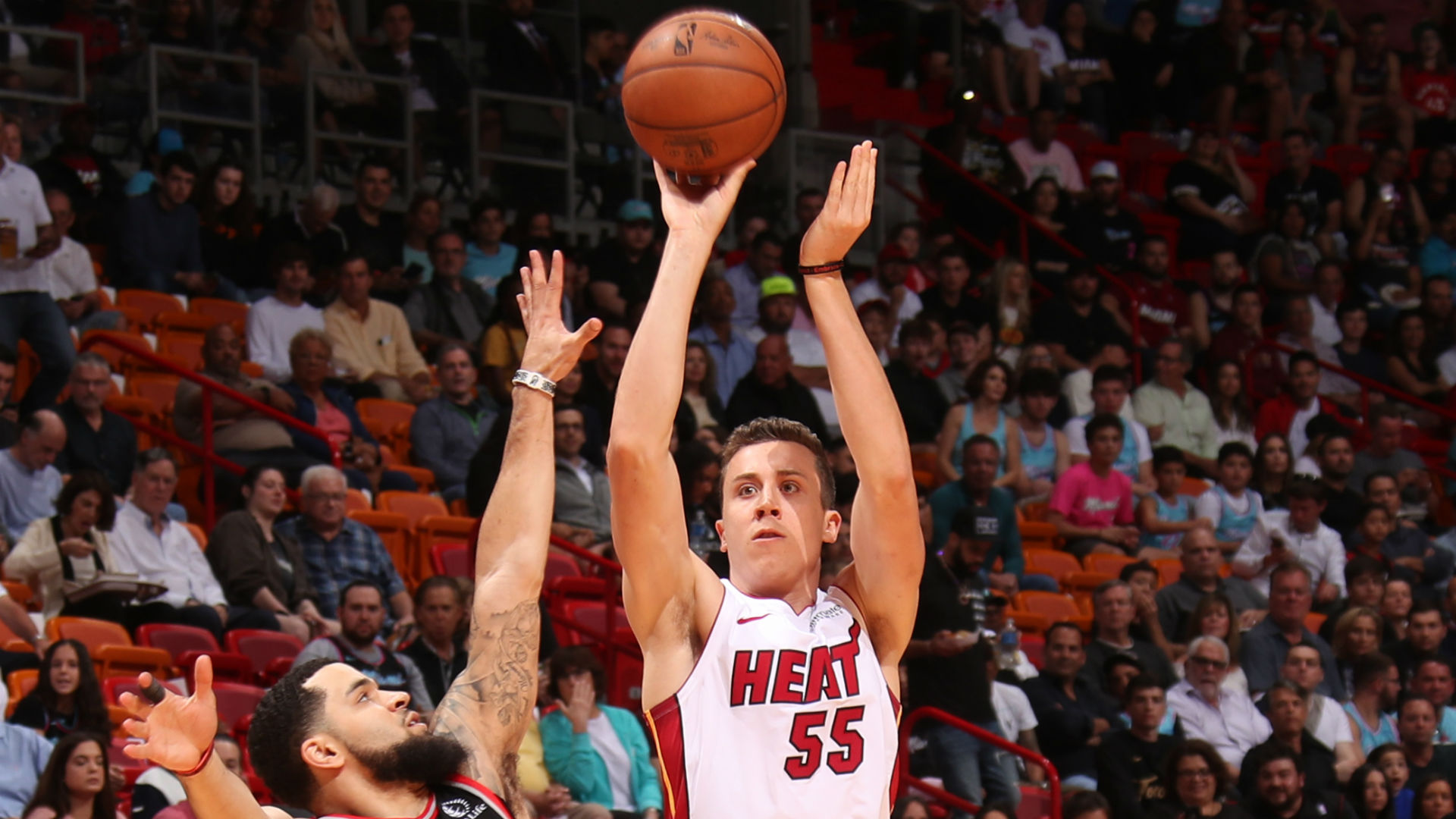 The Raptors are one of the league's best teams at defending the 3-point shot while the Heat are one of the league's most efficient 3-point shooting teams, knocking down 13.3 3-pointers per game at a 38.4% clip. As mentioned above, Robinson is one of the league's best shooters, as he hits 44.7% of his 8.3 attempts per game and has hit a total of 246 triples this year, second behind only James Harden.
This season, Miami is 27-4 when it hits more triples than its opponent while Toronto is 22-9 when hitting more 3s. Both teams shot above 40.0% from deep in their wins on Saturday, so we'll see if they can keep that going with an early start on Monday.
Injury Report
Raptors
Oshae Brissett (right knee) - Out
Patrick McCaw (left knee) - Out
Heat
Bam Adebayo (right quadriceps) - Probable
Goran Dragic (upper back spasms) - Probable
Game Notes
This is a Miami Heat "home" game, meaning production elements will be in support of the Heat.
FiveThirtyEight gives the Raptors a win probability of 66% in its NBA Predictions model.
The Raptors (104.7) rank second in Defensive Rating while the Heat (109.1) rank 13th.
Miami (112.4) boast's the league's fourth-rated offence while Toronto (111.1) ranks 12th.
The Heat's roster features two Canadians in Kelly Olynyk and Kyle Alexander.
Jimmy Butler and Kyle Lowry won a gold medal together as members of the United States Men's National Team at the 2016 Olympic Games.
Kyle Lowry and Goran Dragic were teammates for two seasons with the Houston Rockets.
Last Time They Played
Date: Jan. 2, 2020
Score: Heat 84, Raptors 76
Heat: Bam Adebayo - 15 PTS (7-8 FG), 14 REB, 2 AST
Raptors: Serge Ibaka - 19 PTS (9-21 FG), 10 REB, 2 BLK
Current Standings
x - Clinched Playoffs Berth
The views on this page do not necessarily reflect the views of the NBA or its clubs.