After losing two straight, the Toronto Raptors (22-7) got back on track Tuesday night with a road win over LA Clippers (17-10)
While Monday night is the first of a four-game West Coast trip for the Raptors, it is the second night of a back-to-back for the Clippers, who earned a gritty overtime win over the Suns Monday.
If you missed any of the action, check below for updates, highlights and stats from throughout the night.
Toronto Raptors vs. LA Clippers: Live score updates, highlights and stats
Preview | Box Score | Play-by-play
Final: Raptors 123, Clippers 99
12:40 a.m. - Final stats: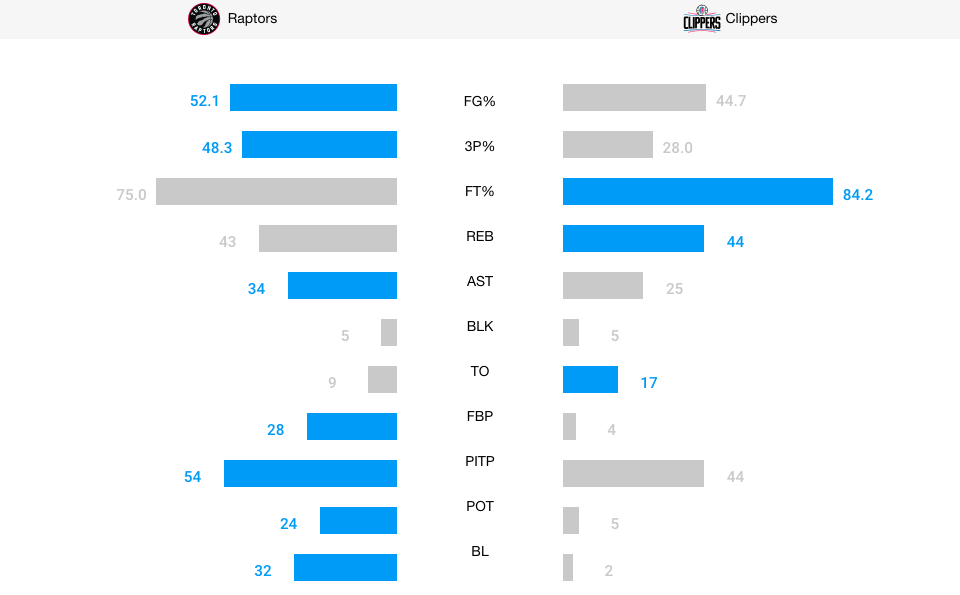 12:30 a.m. - The Clippers have chipped away some, but the Raptors lead 115-92 with 2:50 remaining.
12:22 a.m. - We've almost reached the midway point of the fourth quarter and this one's all but over.
Toronto leads 113-83 with 6:29 remaining in the game.
The Raptors starters look to be done for the night, which is crucial as the Warriors await in Oakland for a showdown at ORACLE Arena Wednesday.
End of Third Quarter: Raptors 103, Clippers 74
12:12 a.m. - The Raptors outscore the Clippers 33-17 in the third quarter to get out to a 29-point lead at the end of the third quarter.
Serge Ibaka has a game-high 25 points in addition to nine rebounds and three blocks while Kyle Lowry is up to 21 points, seven assists and five rebounds. Fred VanVleet has five points, six rebounds and a game-high 14 assists.
The Clippers are led by Tyrone Wallace, who has 14 points off the bench. Tobias Harris (10) and Danilo Gallinari (11) have combined for 21 points on 8-for-20 shooting from the field.
12:09 a.m. - What slump?
Kyle Lowry drains a 3-pointer to give the Raptors their biggest lead of the night. He's got 14 points in the quarter alone and Toronto leads 103-71 with under a minute remaining in the third.
L 👌🏽 W R Y pic.twitter.com/sfLFDDG6p8

- Toronto Raptors (@Raptors) December 12, 2018
11:57 p.m. - The Raptors 13-4 run in the first 4:20 of the second half forces Doc Rivers to call another timeout.
Toronto leads 83-61 and Serge Ibaka is up to a game-high 21 points in 20 minutes of action. The Raptors are shooting 62.7 percent from the field and 42.9 percent from deep.
11:53 p.m. - Kyle Lowry, 13-year veteran, teaches the rookie a quick lesson.
School's in session 📝 pic.twitter.com/rTAin7mWnN

- Toronto Raptors (@Raptors) December 12, 2018
11:51 p.m. - Toronto picks up right where it left off in the first half, opening the third frame on a 7-2 run that is capped off by a Serge Ibaka 3-pointer. The Clippers call for timeout less than two minutes into the quarter.
Ibaka is up to a game-high 17 points and the Raptors lead 77-59 with 10:09 left in the quarter. He's doing it on both ends, too.
Serge Ibaka recovers for the SWAT!#WeTheNorth 81#ClipperNation 61

TUNE IN to the 2nd half on @NBATV pic.twitter.com/yoHEQ0GEZJ

- NBA (@NBA) December 12, 2018
Halftime: Raptors 70, Clippers 57
11:38 p.m. - The halftime stats tell some of the story: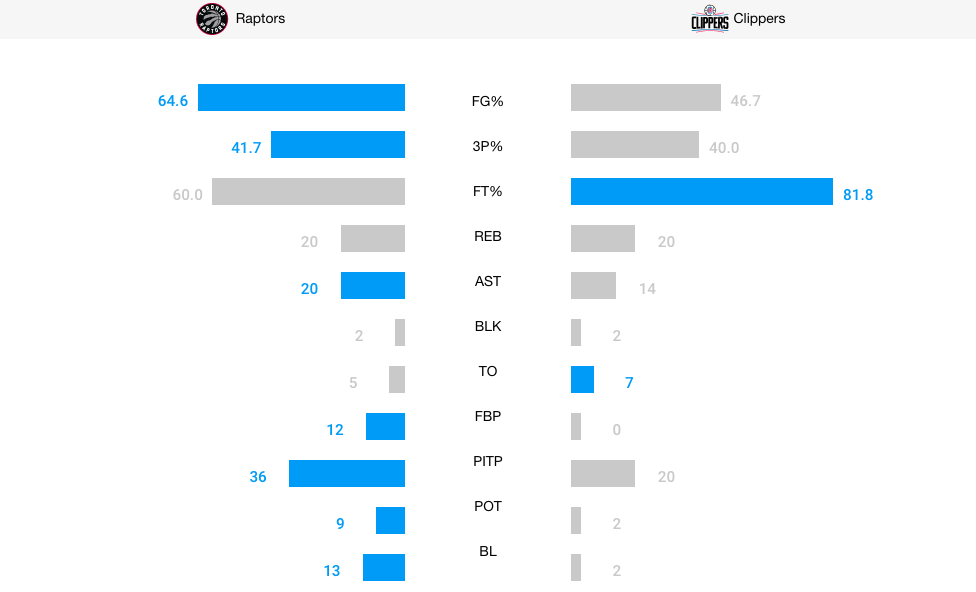 11:33 p.m. - Danny Green's transition layup gives the Raptors 70 points in the first 24 minutes of action and gives them a 13-point lead.
Green has scored seven points on a night that Toronto has benefitted from a balanced attack. Serge Ibaka's game-high 14 points makes him one of four Raptors scoring in double figures. Pascal Siakam (13 points) isn't far behind points while Jonas Valanciunas (12 points) and OG Anunoby (10 points) have helped pace the offence as well.
Kyle Lowry (seven points, five assists) and Fred VanVleet (five points, 10 assists) distributed the ball exceptionally well in the first half.
The Clippers attack has been balanced as well - Danilo Gallinari and Milos Teodosic lead the Clippers with nine points apiece, Tobias Harris and Tyrone Wallace each scored eight points while Shai Gilgeous-Alexander, Marcin Gortat and Mike Scott have seven points apiece.
11:22 p.m. - A 3-pointer from OG Anunoby makes it an 8-0 run for the Raptors and Doc Rivers signals for a timeout.
Anunoby now has seven points (on 3-for-3 shooting) off the bench in eight minutes of action and Toronto leads 59-47 with 3:40 left in the first half.
11:20 p.m. - Running the floor has its benefits, just ask Pascal Siakam.
On-point pass from Lowry: ✔️
BIG dunk from Siakam: ✔️ #WeTheNorth pic.twitter.com/keQkWiIvLt

- NBA Canada (@NBACanada) December 12, 2018
11:18 p.m. - Delon Wright injury update: The fourth-year guard needed stitches above his right eye and should be available to return to action.
11:13 p.m. - Despite a slow start to the quarter, Jonas Valanciunas has ignited the Raptors, who lead 48-42 with 7:06 remaining in the half.
Valanciunas has scored eight points in the second quarter to bring his total to a game-high 12 points in eight minutes of action, but the Raptors have been outscored 19-12 in the first five minutes of the frame.
Reserve guard Milos Teodosic has come out firing for the Clippers, as he has scored nine points on 3-for-3 shooting from deep this quarter and added a few nice assists.
Milos Teodosic with a pair of 🔥 dimes!#ClipperNation 45#WeTheNorth 50

5:39 remaining in Q2 on @NBATV pic.twitter.com/kv36slSlT4

- NBA (@NBA) December 12, 2018
11:07 p.m. - After a sequence in which two of his shots were blocked by Montrezl Harrell, reserve guard Delon Wright appears shaken up and heads back to the Raptors' locker room.
End of First Quarter: Raptors 36, Clippers 23
10:58 p.m. - After trailing 15-14 at the first timeout of the night, the Raptors end the first quarter on a 22-8 run to take a 36-23 lead into the second. The Raptors shot a ridiculous 16-for-24 (66.7 percent) from the field in the first 12 minutes.
Toronto is led by Serge Ibaka and Pascal Siakam, who each scored eight points in the first frame. An increase in aggression from Kyle Lowry has resulted in his scoring seven points in the first frame, while Jonas Valanciunas scored four points in four minutes off the bench.
Shai Gilgeous Alexander's seven first-quarter points paced the Clippers and Tobias Harris wasn't too far behind with six points in the first frame.
10:52 p.m. - With 3:15 remaining in the first frame, the Raptors hold a 24-19 lead over the Clippers.
Kyle Lowry looks to be emerging from his slump as he has scored seven points (on 3-for-4 shooting) early on. Pascal Siakam has six points in the first nine minutes of play and Fred VanVleet has dished out four assists to go along with the one 3-pointer he's drained.
Canadian rookie Shai Gilgeous-Alexander has been impressive early on, as he's scored a team-high seven points for the Clippers while Marcin Gortat has scored two points, grabbed three rebounds and dished out three assists.
10:50 p.m. - It's a good sign for Toronto when Kyle Lowry knocks these down early on.
Bingoooooooooo pic.twitter.com/ZwxqcbIdDF

- Toronto Raptors (@Raptors) December 12, 2018
10:45 p.m. - Timeout on the floor and we've reached our first break in the action with 7:08 remaining in the first quarter. LA leads Toronto 15-14.
The Clippers are led by six points from Tobias Harris while Serge Ibaka is pacing the Raptors with a game-high eight points.
Quick 8 PTS for Serge Ibaka on @NBATV!#WeTheNorth 14#ClipperNation 15 pic.twitter.com/ja268Tae3c

- NBA (@NBA) December 12, 2018
Hot shooting has been the name of the game as LA is 7-for-10 from the field (70 percent) and Toronto is 6-for-8 (75 percent) from the field early on.
10:40 p.m. - Things are underway in Los Angeles and the Clippers get on the board first courtesy of Tobias Harris.
Pregame
10:00 p.m. - The Clippers will start Canadian Shai Gilgeous-Alexander, Avery Bradley, Danilo Gallinari, Tobias Harris and Marcin Gortat.
9:50 p.m. - In Kawhi Leonard's absence, the Raptors will start Kyle Lowry, Fred VanVleet, Danny Green, Pascal Siakam and Serge Ibaka.
Tonight's starting 5. #WeTheNorth pic.twitter.com/rBYkRdAlEs

- Toronto Raptors (@Raptors) December 12, 2018
9:05 p.m. - Former Raptor Lou Williams is out for the Clippers tonight with a hamstring injury . Williams is averaging 17.2 points and a team-high 4.5 assists off the bench this season.
9:00 p.m. - Per multiple reports, Raptors leading scorer Kawhi Leonard will not play tonight.
Kawhi Leonard will not play tonight, per Nick Nurse.

- Jovan Buha (@jovanbuha) December 12, 2018