Who's Playing
Matchup: Toronto Raptors vs. Houston Rockets
Where to Watch
Date: Friday, July 24
Time: 7:30 p.m. ET
TV: TSN (Canada), NBA TV (United States)
Location: The Arena (Disney's Wide World of Sports), Orlando, FL
Per the NBA, the first exhibition scrimmage for every team will be 40-minute games with four 10-minute quarters.
Game Preview
When the Toronto Raptors take the floor for the first of three scrimmages ahead of the NBA's restart in Orlando, 137 days will have passed since the last time they took the floor.
While in the grand scheme, what happened four months ago seems inconsequential with respect to momentum, it is worth noting that the Raptors were riding high, capping a four-game win streak with a tough road win over the Utah Jazz on March 9. Conversely, things weren't going as well for Houston, who had dropped four of its last five, with losses coming to the New York Knicks, LA Clippers, Charlotte Hornets and Orlando Magic.
With all of that in the past, these two teams are set to get the competitive juices flowing once again as they take the floor at The Arena, located at Disney's Wide World of Sports. In a way, things come full circle for these teams, as they faced off twice at a neutral location during the 2019 preseason as part of the 2019 NBA Japan Games.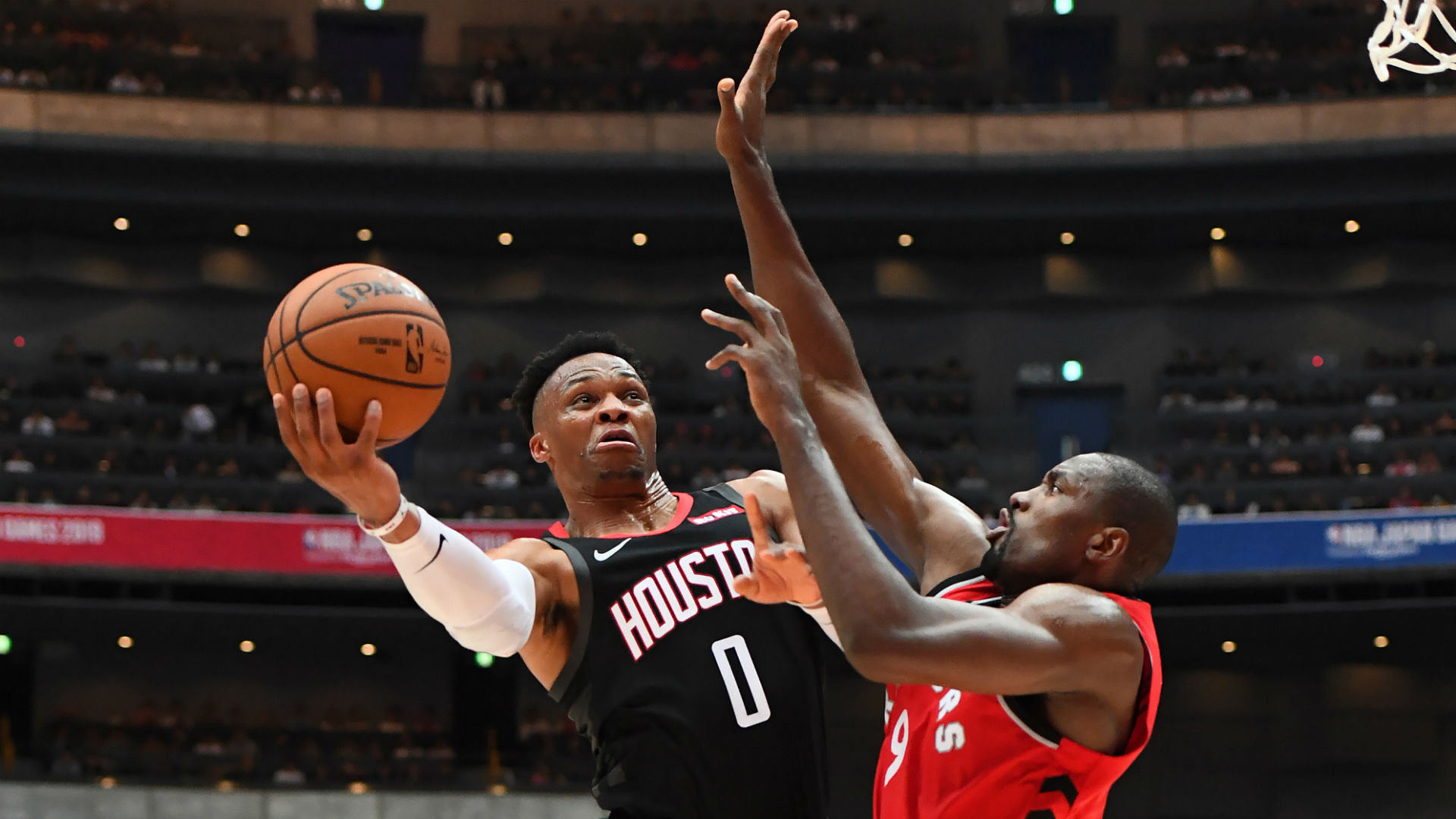 There, fans got their first look at the Houston version of the backcourt pairing of James Harden and Russell Westbrook, who made his Rockets debut in Japan. Westbrook's status for the scrimmage is uncertain. On July 13, the All-Star shared that he had tested positive for COVID-19 but recently joined the team in Orlando but ahead of the scrimmage, ESPN's Tim MacMahon has reported that Westbrook plans to play, having practiced twice since clearing the NBA's quarantine protocol.
Rockets free-agent acquisition Luc Mbah a Moute has yet to join the team and Shams Charania of The Athletic has reported that Austin Rivers has left Orlando to deal with an urgent family matter.
Aside from Mbah a Moute and Rivers, both teams will likely have their full rosters at their disposal, though you should temper your limitations as to how much you will see players on the floor. With both the Raptors and Rockets looking to contend and make deep postseason runs, expect both Nick Nurse and Mike D'Antoni to err on the side of caution with their rotations to ensure their players are eased back into competition.
Three Key Questions
1. What kind of basketball should we expect to see?
You hear players and coaches say it time and time again, there's no way to replicate game speed and game repetitions. With that in mind, it's fair to expect there to be some rust present with both teams since it has been over four months since they've actually competed against another team.
After all, that is what these three scrimmages are for.
2. How much will the starters play?
For both teams, there's a delicate balance between taking the cautious approach to avoid any unnecessary burden and using this as an opportunity to continue to ramp up the conditioning for key players.
Ahead of the scrimmage, Nurse told reporters that he plans on rotating the players he makes available for the scrimmages in order to keep everyone as fresh as possible for the eight "seeding" games (per Josh Lewenberg, TSN).
Still, it's a unique opportunity to experiment with lineups as he will have a healthy roster at his expense for essentially the first time all year. New lineups could unlock new sets and rotations that could be used in the eight seeding games and, more importantly, the 2020 postseason.
3. How will the Raptors fare against the Rockets' small-ball lineups?
This is, quite possibly, the biggest thing to keep an eye on in the opening scrimmage. When these two teams met in December, Clint Capela saw 32 minutes of action but has since been traded by the Rockets, who have adopted a potentially revolutionary small-ball strategy with a starting lineup of players 6-foot-7 and under.
While Toronto won't see Houston again - aside from a potential meeting in the Finals, of course - it seems to be on a crash course for a second-round meeting with the Boston Celtics, a team that could potentially roll out a lineup of Kemba Walker, Marcus Smart, Jaylen Brown, Gordon Hayward and Jayson Tatum.
The Raptors certainly have the versatile, switchy personnel to match up with any type of lineup a team rolls out, including those of the revolutionary small-ball variety. While the results are largely inconsequential, I fully expect Nurse to have that in the back of his mind when employing rotations against the Rockets.
Injury Report
Injury reports will be made available closer to July 24
Game Notes
Houston leads the league with 15.4 made 3-pointers per game, Toronto's 13.8 made 3-pointers per game are good for fourth
James Harden is averaging a league-leading 34.4 points through 61 games and is on track for his third-straight scoring title
The Raptors boast the league's second-best defensive rating (104.9), while the Rockets (109.9) come in at 16th
Bruno Caboclo (25 games), PJ Tucker (41 games) and DeMarre Carroll (98 games) have each spent time with the Raptors
Kyle Lowry appeared in 218 games over four seasons (2008-12) with the Rockets
James Harden, Serge Ibaka and Russell Westbrook spent three seasons (2009-12) as teammates with the Oklahoma City Thunder
Last Time They Played
Date: Dec. 5, 2019
Score: Rockets 119, Raptors 109
Rockets: Russell Westbrook - 19 PTS, 13 REB, 11 AST, 8 TO
Raptors: Pascal Siakam - 24 PTS, 9 REB, 2 STL
Current Standings
x - Clinched Playoffs Berth
The views on this page do not necessarily reflect the views of the NBA or its clubs.