A losing streak came to an end on Monday night.
The Houston Rockets, who entered the night having lost 20 games in a row earned an 18-point win over the Toronto Raptors, who have lost nine in a row since earning their last win on Feb. 26.
Toronto Raptors vs. Houston Rockets: Live score, updates, news, stats and highlights
PREVIEW | BOX SCORE | PLAY BY PLAY
Final: Houston Rockets 117, Toronto Raptors 99
11:20 p.m. - That'll do it.
The Rockets have earned an 18-point victory over the Raptors to snap a 20-game skid.
Jae'Sean Tate led Houston with 22 points while John Wall recorded a triple-double with 19 points, 11 rebounds and 10 assits.
For the Raptors, Fred VanVleet led all scorers with a game-high 27 points while Pascal Siakam finished with a 21-point, 10-rebound double-double.
11:07 p.m. - Just over five minutes remain in the fourth and Toronto trails by 13.
The Rockets lead 105-92 with 5:02 remaining.
The Raptors will have to dig deep to make up this difference with so little time remaining.
11:00 p.m. - Houston is back up by eight points.
The Rockets lead 95-87 with 8:35 remaining in regulation.
Of note: DeAndre' Bembry, who was helping with the scrappiness on defence, has been ejected from the game.
End of Third Quarter: Houston Rockets 88, Toronto Raptors 86
10:47 p.m. - Just when it looked like things would get out of hand, the Raptors respond with a 13-2 run to close the third quarter.
How have they done it? Fred VanVleet turned in a 14-point quarter and a lineup that also featured DeAndre' Bembry, Chris Boucher and Paul Watson has scrapped and clawed.
Ending losing streaks isn't easy, and whichever team does so tonight will have to dig deep to make it happen.
10:32 p.m. - After Houston's lead ballooned to 12, Toronto responded with a 5-0 run to make the deficit a little more manageable.
The Rockets lead 76-69 with 6:33 left in the third.
Jae'Sean Tate is up to 15 points while John Wall's six assists are tied with Kyle Lowry for a game-high.
Pascal Siakam has yet to score in the second half but Fred VanVleet is up to 14 in the game.
Halftime: Houston Rockets 65, Toronto Raptors 60
10:05 p.m. - Some halftime stats:
There have been 11 lead changes and eight ties in the first 24 minutes.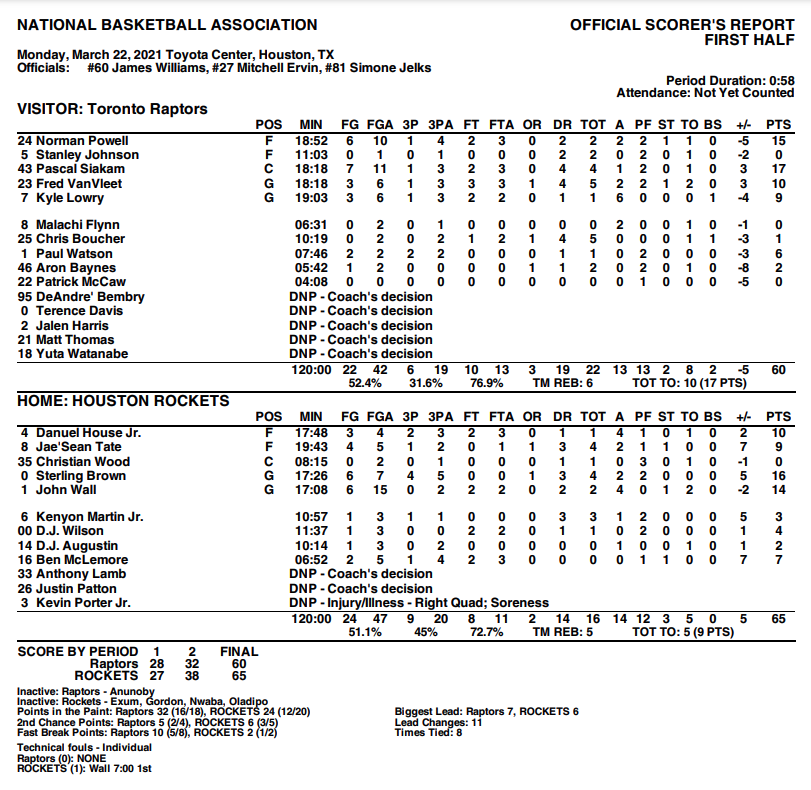 10:00 p.m. - Danuel House knocks one down from the other side of the Toyota Center to beat the halftime buzzer and give Houston a five-point lead.
🚨 BUCKETS pic.twitter.com/QqjWgxZknI

- Houston Rockets (@HoustonRockets) March 23, 2021
House is up to 10 points on the night while Sterling Brown (16) and John Wall (14) have combined to score 30 points to lead the Rockets.
For the Raptors, it's been the four usual suspects with Pascal Siakam (17), Norman Powell (15), Fred VanVleet (10) and Kyle Lowry (9) combining for 51 of the team's 60 first-half points.
One half down, one to go.
9:53 p.m. - We've just passed the midway point of the second and the Rockets hold a four-point lead.
Houston's up 43-39 with 5:48 on the clock.
Norman Powell is up to nine points to tie Pascal Siakam for a team-high while Fred VanVleet has scored eight points of his own.
Ben McLemore has chipped in with seven points off the bench to spark the Rockets' offence.
End of First Quarter: Toronto Raptors 28, Houston Rockets 27
9:38 p.m. - One quarter is in the books and the Raptors have a one-point lead.
Pascal Siakam is up to nine points to lead the way for Toronto while Paul Watson has come off the bench to knock down two triples for six points in four minutes.
Corner pocket Watson pic.twitter.com/VpFpZb7D2A

- Toronto Raptors (@Raptors) March 23, 2021
Since his early outburst, Sterling Brown has not scored anymore but it's worth noting that outside of Brown, the Rockets are 0-for-6 from 3.
9:20 p.m. - This one's flown by early.
We're past the midway point of the first quarter and it's all tied up at 15.
It's been the Sterling Brown to start as the guard has 13 of Houston's 15 points on perfect 5-for-5 shooting. For the Raptors, Pascal Siakam leads the way with six points on 3-for-5 shooting.
5:40 remains in the first.
Pregame
8:30 p.m. - Starting for the Raptors: Kyle Lowry, Fred VanVleet, Norman Powell, Stanley Johnson and Pascal Siakam.
Tonight's @Invisalign starting lineup. #WeTheNorth pic.twitter.com/6D0DqxwPKm

- Toronto Raptors (@Raptors) March 23, 2021
Stanley Johnson gets the start in place of OG Anunoby.
7:20 p.m. - Down Kevin Porter Jr., the Rockets will go with a starting unit of John Wall, Sterling Brown, Danuel House, Ja'Sean Tate and Christian Wood.
7:00 p.m. - OG Anunoby has been ruled out and will not play on the second end of a back-to-back.
OG Anunoby is now listed as OUT for tonight. "Rest" on the back-to-back.

- Blake Murphy (@BlakeMurphyODC) March 22, 2021
The views on this page do not necessarily reflect the views of the NBA or its clubs.