The Charlotte Hornets have now won three in a row and four of their last five after earning a wire-to-wire victory over the Toronto Raptors.
The final was a bit closer than things would actually suggest, as Charlotte led by as many as 26 points on the night. Rookie of the Year favourite LaMelo Ball led all scorers with 23 points to go along with nine rebounds and six assists while Kyle Lowry led the way for the Raptors with 19 points, eight assists and six rebounds.
If you missed any of the action, check below for live score updates, news, stats and highlights from throughout the night.
Toronto Raptors vs. Charlotte Hornets: Live score updates, news, stats and highlights
PREVIEW | BOX SCORE | PLAY-BY-PLAY
Final: Charlotte Hornets 114, Toronto Raptors 104
9:05 p.m. - Toronto trails by 24 points with 6:53 remaining.
The Hornets are well on their way to a third-straight win as they lead 106-82.
The Raptors will look to regroup ahead of another challenge tomorrow.
End of Third Quarter: Charlotte Hornets 98, Toronto Raptors 73
8:54 p.m. - With one quarter left to play, Toronto trails by 25.
The Hornets guard trio leads the way, as LaMelo Ball (19), Devonte' Graham (17) and Terry Rozier (17) have done the bulk of the scoring while Malik Monk has added 12 points, to boot.
Kyle Lowry leads the Raptors with 19 points and eight assists while Norman Powell has 13 points but is just 4-for-14 from the field.
8:35 p.m. - We're nearing the midway point of the third and Charlotte has stretched the lead back out to 19.
The Hornets are up 81-62 with 6:29 left in the frame.
LaMelo Ball leads all scorers with 19 points and Charlotte is now 18-for-34 from beyond the arc.
Norman Powell, who is just 4-for-13 from the field, is up to 13 points while Kyle Lowry now has a game-high eight assists to go with his 16 points.
Halftime: Charlotte Hornets 67, Toronto Raptors 52
8:20 p.m. - Some halftime stats: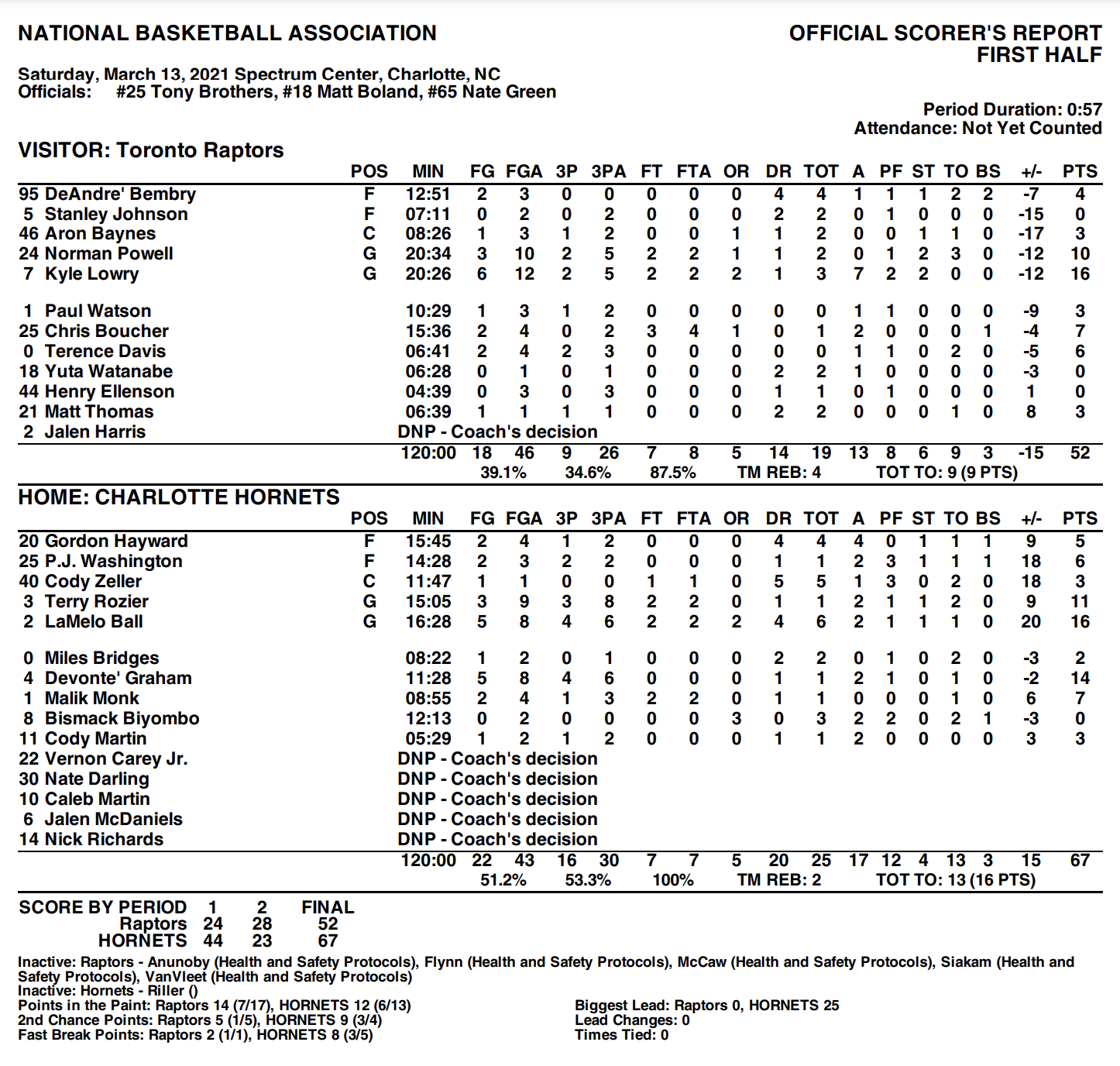 8:10 p.m. - The Raptors outscored the Hornets 28-23 in the second frame to cut the deficit to 15 but the team still has some work to do.
Charlotte enters the half having shot 16-for-30 (53.3 percent) from 3-point range and assisting on 17 of its 22 made field goals. The 16 3s? Just one shy of an NBA record.
Rookie LaMelo Ball leads the Hornets with 16 points while Devonte' Graham has added 14 and Terry Rozier has scored 11.
The Spin Cycle 🌪🌪🌪@MELOD1P | @HornetsOnFSSE pic.twitter.com/DekuLAVcLB

- Charlotte Hornets (@hornets) March 14, 2021
Together, the guard trio has combined to shoot 11-for-20 from deep.
For the Raptors, Kyle Lowry is up to 16 points and seven assists and Norman Powell is the other double-figure scorer with 10 points on 3-for-10 shooting. As a team, Toronto is shooting 18-for-46 from the field and 9-for-26 from deep.
7:49 p.m - We're approaching the midway point of the second quarter and the Hornets remain in command.
Charlotte leads 60-35 with 6:39 remaining in the half.
Toronto will look to cut into the deficit heading into the break but Charlotte has knocked down 15 3s in the game, a new franchise opponent record for a half for Toronto.
End of First Quarter: Charlotte Hornets 44, Toronto Raptors 24
7:38 p.m. - One quarter is in the books and just about everything that could go wrong for Toronto … did go wrong.
And everything went right for Charlotte
In the first frame alone, the Hornets knocked down 11 out of 16 3s, with guards LaMelo Ball, Terry Rozier and Devonte' Graham knocking down three apiece. Charlotte has also assisted on 12 of its 14 made field goals.
Hand down, man down 👌 @MELOD1P | @HornetsOnFSSE pic.twitter.com/TMMmqC1Grc

- Charlotte Hornets (@hornets) March 14, 2021
Kyle Lowry led the way for the Raptors with seven points but the team struggled to get going and has its work cut out for the final three quarters.
7:30 p.m. - It didn't take too long for things to get out of hand early.
After the Hornets opened the game on a 19-2 run, the Raptors still trail by 17 points.
Charlotte leads 34-17 with just over three minutes remaining in the opening frame.
How are the Hornets doing it? Well, it helps that the team is 9-for-13 from 3 to start. LaMelo Ball and Terry Rozier have each knocked down three triples for Charlotte.
Pregame
6:45 p.m. - Starting for the Hornets: LaMelo Ball, Terry Rozier, Gordon Hayward, PJ Washington and Cody Zeller.
🖐 #AllFly | @HusqvarnaUSA pic.twitter.com/DjQ4oSG5yR

- Charlotte Hornets (@hornets) March 13, 2021
6:30 p.m. - With five players remaining out, the Raptors will roll with a starting unit of Kyle Lowry, Norman Powell, DeAndre' Bembry, Stanley Johnson and Aron Baynes.
Tonight's @Invisalign starting lineup. #WeTheNorth pic.twitter.com/cDdcP7p95M

- Toronto Raptors (@Raptors) March 13, 2021

The views on this page do not necessarily reflect the views of the NBA or its clubs.