Who's Playing
Matchup: Toronto Raptors vs. Boston Celtics
Records: Raptors (12-13), Celtics (12-11)
Where to Watch
Date: Thursday, Feb. 11
Time: 7:30 p.m.
TV: SN One / SNE / SNO (Canada), NBC Sports Boston or NBA League Pass (America)
Location: TD Garden, Boston, MA
Three Things to Watch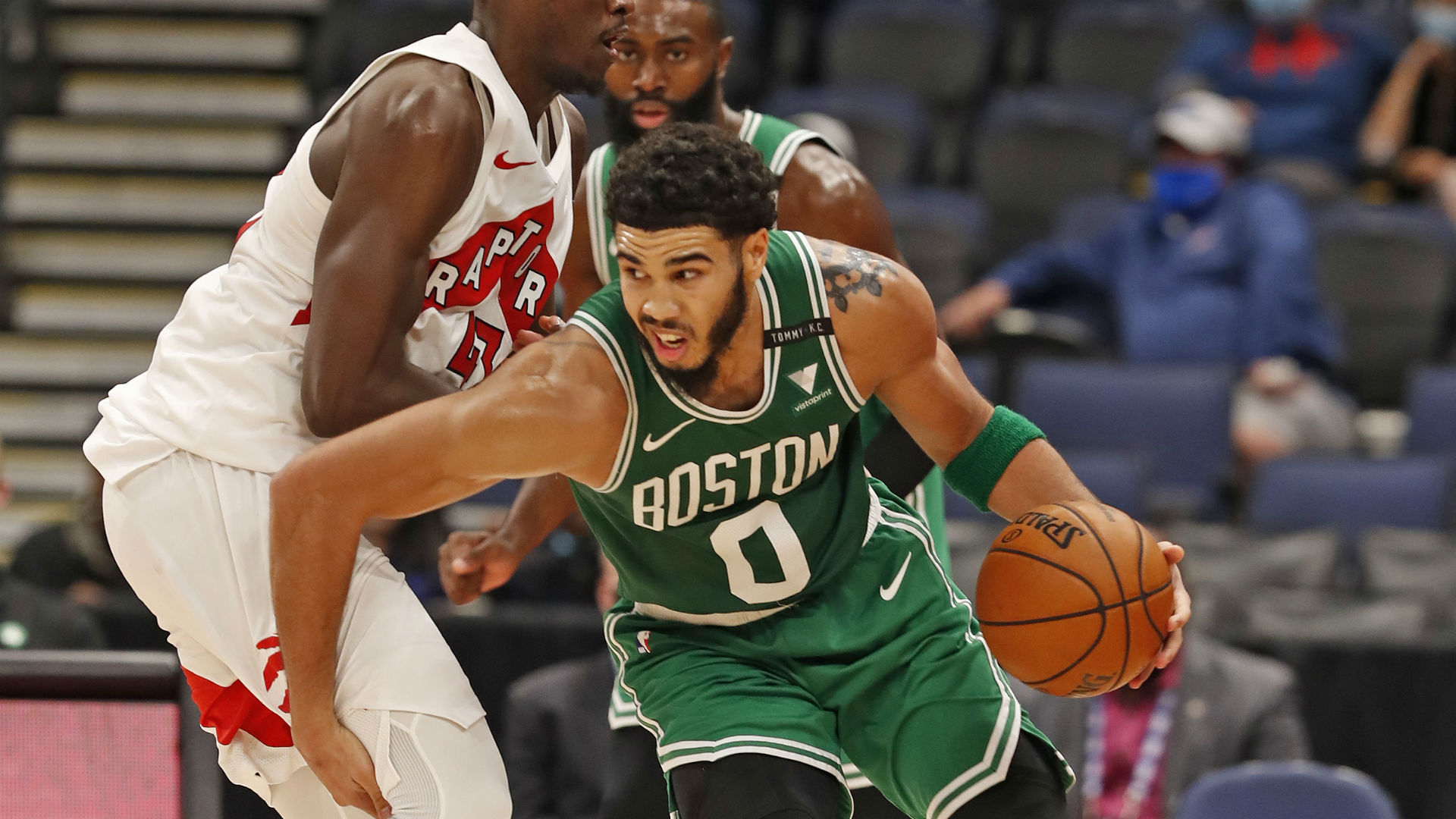 Don't look now, but the Toronto Raptors enter Thursday night's game just one game below-.500 and in possession of the East's No. 5 seed.
Not only does Toronto have an opportunity to get back to the .500 mark, but it also could overtake Boston in the standings as it enters the game just one game back. So, after beginning the season at 2-8, the Raptors could find themselves in sole possession of the fourth seed with a win to close their six-game road trip.
As Toronto looks to make a statement at TD Garden, here are a few things to keep an eye on…
1. Chasing Jayson
Just over a year ago, ESPN's Jackie MacMullan reported that Celtics All-NBA forward Jayson Tatum admitted to her that the Raptors did the best job defending him.
Since then, Tatum averaged 24.3 points, 10.3 rebounds and 5.3 assists over the course of a playoff series and in the first meeting between the two teams this year, scored a season-high 40 points (on 11-for-19 shooting) in a dominant win.
While the 22-year-old has taken another leap this season, he enters Thursday night having shot under 40.0% from the field in each of Boston's last two games - both losses.
In the past, Toronto has had the personnel to make things difficult on Tatum, that much hasn't changed. But as the much-improved Tatum showed earlier in the season, there are new elements to his game that make him even more difficult to limit.
2. Siakam's Statement
It's no secret that the Celtics made life difficult for Pascal Siakam during the 2020 East Semis, a series in which he averaged 14.9 points on .382/.125/.727 shooting splits and failed to get into a groove.
When the teams met just over a month ago in Tampa, Siakam finished with 22 points (on 7-for-15 shooting) and as respectable as those numbers are, Toronto's All-NBA forward is playing at a much higher level in this most recent stretch.
As I recently outlined, Siakam is averaging 25.7 points on .508/.409/.820 shooting spits over the Raptors last five games, a stretch in which the team has gone 5-2. How's he doing it? By getting into the lane, remaining active and finding his 3-point stroke as of late.
Siakam will deal with staunch defenders in Tatum and Jaylen Brown but can find success in the paint against a Celtics team that lacks a rim protector in the traditional sense and gives up 46.2 points in the paint per game, good for 14th in the league.
Having knocked down eight of his last 12 3-point attempts, it's also looking like the 3-pointer is back in the arsenal, which could open up a lot for Siakam and the rest of Toronto's offence.
3. Rotations, Rotations
Just as a calf injury will hold out Celtics All-Defensive guard Marcus Smart, it is a calf injury that gives Raptors All-Defensive Team candidate OG Anunoby a 50-50 chance at playing on Thursday night.
Smart, who actually missed the first meeting between Boston and Toronto, has been out for the team's last five games, a span in which it has welcomed rookie guard Payton Pritchard back into the rotation. Pritchard, who scored 23 points in his first outing against the Raptors and Kemba Walker, who was inactive during the Tampa game are two key cogs in the Celtics' guard rotation that are still working their way back from knee injuries.
In Boston's loss to Utah on Tuesday, Walker (2-for-12) and Pritchard (1-for-4) shot a combined 3-for-16 (18.8%) from the field in a game where Daniel Theis (15), Tatum (23) and Brown (33) were the only three Celtics to finish in double figures.
When speaking of Celtics guards, it's important to note the growth of Brown, who, despite missing two of the team's last three with knee issues of his own, has softened the blow of other issues by putting up career numbers this season that should earn him an All-Star bid.
Of course, Anunoby's status will have an impact on whether or not Norman Powell remains in the Raptors' starting unit.
By now it's no secret that Powell has performed much better as a starter than a reserve, especially over this most-recent stretch of nine games (all starts) that has seen him average 23.4 points, 3.9 rebounds and 2.6 assists on .507/.475/.872 shooting splits.
Powell seems to be in a groove, so it's unclear what a return to the bench would do to his rhythm but it is worth noting that he scored just four points (on 1-for-6 shooting) in Toronto's first meeting with Boston on Jan. 4.
The return of Anunoby would do wonders for the Raptors defensively, as he will be able to match up with both Tatum and Brown on the perimeter.
Game notes
- The Raptors' offensive rating of 113.9 ranks sixth in the NBA while the Celtics' offensive rating of 112.2 ranks 10th.
- Boston ranks 16th in the league with a defensive rating of 110.8 while Toronto is not far behind with a defensive rating of 111.3, good for 18th.
- Toronto enters on a two-game win streak while Boston has lost two in a row
- Aron Baynes appeared in 132 regular-season games with the Boston Celtics from 2017-19
- Celtics centre Tristan Thompson was born in Brampton, ON while assistant coach Scott Morrison hails from Morrell, Prince Edward Island.
- Raptors forward DeAndre' Bembry and Celtics guard Jeff Teague were teammates last season with the Atlanta Hawks.
- Raptors assistant coach Adrian Griffin played the first two seasons of his NBA career with the Celtics.
Injury Report
Raptors
Toronto has not yet submitted an official injury report, but Nick Nurse told reporters that OG Anunoby would be 50-50 call for Thursday's game (per Sportsnet's Michael Grange).
Celtics
• Romeo Langford (Right Wrist surgery rehabilitation) - Out
• Marcus Smart (Left Calf tear) - Out
Raptors vs. Celtics: Betting odds, spread, over/under
Spread: Raptors +3.0 (+110), Celtics -3.0 (-110)
Raptors Money line: +130
Celtics Money line: -150
Over/Under: 222.0 (-110)
*Odds courtesy of Willian Hill Sports Book
Last Time They Played
Date: Jan. 4, 2021
Score: Celtics 126, Raptors 114
Celtics: Jayson Tatum - 40 PTS (11-19 FG), 6 REB, 2 AST, 2 BLK
Raptors: Fred VanVleet - 35 PTS (13-20 FG), 8 REB, 3 AST, 2 STL
The views on this page do not necessarily reflect the views of the NBA or its clubs.