The Toronto Raptors are now 10-1 on the season after controlling the Utah Jazz throughout tonight's game. With Kawhi Leonard out, Kyle Lowry and Serge Ibaka were both phenomenal again.
If you missed any of tonight's action we had you covered with updates, highlights, stats and more throughout the game…
Toronto Raptors at Utah Jazz
Preview | Box Score | Play-by-play
Final: Raptors 124, Jazz 111
11:19 p.m. - The Raptors close this one out 124-111. They have now won all three games thus far on this West Coast road trip. Kyle Lowry and Serge Ibaka led the way with 17 points apiece and Pascal Siakam added 16 points and seven rebounds.
Total team effort. #WeTheNorth

Kyle - 17p, 11a, 7r
Serge - 17p, 8/8, 5r
Fred - 17p, 6a, 4r
OG - 17p, 2s
Pascal - 16p, 7r pic.twitter.com/sOYERSPc2E

- Toronto Raptors (@Raptors) November 6, 2018
11:13 p.m. - With two minutes left in the game, the Raptors lead 122-104. Both Fred VanVleet and OG Anunoby have joined Serge Ibaka and Kyle Lowry with 17 points on the night.
11:04 p.m. - The lead is still 20 - Raptors are up 109-89 with six minutes left in the game. They have six different players in double figures tonight. Rudy Gobert (14p, 12r) and Derrick Favors (11p, 10 r) both have double-doubles for the Jazz.
10:59 p.m. - Serge Ibaka has fouled out as the Raptors hold a 105-80 lead with nine minutes remaining. Ibaka had 17 points and five rebounds in just 14 minutes of play.
End of third quarter: Raptors 94, Jazz 72
10:51 p.m. - The Raptors lead 94-72 through three quarters. Kyle Lowry has extended his double-digit assists streak to nine games with 11 assists tonight. The Raptors are shooting a ridiculous 58.7 percent from the field and 41.7 percent from deep. Serge Ibaka has helped that cause shooting 6-for-6 from the field good for 13 points.
Locked in on D. #RTZ pic.twitter.com/ozkvLe9Z8E

- Toronto Raptors (@Raptors) November 6, 2018
10:40 p.m. - And now Toronto has the lead up to 18. The Raptors are up 85-67 with 4:37 to go in the third - Kyle Lowry is nearing a double-double with 15 points and nine assists.
10:27 p.m. - A three from Kyle Lowry followed by a three from Danny Green forces a quick timeout by the Jazz. Toronto leads 71-55 one minute into the second half.
Halftime: Raptors 65, Jazz 54
10:09 p.m. - The Raptors end the half on a 26-10 run to take a 65-54 lead going into the half! Pascal Siakam's 13 points leads the way with Serge Ibaka, Kyle Lowry and Fred VanVleet all in double figures as well. Lowry has the offence running smoothly with a game-high seven assists. Rudy Gobert is filling it up for the Jazz with 11 points, eight boards, one assists, one steal and one block.
24 mins in the books. #RTZ

Skills - 13p, 3r
Kyle - 10p, 7a, 4r pic.twitter.com/7mVijqODE6

- Toronto Raptors (@Raptors) November 6, 2018
Team stats: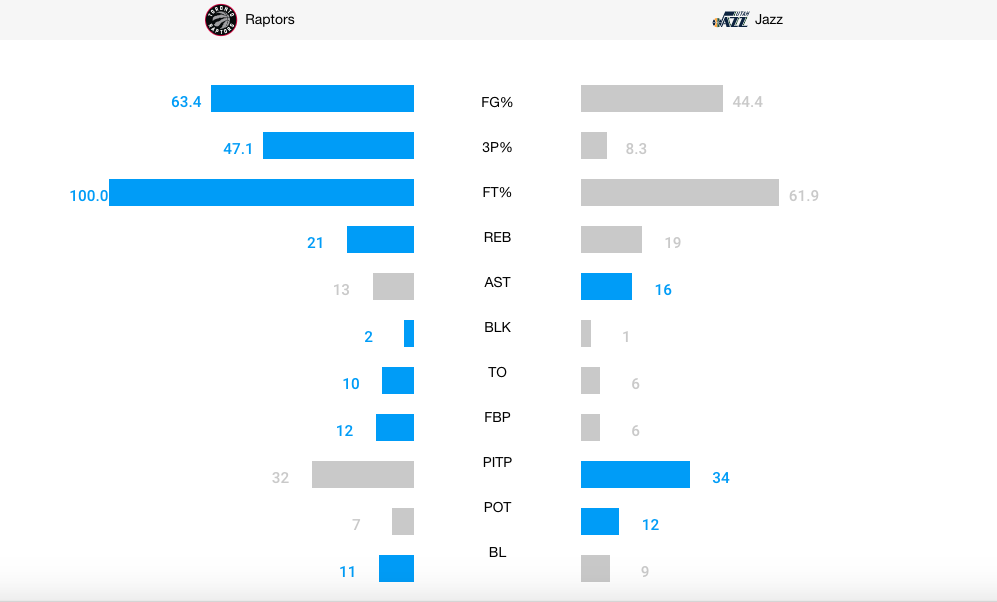 10:04 p.m. - The Raptors are on a 9-0 run to take a 54-48 lead with 2:05 remaining in the half! Pascal Siakam is heating up with seven of the Raptors' nine points during this stretch.
Positionless basketball pic.twitter.com/0ddmbyaWTr

- Toronto Raptors (@Raptors) November 6, 2018
9:58 p.m. - Norm Powell will not return to the game tonight.
Injury update at Utah: Norman Powell, left shoulder sprain, continuing to evaluate. Will not return.

- Toronto Raptors (@Raptors) November 6, 2018
9:53 p.m. - A three from Fred VanVleet, a pair of stops and another three from OG Anunoby has the Raptors trailing 44-41 with 6:49 left in the half. VanVleet is heating up with eight points off the bench.
Freddy got 1-2-3-4-5-6-7-8 points pic.twitter.com/aUAsEzqGyf

- Toronto Raptors (@Raptors) November 6, 2018
9:45 p.m. - The Jazz remain in the lead 38-35 just over two minutes into the second quarter. Rudy Gobert is making things happen on offence with seven points and two assists.
For the Raptors, Norman Powell has hurt his shoulder and has gone to the locker room.
End of first quarter: Jazz 31, Raptors 30
9:36 p.m. - The Jazz lead 31-30 after one quarter. Serge Ibaka has picked up right where he left off scoring nine points on 4-for-4 shooting off the bench. Utah's been a balanced scoring attack with Royce O'Neale leading the way with six points.
1-point advantage over the Raps.

1.31 if we're using the Canadian conversion rate.#TORatUTA | #TeamIsEverything pic.twitter.com/VJsdh3TY10

- Utah Jazz (@utahjazz) November 6, 2018
9:25 p.m. - The Raptors have made a run of their own! They trail 20-17 with 4:29 remaining in the quarter. Jonas Valanciunas is doing a little bit of everything on the offensive end.
Get you a big man who can do both pic.twitter.com/myrtkWIKaU

- Toronto Raptors (@Raptors) November 6, 2018
9:17 p.m. - A three from Joe Ingles followed by a dunk from Royce O'Neale forces a quick timeout from Nick Nurse as the Raptors trail 12-5 early in the first quarter.
Pregame
8:36 p.m. - The Jazz are going with Ricky Rubio, Royce O'Neale, Joe Ingles, Derrick Favors and Rudy Gobert for their starting five.
8:11 p.m. - The Raptors will roll out Kyle Lowry, Danny Green, OG Anunoby, Pascal Siakam and Jonas Valanciuns as their starting five in Utah.
They will be without Kawhi Leonard again tonight, who is sitting out with left ankle soreness.
Tonight's starting 5. #WeTheNorth pic.twitter.com/d0SykUNuwm

- Toronto Raptors (@Raptors) November 6, 2018
8:00 p.m. - Alec Burks, Derrick Favors and Jae Crowder have all been upgraded to active tonight. Donovan Mitchell remains out.