The best move Nick Nurse has made as head coach of the Toronto Raptors? Splitting up Serge Ibaka and Jonas Valanciunas.
Prior to this season, the two big men logged most of their minutes together, with Ibaka functioning as the power forward and Valanciunas as the centre. This season, the two have yet to register a single second on the court together.
They're both playing exclusively at the five instead - a first for Ibaka in his career - giving the Raptors 48 minutes of strong centre play.
Ibaka has started more games than Valanciunas to begin this season, but Nurse continues to change the lineup depending on the opponent. Against more modern centres, Ibaka has taken the floor with Kyle Lowry, Danny Green, Kawhi Leonard and Pascal Siakam for the opening tip. Against more traditional ones - the Rudy Goberts and DeAndre Jordans of the league - Valanciunas has.
To understand how that has helped the Raptors get off to a league-best 12-1 start, let's take a closer look at what Ibaka and Valanciunas bring to the table in their new roles.
The Return of Ibaka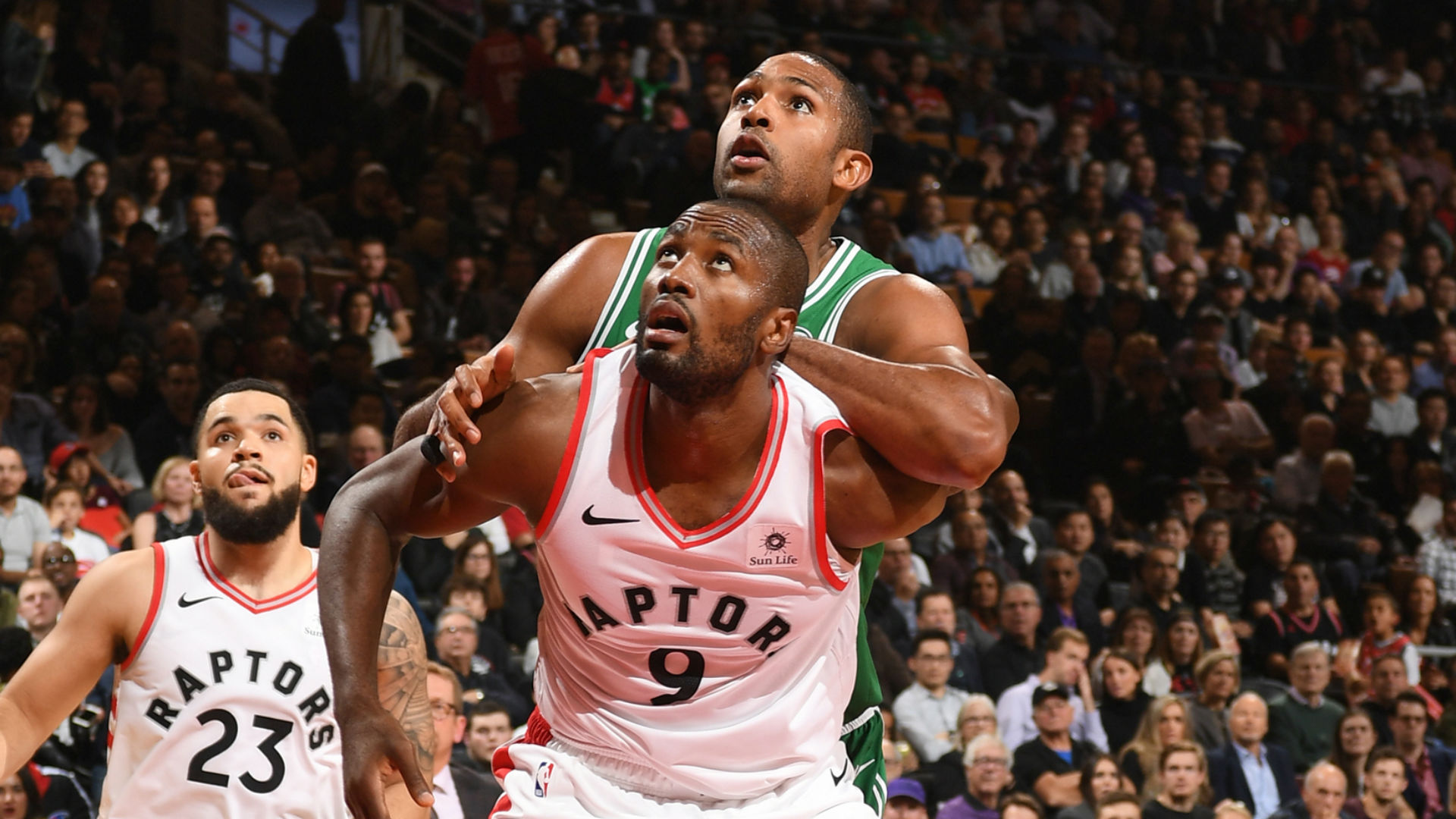 Ibaka is bouncing back from the most disappointing season of his career in a big way.
Through 13 games, the veteran is averaging 17.2 points, 7.9 rebounds and 1.3 blocks in 26.5 minutes per contest. Not only are the points the most he's ever averaged - his previous career-high being 15.1 points per contest - Ibaka has pulled down more rebounds only once in his career.
Perhaps the most surprising part about Ibaka's success thus far is he's putting up those scoring numbers without making a high percentage of his 3-point attempts. Whereas over a third of his shots last season came from the perimeter, less than a fifth have come from deep this season.
Ibaka has instead been feasting around the basket and from midrange, where he's always been more effective.
Where Serge Ibaka's shot attempts come from (% of FGA)

| | | | | |
| --- | --- | --- | --- | --- |
| Season | Restricted Area | In The Paint (Non-RA) | Midrange | 3PT |
| 2017-18 | 19.3% | 17.3% | 25.6% | 37.8% |
| 2018-19 | 35.4% | 23.0% | 23.0% | 18.6% |
Ibaka has been a far more impactful defender this season as well. The move to centre better plays to his strengths, as he's spending less time chasing players around the perimeter and more time anchoring the paint.
While it hasn't resulted in him blocking as many shots as he used to, he's been one of the more imposing rim protectors in the NBA. According to NBA.com, Ibaka is contesting 5.9 shots per game within 6-feet of the hoop and holding opponents to only 45.5 percent shooting from that distance.
For perspective, only two players - Paul Millsap and Kristaps Porzingis - contested more than four shots per game around the rim and held opponents to under 40.0 percent shooting last season.
With how dominant he's been in those situations, it should come as no surprise that Raptors have been significantly better defensively in the minutes Ibaka has been on the court. Lowry, Green, Leonard and Siakam are each incredibly versatile perimeter defenders, and Ibaka ties it all together with his interior defence.
Supercharged Jonas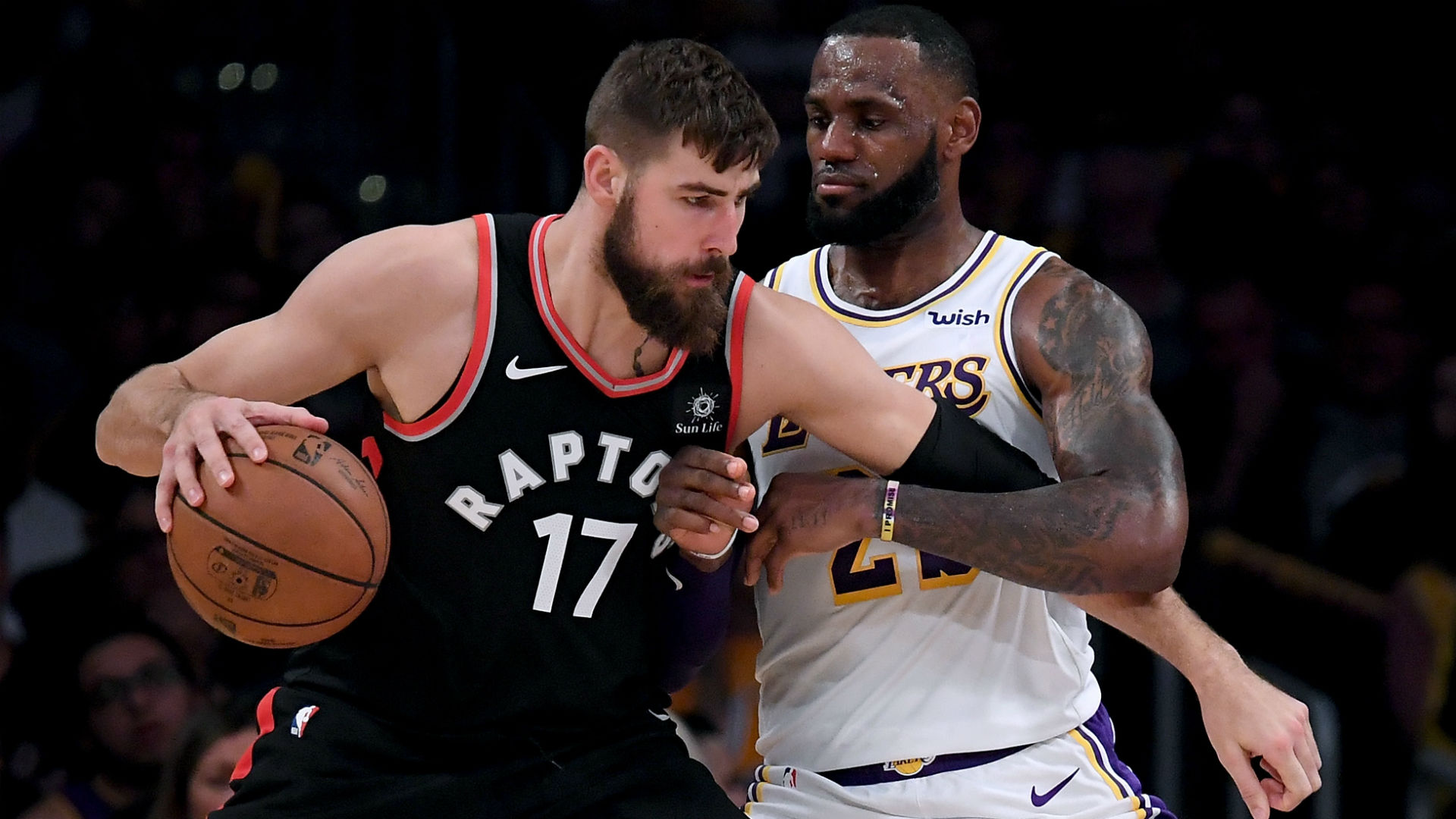 A move to the bench hasn't had a negative impact on Valanciunas' game.
If anything, it suits the Lithuanian better.
As the No. 1 scoring option on the second unit, Valanciunas has seen his usage rate jump to a career-high 25.9 percent. He's making the most of those opportunities with averages of 26.0 points, 14.3 rebounds and 2.0 assists per 36 minutes, the best marks of his career.
Valanciunas has always been a load for teams to handle on the low block, so giving him an extended run against second units gives the Raptors a tremendous advantage. That much becomes clear when you look at the numbers: Valanciunas ranks near the top of the league in post scoring this season with 29 points and he's in a class of his own in making 13 of his 16 shot attempts with his back to the basket.​
Valanciunas is still doing all of the other things that make him one of the better centres in the league, too, such as attacking the offensive glass and spacing the court with his always improving jump shot.
The combination gives him the tools to play off of Fred VanVleet as a reserve and Kyle Lowry as a starter. Toronto's points guards have set him up on more than half of his assisted buckets this season, most coming out of pick-and-rolls.
Whether or not he ultimately starts too many games to be considered a true reserve remains to be seen, but Valanciunas is building a legitimate case for Sixth Man of the Year in the early going. To go along with the career numbers across the board, the Raptors continue to outscore their opponents by a large margin with Valanciunas on the court.
There's no reason to expect that to change anytime soon either with the Bench Mob rounding into form again.