The Toronto Raptors' roster is beginning to take shape for the 2021-22 season with all but two spots filled.
With the 2021 preseason behind them, players competing for those final roster spots have done everything they can to state their case. Now, the decision falls in the hands of president Masai Ujiri, general manager Bobby Webster, head coach Nick Nurse and his staff.
MORE: What did we learn in Raptors' 2021 preseason? | Updated Raptors' 2021-22 roster
In his media availability on Friday, Nurse announced that the deadline for the final roster cuts is Monday, Oct. 18 and stated that he expects the decision to go down to the buzzer.
There are four players competing for the final two spots, with Yuta Watanabe, Ishmail Wainright, Isaac Bonga and Sam Dekker all making a strong case to crack the roster. Which of the foursome will make the final cut?
Who will make the Raptors' final roster cut?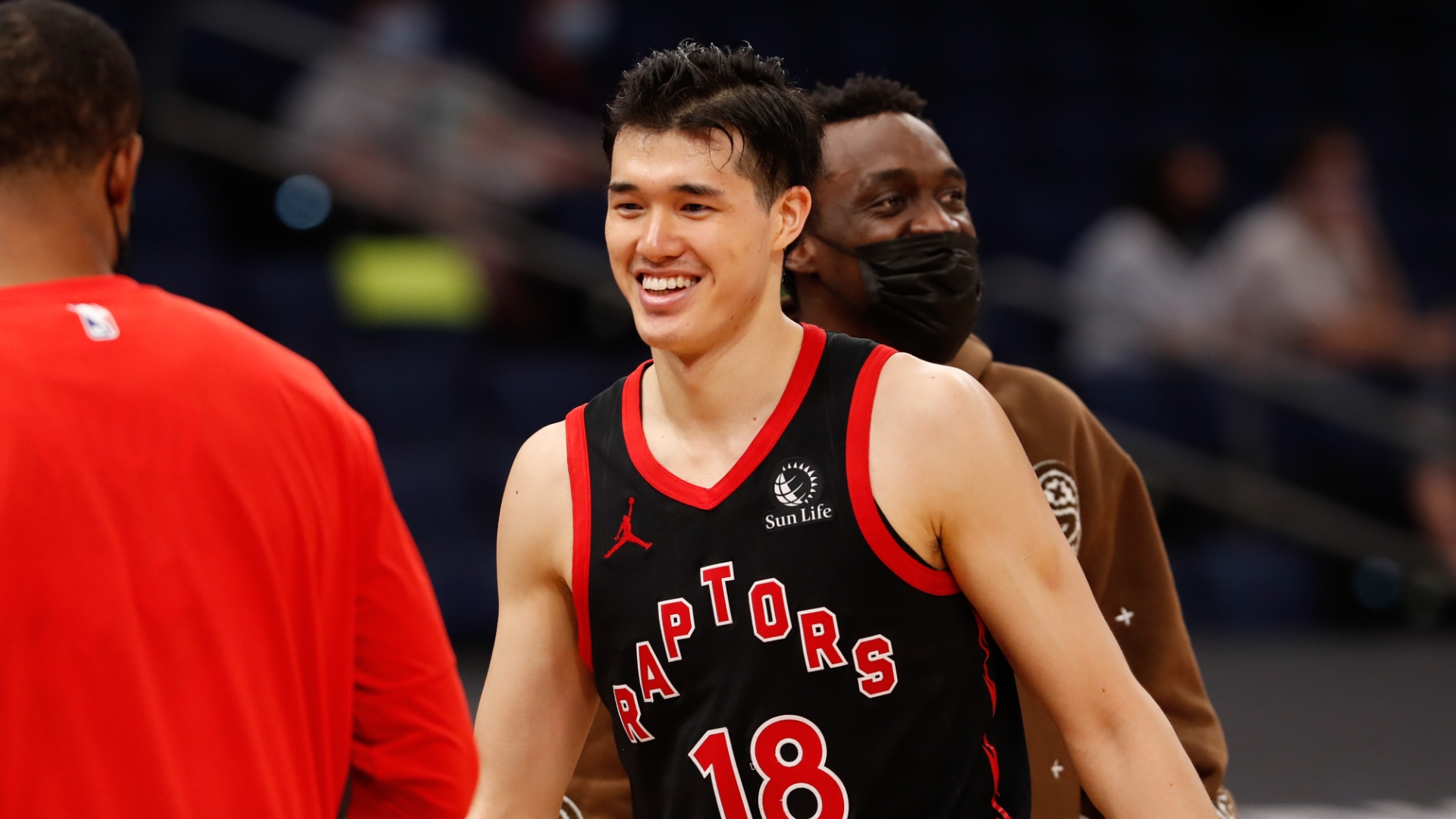 Yuta Watanabe, forward
According to TSN's Josh Lewenberg, one of the two final roster spots is expected to go to Watanabe. This shouldn't come as much of a surprise, as Watanabe had a strong first season as a member of the Raptors last year, stepping up whenever his number was called.
Watanabe began last season on a two-way contract but he played himself into a full-time deal. It was his energy and effort on both ends of the floor that earned him more playing time, and when the Raptors' depth thinned out due to injuries and coronavirus health and safety protocols, he became an everyday rotation player, even starting in four games. Because of the limited days you're allowed to spend with the NBA club on two-way contracts, the Raptors needed to convert him to a standard contract in order to allow him to continue playing.
He only appeared in one preseason contest, going for 10 points, seven rebounds, two assists, two blocks and one steal, again proving his ability to make an impact on both ends of the floor.
Expect Watanabe to be on the roster this season.
Isaac Bonga, guard/forward
At just 21-years-old, Bonga could be the quintessential Raptors development project if they elect to give him the other final roster spot. As a 6-foot-8 point forward, Bonga has the size, length and versatility that fits in perfectly with the rest of Toronto's roster.
Bonga appeared in all five preseason games, albeit in limited action, averaging just 8.7 minutes per game. He tallied a total of nine points, nine rebounds and eight assists in five games, showing he is still much more prospect than a player.
With the emergence of another big guard in 6-foot-9 rookie Dalano Banton - who, even as a late second-round pick, has earned a full-time roster spot, not a two-way deal - keeping Bonga seems redundant.
In terms of being another potential diamond in the rough, I could see the Raptors electing to keep Bonga. But does that make the most sense? I wouldn't say so.
Sam Dekker, forward
Dekker made sure to save his best preseason game for last, making the decision even tougher on Raptors brass.
The 6-foot-9 forward proved his value in giving Toronto additional wing depth and another shooter - something the roster could desperately use. Dekker went out with a bang, going off for 18 points in the team's preseason finale, knocking down four of his five 3-point attempts.
OH WORD, @dekker 👀 pic.twitter.com/SHutSo2PzH

- Toronto Raptors (@Raptors) October 13, 2021
Dekker has by far the most NBA experience of the remaining trio and could be a beneficial addition to the Raptors' bench, giving them a solid contributor in situations where they find themselves shorthanded. His length and athleticism help him fit in with the rest of the roster and he's someone I could see making an impact off the bench with his ability to stretch the floor and defend multiple positions.
However, with Svi Mykhailiuk already on the roster, will Toronto's front office see a need for keeping another perimeter shooter? Only time will tell.
Ishmail Wainright, forward
Wainright was brought on as a physical defensive specialist, coming in at a solid 6-foot-6, 250 pounds with a 7-foot-1 wingspan.
He has the athleticism to keep up with wings and the size to hold his own inside. Knocking down four of his eight 3-point attempts in preseason also helps his case, showing he can bring something to the offensive end as well.
His stature makes him an intriguing selection for the Raptors' final roster spot, adding an element to the roster that Bonga nor Dekker can provide. In a conference where you'll have to compete with monsters like Giannis Antetokounmpo and Joel Embiid, would it be beneficial to hold on to Wainright, who has the strength and length to bang bodies with those dominant bigs?
Even if he plays sparingly, he could add intensity to the defensive side of the ball and use up fouls on some of the East's toughest matchups like Antetokounmpo or Embiid.
While I personally still think Dekker would be a good choice for the final roster spot, I would lean toward Wainright just because of his physicality.
The views on this page do not necessarily represent the views of the NBA or its clubs.