With the NBA season being suspended indefinitely, we're taking the next couple of weeks to roll out our Raptors Report Cards on each key member of this season's team. The plan? Take a closer look at how everyone performed, from Kyle Lowry and Pascal Siakam to Terence Davis and Chris Boucher.
Next up: Rondae Hollis-Jefferson.
Before the NBA season was suspended, I wrote about how Toronto Raptors forward OG Anunoby has been one of the most versatile defenders in the league this season based on data collected by Krishna Narsu of Nylon Calculus and Patrick Miller of The BBall Index.
You know who checked out as the most versatile defender in the league? None other than Rondae Hollis-Jefferson.
According to Narsu and Miller's data, Hollis-Jefferson has the defensive versatility rating of 94.2 to this point of the season, the result of him spending an almost equal amount of time guarding point guards (18.3 percent), shooting guards (23.6 percent), small forwards (19.3 percent), power forwards (21.0 percent) and centres (17.7 percent).
That's ... not normal.
REPORT CARDS: Kyle Lowry | Pascal Siakam | Fred VanVleet | Serge Ibaka
There are a number of players in today's NBA who can guard three or four positions - Ben Simmons, Draymond Green, LeBron James, Giannis Antetokounmpo, to name a few - but Hollis-Jefferson, who is listed as being only 6-foot-6 and 217 pounds, stands alone as someone who legitimately guards all five positions on the court. He doesn't just defend backups either. If you look at who he has spent the most time guarding this season, you'll see names such as Damian Lillard, Luka Doncic, CJ McCollum, Kawhi Leonard and Karl-Anthony Towns.
It takes an entire team to slow down those sorts of players, but Hollis-Jefferson has mostly held his own in those individual matchups. Perhaps his best showing of the season came early, when the Raptors faced Leonard for the first time as a member of the LA Clippers. Leonard fell one assist shy of a triple-double, but he shot only 2-for-11 from the field and committed a career-high nine turnovers.
Hollis-Jefferson had a hand in many of those misses and turnovers.
RHJ defence
RHJ offence pic.twitter.com/UODl1pXasO

- Toronto Raptors (@Raptors) November 12, 2019
Hollis-Jefferson also played a key role in Toronto's historic comeback against the Dallas Mavericks. His versatility showed in a different way in that game, as he put pressure on the Mavericks as the head of Toronto's swarming full court press, using his long arms to harass the likes of Jalen Brunson, Seth Curry and Delon Wright.
The Toronto Raptors full court press sparks a 30-point comeback win vs. Dallas, their largest in franchise history! #NBABreakdown@sixers & @Raptors face off tonight at 7pm/et on ESPN with each team seeking their 5th straight win! pic.twitter.com/yEVGmGRmX7

- NBA (@NBA) January 22, 2020
It's sort of a surprise that Hollis-Jefferson has become the multi-faceted defender that he has for the Raptors considering how the season started. Despite being healthy, he logged only three minutes through the team's first eight games after Raptors head coach Nick Nurse called out him and Stanley Johnson - the two newcomers - for not understanding how the team plays defence.
To Hollis-Jefferson's credit, it didn't take him long to learn. It appears as though Johnson, on the other hand, still hasn't.
The problem with Hollis-Jefferson is that he isn't nearly as versatile on the other end of the court. Because of his limitations, he has to function as a centre on offence, even when playing alongside Marc Gasol and Serge Ibaka. Of the 139 shots he has made this season, 128 have come in the paint. He's only 9-for-22 from midrange and 2-for-17 from 3-point range.
The combination makes Hollis-Jefferson perhaps the most paint-bound player his size in the entire league.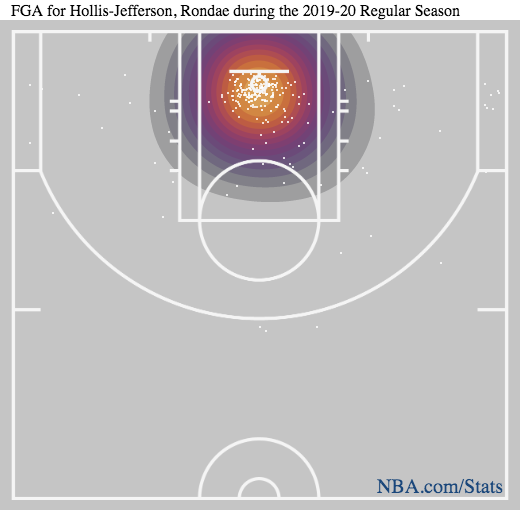 Hollis-Jefferson is lucky that both Gasol and Ibaka can play outside the paint, otherwise it would be much harder for him to find consistent minutes. And even then, it hasn't been pretty. According to NBA.com, lineups with Hollis-Jefferson and Gasol in them have averaged 105.6 points per 100 possessions, a rate equivalent to the second-worst offence in the league. Lineups with Hollis-Jefferson and Ibaka have been only slightly better, scoring at a rate of 105.7 points per 100 possessions.
Fortunately for the Raptors, those lineups have still been in the positive because of how stingy they've been defensively.
MORE: Hollis-Jefferson and Lowry make for the NBA's funkiest pick-and-roll duo
That's sort of the push and pull with Hollis-Jefferson. While he's been the most versatile defender in the league this season, if there's one thing he can't do defensively, it's protect the rim at a high level. (Hollis-Jefferson is averaging only 0.4 blocks per game and opponents are shooting a 61.1 percent against him at the rim, which isn't great). As a result, he's at his best when he's paired with someone who can do that. The problem? Pairing him with another centre doesn't make for the cleanest of fits offensively, even if that centre can space the floor.
Toronto's most used lineup with Hollis-Jefferson doesn't actually feature Gasol or Ibaka, but you probably won't be surprised to hear that those lineups have been dynamite offensively and porous defensively.
Even with all that in mind, Hollis-Jefferson has been a pleasant surprise for the Raptors this season. He might only play 19.2 minutes per game, but they always seem to be minutes filled with high energy. He's played about as well as the Raptors could've expected when they signed him to a one-year, $2.5 million contract in the offseason.
Grade: B
The views on this page do not necessarily reflect the views of the NBA or its clubs.