With the NBA season being suspended indefinitely, we're taking the next couple of weeks to roll out our Raptors Report Cards on each key member of this season's team. The plan? Take a closer look at how everyone performed, from Kyle Lowry and Pascal Siakam to Terence Davis and Chris Boucher.
Next up: Marc Gasol
---
The 2019-20 season has been a total team effort from top to bottom for the Toronto Raptors, one of the reasons that our team report cards so far have been glowingly positive with As being handed out like Monopoly money.
Unfortunately, not everyone gets to pass GO and collect $200. In this case, that applies to the 35-year-old Gasol who has endured an odd season.
Not necessarily a bad season. Just odd.
Coming off that first elusive championship still soaked in champagne from an unforgettable ride to a ring, Big Spain entered the season with the Raptors somewhat in limbo given his contract status and the overall direction of the franchise.
MORE: Raptors report cards for the whole team
In the final year of a contract paying him over $25 million on a team which just lost Kawhi Leonard and Danny Green in free agency, Gasol - along with Kyle Lowry and Serge Ibaka - could have easily been flipped for future assets if President Masai Ujiri opted for a rebuild. Ultimately, a strong start took the rebuild off the table.
After an emphatic road win over the Utah Jazz on December 1 which put the Raptors at 15-4 overall, there was truly no other option than a legitimate run at a title defence. At that point in time, the only teams with better records were the Milwaukee Bucks and Los Angeles Lakers.
Five months later, those are still the only two teams with superior records.
Those glowing report cards previously mentioned? Well deserved!
This is a team after all that's missed more games due to injury than any of the 16 projected playoff teams. And it's not inflated by one season-long injury either, but rather a constant revolving door leading from the floor to the infirmary and back again. Every bit of success from this team can truly be attributed from top to bottom throughout the roster in what's been a total team effort defined by the "next man up" mentality.
It's impossible to evaluate Gasol and not start with the injuries. After appearing in the team's first 27 games, he's been in the lineup for just eight of their last 37 games thanks mostly due to a nagging hamstring injury. Originally injured against the Pistons back in December which caused him to miss 12 games, Gasol re-aggravated that same hamstring against the Atlanta Hawks eight games into his return. He's played in one game since, logging 16 minutes off the bench against the Sacramento Kings on March 8 in what was the Raptors' second-to-last game prior to the season being suspended.
When healthy, Gasol exhibited some obvious signs of decline on the offensive end where he was shooting a career-worst 41.9 percent and scoring just 10.0 points per 36 minutes, significantly down from 15.8 last season.
It is worth mentioning of course that Gasol's worth has never been manifest in his scoring and much of it can be chalked up to shot selection as he's mostly become a spot-up 3-point shooter. Over half of his total attempts have been catch-and-shoot 3s, a shot which made up just 30% of his volume last season. Anytime that large of a percentage of shots are coming from 3-point range, it's important to consider when mentioning overall field goal percentage which will in those situations be deflated, just as it is with players like James Harden or Damian Lillard.
Marc Gasol Shooting

| | | |
| --- | --- | --- |
| Season | Pct of Att from 3 | Avg Distance |
| 2015-16 | 0.4% | 10.2 |
| 2016-17 | 23% | 13.9 |
| 2017-18 | 31% | 14.3 |
| 2018-19 | 31% | 14.3 |
| 2019-20 | 54% | 17.3 |
And yet, in this case, looking at Gasol's effectiveness in other areas signals some noticeable slippage.
Like the fact that he's just 4-23 on mid-range shots.
Or the fact that his post-ups have been cut in half from a year ago.
Or the fact that he's drawing almost a foul fewer per game.
While some of the change in his utility is by design and scheme, it's hard to consider the total body of work and not attribute some of that to declining ability. Which is OK! A mostly ground-bound five that's never been the fleetest of foot, if anything it's somewhat surprising there wasn't more of it prior to turning 35 this season.
He's able to help make up for that reduction in scoring efficiency in other ways.
His passing remains critical on a team that lacks a true "give him the ball and get out of the way" iso scorer. Whereas Gasol's passing unlocked the Raptors last season to supplement the play of Kawhi Leonard and helped put them over the top, this season it has at times kept Toronto's offence afloat. With him on the floor, the Raptors assist on over 64% of its made baskets, a figure that would rank fourth in the entire league. Without Gasol, that number dips to within a point of league average.
Offensively, he remains a crafty passer and operator from the top of the key and either elbow, surgically threading well-timed passes to cutters and knocking down open 3s on sagging bigs or lazy closeouts.
Make no mistake - he remains vitally important on the defensive end. His acumen and ability to see the floor helps keep switches and rotations sharp for one of the league's smartest defensive units. Even though he's blocking fewer shots per minute than ever before, it's no surprise that Toronto allows 6.0 points per 100 possessions fewer when he's on the floor compared to when he's off the bench, by far the biggest defensive impact of anyone in the regular rotation. It's on a macro level where his impact really shines through.
2019-20 Toronto Raptors

| | | |
| --- | --- | --- |
| | Gasol On Floor | Gasol Off Floor |
| Offensive rating | 110.6 | 110.3 |
| Defensive rating | 100.2 | 106.2 |
| Net rating | +10.4 | +4.1 |
That impact is hard to overlook especially when looking ahead to potential postseason matchups with either the Philadelphia 76ers or Milwaukee Bucks. While Serge Ibaka has had a career year and replaced Gasol well enough throughout his nagging injuries that it's fair to ask whether Ibaka should replace Gasol in the starting lineup, there's no question that the Raptors would rely on Gasol immensely in order to get by either of those teams which routinely bludgeon anyone and everyone on the inside.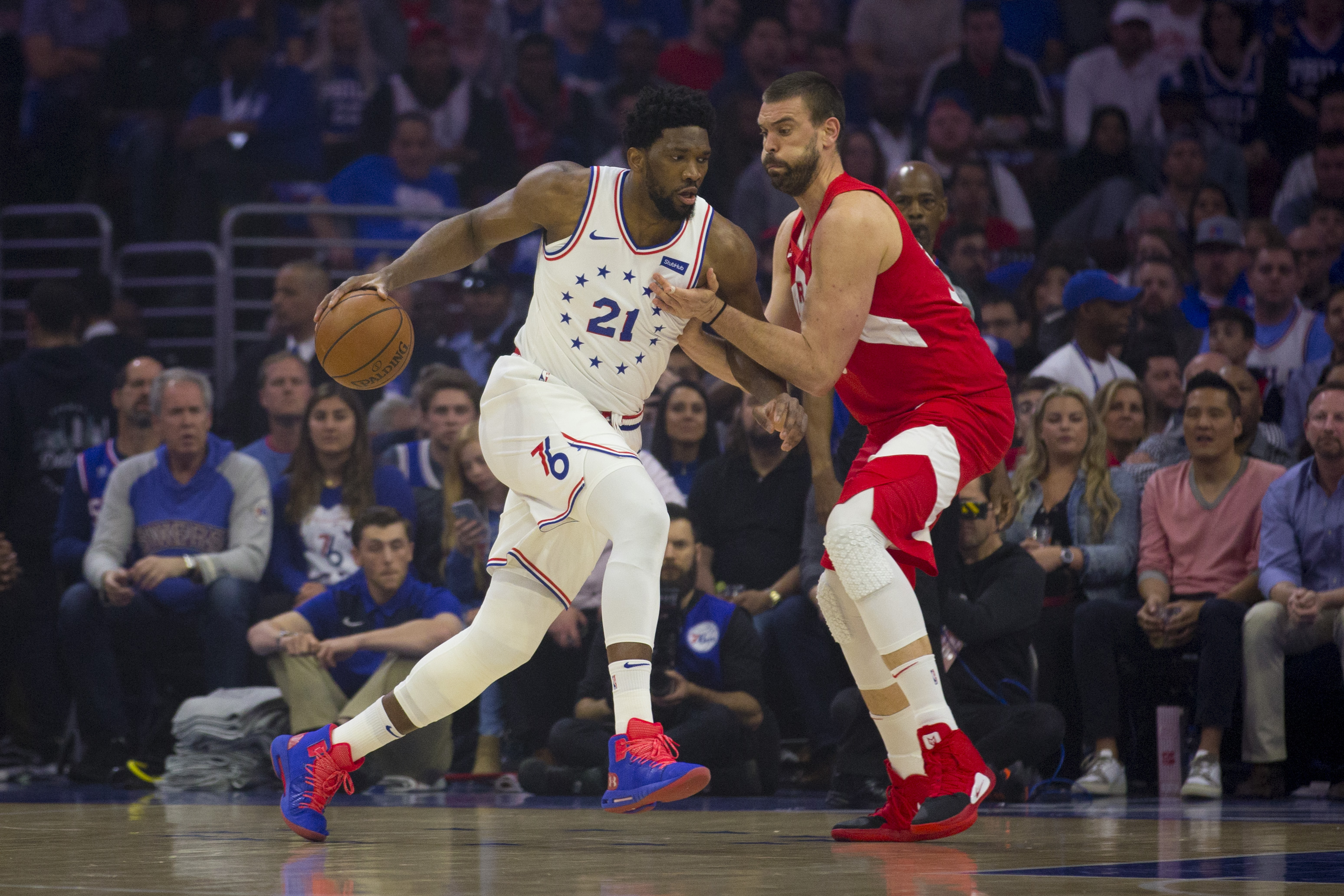 In a pinch, Gasol can still bring it. There will be moments and sequences - especially in big spots - where he looks every bit the part of an irreplaceable narrative-shifting centre. And he may prove to be that still should basketball return and the defending champs find themselves with their backs against the wall.
But given the injuries and offensive drop-off, it's clear that age has started to catch up with the Spaniard.
Grade: C
The views expressed here do not represent those of the NBA or its clubs.