The Orlando Magic stunned the Toronto Raptors on Saturday, winning Game 1 of their first-round series by a final score of 104-101.
The Raptors came out strong but found themselves trailing by as many as 16 points in the second quarter following a huge Magic run. They regained control of the game in third, which set up a back-and-forth affair in the fourth.
While Kawhi Leonard put the Raptors in position to win the game, it was D.J. Augustin who stole the show.
The Raptors will have an opportunity to even the series in Toronto on Tuesday.
Before they do, let's take a look at five things to watch in Game 2...
Can D.J. Augustin do it again?
Game 1 was all about Augustin. He finished with 25 points, which tied his playoff career-high set back in 2013-14. It also tied him with Leonard for game-high honours in scoring.
Augustin was at his best down the stretch for the Magic, when he scored the final five points of the game, including the game-winning 3-pointer. According to Basketball Reference, it was only the second time in his career that he's hit a shot with five seconds or less remaining in the fourth quarter or overtime to win a game.
DJ AUGUSTIN WINS IT FOR THE @ORLANDOMAGIC! #NBAPlayoffs

Final in Toronto:#BlueAndWhiteIgnite 104#WeTheNorth 101 pic.twitter.com/UU9Ki1LWwx

- NBA (@NBA) April 13, 2019
Augustin had one of the better seasons of his career in 2018-19, but his Game 1 performance was more of an anomaly than the norm. He only scored 20-plus points in seven games this season, his season-high being 27.
More importantly for the Raptors, the last time Augustin scored 20 or more points in consecutive games was four years ago.
Will the Raptors attack D.J. Augustin on defence?
One way in which the Raptors could counter another breakout game for Augustin would be by targeting him more on defence.
It's not something they did often in Game 1. One of the few times actually came with just over a minute remaining in the game, when Danny Green tried to post Augustin up.
It appeared as though Leonard then called for Green to set a screen, but he instead cleared out, paving the way for Leonard to attack Aaron Gordon in isolation.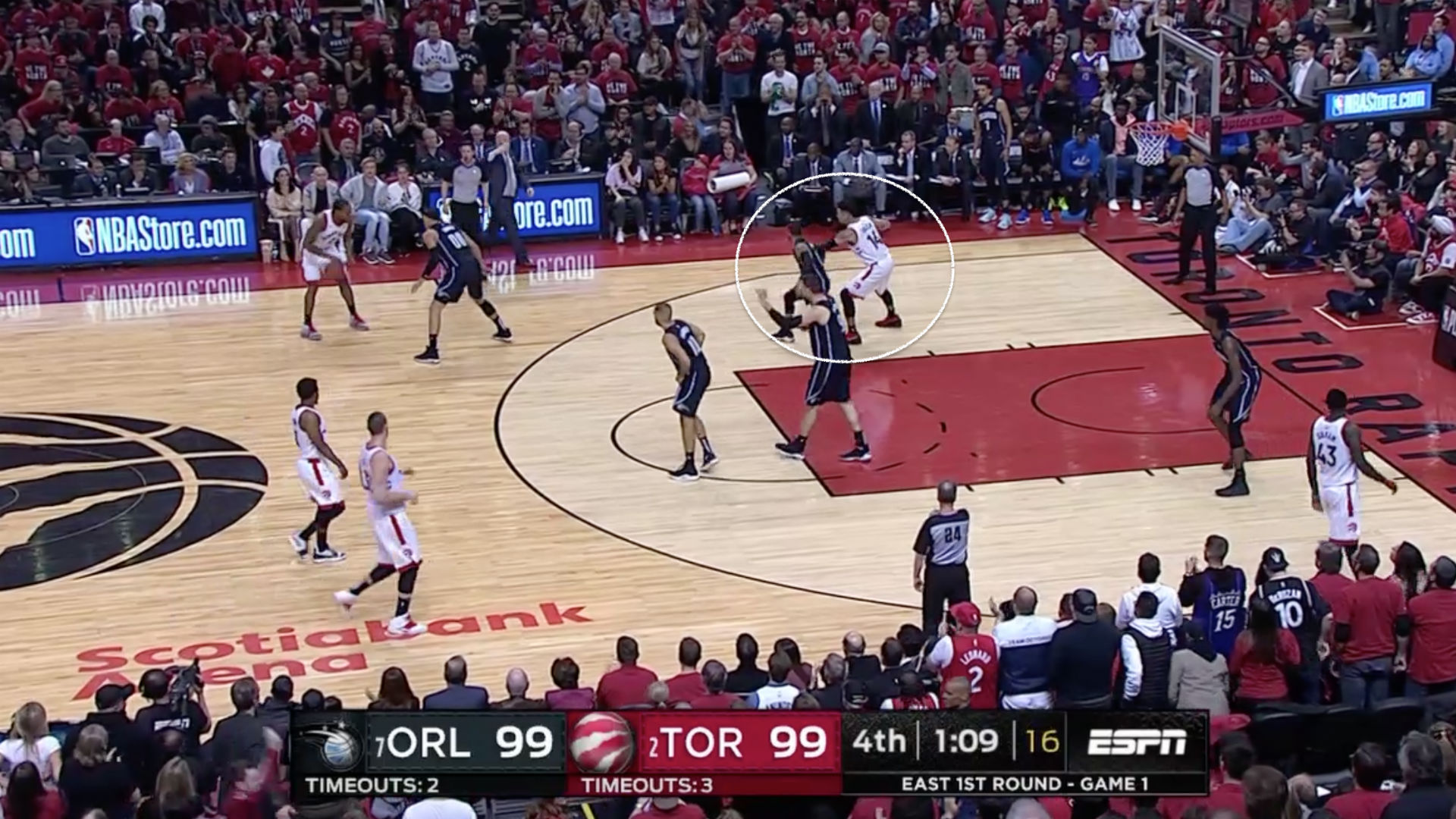 The Raptors don't want to venture too far away from their normal offence, but they could get the 6-foot guard involved in more pick-and-rolls with Leonard or Pascal Siakam as the ball handler or screeners in the hopes of creating a mismatch.
Even if those two aren't able to score every time in those situations, it would likely lead to high-quality shots for others, as it would force the Magic to provide the type of help that would create open shots for Green, Kyle Lowry, Marc Gasol and others. In which case, it would force Orlando head coach Steve Clifford to make a tough decision - does he keep Augustin on the floor or does he give more minutes to Michael Carter-Williams?
Carter-Williams is a much better defender but a far worse offensive player.
Will someone else step up for the Magic?
Nikola Vucevic was Orlando's leading scorer this season with 20.8 points per game.
In Game 1, the All-Star big man was held to 11 points on 3-for-14 shooting from the field.
A lot of those misses came against Gasol. Vucevic has a size advantage against most of his opponents, but Gasol has both the strength and length to make him uncomfortable in the post, where he ranked among the league leaders in scoring during the regular season.
With how well Gasol matches up with Vucevic in the post, it'll be interesting to see if the Magic try to get him going by putting him in more pick-and-rolls in Game 2. Gasol is at his best when he's holding down the paint, so Vucevic's ability to pick-and-pop could force him to venture out further than he's used to.
In addition to Vucevic, Terrence Ross had a quieter game than usual on Saturday. In his 24 minutes in Game 1, he scored 10 points off the bench on 2-for-11 shooting from the field and 1-for-5 from 3-point range.
Like Vucevic, Ross is coming off of the best season of his career. He averaged a career-high 15.1 points per game and came close to breaking the record for the most 3-pointers made by a bench player in a single season.
Knowing that Ross is at his best running off of screens, the Raptors fought hard over screens in Game 1 and forced him to either settle for difficult 3-pointers or put the ball on the floor.
Even the one 3-pointer Ross did make was heavily contested:
The Raptors were overly aggressive on a couple of possessions involving Ross, leading to breakdowns that the Magic were able to exploit, but they'll have to defend him in a similar fashion in Game 2 to prevent one of the league's most explosive bench scorers from going off.
How will Kyle Lowry bounce back?
Lowry had a weird Game 1.
Him going scoreless in 33 minutes of action stole the headlines, and yet Lowry dished out eight assists, grabbed seven rebounds, came up with a couple of steals and helped the Raptors outscore the Magic by 11 points when he was on the court, giving him the second-best +/- of the game.
Still, there's no denying that the Raptors are a better team when Lowry is giving them an efficient scoring punch. In wins this season, he averaged 15.1 points on 43.5 percent shooting from the field and 38.8 percent from 3-point range. He averaged only three points less in losses but did so on 35.0 percent shooting from the field and 22.9 percent from distance.
That's ... a massive difference.
Lowry said after Game 1 that he was happy with the shots he got, he just didn't knock them down.
These are the sort of looks he was likely talking about:
If Lowry can his shooting touch in Game 2 and continue to do all of the other things that make him special - push the pace, break the defence down, get after it defensively - the Raptors should be in good shape moving forward.
Will Kawhi Leonard play more?
After he missed all but nine games last season with a quadriceps injury, the Raptors were cautious with Leonard all season long to keep him as fresh as possible for the playoffs.
That meant sitting him for almost a quarter of a season due to "load management."
Leonard appeared to be at full strength in his postseason debut with the Raptors, scoring a team-high 25 points and coming up big down the stretch with a couple of clutch jumpers, but he played only 33 minutes, the same amount as Lowry and Green.
Raptors head coach Nick Nurse said afterwards that it wasn't by design to keep him under 35 minutes and that Leonard could've played more.
The Raptors would obviously benefit a lot from Leonard playing more moving forward. According to NBA.com, they went from averaging 115.0 points per 100 possessions with him on the court this season to 106.8 with him on the bench.
They were surprisingly worse defensively with him on the court during the regular season, but there's no doubt that Leonard raises their ceiling on that end of the court with his experience and versatility.
There's a fine line between playing Leonard too little and too much at this point of the season - not only do the Raptors want to prevent him from suffering another injury, they don't want him to burn out - but these were supposed to be the moments they rested him for.
The views on this page do not necessarily reflect the views of the NBA or its clubs.