On March 9, the Toronto Raptors clinched a playoff berth for the sixth consecutive season - the longest such streak in franchise history.
In doing so, Toronto is now set to compete in the postseason for the 11th time in the franchise's 24-year history.
Ahead of the 2019 playoffs, take a look back at the first 10 postseason trips made by the Raptors.
2000 - The first playoff berth in franchise history
45-37, No. 6 in East
Lost Eastern Conference First Round (0-3) to New York Knicks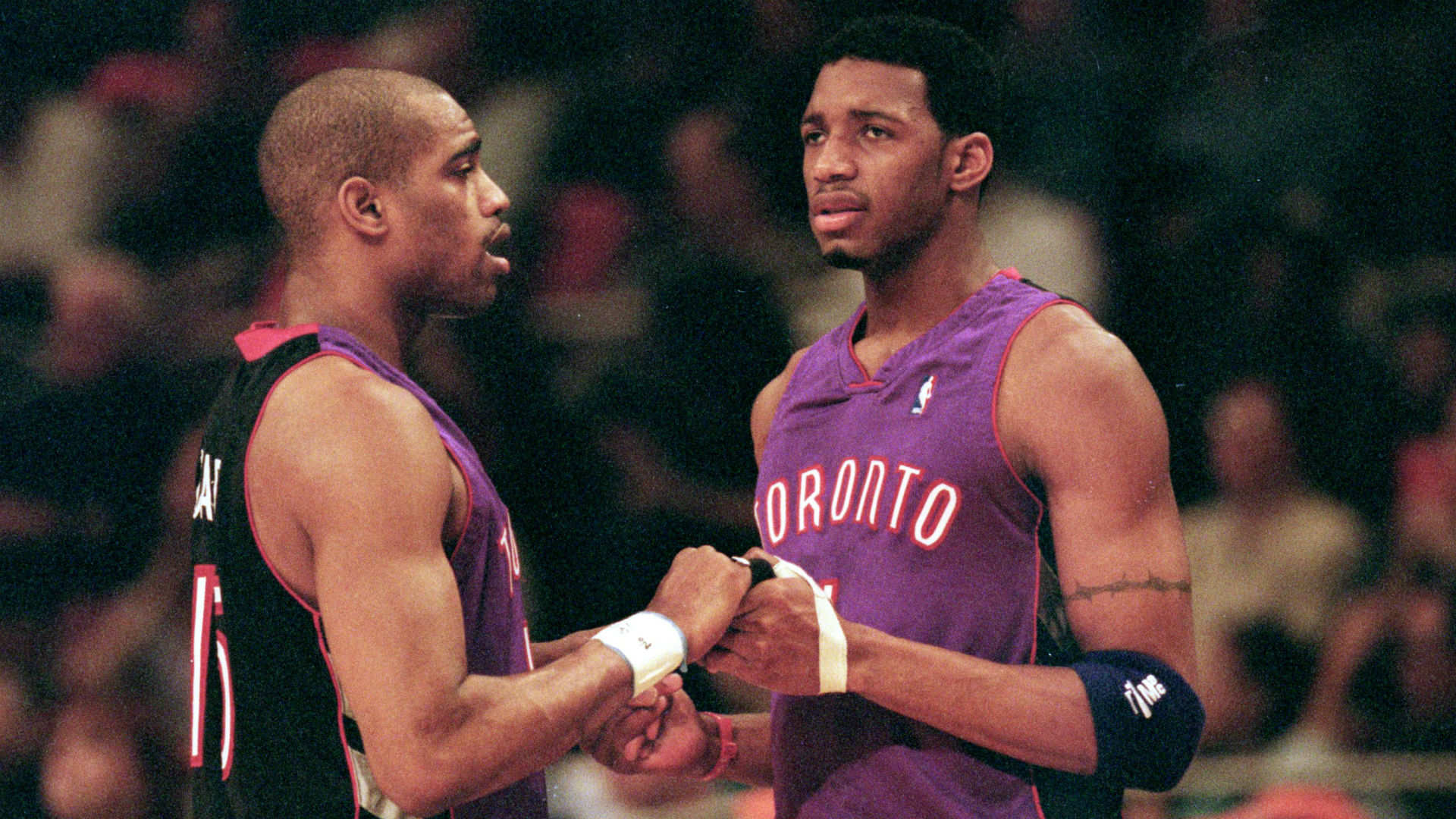 Knicks
Latrell Sprewell - 19.0 points, 3.7 assists, 2.7 rebounds
Patrick Ewing - 15.3 points, 9.7 rebounds, 1.7 blocks
Raptors
Vince Carter - 19.3 points, 6.3 assists, 6.0 rebounds
Tracy McGrady - 16.7 points, 7.0 rebounds, 3.0 assists
2001 - The first semifinal appearance
47-35, No. 5 in East
Lost Eastern Conference Semifinals (3-4) to Philadelphia 76ers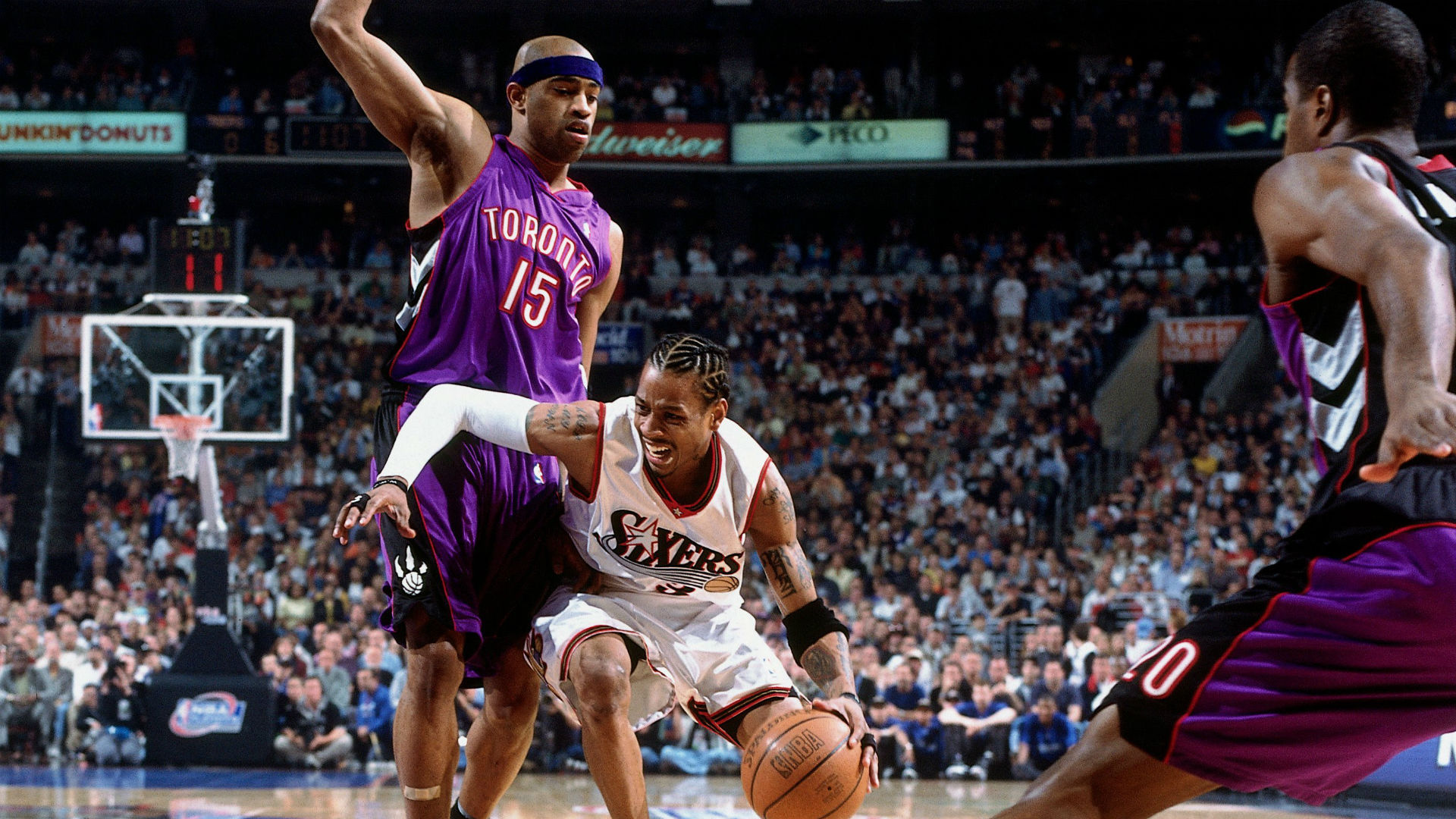 76ers
Allen Iverson - 33.7 points, 6.9 assists, 3.1 steals
Dikembe Mutombo - 11.1 points, 12.4 rebounds, 3.4 blocks
Raptors
Vince Carter - 30.4 points, 6.0 rebounds, 5.6 assists, 2.0 blocks, 1.9 steals
Antonio Davis - 16.9 points, 10.4 rebounds, 1.7 blocks
Won Eastern Conference First Round (3-2) over New York Knicks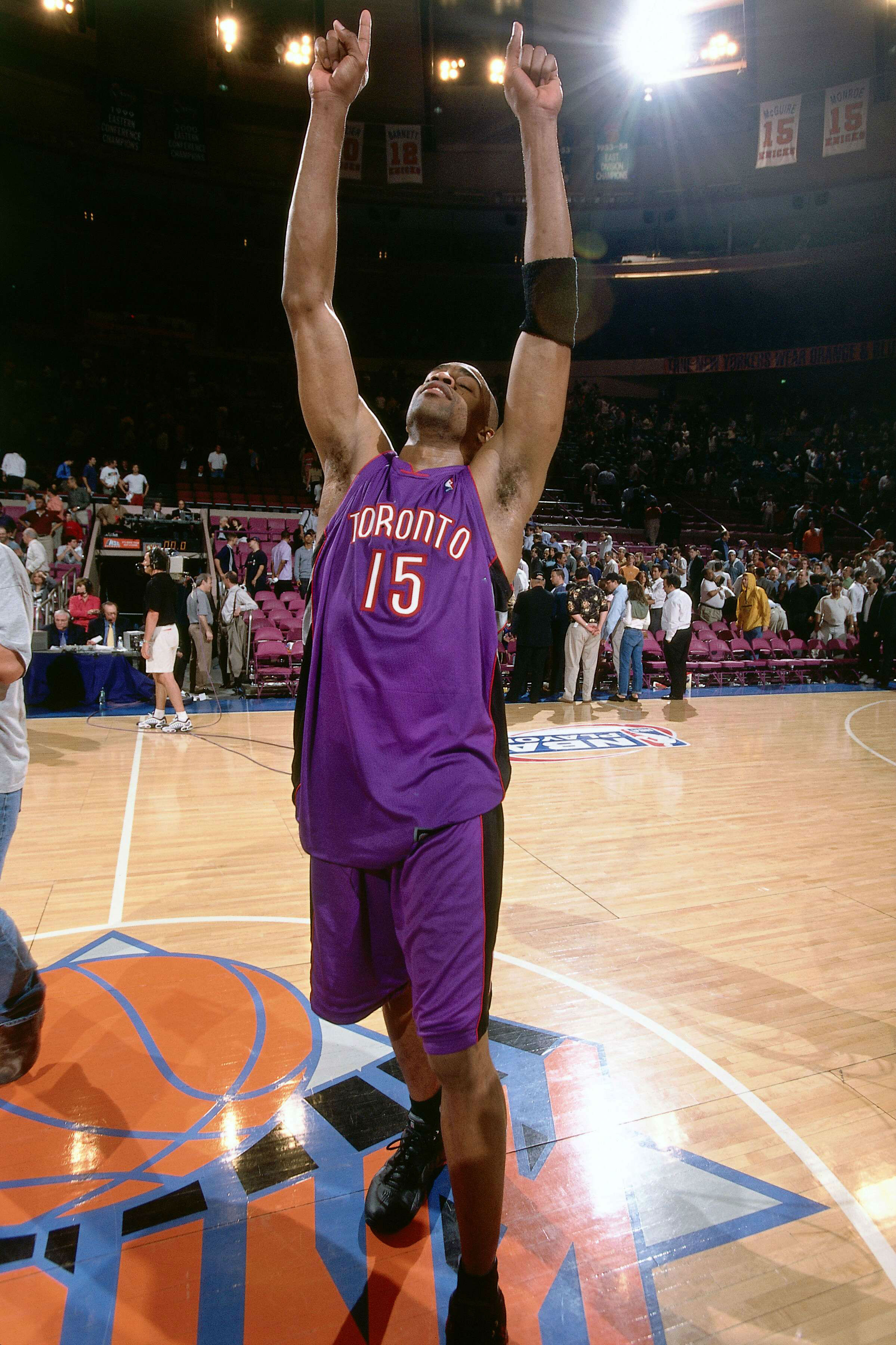 Raptors
Vince Carter - 22.8 points, 7.2 rebounds, 3.4 assists
Antonio Davis - 15.8 points, 12.0 rebounds, 2.0 blocks
Knicks
Allan Houston - 20.8 points, 1.8 rebounds, 1.4 assists
Kurt Thomas - 14.4 points, 11.2 rebounds, 1.8 assists
2002 - Without Vince Carter, Toronto pushes Detroit to the limit
42-40, No. 7 in East
Lost in Eastern Conference First Round (2-3) to Detroit Pistons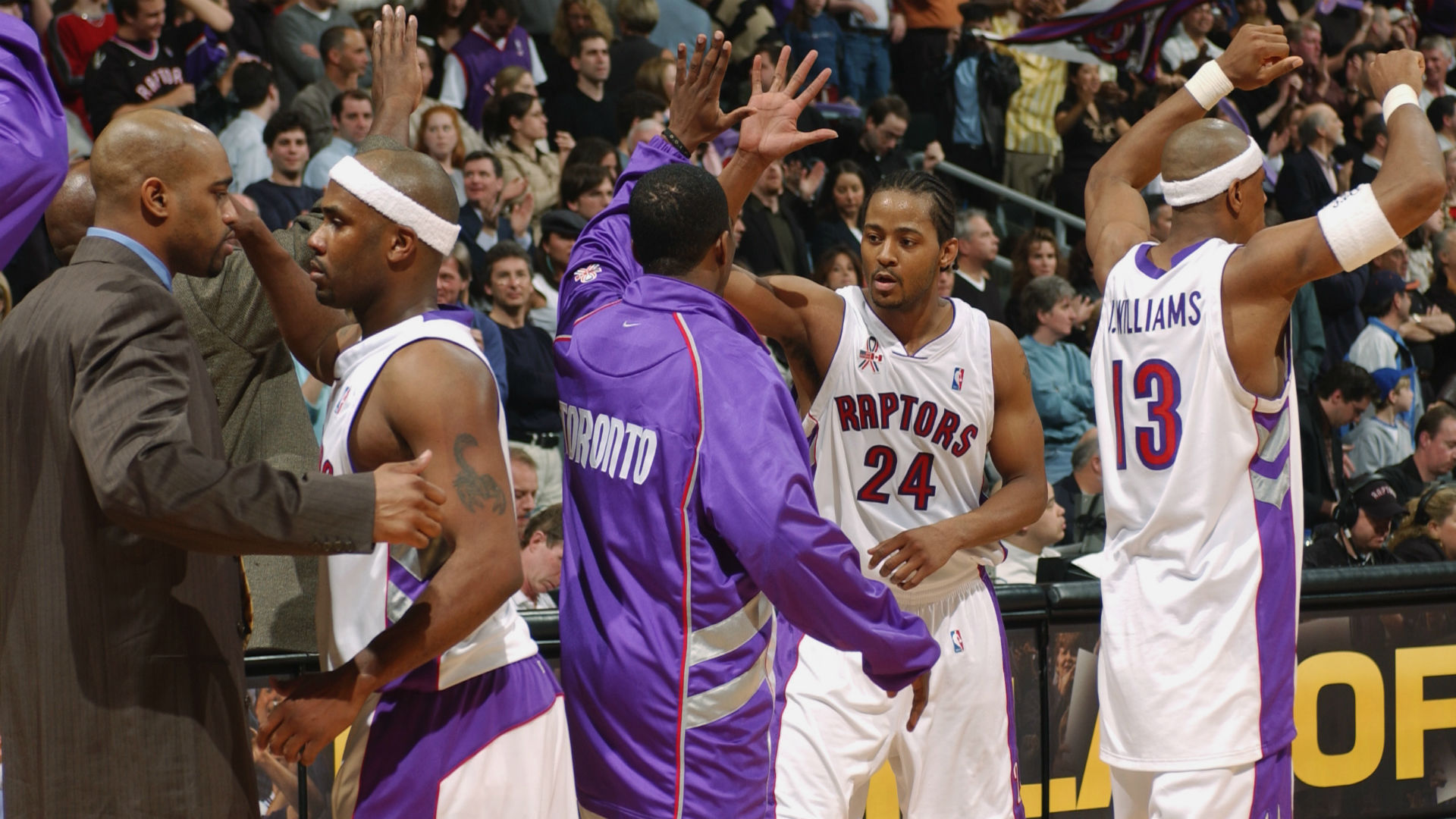 Pistons
Jerry Stackhouse - 16.4 points, 4.2 assists, 2.4 rebounds
Ben Wallace - 8.2 points, 15.0 rebounds, 2.2 blocks, 2.2 steals
Raptors
Antonio Davis - 17.0 points, 10.6 rebounds, 1.0 blocks
Chris Childs - 11.8 points, 7.4 assists, 3.8 rebounds
2007 - Eliminated by a familiar face
47-35, No. 3 in East
Lost in Eastern Conference First Round (2-4) to New Jersey Nets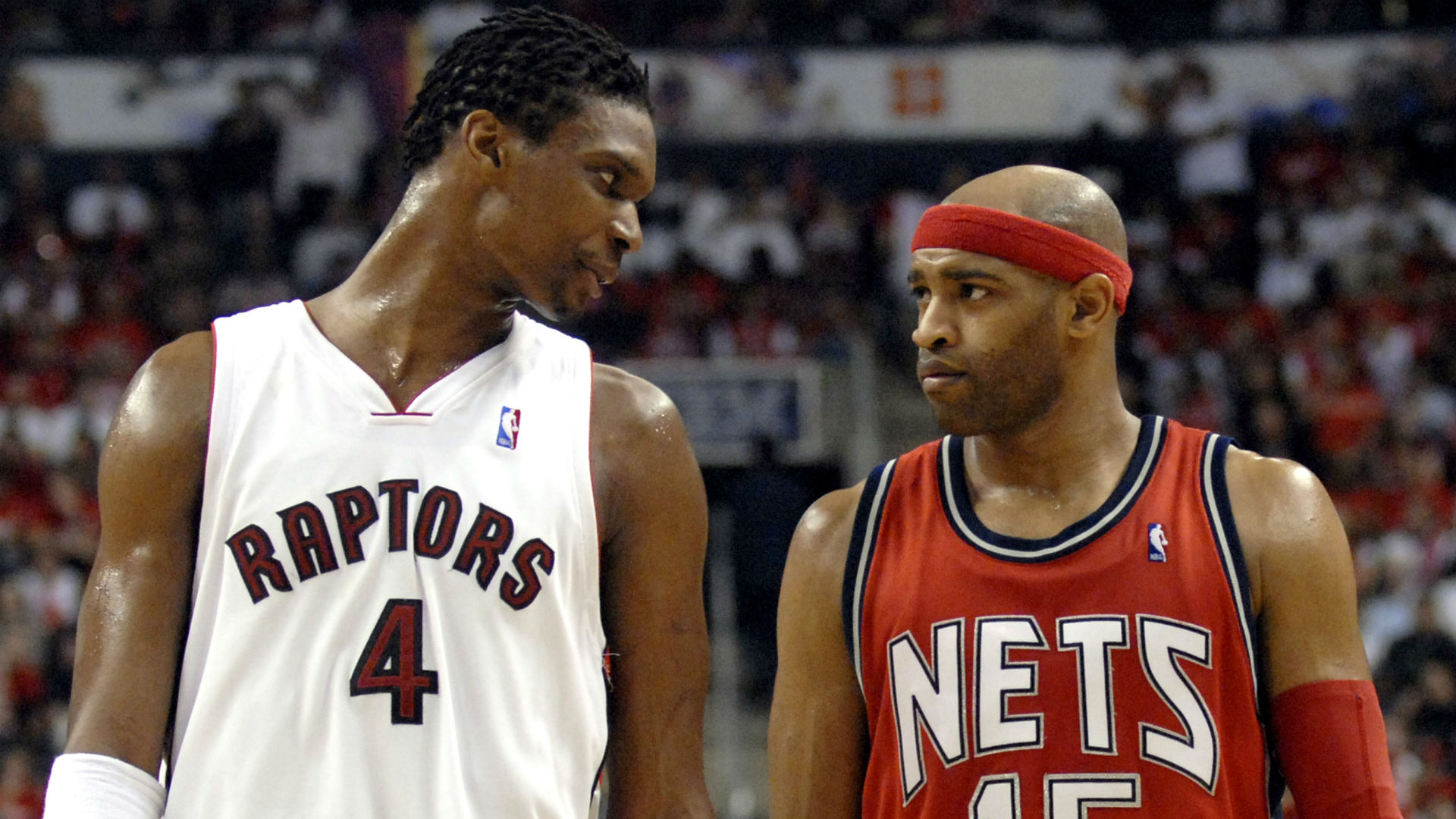 Nets
Vince Carter - 25.0 points, 6.2 rebounds, 4.0 assists
Jason Kidd - 14.0 points, 13.2 assists, 10.0 rebounds
Raptors
Chris Bosh - 17.5 points, 9.0 rebounds, 2.5 assists, 1.8 blocks
T.J. Ford - 16.0 points, 4.0 assists, 1.2 steals
2008 - Dwight dominates to win in five
41-41, No. 6 in East
Lost in Eastern Conference First Round (1-4) to Orlando Magic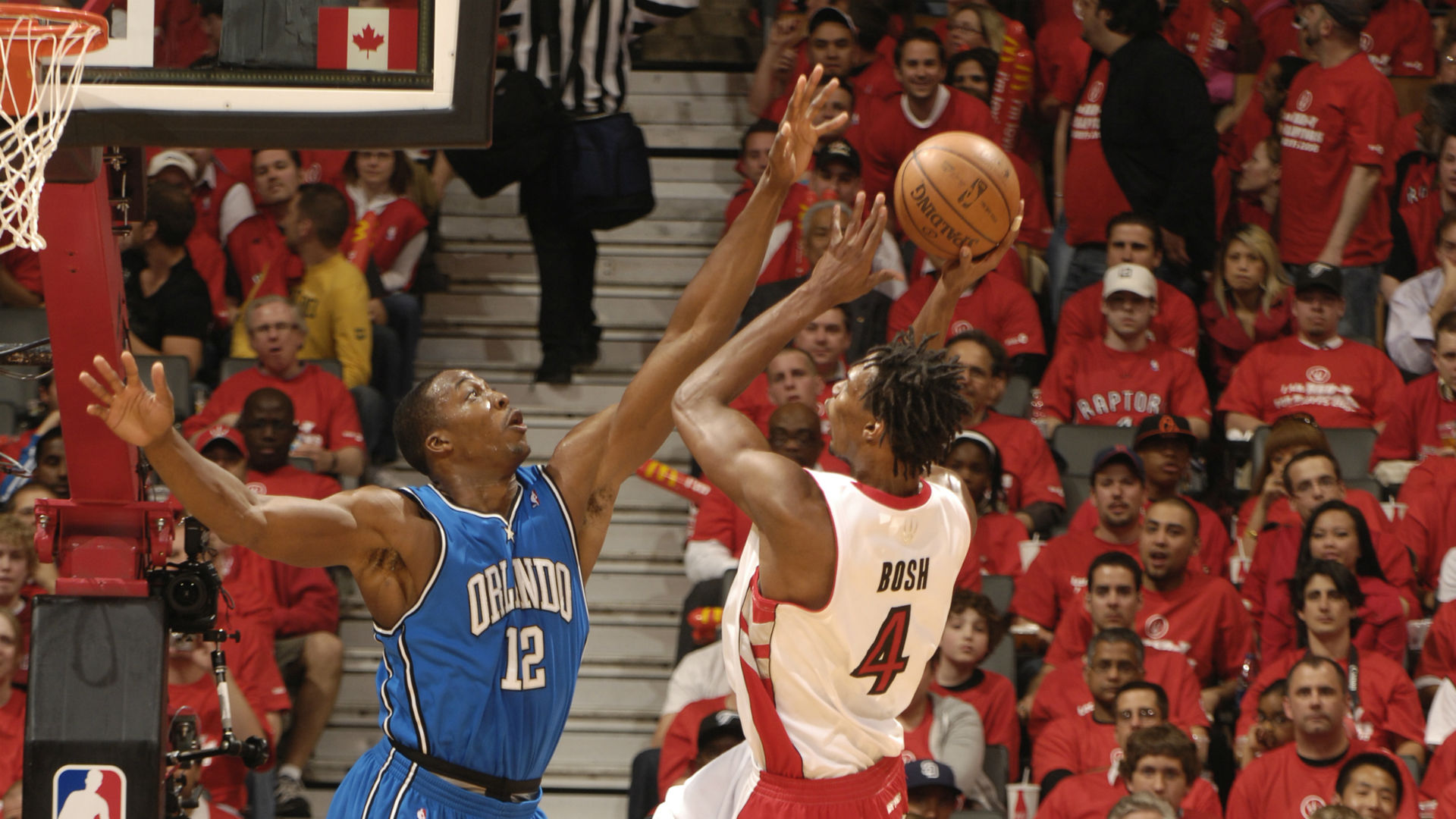 Magic
Dwight Howard - 22.6 points, 18.2 rebounds, 3.8 blocks
Rashard Lewis - 19.0 points, 8.4 rebounds, 4.4 assists
Raptors
Chris Bosh - 24.0 points, 9.0 rebounds, 3.6 assists
Jose Calderon - 11.8 points, 7.0 assists, 3.6 rebounds
2014 - The first postseason trip of the Lowry-Derozan era ends in seven
48-34, No. 3 in East
Lost in Eastern Conference First Round (3-4) to Brooklyn Nets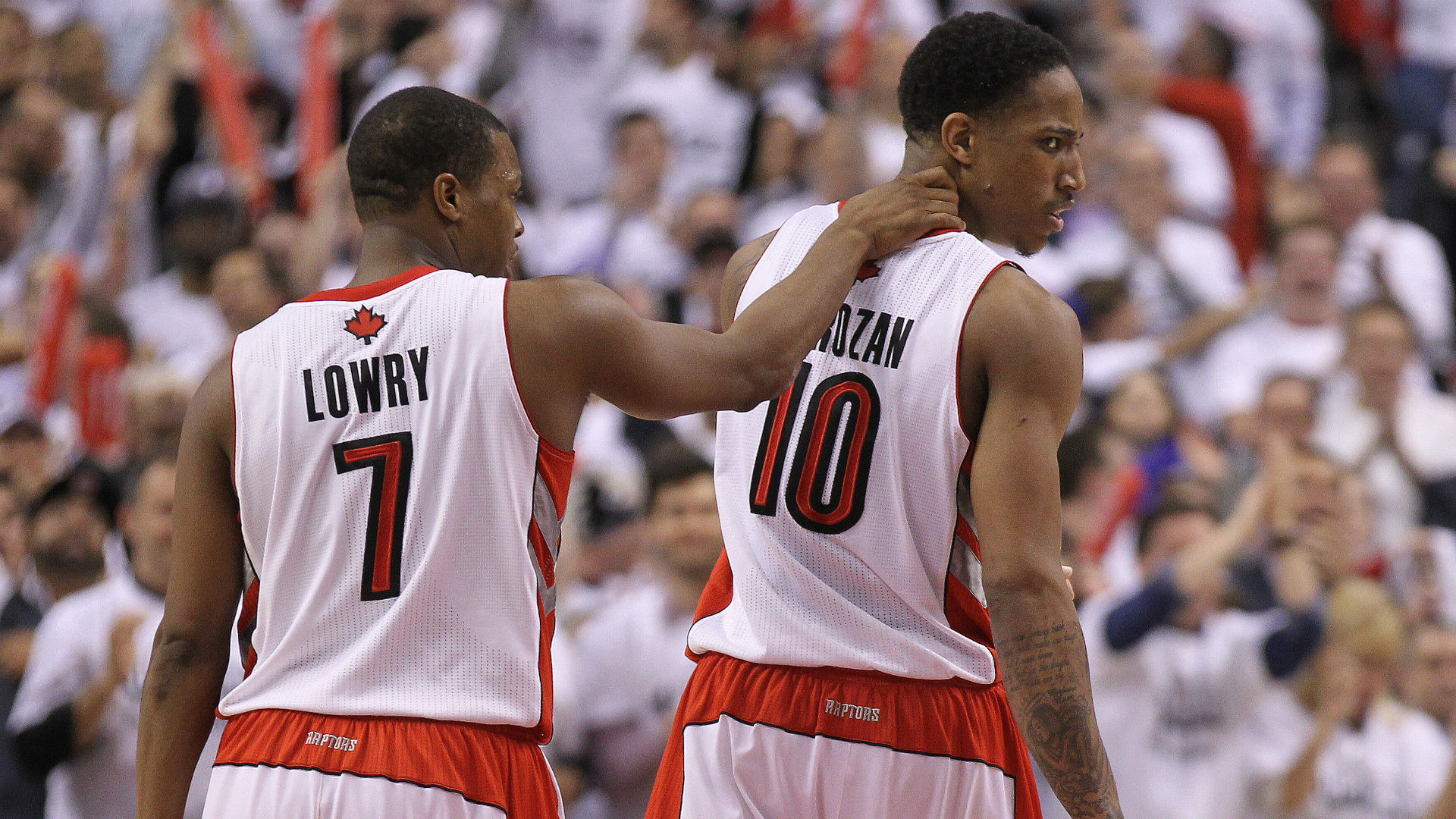 Nets
Joe Johnson - 21.9 points, 3.6 rebounds, 2.7 assists
Deron Williams - 16.9 points, 5.6 assists, 1.4 steals
Raptors
DeMar DeRozan - 23.9 points, 4.1 rebounds, 3.6 assists
Kyle Lowry - 21.1 points, 4.7 rebounds, 4.7 assists
2015 - An unfortunate first round sweep
49-33, No. 4 in East
Lost in Eastern Conference First Round (0-4) to Washington Wizards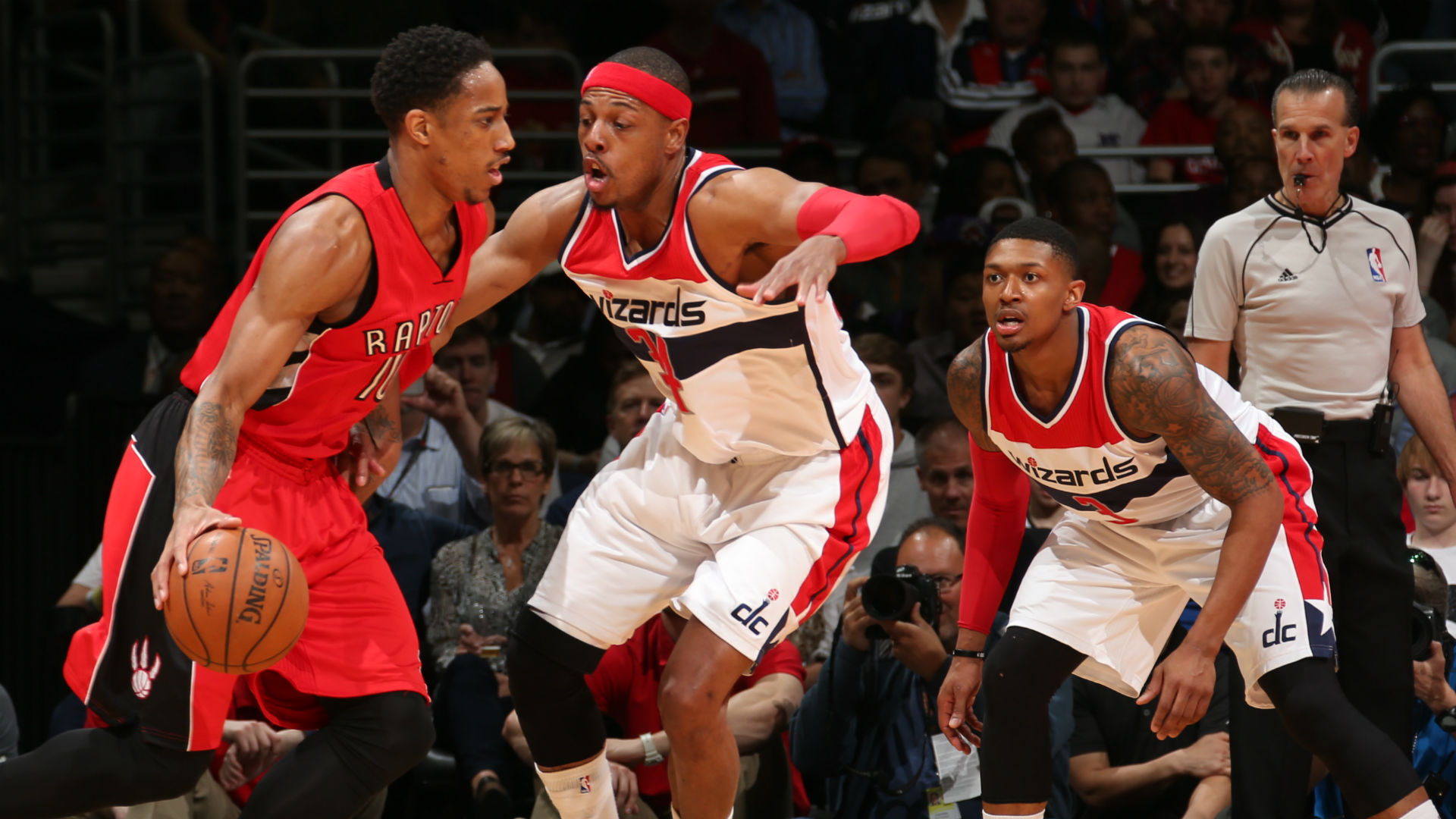 Wizards
Bradley Beal - 20.8 points, 5.3 rebounds, 4.0 assists
John Wall - 17.3 points, 12.5 assists, 4.0 rebounds
Raptors
DeMar DeRozan - 20.3 points, 6.3 rebounds, 5.8 assists
Kyle Lowry - 12.3 points, 5.5 rebounds, 4.8 assists
2016 - The deepest run in franchise history
56-26, No. 2 in East
Lost in Eastern Conference Finals (2-4) to Cleveland Cavaliers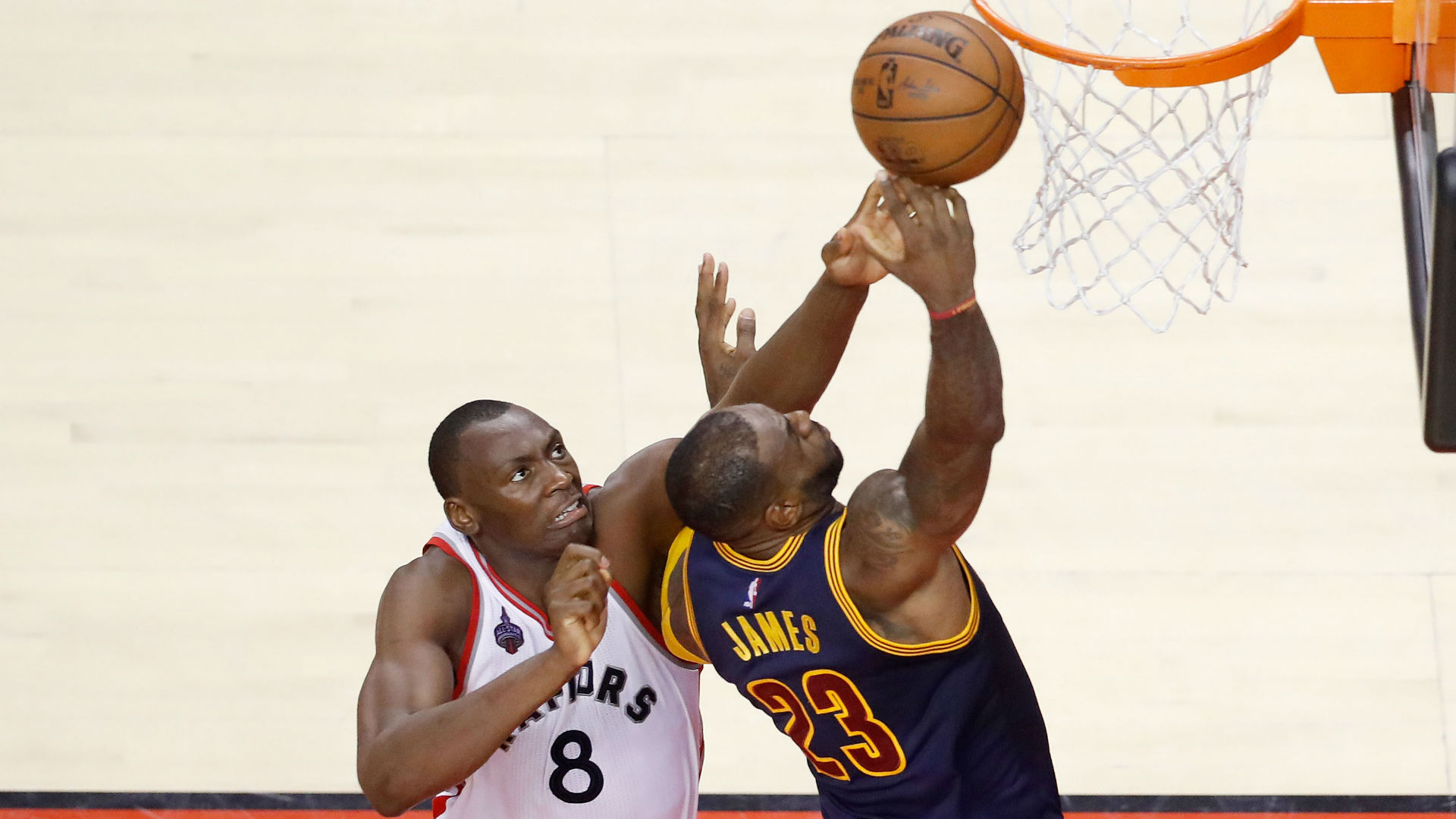 Cavaliers
LeBron James - 26.0 points, 8.5 rebounds, 6.7 assists
Kyrie Irving - 24.2 points, 4.5 assists, 3.3 rebounds
Raptors
DeMar DeRozan - 23.0 points, 3.5 assists, 3.2 rebounds
Bismack Biyombo - 6.3 points, 10.3 rebounds, 1.8 blocks
Won Eastern Conference Semifinals (4-3) over Miami Heat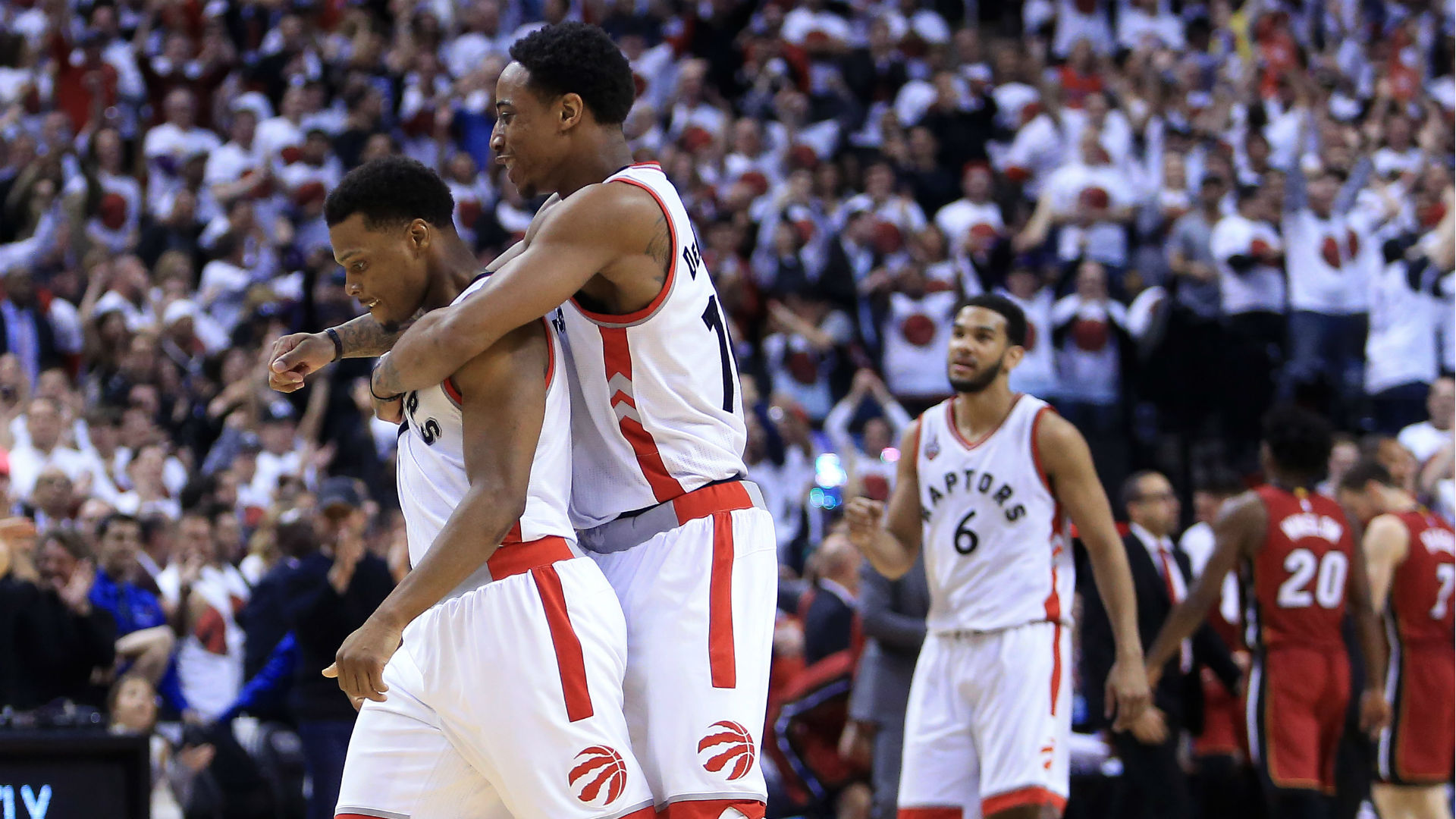 Raptors
Kyle Lowry - 23.4 points, 5.9 assists, 5.4 rebounds
DeMar DeRozan - 22.1 points, 5.6 rebounds, 2.1 assists
Heat
Dwyane Wade - 23.9 points, 5.9 rebounds, 3.6 assists
Goran Dragic - 18.9 points, 5.3 rebounds, 3.4 assists
Won Eastern Conference First Round (4-3) over Indiana Pacers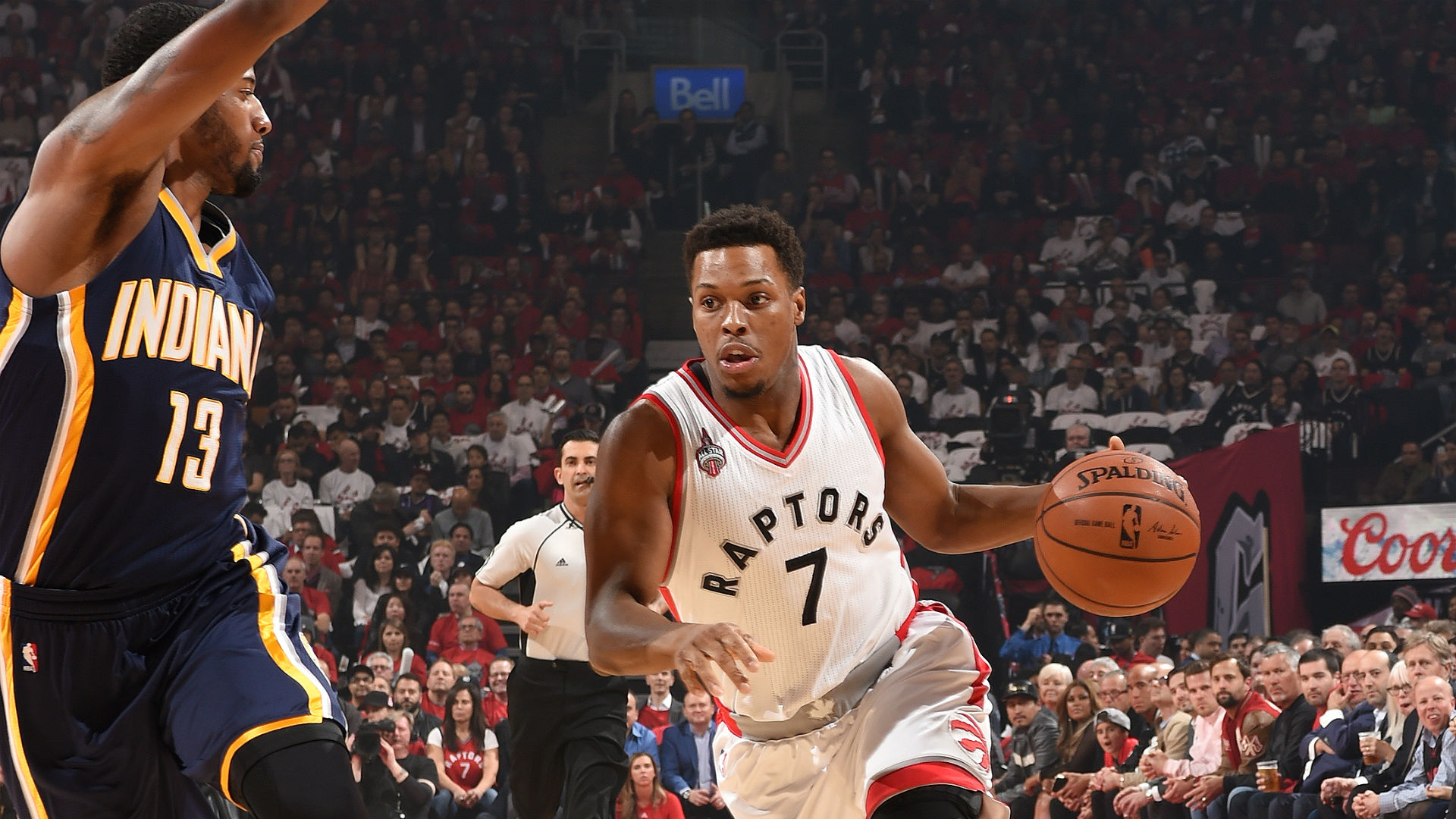 Raptors
DeMar DeRozan - 17.9 points, 3.6 rebounds, 2.6 assists
Jonas Valanciunas - 13.6 points, 11.9 rebounds, 1.4 blocks
Pacers
Paul George - 27.3 points, 7.6 rebounds, 4.3 assists, 2.0 steals
Monta Ellis - 11.6 points, 4.3 assists, 3.9 rebounds
2017 - LeBron proves to be too much
51-31, No. 3 in East
Lost in Eastern Conference Semifinals (0-4) to Cleveland Cavaliers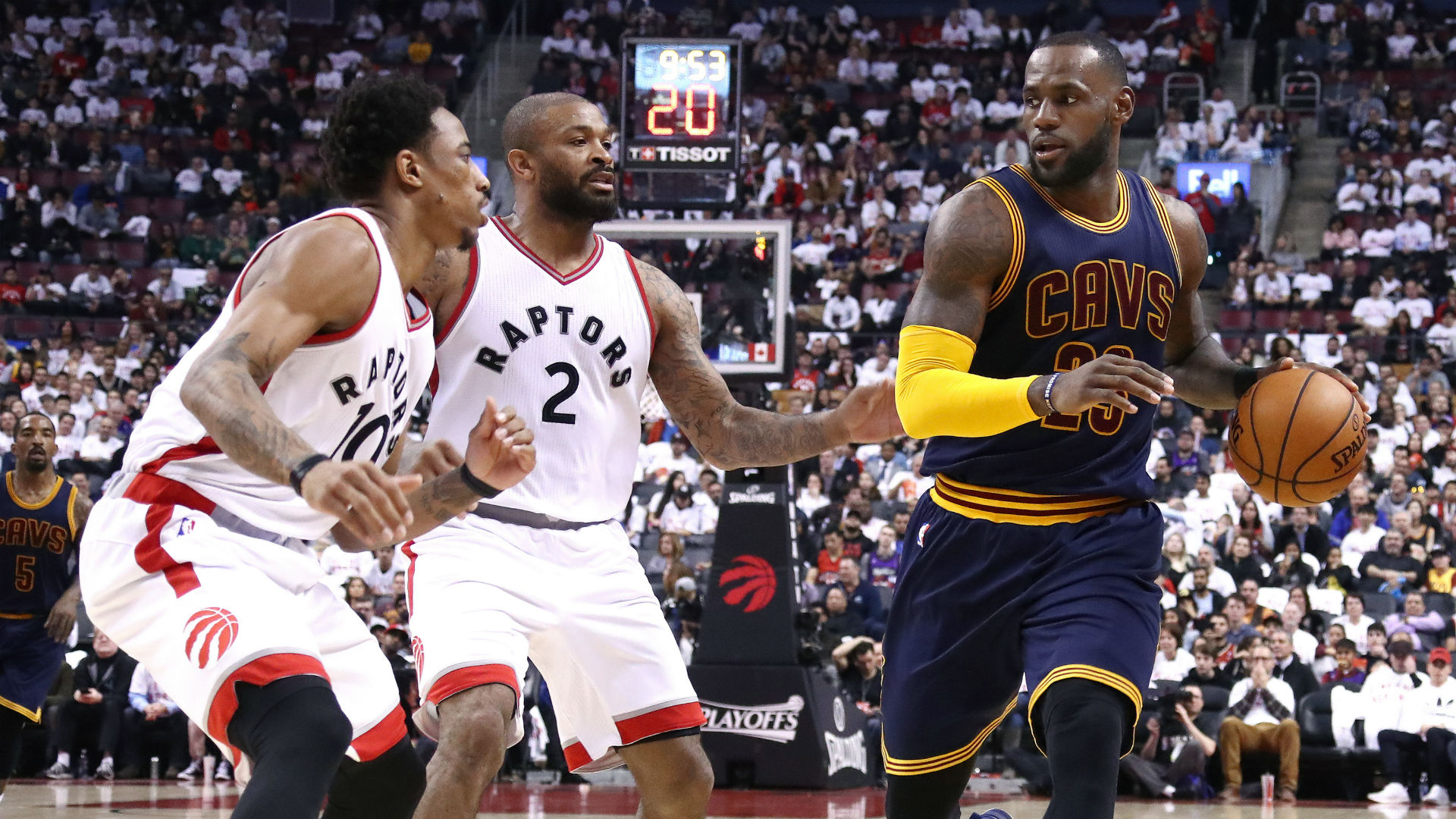 Cavaliers
LeBron James - 36.0 points, 8.3 rebounds, 5.3 assists
Kyrie Irving - 22.3 points, 8.5 assists, 3.0 rebounds, 2.0 steals
Raptors
DeMar DeRozan - 20.8 points, 4.0 rebounds, 4.0 assists
Jonas Valanciunas - 14.0 points, 6.0 rebounds, 1.0 blocks
Won Eastern Conference First Round (4-2) over Milwaukee Bucks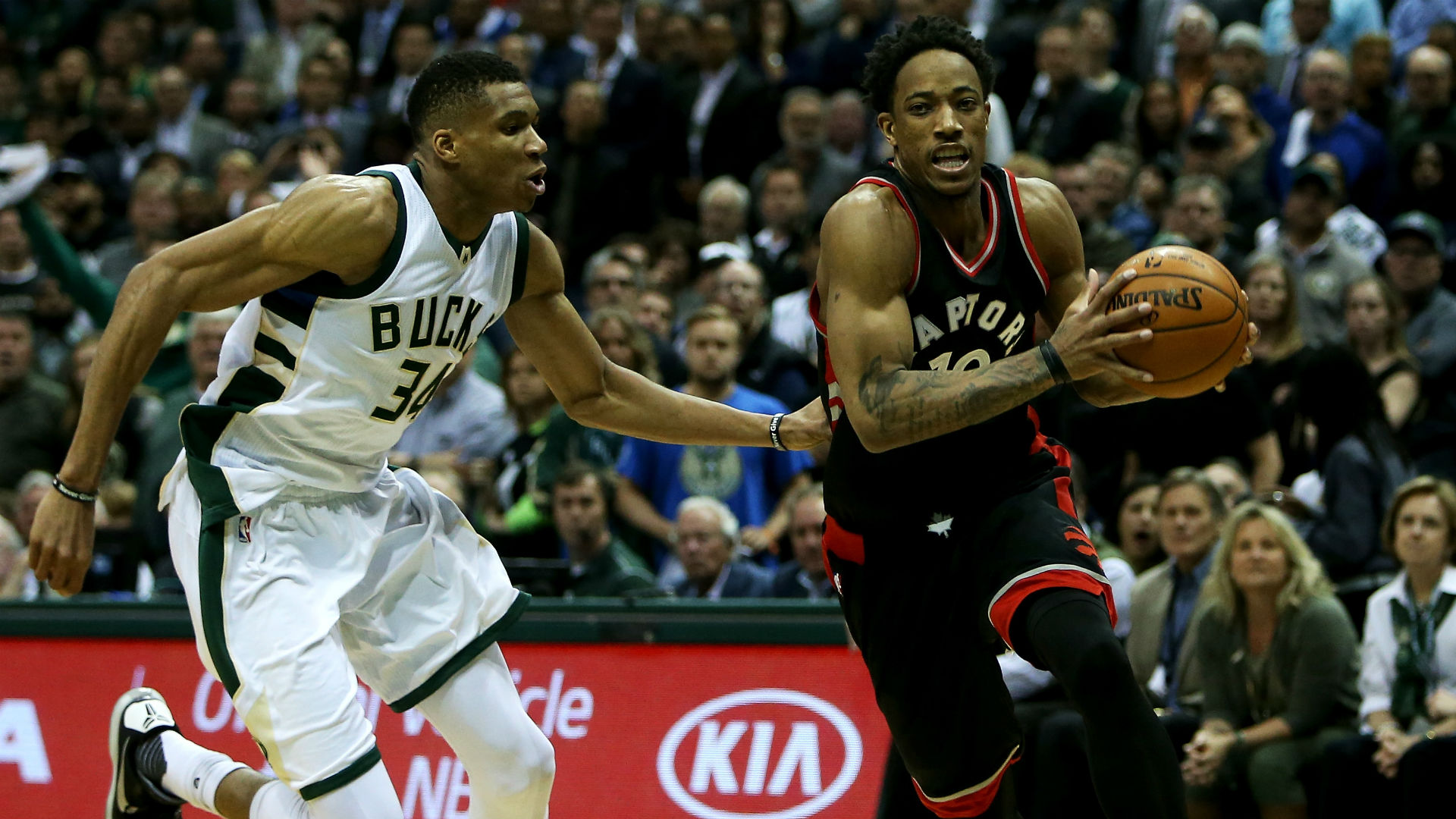 Raptors
DeMar DeRozan - 23.5 points, 5.5 rebounds, 3.0 assists
Serge Ibaka - 12.8 points, 8.3 rebounds, 2.3 blocks
Bucks
Giannis Antetokounmpo - 24.5 points, 9.5 rebounds, 4.0 assists, 2.2 steals, 1.7 blocks
Khris Middleton - 14.5 points, 5.3 assists, 4.7 rebounds
2018 - The end of an era: Eliminated by LeBron once again
59-23, No. 1 in East
Lost In Eastern Conference Semifinals (0-4) to Cleveland Cavaliers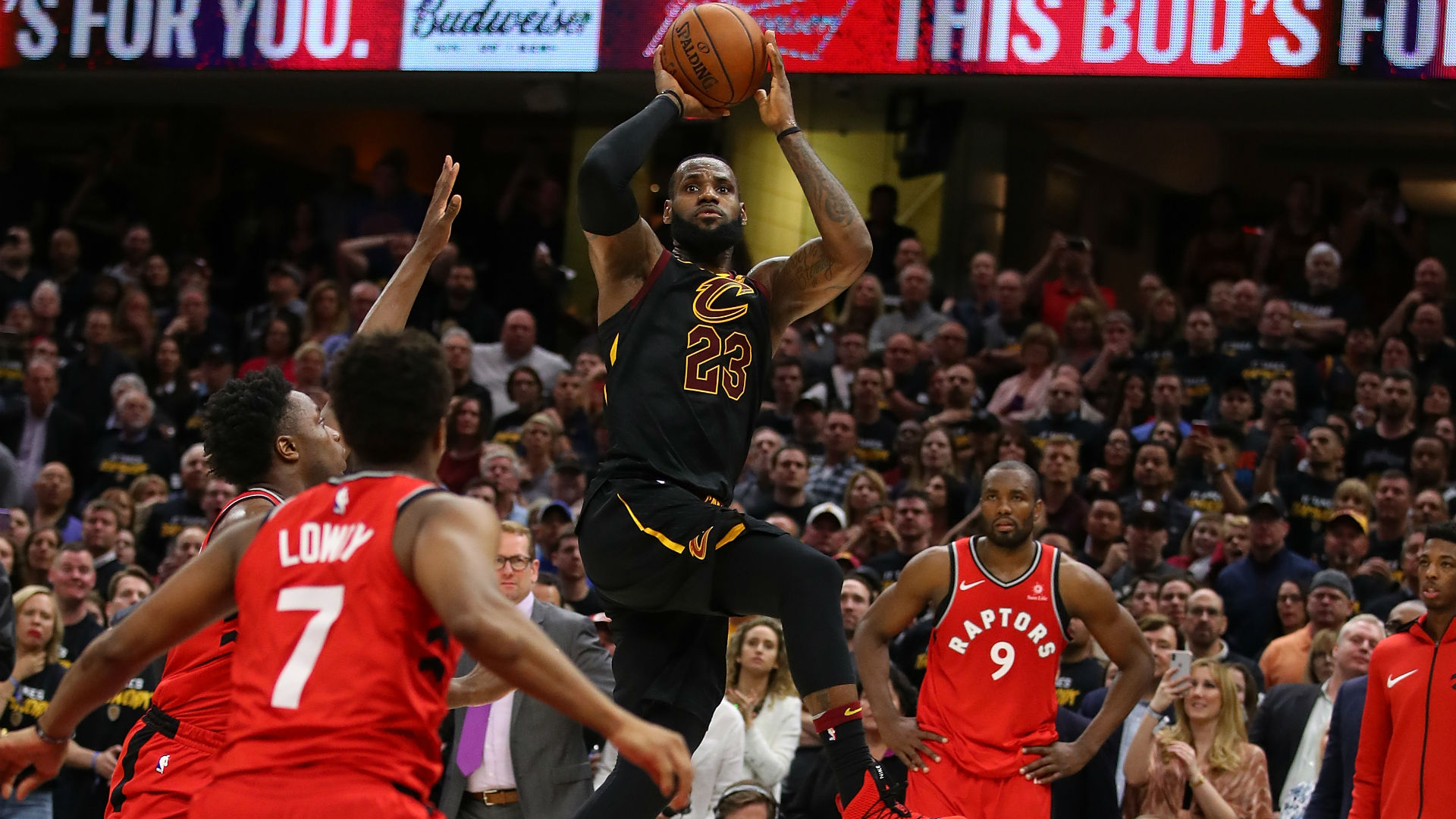 Cavaliers
LeBron James - 34.0 points, 11.3 assists, 8.3 rebounds
Kevin Love - 20.5 points, 11.5 rebounds, 1.0 steals, 1.0 blocks
Raptors
Kyle Lowry - 17.8 points, 8.8 assists, 3.5 rebounds
Jonas Valanciunas - 16.3 points, 12.3 rebounds, 1.8 blocks
Won Eastern Conference First Round (4-2) over Washington Wizards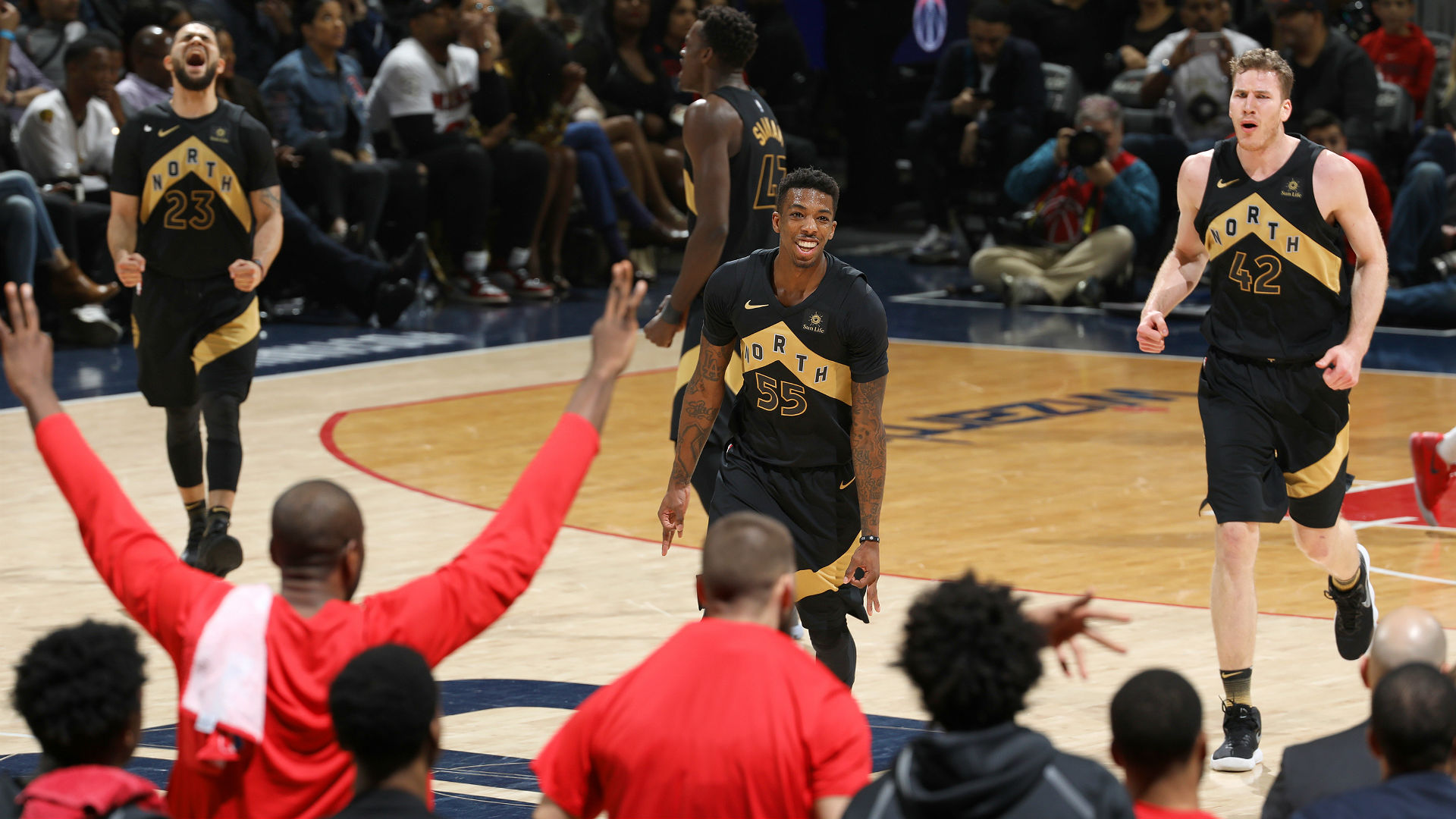 Raptors
DeMar DeRozan - 26.7 points, 4.8 assists, 3.3 rebounds
Kyle Lowry - 17.2 points, 8.3 assists, 4.8 rebounds, 2.0 steals
Wizards
John Wall - 26.0 points, 11.5 assists, 5.7 rebounds, 2.3 steals
Bradley Beal - 23.2 points, 3.3 rebounds, 2.8 assists
Toronto Raptors All-Time Playoff Opponents

| | | |
| --- | --- | --- |
| Team | Last Meeting | All-time Series Record |
| Cleveland Cavaliers | 2018 | 0-3 |
| Washington Wizards | 2018 | 1-1 |
| Milwaukee Bucks | 2017 | 1-0 |
| Miami Heat | 2016 | 1-0 |
| Indiana Pacers | 2016 | 1-0 |
| New Jersey/Brooklyn Nets | 2014 | 0-2 |
| Orlando Magic | 2008 | 0-1 |
| Detroit Pistons | 2002 | 0-1 |
| Philadelphia 76ers | 2001 | 0-1 |
| New York Knicks | 2001 | 1-1 |