The Toronto Raptors defeated the Minnesota Timberwolves 112-105 behind another huge game from Kawhi Leonard.
The Raptors advance to 5-0 for the first time since the 2015-16 season and the Timberwolves fall below .500 at 2-3 to start the season.
Leonard had a game-high 35 points, Kyle Lowry notched another double-double of 13 points, 10 assists and Jonas Valanciunas chipped in 16 points and nine boards off the bench to secure the Raptors win.
If you missed any of Wednesday's action, we have you covered with highlights, updates and more.
Toronto Raptors vs. Minnesota Timberwolves
Final: Raptors 112, Timberwolves 105
9:49 p.m. - The Timberwolves went on a 16-4 run down the stretch but it was not enough the complete the comeback. The Raptors remain undefeated, advancing to 5-0! Kawhi Leonard led the way with 35 points, five rebounds, two assists, three steals and two blocks. Jimmy Butler gave it his all for Minnesota posting 23 points, four rebounds, five assists and six steals.
Kawhi Leonard leads the way with 35 PTS!@Raptors take it 112-105 over the @Timberwolves.

Valanciunas: 16 PTS, 9 REB
Kyle Lowry: 13 PTS, 10 AST, 6 REB#WeTheNorth #KiaTipOff18 pic.twitter.com/mqwilJBQOF

- NBA (@NBA) October 25, 2018
Final team stats: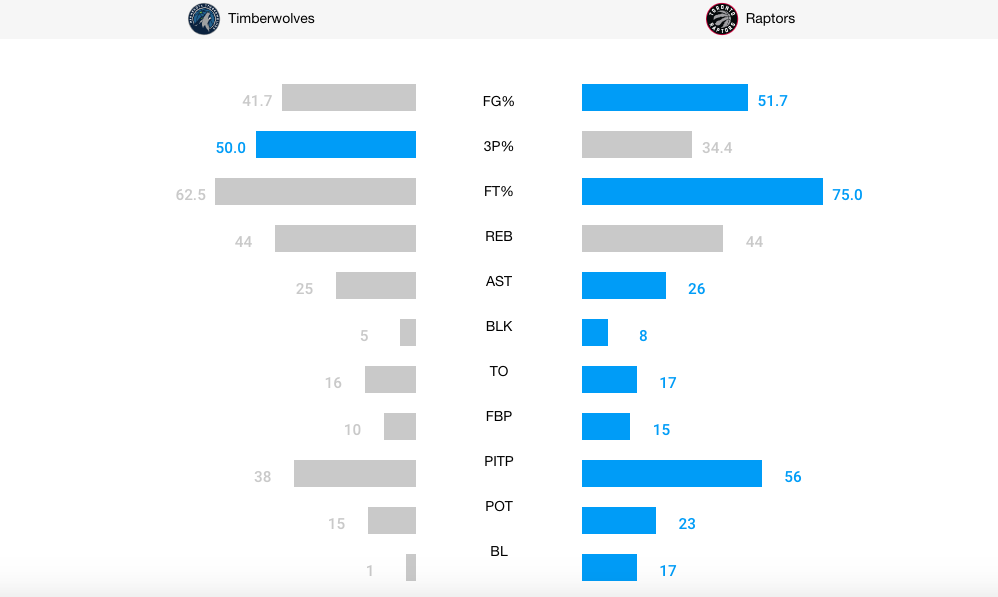 9:37 p.m. - With under three minutes remaining in the game the Raptors lead 106-96. Kawhi has ANOTHER 30-point game as he's reached 31 points on the night.
9:18 p.m. - That didn't take long... The Raptors are on an 11-4 run in the first three minutes of the fourth to take a 16-point lead! Another Valanciunas three, an incredible and-1 by Norm Powell and a trey from OG Anunoby highlight the quick run that forced the Timberwolves to take a timeout.
Clearly looking is overrated pic.twitter.com/YJEYxVHIeS

- Toronto Raptors (@Raptors) October 25, 2018
End of third quarter: Raptors 83, Timberwolves 74
9:13 p.m. - Through three quarters the Raptors lead by nine, 83-74. Valanciunas had five straight points (including a three-pointer) to end the third to cushion Toronto's lead.
Closing time @ScotiabankArena. #RTZ

Kawhi - 25p, 5r
Serge - 15p, 6r pic.twitter.com/Wn34koWXLa

- Toronto Raptors (@Raptors) October 25, 2018
9:05 p.m. - With 2:54 left in the quarter, Toronto leads 76-72. Okogie has started to heat up a little, knocking down a pair of threes to cut into the Raptors' lead. He also had this absolutely ridiculous putback dunk:
HE REALLY JUST DID THAT.

AIR OKOGIE. #SCTop10 pic.twitter.com/Wecx1X1cFo

- Timberwolves (@Timberwolves) October 25, 2018
8:56 p.m. - Serge Ibaka has six quick points to start the second half. A beautiful dish from Lowry got Serge an easy layup forcing a T'Wolves timeout. Raptors lead 70-60 early in the third.
Fundamental basketball pic.twitter.com/RYBG7sjhPc

- Toronto Raptors (@Raptors) October 25, 2018
Halftime: Raptors 57, Timberwolves 48
8:42 p.m. - Some team stats for the first half of action: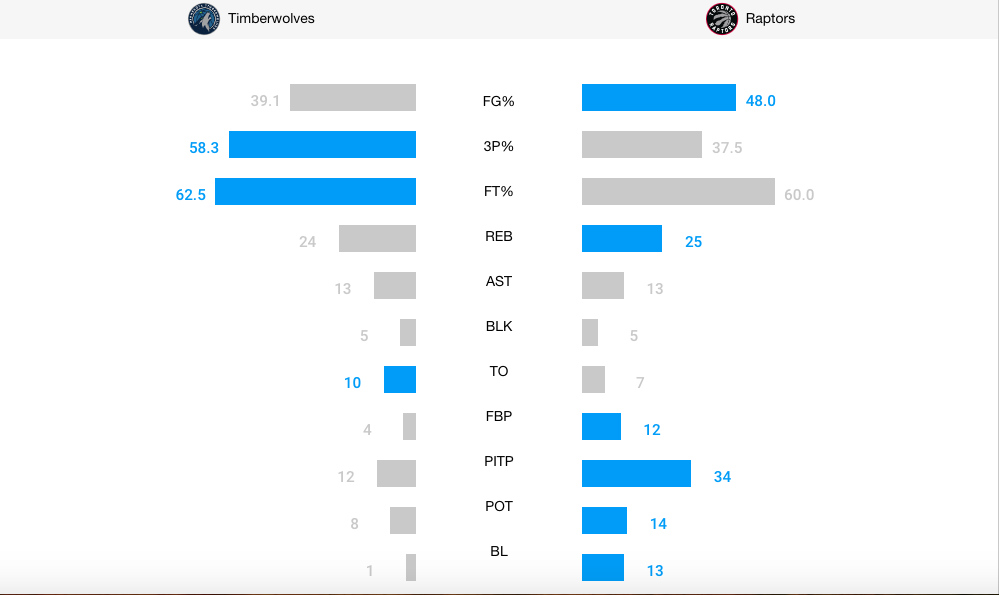 8:35 p.m. - Toronto holds a 57-48 lead at halftime! Leonard leads all scorers with 18 points and adds three rebounds, an assist, two steals and a block getting it done from all over the court. Lowry is also filling it up with seven points, six assists, four rebounds and three steals.
Karl-Anthony Towns and Jimmy Butler were both relatively quiet in the first half with seven and eight points, respectively.
Kawhi, Kyle & Serge combine for 34. #RTZ pic.twitter.com/WVWPk2VKGj

- Toronto Raptors (@Raptors) October 25, 2018
8:26 p.m. - The Raptors remain in the lead 51-42 with 2:43 left in the first half. Despite the score, Minnesota has dialed in from long range shooting 7-for-10 and Derrick Rose leads the team with 10 points.
8:18 p.m. - It's been a game of runs. Toronto responds with a 9-0 run of their own to take a 35-27 lead. A pair of buckets from Jonas Valanciunas followed by a three and a big dunk from Kawhi sparked the run for the Raptors.
Minutes played: 14
Points: 16 pic.twitter.com/KlwYesinb1

- Toronto Raptors (@Raptors) October 25, 2018
8:10 p.m. - The Timberwolves remain hot after the quarter break. They're on an 8-0 run to start the quarter, making it a 13-0 run carrying over from the first quarter as they take a 27-26 lead with 9:52 remaining in the half.
End of first quarter: Raptors 26, Timberwolves 19
8:04 p.m. - Toronto got out to a hot start but the Timberwolves closed the quarter on a 7-2 run. Kawhi leads the way for the Raptors with 11 points (5-8 FG) while Minnesota has spread the wealth with eight different players on the board after one quarter.
Defence holdin' 'em to 32%. #RTZ

Kawhi w/ 11 pic.twitter.com/xyMWL9dWUx

- Toronto Raptors (@Raptors) October 25, 2018
7:56 p.m. - The Raptors defence is not making things easy for the Timberwolves. They're shooting just 23.8 percent from the field on 5-for-21 shooting. Toronto's offence is running smoothly through Lowry who has three assists early as the Raptors lead 22-12 with 2:22 left in the first.
7:47 p.m. - Kawhi Leonard continues to roll. He has nine points, one rebound and one assist already! Raptors lead 18-9 midway through the first quarter.
Unselfish basketball. pic.twitter.com/spyXojn746

- Toronto Raptors (@Raptors) October 24, 2018
Pregame
6:46 p.m. - The Timberwolves will start Jeff Teague, Josh Okogie, Jimmy Butler, Taj Gibson and Karl-Anthony Towns. The rookie Okogie will make his second career start, filling Wiggins' place.
Tonight's starters: Teague, Okogie, Butler, Gibson and Towns

- Timberwolves PR (@Twolves_PR) October 24, 2018
6:03 p.m. - Unfortunately, Andrew Wiggins is ruled OUT for tonight's game. He'll have to wait another year to try and pick up his first win in Canada.
Andrew Wiggins is OUT for tonight's game against Toronto with a right quad contusion. Josh Okogie will get his second career start per Thibs.

- Timberwolves PR (@Twolves_PR) October 24, 2018
5:56 p.m. - The Raptors will start the same starting five in back-to-back games for the first time this season.
Other roster news: Delon Wright is active but may be limited and Fred Van Vleet is OUT with a toe sprain.
Tonight's starting 5

PG: Lowry
SG: Green
SF: Leonard
PF: Siakam
C: Ibaka#WeTheNorth pic.twitter.com/ZLMWpcuNam

- Toronto Raptors (@Raptors) October 24, 2018
5:00 p.m. - Karl-Anthony Towns showing Drake some love on his birthday with the OVO jacket walking into Scotiabank Arena.
dripping OVO x Jumpman in Toronto for Drizzy's birthday 🦉 pic.twitter.com/tFOpJgg2SJ

- Timberwolves (@Timberwolves) October 24, 2018