The Minnesota Timberwolves will take on the Toronto Raptors on Wednesday at 7:30 p.m. Eastern Time on TSN Network.
Canadian Andrew Wiggins will, unfortunately, miss his fifth contest in his native country - missing his chance to pick up his first victory in Toronto.
Through his first four games in Toronto, Wiggins has averaged 20.3 points, 5.0 rebounds and 1.5 assists. The Timberwolves enter this matchup with a 2-2 record in 2018-19, while the Raptors own a perfect 4-0 record.
In each game that Wiggins has played in Toronto, Minnesota has never owned a better record than the Raptors.
Let's revisit each regular season game in which the former No.1 overall pick has played in Canada...

Rookie season: Raptors 105, Timberwolves 100
Wiggins: 15 points (6-9 FG, 0-1 3FG, 3-4 FT), three rebounds in 32 minutes
Raptors' top performer: DeMar DeRozan - 21 points (4-14 FG, 1-1 3FG, 12-12 FT), seven rebounds, four assists and two steals
Despite poor efficiency from DeRozan and a quiet night from Kyle Lowry, Wiggins and the Timberwolves failed to pick up a win. A tip-in from Wiggins with three minutes remaining brought the game within four but Minnesota couldn't come up with stops down the stretch.
With one minute remaining and Toronto leading by four, then-Raptors guard Greivis Vasquez buried a dagger three to spoil Wiggins' first game in his home country.
Second visit: Raptors 114, Timberwolves 105
Wiggins: 26 points (9-19 FG, 2-2 3FG, 6-9 FT), four rebounds, three assists, one steal and six turnovers in 32 minutes
Raptors' top performer: DeMar DeRozan - 31 points (11-19 FG, 2-2 3FG, 7-8 FT), four rebounds, four assists, two steals
Wiggins' 26 points are the most he's ever scored in Toronto.
The story of this loss comes from the Raptors' reserves outplaying the Wolves'. Each player that checked in off the bench for Toronto finished with a ridiculous plus-minus: Patrick Patterson (plus-23), Bismack Biyombo (plus-23), Cory Joseph (plus-21) and Terrence Ross (plus-17) carried the Raptors to victory, overshadowing Wiggins' big night.
Lowry and DeRozan combined for 52 points and the Raptors defeated Wiggins and the Wolves at home for the second-consecutive season.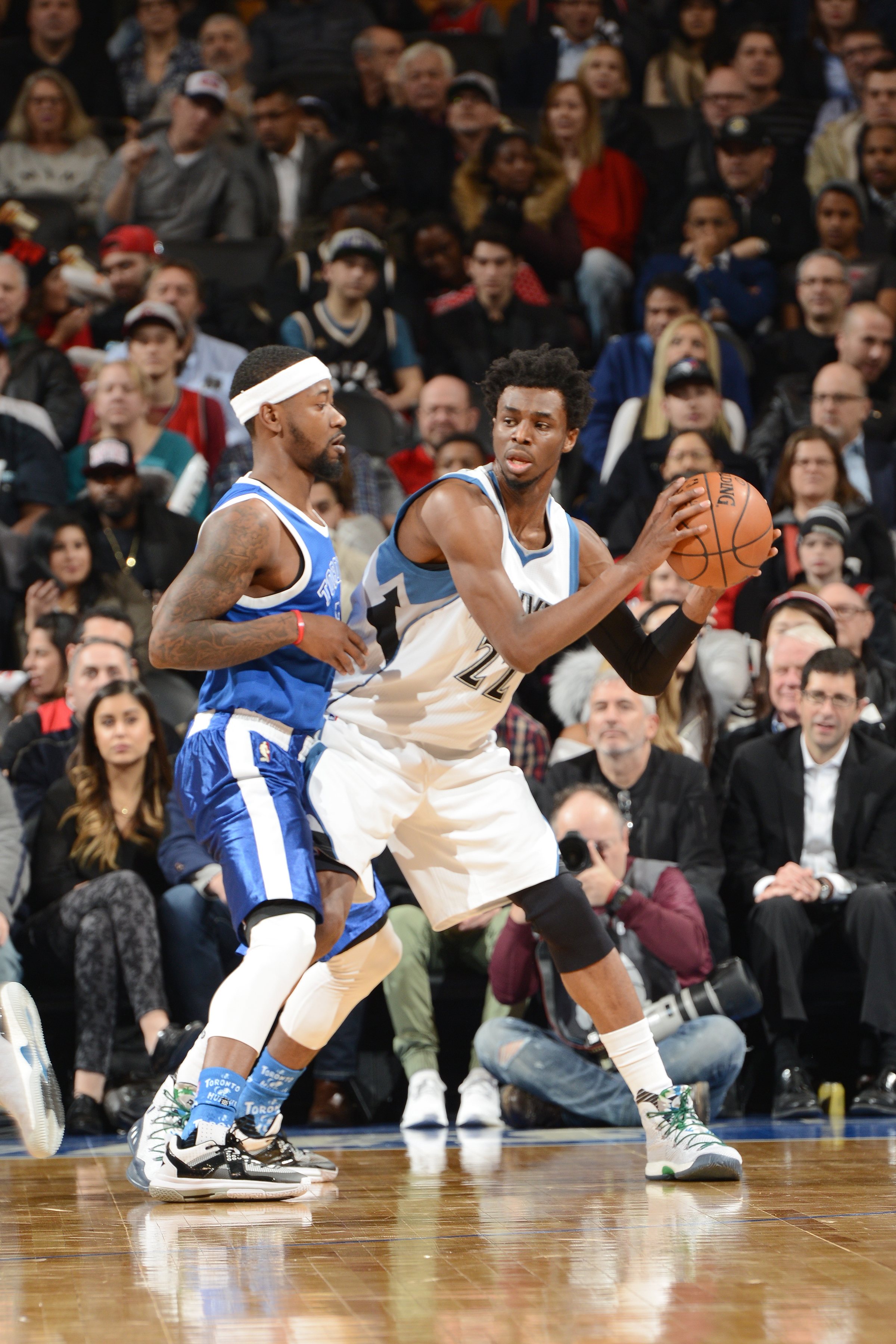 Year three: Raptors 124, Timberwolves 110
Wiggins: 25 points (10-19 FG, 1-4 3FG, 4-6 FT), five rebounds and one assist in 36 minutes
Raptors' top performer: Kyle Lowry: 25 points (8-14 FG, 5-7 3FG, 4-6 FT), 11 assists, two rebounds, one steal
Defence was the major issue for Minnesota in this one, as it allowed three Raptors to score over 20 points.
Lowry (25) and DeRozan (27) combined for 52 points (again), proving to be too much for the Wolves. Wiggins' had a great outing as the Timberwolves led by one point heading into the fourth, but the Raptors exploded for 36 points in the fourth quarter to earn another win.
This was the first time in which Wiggins' team had the lead going into the fourth, but they couldn't fend off the Raptors offence to earn a win.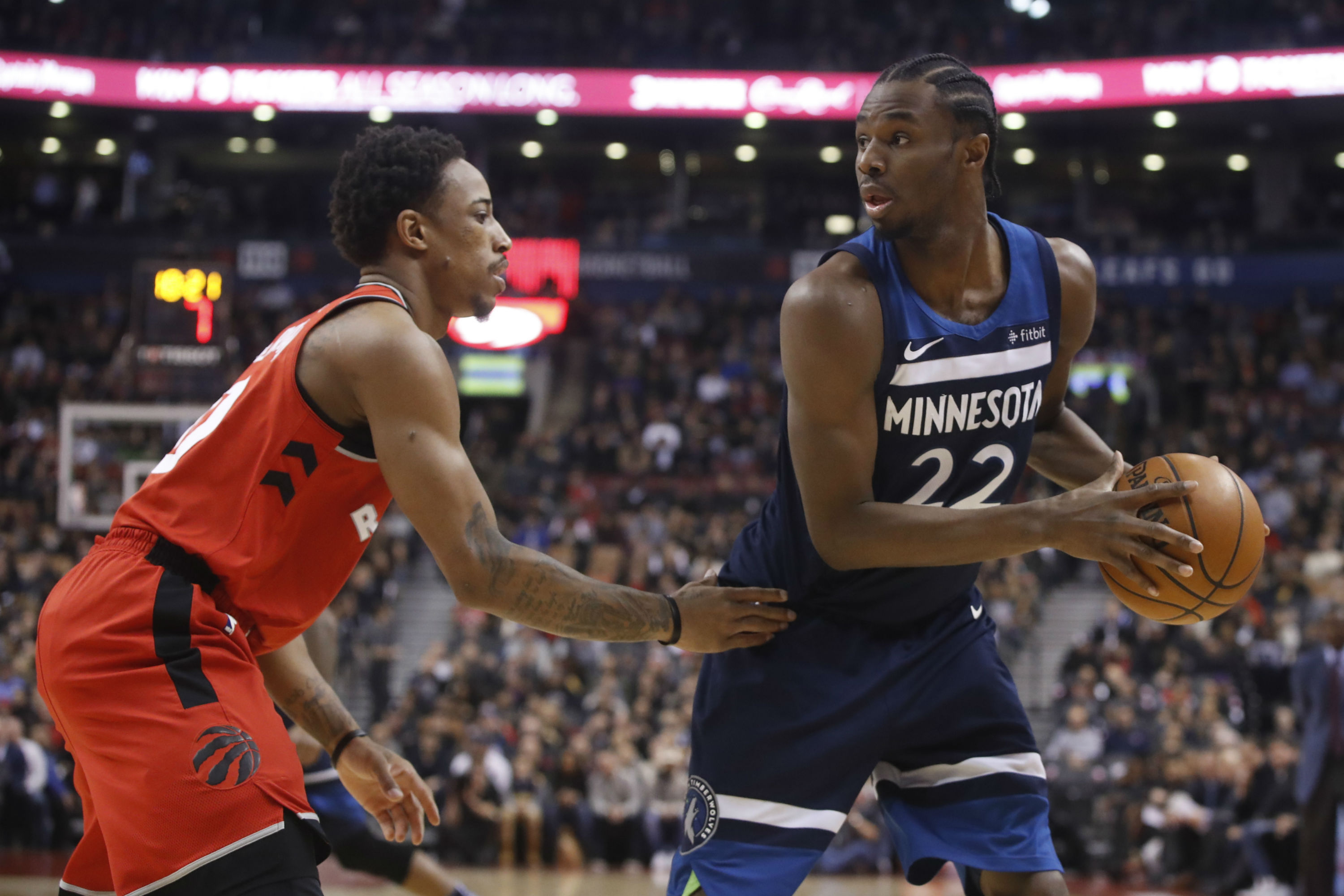 Fourth go-around: Raptors 109, Timberwolves 104
Wiggins: 15 points (7-22 FG, 1-6 3FG), eight rebounds and two assists in 35 minutes
Raptors' top performer: DeMar DeRozan: 23 points (6-18 FG, 1-6 3FG, 10-11 FT), eight assists, four rebounds and one steal
For the second year in a row, Minnesota held the lead going into the fourth quarter on the road in Toronto, but for the fourth time in Wiggins' career, his team could not pull out the win in his home country.
Despite a rough shooting night from beyond the arc, Wiggins buried a huge 3-pointer with one minute remaining to cut the Raptors' lead to two. The Timberwolves failed to come up with a stop as a midrange shot from DeRozan put the Raptors up four with 40 seconds remaining. On the next play, Wiggins missed a 3-pointer that would have kept the Wolves in the game.
In the first four games, the common theme was DeRozan serving as Wiggins' kryptonite in his pursuit of a win in Toronto. While DeRozan is no longer a Raptor, things are no easier with Kawhi Leonard taking his place.
Toronto is playing some of the best basketball in the league right now and if Wiggins is to earn his first win in his home city, he and the Timberwolves will have to work harder than ever.