LeBron James and the Los Angeles Lakers are set to host the Toronto Raptors at the STAPLES Center on Sunday.
The Raptors are off to one of the hottest starts in the league, boasting an 8-1 record. As for the Lakers, it's been quite the contrary with a 4-5 record and a disgruntled president in Magic Johnson, who "admonished" head coach Luke Walton for the team's slow start to the season, per ESPN.
With that being said, all records go out the window when it comes to this matchup since LeBron has absolutely owned the Raptors in recent history.
James has swept the Raptors in two consecutive postseason series - in 2017, his Cleveland Cavaliers beat Toronto in four games by a margin of 61 points followed by the 2018 playoffs where, despite winning nine less games than the Raptors last season, the Cavs beat them in four games again by a margin of 56 points.
In 65 total games against the Raptors, LeBron holds a 53-12 record in what used to be a lopsided Eastern Conference rivalry.
It's been nearly four years since Toronto has beaten a LeBron team on his home floor. They came close in Game 3 of the playoffs last year before James hit one of the most incredible shots of his career:
James lost the first two home games of his career against the Raptors back in the 2003-04 season. Vince Carter was the leading scorer in both games. Since then, LeBron is a ridiculous 30-1 at home against Toronto.
The sole home loss during that stretch was Nov. 22, 2014, when James posted 15 points, the second-lowest scoring total he's ever had versus the Raptors.
LeBron has played Toronto 29 times since then, winning 24 of those 29 contests, including 15 of their last 16 meetings. For his career against the Raptors, his numbers are staggering - he's posted 28.4 points, 7.7 assists and 7.4 rebounds per game, shooting 52.7 percent from the field, all of which are higher than his averages for his 16 seasons in the league. The only NBA team he has a higher offensive rating against than Toronto (123) is the Minnesota Timberwolves (124).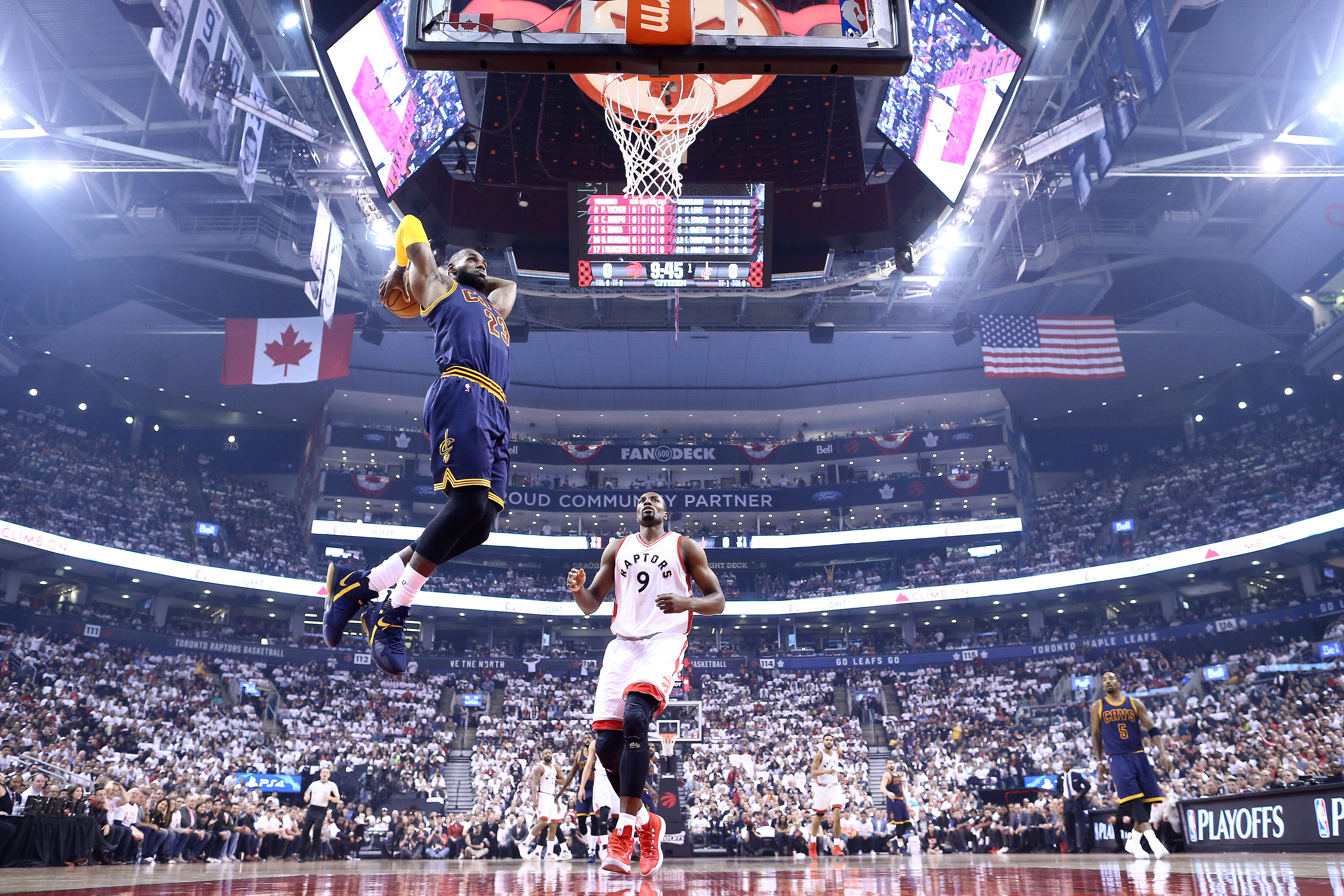 It would be naive to think that James doesn't carry some sort of swagger on his shoulders every time he faces off against the Raptors, knowing the type of success he's had against his former Eastern Conference foe.
But now that James has moved over to the Western Conference and the Raptors have made some adjustments to their roster, does that change anything?
Well, in a matchup of the team's stars, you could definitely say that it does.
MORE: Game preview: Raptors vs. Lakers
Kawhi Leonard has had some success against LeBron in his career, holding a 12-8 record over The King between regular season and playoffs. Against James, Kawhi averages 18.0 points, 8.5 rebounds, 2.3 assists and 1.9 steals per game. All of those numbers are higher than his career averages.
He's also contained LeBron to 25.7 points, 8.3 rebounds, 6.5 assists and 49.5 percent shooting from the field, which, excluding the rebounds, are all below his career averages. James has even said it himself on Uninterrupted's "Open Run" podcast in 2016 that Kawhi defends him better than any other player in the league. So to say that Leonard doesn't take his game to another level when he's matched up with arguably the greatest player of all-time would be equally as naive.
Yes, this might just be another regular season game, but given the Raptors' success to start the season, this could be a momentum-booster for James and his young Lakers squad. On the flip side, despite the Lakers' slow start to the season, nothing would be more assuring in proving this is a different Raptors team than overcoming their demons against the one player that has eliminated them from the playoffs in three consecutive years.
The stakes are usually low for a game in the beginning of November, but this one has a different feel to it in the first chapter of Lakers' LeBron James and the new-look Raptors.