That's a wrap.
The Toronto Raptors played their last game of the 2020-21 season on Sunday, falling to the Indiana Pacers. The Raptors ended the season with a 27-45 record and missed the playoffs for the first time since 2012-13, snapping the second-longest active streak in the league.
For more on what was a rollercoaster of a season for the Raptors, here are some key takeaways.
What a strange year
When we look back at the 2020-21 season for the Raptors, there will be a laundry list of footnotes that are best described as strange.
First and foremost, the team was displaced to Tampa, FL, where it transformed a hotel ballroom into a practice facility and shared a home arena with the NHL's Tampa Bay Lightning. While the city welcomed the Raptors with open arms, there's no place like home.
Due to their displacement, the Raptors essentially completed a season by playing in 72 road games. That's … not normal.
In years past, the Raptors have been forced to deal with the "next man up" mentality due to injuries and load management and while the team experienced some injury early on, it faced unprecedented adversity in late February when several coaches and three key players in OG Anunoby, Pascal Siakam and Fred VanVleet were forced to enter the league's health and safety protocols.
MORE: Chris Boucher's season is worthy of award consideration
Just as the team was finding its rhythm, everything changed, and the Raptors went 1-13 in the month of March, with the lone win coming over a title contender in the Denver Nuggets, a night that would wind up being strange as well, as many thought it was Kyle Lowry's last game in a Raptors uniform.
After the fanfare and farewells, no deal at the deadline meant Lowry would still be with the team, for the remainder of this season, at least.
It was an interesting saga.
By season's end, Toronto set a franchise record with 38 different starting lineups and an NBA record with 10 different 30-point scorers, ranging from the usual suspects to more unlikely 30-point scorers in Stanley Johnson and rookie Jalen Harris.
Plenty of trivia answers could come from this season.
- Gilbert McGregor (@GMcGregor21)
Where did Pascal Siakam's 3-point shot go?
As I wrote last season, Siakam's improvement as a 3-point shooter was a big reason why he was able to make the jump to not only an All-Star, but an All-NBA player.
After being limited to shooting corner 3s at the start of his career, Siakam extended his range out to the top of the perimeter and even got comfortable shooting off the dribble. The latter in particular helped him make 44 unassisted 3s on the season. In the first three seasons of his career, he combined to make two unassisted 3s.
Teams still played Siakam for the drive, but he showcased the ability to punish defenders for giving him space, both in isolation and out of the pick-and-roll, giving him the answer to the one coverage that gave him trouble in the 2019 NBA Playoffs. That's why it was concerning to see his 3-point percentage plummet this season. According to NBA.com, he nailed 23.7 percent of his 3-point pull-ups and 31.3 percent of his catch-and-shoot 3s, down from 34.0 percent and 36.1 percent, respectively, last season.
Siakam improved in other ways this season. He quietly had a lot more success from midrange, going from shooting 31.4 percent last season to 38.6 percent this season. He made strides as a passer. It's not just the fact that he averaged a career-best 4.5 assists per game that stood out. It was the types of passes he was making on a more consistent basis. He also continues to be one of the better defenders at the forward position, someone who can guard multiple positions and wreak havoc on the perimeter with his length.
If he continues to trend in the right direction in those areas and finds his 3-point touch again, Siakam is going to be a big problem.
- Scott Rafferty (@crabdribbles)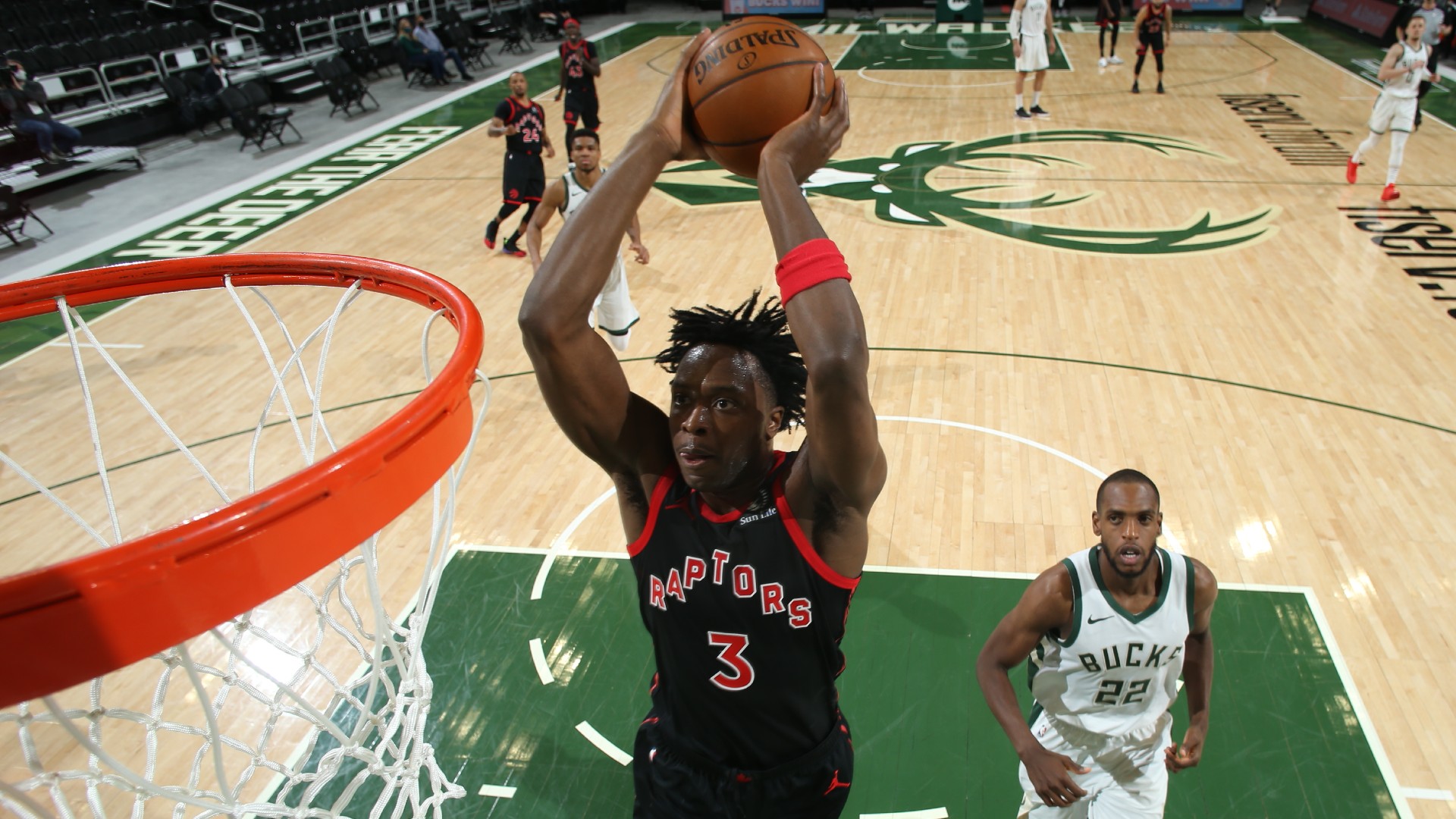 OG Anunoby's continued development
Since Anunoby's rookie season, it was clear what he was capable of becoming as a versatile defender and premier stopper. His progression on that end of the floor has been steady and consistent, but that was to be expected. That's not what this is about.
This is about Anunoby's advancement as a scorer, diversifying his arsenal of offensive weapons.
The 23-year-old averaged a career-high 15.9 points and 2.2 assists per game this season while shooting a career-best 39.8 percent from 3 point range. He had 13 games with 20 or more points - the most in a single season in his four years in the NBA. Among those 13 20-point games, he had a stretch of six consecutive games eclipsing the 20-point mark, which was also a career-best achievement.
He dished out a career-high six assists twice this season and also matched his career-high for 3-pointers in a game (6) once.
MORE: The numbers behind Anunoby's breakout season
Anunoby flashed some newfound confidence in his handle, creating for himself off the dribble as a shooter and when going to the rack.
OG showed up & showed out

30 Pts | 8 Reb | 5 Stl | 4 3pm pic.twitter.com/c7eAWsMTGY

- Toronto Raptors (@Raptors) January 25, 2021
He also gave us a glimpse of a growing post game, knocking down some crafty shots with his back to the basket.
The OG Fade pic.twitter.com/P43Bn93WPQ

- Toronto Raptors (@Raptors) February 27, 2021
Averaging nearly 16 points per game while just scratching the surface of his evolution as a scorer, Raptors fans should be thrilled about the future of Anunoby's all-around game.
- Kyle Irving (@KyleIrv_)
The emergence of the rooks
Perhaps the silver lining to some of the dark clouds this season brought was the opportunity to get an extended look at what the next crop of Raptors brings to the table.
Malachi Flynn, who was a preseason standout, struggled to find a spot in the rotation as the regular season rolled around. After a stint in the G League bubble in February, Flynn returned to the Raptors poised, confident and ready for a bigger role.
During the final stretch of the season, the rookie proved to be a solid defender and had a number of notable performances, including a 20-point, 11-assist double-double and a 26-point performance in the second-to-last game of the season. He was also crowned as Eastern Conference Rookie of the Month for April, becoming the first Raptor to earn the honour in five years.
Harris, who was taken with the No. 59 overall pick, looked like an absolute steal in the final stretch of the season, capped off with a career-high 31 points in a game in front of family and friends in his hometown of Dallas.
A 6-foot-5 guard, Harris fits the mould of what the team looks for in a wing. Like Flynn, he's poised and not easily shaken. He'll be an important rotational piece moving forward.
Rounding out the rookie trio is Freddie Gillespie, who joined the team in mid-April on a 10-day contract. It didn't take long for him to make a positive impression, as he was rewarded with a multi-year deal following his second 10 day.
Gillespie, who has had moments as an energetic big man, is an eager learner that's active on both ends of the floor. Above all, he rounds out a trio that fits the culture harboured within the organization.
The future is bright.
- McGregor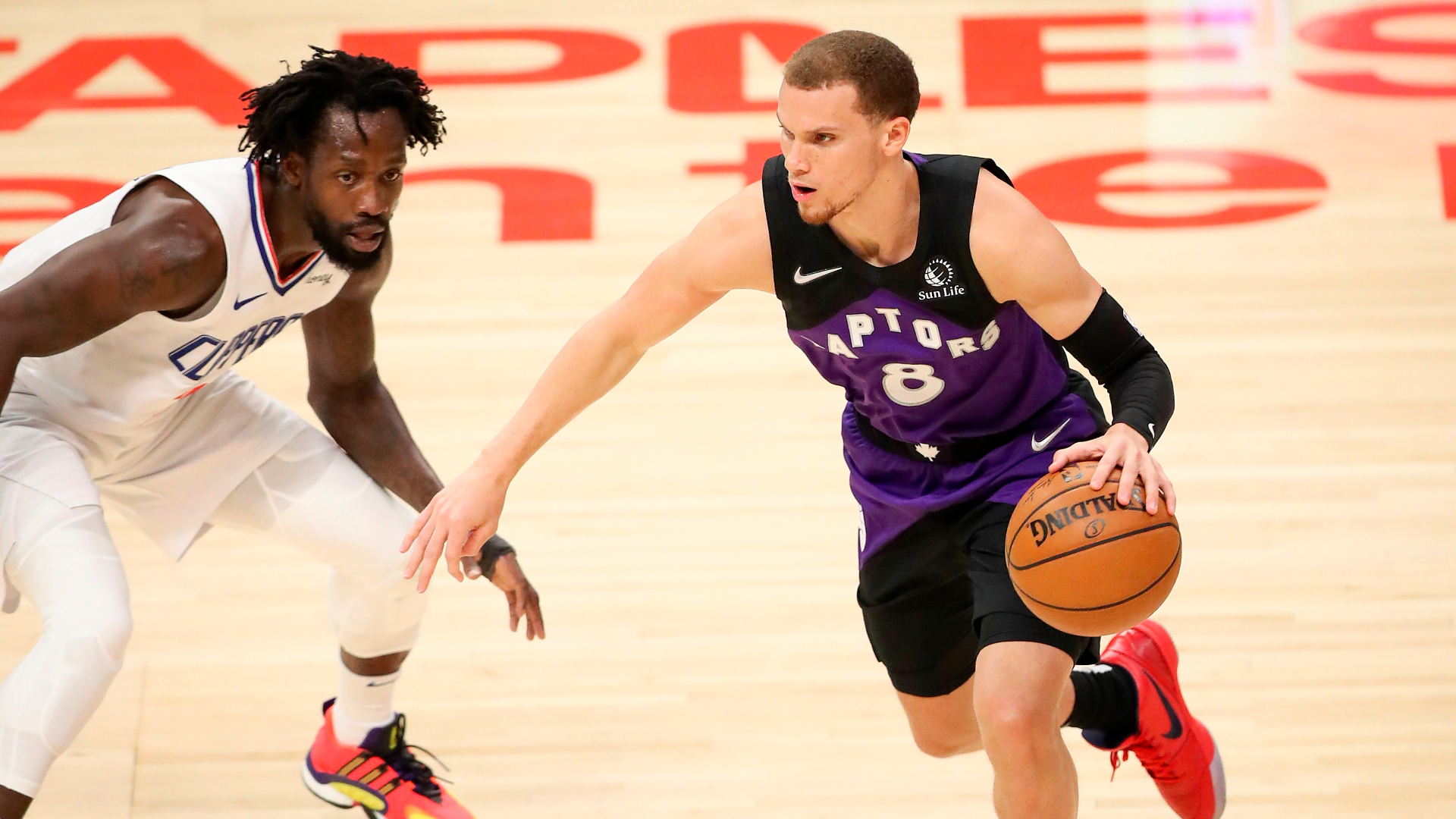 The end of the most successful stretch in franchise history
This season snaps what has been undeniably the most successful stretch in the history of the Raptors franchise.
Seven consecutive playoff appearances. The first Conference Finals appearance in franchise history in 2016. The winningest season in franchise history, going 59-23 in 2017-18. Six Atlantic Division titles over those seven seasons.
And, of course, the first championship in franchise history in 2019.
Toronto won 401 games over the last eight seasons, giving it a winning percentage of .630 (!) over that span.
During that stretch, we saw the Raptors go from rarely making the playoffs, to a playoff mainstay that couldn't get over the hump, to a team with championship pedigree, and that last part isn't going anywhere any time soon.
While this is the first time Toronto finished under .500 since 2012-13 - the last time they missed the playoffs - there is still plenty of young talent on this roster that should be set to get back to its winning ways as soon as next year.
- Irving
Decisions, decisions, decisions
The Raptors have three key players entering free agency this offseason.
The headliner: Lowry, who will be an unrestricted free agent, allowing him to sign with any team in the league. This was the first season Lowry wasn't named an All-Star since 2013-14 and he recently turned 35 years old, but there should still be a strong market for him. There are a lot of teams that could do with his shooting, playmaking and defence at the guard position, not to mention all the intangibles that make him Kyle Lowry.
The Los Angeles Lakers and Miami Heat were reportedly interested in Lowry around this season's trade deadline, and The Athletic's Sam Amick recently reported that the Philadelphia 76ers "still plan on pursuing him by way of a possible sign-and-trade."
Additionally, Khem Birch will be an unrestricted free agent while Gary Trent Jr. will be a restricted free agent, meaning the Raptors will have the choice of matching any offer sheet he receives from another team.
Birch appeared in only 18 games with the Raptors, but he made a tremendous impact to the tune of 11.6 points, 7.2 rebounds, 1.8 assists and 1.2 blocks in 29.8 minutes per game. He filled in a lot of the gaps for a team that was in desperate need for a boost at the centre position. Trent, meanwhile, had several rough outings to close the season, but he put his potential on full display in a 10-game period shortly after the Raptors acquired him, averaging 20.0 points on 45.0 percent shooting from the field and 42.5 percent from 3-point range.
He nailed a game-winner during that stretch...
🚨 GARY TRENT JR HITS THE GAME WINNER! 🚨 #WeTheNorth pic.twitter.com/0PSWDmYvI3

- NBA Canada (@NBACanada) April 6, 2021
...and set a career-high with 44 points in a win over the Cleveland Cavaliers.
Gary Trent Jr. puts up a career-high 44 on RIDICULOUS EFFICIENCY! 🤯

🔥 44 PTS
🔥 17-19 FGM
🔥 7 3PM@gtrentjr x @Raptors pic.twitter.com/FMYf7fm0qY

- NBA (@NBA) April 11, 2021
Throw in the possibility of the Raptors getting one of the top picks in the 2021 NBA Draft, and it's going to be another veeeeeery interesting offseason for the franchise.
- Rafferty
The views on this page do not necessarily reflect the views of the NBA or its clubs.