The Toronto Raptors enter the 2021-22 NBA season with a different look and feel.
The Kyle Lowry days are behind them as they move toward a retool for the future, building around a core group headlined by Fred VanVleet, Pascal Siakam, OG Anunoby and the No. 4 overall pick in the 2021 NBA Draft, Scottie Barnes.
The Barnes selection came as a shock to many considering the writing was on the wall that Lowry would go elsewhere in free agency. Leaving a void at point guard, the Raptors had the opportunity to select a more traditional floor general in Gonzaga freshman Jalen Suggs. But don't be fooled - Barnes, even with his forward size at 6-foot-9 with a 7-foot-3 wingspan, can be everything you need in a point guard.
During his lone season at Florida State, Barnes operated as a true floor general, initiating offence and creating looks for his teammates. With that being said, he's also more than capable of playing off-ball on offence, working on the block, high-post or as a screener in pick-and-roll scenarios. Defensively, he can legitimately guard 1-through-5, using his blend of size and strength, speed and lateral quickness to make life difficult for any assignment thrown his way.
That type of versatility is what makes Barnes the perfect Raptor, and head coach Nick Nurse expects to utilize him in a variety of ways from the jump.
"His role is gonna be huge," Nurse said of Barnes at Media Day. "I'm sitting here from day one, ready to give him as many reps as he can handle."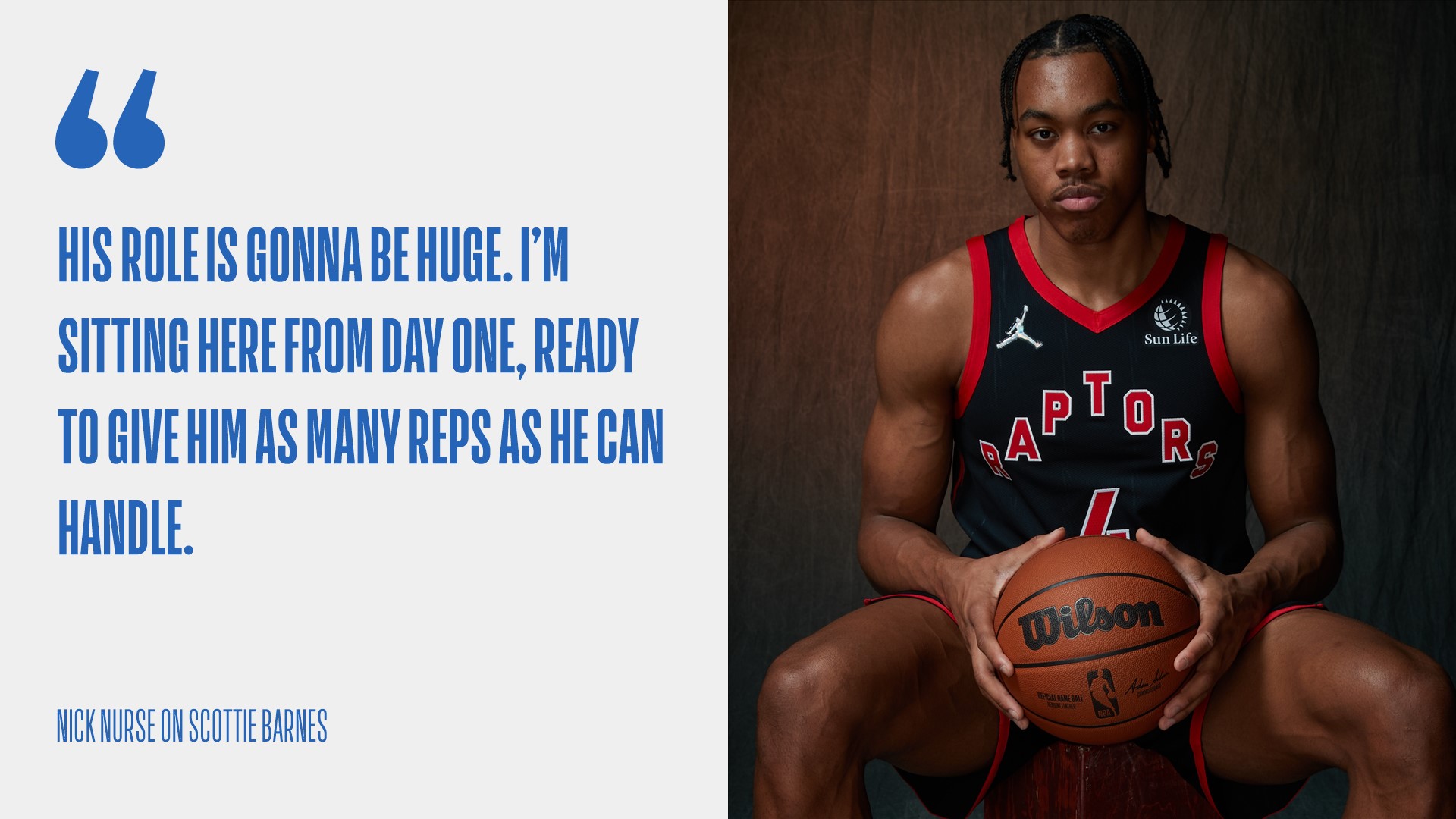 MORE: What we learned from Raptors Media Day | Barnes says he "couldn't be happier" in Toronto
Part of that is likely looking to get the most out of a top-five pick, while the other part has to do with forward Siakam expected to miss the first few weeks of the season as he recovers from undergoing shoulder surgery in the offseason.
That will almost certainly slot Barnes into the starting lineup, where he'll play a point forward role that allows him to be a jack-of-all-trades on offence and a switchy utility defender who Nurse can move around based on matchups.
We saw flashes of those features at Summer League in Las Vegas, where Barnes averaged a balanced stat line of 15.5 points, 6.8 rebounds, 3.2 assists, 2.0 blocks and 1.0 steals over four exhibition games. However, Nurse said he doesn't want Barnes to be judged off of his averages. He should be analyzed through his game-by-game growth.
"Probably not looking at the stats would be one way. Don't judge him that way. ... He's an all-around player," Nurse said on how to evaluate Barnes this season, according to The Athletic's Eric Koreen. "I'd probably judge him by the amount of minutes he's gonna be on the floor, because that's the way he's gonna get better."
During Summer League, Barnes was a menace defensively and looked as aggressive as he's ever been offensively, but we didn't see much of him initiating offence for others the way he did in college because of how he was deployed.
With Nurse deeming his role as "huge," I would expect the Raptors to take advantage of his playmaking ability a bit more than we saw in Summer League. That will start in the preseason. Barnes had one five-assist game and three outings with three or more helpers in Vegas, but the majority of those came off of reactionary reads, improvising with his savvy court vision. Very rarely was Barnes bringing the ball up, calling out plays to get the offence in motion in a way he proved he's capable of at Florida State.
In terms of off-ball offence, Nurse likes what he has seen in the development of Barnes' biggest perceived flaw - his jump shot.
"It takes time to get those mechanics on autopilot. … He looks great to me," Nurse stated.
👀 @ScottBarnes561 pic.twitter.com/QPgcSEonq6

- Toronto Raptors (@Raptors) August 8, 2021
It would be unfair to expect Barnes to be a knockdown shooter in Year 1, but improving on his 27 percent shooting from 3-point range in college and Summer League would only help make life easier for him as a playmaker and scorer.
On-court skills aside, one thing remains consistent when anyone - from coaches and teammates to talent evaluators and more - talks about Barnes: his energy is contagious.
Siakam, Anunoby and Dragic spoke on this trait at Media Day, praising what Barnes brings to the locker room and floor as a vocal leader.
"He's just an excited kid," Siakam said of Barnes. "He's exciting to be around. … He might beat me a little bit in terms of energy."
"He brings energy to everyone," Anunoby doubled down the next day before practice. "He's singing with the music, he's always dancing. It's fun to see. It's fun to be around."
"He's hilarious. He's so funny. Good kid. Works hard," Dragic had to say of the rookie. "He's got that personality that's unique and I really like him... He's got a bright future. I can already see that."
With nothing but positivity surrounding the No. 4 overall pick at Media Day, expect Scottie Barnes to make an impact on this team from the get-go.
You can catch him in his first preseason game on Monday, Oct. 4 against the Philadelphia 76ers at 7 p.m. ET.
The views on this page do not necessarily represent the views of the NBA or its clubs.