Kyle Lowry deserves more credit.
While he's widely recognized as being the greatest player in Toronto Raptors history, it feels like not enough has been made about how much he's changed his game during his time with the franchise, particularly over the last four seasons, a stretch in which the Raptors have undergone quite a lot of change themselves.
Lowry has been a chameleon of sorts for the Raptors, doing whatever is needed to get the most out of him and the players surrounding him. It's reflected somewhat in his numbers - it doesn't take a degree in rocket science to notice that his points were way down and his assists were way up in Kawhi Leonard's one and only season with the Raptors - but you have to dig a little deeper to get a true appreciation for what he's done.
NBA.com's Play Type data is a place to start.
As you can see in the chart below, the ways in which Lowry has generated his offence in each of the last four seasons has changed quite a bit. He's essentially gone from being a big-time on-ball scorer to being a more well-rounded scorer. It's helped him become the type of point guard who could fit on just about any team in today's NBA.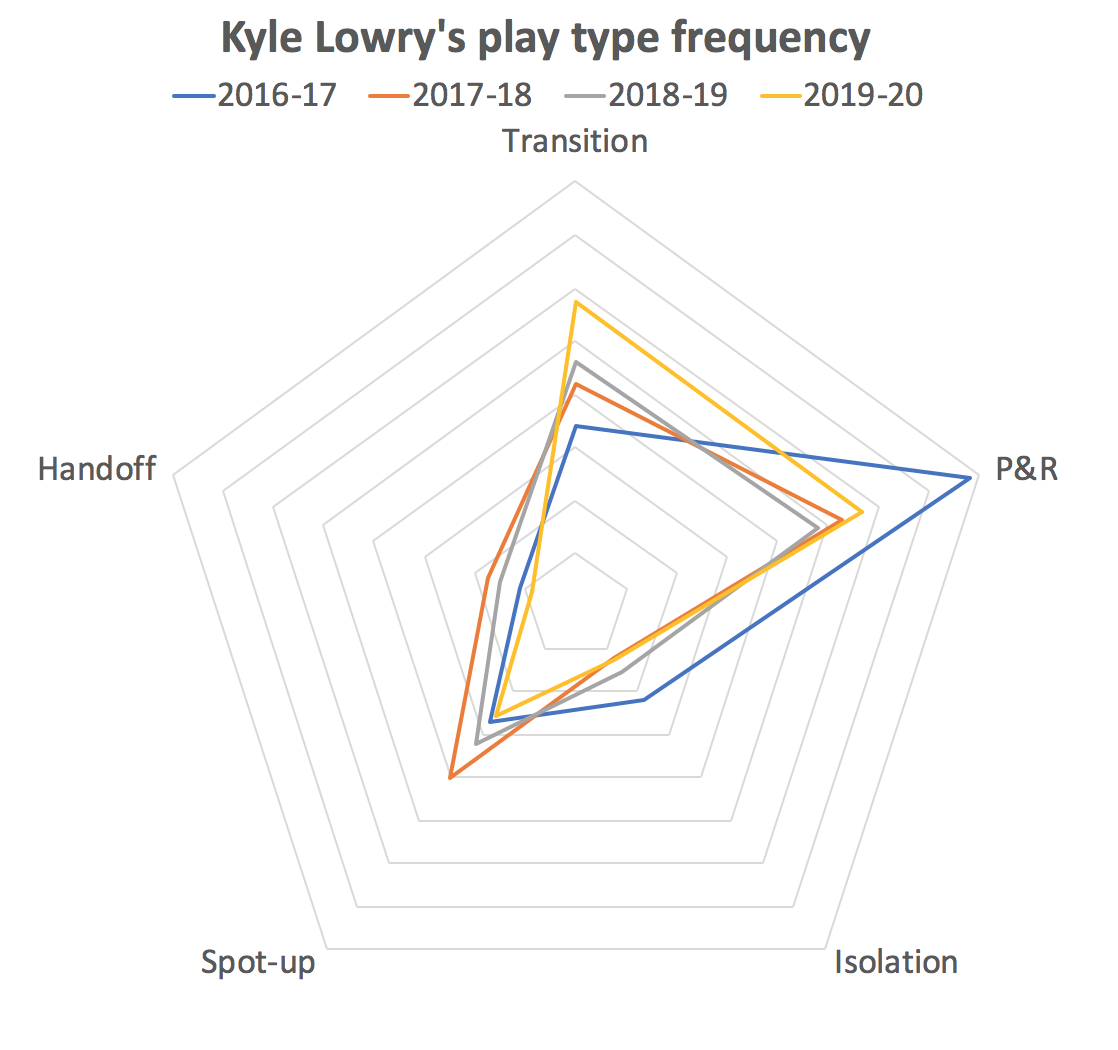 The biggest thing that should jump out is how dependent Lowry was on pick-and-rolls in 2016-17, which is the season he averaged a career-high 22.4 points per game. According to NBA.com, only eight players averaged more points per game than him as the ball handler in pick-and-rolls that season. Additionally, Lowry ranked in the 95th percentile with an average of 1.05 points per possession, an incredible feat considering the number of points he scored on those plays.
The season after is when the Raptors modernized their offence under the guidance of Nick Nurse, who was an assistant coach on Dwane Casey's staff at the time.
Following a disappointing loss to LeBron James and the Cleveland Cavaliers in the second round of the playoffs, the Raptors put a greater emphasis on ball movement, player movement and playing with pace. (Ian Levy of Nylon Calculus illustrated those changes perfectly at the time with a rather eye-opening graph). Lowry and DeMar DeRozan's games were impacted by it the most, as both saw their usage rates plummet as a means to open up more opportunities for others.
There were some growing pains along the way for Lowry - he talked early in the season about how much of an adjustment it was playing more off-ball - but it set the stage for the 2018-19 season, when he took even more of a backseat, this time to make room for Leonard.
MORE: Is Nurse the Coach of the Year front-runner?
For the first time in his NBA career, Lowry had more assisted baskets than unassisted baskets. He peaked as an off-ball threat, scoring off of screens, spot-ups, cuts and handoffs in a way he hadn't ever before. It helped Leonard return to his All-NBA form and paved the way for Siakam to take on a bigger role in the offence, culminating in him being named the league's Most Improved Player.
This season, Lowry has struck a balance between his old self and new self out of necessity. His pick-and-roll scoring is up compared to the last two seasons to fill the void left by Leonard, but not at the same levels as 2016-17, simply because the Raptors have more playmakers now than they did back then. It starts with Siakam, who has developed into the team's No. 1 scoring option and extends to the likes of Fred VanVleet, Serge Ibaka and Marc Gasol.
The most notable difference between Lowry this season is that he's been among the league's leading scorers in transition. The 5.8 points he's averaging per game in the open court ties him with LeBron James for the sixth-highest rate in the league, Bradley Beal, Siakam, James Harden, Russell Westbrook and Giannis Antetokounmpo being the only players ahead of them, in that order.
Lowry hasn't been particularly efficient in those situations - he ranks in the 31st percentile with 1.04 points per transition possession - but his willingness to push the pace to create early opportunities for himself and others has had a tremendous impact on the Raptors. Whereas they ranked 16th in transition scoring back in 2016-17, they ranked third last season and rank at the top of the league this season.
Their pace has also picked up.
Raptors have played with more pace in each of the last four seasons (NBA.com/Stats)

| | | |
| --- | --- | --- |
| Season | Pace | Rank |
| 2016-17 | 95.4 | 25 |
| 2017-18 | 98.0 | 14 |
| 2018-19 | 100.5 | 15 |
| 2019-20 | 100.9 | 14 |
That's been a point of emphasis for Nurse since taking over as head coach.
"We want to always play with pace on offence," Nurse told Holly MacKenzie of Raptors.com before the 2018-19 season.
"I believe in getting the ball up the floor and trying to take advantage of transition opportunities. Not just saying, 'Hey we're going to play fast,' but having a system behind that. Aggressive and attacking are the two words that I like to play [with]. I think that's the way the game is meant to be played. That's how I would sum it up."
Winning the championship last season was the carrot on the stick for Lowry, but the way he's evolved over the last four years has likely extended his career.
Before he was traded from the Raptors to the San Antonio Spurs, DeRozan spoke about how Toronto's old style of play - the one in which he and Lowry dominated the ball - was taking a toll on the two of them. It's impossible to know what Lowry would have looked like had he continued to play that way but based on how quickly many players at his position age as they enter their early-to-mid 30s, he probably wouldn't still be playing at the All-Star and All-NBA level he is this season.
Where Lowry goes from here, only time will tell. But one thing we do know about him is that he'll continue to do whatever is needed to keep the Raptors rolling.
The views on this page do not necessarily reflect the views of the NBA or its clubs.