When the NBA season came to a halt on March 11, Toronto Raptors centre Marc Gasol was in the midst of trying to work his way back into the team's rotation after having quite the year.
From joining the Raptors in February to winning an NBA title in June and winning gold at the FIBA Basketball World Cup in September, there wasn't much time for Gasol to take a deep breath and rest his body, which, in turn, resulted in an injury-plagued beginning to the 2019-20 season.
Gasol had suited up just once since January, scoring three points in 16 minutes of action in Toronto's win over the Sacramento Kings. After missing 28 of the Raptors' first 64 games, the goal for the 35-year-old became to ease him back into the lineup so that he would be ready to go come playoff time, but there would undoubtedly be obstacles along the way.
Then an unprecedented obstacle arose as the season came to a full stop.
During the hiatus, Gasol would return to his native Spain, where the time away led to a physical transformation that became a trending topic on social media. And understandably so.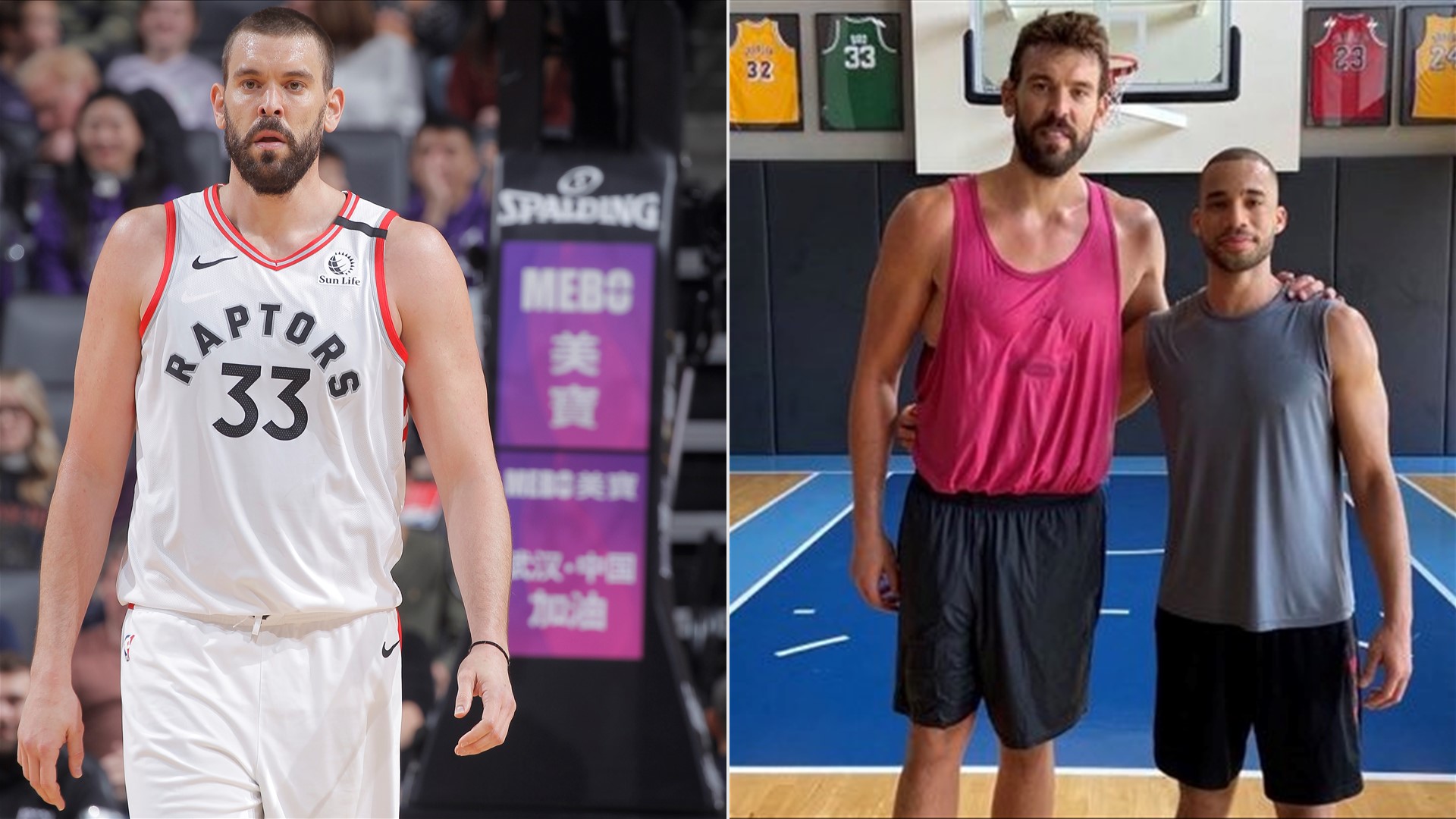 In a year marked by setbacks, Gasol found a way to hit the reset button, using the time as an offseason-like period to make a transformation that evoked excitement throughout the Raptors locker room.
"For me, I love it," rookie Terence Davis II told reporters following Sunday's practice. "He's in playoff mode right now (and) he'd probably tell you that himself.
"He's been in playoff mode since we landed in Naples and he's going to continue being in that mode. He looks really really good, he's moving really well. He looks like prime Marc to me. I don't know man, it's scary."
The 23-year-old might just be in his first year in the league, but having grown up less than 20 minutes away from the FedEx Forum where Gasol played his home games as a member of the Memphis Grizzlies, Davis knows a thing or two about "prime Marc."
It is, of course, prime Marc that earned three All-Star selections, two All-NBA selections, an All-Defensive nod and was named the league's Defensive Player of the Year in 2013.
And although those accolades might feel like a distant memory, just last season, Gasol averaged 15.7 points in 53 games with the Grizzlies before the trade deadline deal that made him a Raptor. In the 62 regular-season games since? Gasol is averaging 8.3 points per game. While he brings much more to the table than scoring, that's far from prime-level performance for a guy who has never averaged below double figures in his career.
In all fairness, it has worked for the team. Gasol served as the anchor for the defence during Toronto's 2019 title run and despite his setbacks and limitations this season, the team is 28-8 when he's in the lineup. The dip in scoring could be attributed to a number of things, including his being a midseason acquisition, the abundance of scoring on Toronto's roster, as well as an inability to have a true training camp experience with the team due to his FIBA obligations.
The unprecedented circumstances surrounding this season have granted Gasol with both a pseudo offseason and a true training camp experience with the Raptors, two things he was denied in 2019. Given the opportunity to hit reset, you should expect to see more scoring from Gasol, as head coach Nick Nurse admitted the Raptors have wanted to use him more offensively for some time now.
"He's a huge piece of what we do and we've talked about this ever since we got him is (that) there's some more that we can probably go to the well with, with him." Nurse said during his videoconference Sunday. "It just kinda seems like it hasn't become all that of a necessity, I think I'd like to probably make him a main cog in the offence but the way things have been going since he's been here and even this year, it seems to be that there's a lot of guys that can chip in to this thing."
How could the Raptors do more with him? Nurse added, "I think there's probably some baskets in him in the fourth quarter or down the stretch, we could probably find and play a little bit inside-out through him as well because like I always say, anytime we can get him the ball, good things happen - not necessarily for him, but good things happen."
Gasol's playmaking ability is what allows for such good things to happen, and Davis has been blown away by that aspect of his game all season, and especially during the team's first few practices during the restart: "Marc's game - he's a terrific passer. I think he's an underrated passer in this league, he's one of the best passing big men.
"With that being said, we can start the offence with him in the middle of the floor." Davis continued, "That just helps everyone out… He's definitely an underrated passer in this game and it really has shown in the past few days."
This season, Toronto shoots 39.5% from deep when Gasol is on the floor, a figure that would be good for first in the NBA. Without Gasol on the floor, the Raptors shoot 36.0% from the field, which would rank 15th. The impact is evident.
The buzz surrounding the new-and-improved Gasol is palpable and ultimately, will result in an increased role once play resumes. "It'd be good to see if we can get his usage rate up." Nurse added.
"Again, I'm working on it, I'm not sure it's gonna happen but it is a thought in the forefront of what we're doing."
Seven different Raptors have led the team in scoring this season, and Gasol isn't one of them. With the potential of Gasol becoming more of a scoring threat, he could very well become the eighth, adding another layer of difficulty for the opposing teams' game plan to stop Toronto's offence.
His immediate impact on both ends of the floor is exactly why "Prime Marc" could be very scary.
The views on this page do not necessarily reflect the views of the NBA or its clubs.