Pascal Siakam's development has been nothing short of incredible.
In his rookie season, Siakam split time between the NBA and the then D-League, where he won a championship and Finals MVP award with the Raptors 905. In his sophomore season, he was a member of Toronto's bench mob that helped the Raptors win a franchise-best 59 games. In his third season, he was promoted to the starting lineup and played a key role in the Raptors winning their first-ever championship, taking home a Most Improved Player award along the way.
Now in his fourth season, Siakam is making another leap, this time to stardom.
Siakam's numbers speak for themselves, but it's how he's getting them that stands out the most. By charting NBA.com's Play Type data, it becomes clear how he's remade himself in each of the last three seasons, going from a role player to a No. 1 option.
There might not be another player in the league right now whose game has transformed quite as much as this over a three-year period: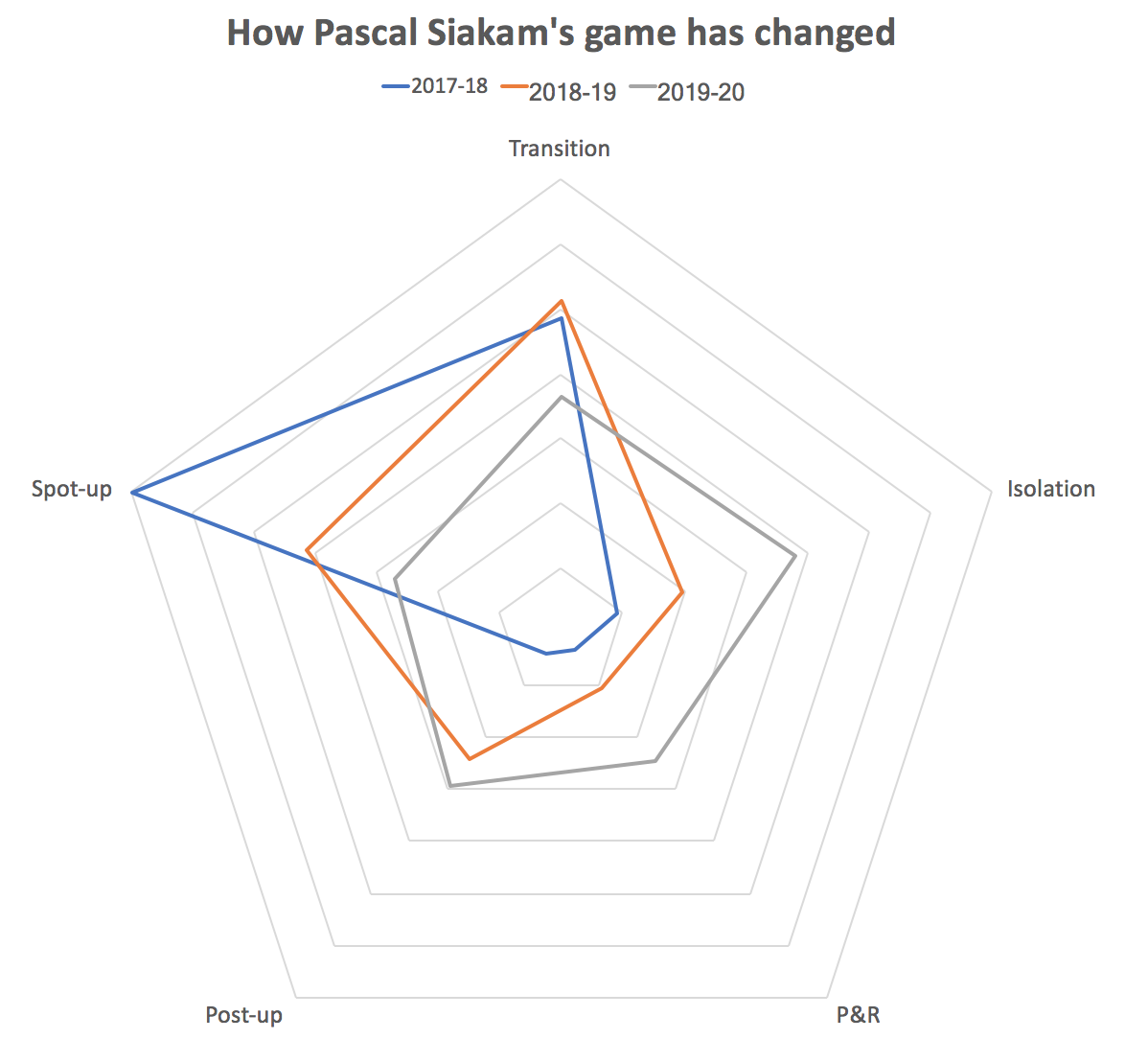 The first thing that should jump out is just how much offence Siakam is creating for himself compared to years past. Not just in the post, where he did the bulk of his 1-on-1 scoring last season. Siakam is getting more opportunities as the ball handler in isolation and pick-and-rolls, the combination of which has almost doubled the amount of time he has possession of the ball, up from 2.5 minutes per game last season to 4.2 this season.
With it being new territory for Siakam, he's been surprisingly efficient in isolation and pick-and-roll scorer. According to NBA.com, he ranks in the 61st percentile with an average of 0.94 points per isolation possession. He's not shooting particularly well in those situations, but he benefits from getting to the free-throw line at the same rate as LeBron James, Damian Lillard and Giannis Antetokounmpo.
Siakam ranks higher in pick-and-roll efficiency, the 71st percentile with 0.94 points per possession.
Siakam's evolution as a shooter has played a big role in his growth as an isolation pick-and-roll scorer. Whereas he couldn't do much much more than spot-up in the corners last season, he's expanded his range to the top of the perimeter and has become more comfortable shooting off the dribble.
As a result, Siakam has already made more above the break and pull-up 3s this season than he did all of last season.
Pascal Siakam's 3-point shooting

| | | | |
| --- | --- | --- | --- |
| Season | Games | Above the break | Pull-ups |
| 2018-19 | 80 | 17-for-63 (27.0%) | 1-for-8 (12.5%) |
| 2019-20 | 17 | 30-for-76 (39.5%) | 15-for-38 (39.5%) |
It's encouraging that Siakam is even taking above the break and pull-up 3s. He wasn't last season, which paved the way for the Philadelphia 76ers to put Joel Embiid on him in the Eastern Conference Semifinals, a series in which Siakam struggled to get going after a standout Game 1. Knowing he wasn't much of a threat to score outside of the paint, Embiid backed all the way off of Siakam, basically parking himself in the paint.
Siakam was left settling for jumpers he wasn't comfortable taking yet or forcing shots around the basket against one of the league's best rim protectors.
Siakam has still had some trouble against bigger defenders this season - Anthony Davis and Giannis Antetokounmpo, most notably - but looking for those above the break and pull-up 3s is a step towards solving the one and only coverage that was effective against him last season.
Because if defenders like Embiid can no longer ignore him when he has the ball at the top of the perimeter...
...they have to press up on him, which gives him more opportunities to play to his strengths as a driver, both in isolation and pick-and-rolls.
It helps that Siakam's handle has improved since last season, to the point where he's one of the better ball handlers at his position. There simply aren't many players his size who can do things like this:
Siakam is well aware of how important those shots are for his own development as well.
"I have to be able to shoot the ball, I have to be able to dangerous not only going to the basket but on the perimeter," he said after Toronto's win over Philadelphia. "That's something I continue to work on every single day because when they put a big on me, I gotta be able to make those shots so they can come up a little bit and be able to take them off the dribble."
The new and improved version of Siakam has the Raptors scoring at a rate of 114.5 points per 100 possessions with him on the court so far this season. With him on the bench, their offensive rating plummets to 99.1.
That's the difference between the Raptors having a top-two offence and the league's worst by a long shot.
All of this sets Siakam up to accomplish a number of firsts this season. Based on his play right now, he's a lock to represent the Raptors in the All-Star Game for the first time in his career. He's also well on his way to making an All-NBA Team for the first time and finds himself in the early MVP discussion. He currently ranks eighth in Basketball-Reference's MVP tracker, a model that uses previous voting results to project which players are most likely to win the award.
Unlikely as it is that Siakam actually wins the award - he faces stiff competition in LeBron James, Giannis Antetokounmpo and James Harden, to name a few - his case will only grow the longer he and the Raptors keep this up.
Siakam could even become the first player in NBA history to win multiple MIP awards. While he might be looking to do bigger and better things this season, there's no doubt that he belongs in the discussion again. The jump he made last season was impressive, but far fewer players make the leap from being a borderline All-Star to being a top-20 player in the league.
The scary thought? There are still ways Siakam can improve. And considering what he's done the last three years, there's no reason to believe he won't continue to get better.
The views on this page do not necessarily reflect the views of the NBA or its clubs.