The Toronto Raptors fall to 23-8 on the season after losing 128-122 to the Portland Trail Blazers (16-13) on Friday night.
The Raptors made a late fourth quarter push behind clutch shots from Kawhi Leonard and CJ Miles but ultimately fell short.
If you missed any of the action, we have you covered below with live updates and all the best highlights from the night's contest!
Toronto Raptors at Portland Trail Blazers
Game preview | Box score | Play-by-play
Final: Trail Blazers 128, Raptors 122
12:28 a.m. - The Raptors comeback runs out of time, falling 128-122 to the Trail Blazers. Damian Lillard finished with a team-high 24 points to go with four assists. Kawhi Leonard finished with 28 points (25 in the second half) while Fred VanVleet added 21 points and eight assists. The Trail Blazers bench played a HUGE role in the final outcome, outscoring Toronto's bench 58-26.
Fought 'till the end. pic.twitter.com/0f0NjwKcPy

- Toronto Raptors (@Raptors) December 15, 2018
12:18 a.m. - A costly five-second violation on the Raptors' inbound leads to an Al-Farouq Aminu three the other way which could seal the game. After another few possessions each, the Raptors take a timeout trailing 128-120 with 14.1 seconds remaining.
12:14 a.m. - CJ Miles and Kawhi Leonard bury another pair of triples to go with a Fred VanVleet layup, but Damian Lillard and CJ McCollum answer those big shots. Raptors trail 123-118 with 1:16 left in the game.
12:10 a.m. - Here we go! A quick 9-4 run on a 3-pointer from CJ Miles and a layup and three-ball from Kawhi Leonard has the Raptors trailing 117-110 with 3:03 remaining, forcing a Trail Blazers timeout.
Keep pushing.
Plenty of time. pic.twitter.com/SGpdIEmvnc

- Toronto Raptors (@Raptors) December 15, 2018
12:07 a.m. - Kawhi Leonard knocks down a 3-pointer to make it 113-102 Trail Blazers with 4:45 to go.
11:59 p.m. - Make that a 16-4 run for the Trail Blazers; their second unit cannot miss right now. Seth Curry is up to 10 points in the quarter converting all four of his shot attempts. Evan Turner has four points in the run making both of his field goal attempts as well. Timeout Raptors trailing 107-93 with 7:48 left in the game.
11:53 p.m. - The Trail Blazers start the fourth quarter on an 8-1 run. Seth Curry's two threes and a layup from Evan Turner sparked the run, giving Portland a 99-90 lead just one minute and change into the final frame.
🗣️SHOOTERS SHOOT pic.twitter.com/XlcSaLncFS

- Trail Blazers (@trailblazers) December 15, 2018
End of third quarter: Trail Blazers 91, Raptors 89
11:47 p.m. - The Trail Blazers lead by just two points, 91-89 after a 39-point quarter for the Raptors. Fred VanVleet knocked down a huge three to cut the deficit to two to end the third. His 11 points in the third quarter has him up to 16 points on the night to go with six assists.
Back in it. #RTZ

Freddy - 16p, 6a pic.twitter.com/wtppHciP3z

- Toronto Raptors (@Raptors) December 15, 2018
11:39 p.m. - The Raptors still trail by five 85-80 with 2:28 remaining in the third. Fred VanVleet is red hot with eight points in the quarter. Kawhi Leonard is in foul trobule, picking up his fourth of the game on a moving screen just before the stoppage in play. Damian Lillard is up to 19 points for the Trail Blazers, while Zach Collins' three that extended Portland's lead to five gives him 12 points on the night.
🎈

🎈

🎈

🎈 pic.twitter.com/yzOufLzBNv

- Toronto Raptors (@Raptors) December 15, 2018
11:28 p.m. - Here come the Raptors! They have cut the Trail Blazers lead to five, 71-66, under six minutes into the second half. Kawhi Leonard knocked down his first three shots of the third quarter and is now up to 11 points on the night. Danny Green buried a pair of triples to force a Blazers' timeout.
Warmin' up pic.twitter.com/G1ao0ZBPRT

- Toronto Raptors (@Raptors) December 15, 2018
Halftime: Trail Blazers 58, Raptors 50
11:10 p.m. - Team stats for the first half: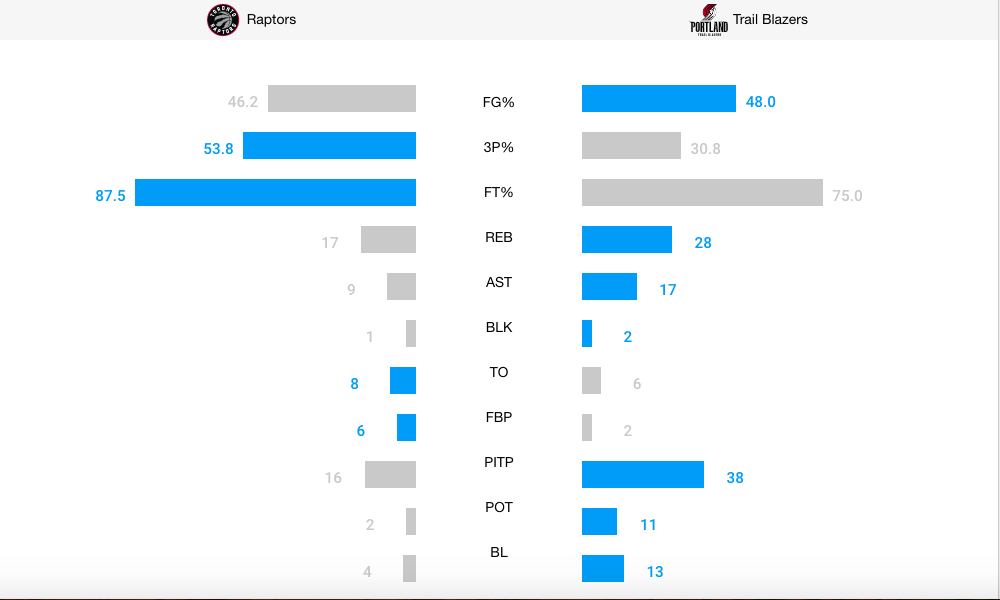 11:04 p.m. - Toronto trails Portland 58-50 at the half. Kawhi Leonard has just three points shooting 0-for-5 from the field, Serge Ibaka leads the Raptors with 14 points and four rebounds. For the Trail Blazers, all 10 players that have stepped on the floor are in the scorebook. They have 25 bench points to the Raptors' 12, are outrebounding Toronto 28-17 and have 38 points in the paint to the Raptors' 16.
Halfway thru this one. #RTZ

Baka - 14p, 4r pic.twitter.com/G3kGDrvA25

- Toronto Raptors (@Raptors) December 15, 2018
11:01 p.m. - Pascal Siakam attacked the rim and took a hard fall on a foul from C.J. McCollum. Originally called a common foul, it was overturned as a Flagrant 1. Siakam made both free throws to put the Raptors down 56-46.
10:51 p.m. - The Raptors are still struggling from the field shooting 41.2 percent, but have found their rhythm from long range going 7-for-13. They're trailing 49-40 with 3:42 remaining in the half following a Danny Green 3-pointer.
This one counts. pic.twitter.com/SirOEPZT53

- Toronto Raptors (@Raptors) December 15, 2018
10:43 p.m. - The Trail Blazers are leading 42-32 thanks to nine points off the bench from Zach Collins, who is 4-for-4 from the field in seven minutes of playing time.
End of first quarter: Trail Blazers 28, Raptors 23
10:34 p.m. - Back-to-back 3-pointers by Pascal Siakam have the Raptors down 28-23 after the first quarter. They are shooting 42.1 percent from the field with seven turnovers in the first quarter. Damian Lillard has started to heat up for Portland with eight poitns on 3-of-4 shooting from the field and 2-for-2 from long range.
Dame range. pic.twitter.com/UVtl1EFYo9

- Trail Blazers (@trailblazers) December 15, 2018
10:28 p.m. - Not the best shooting start for the Raptors, who are 6-for-16 from the field (37.5 percent). They trail the Blazers 22-17 with under three minutes remaining in the opening quarter.
10:19 p.m. - After the first stoppage in play, we're all tied at 12. Serge Ibaka is off to a quick start with six points, two rebounds and a block for the Raptors while Jusuf Nurkic has a pair of buckets to get things started for the Trail Blazers.
Pregame
10:11 p.m. - The Portland Trail Blazers will go with Damian Lillard, C.J. McCollum, Al-Farouq Aminu, Moe Harkless and Jusuf Nurkic.
First 5 on the floor tonight for the North vs. the Norther. pic.twitter.com/Zy0tUyD1Tq

- Trail Blazers (@trailblazers) December 15, 2018
9:10 p.m. - The Toronto Raptors will start Fred VanVleet in place of the injured Lowry. VanVleet, Danny Green, Kawhi Leonard, Pascal Siakam and Serge Ibaka will be your starting five.
🔥 Pregame Steph. 🔥#DubNation pic.twitter.com/SDrXjqcFjc

- NBA (@NBA) December 15, 2018
9:09 p.m. - Kawhi Leonard is ACTIVE tonight, Kyle Lowry is OUT.