What a ride Game 3 was.
Just 0.5 seconds away from going down 3-0 in the series, OG Anunoby breathed life into the Toronto Raptors' season when he knocked down the last-second buzzer-beater to defeat the Boston Celtics.
Can the Raptors keep that momentum pushing forward and even the series in Game 4?
Where to Watch
Date: Saturday, Sept. 5
Time: 6:30 p.m ET
TV: Sportsnet
Location: The Field House, Orlando, FL
Three Things to Watch
Can Pascal Siakam build off of his second half in Game 3?
Siakam's start to Game 3 looked like more of the same of what we've seen from him in these playoffs. The All-Star forward picked up a pair of quick fouls in the first quarter, similar to Game 2's three-foul first quarter, and was forced to the bench for the majority of the half.
Siakam entered halftime with just two points and zero made field goals, leaving the Raptors desperate for some production from their usual go-to guy.
In the third quarter, we finally saw Spicy P.
Siakam came out with a different energy - you could see it if you were watching the game. He was aggressive on the offensive end, being more physical around the basket while finally finding his touch around the paint. He would score a team-high 11 points on 5-for-10 shooting in the frame, leading the charge that helped bring Toronto within four points heading into the final quarter.
In the fourth quarter he'd only score three points, but Siakam was much more engaged, coming up with one of the biggest stops of the game defending Celtics forward Jayson Tatum in the final minute.
There's nothing that represent's Siakam's tale of two halves than his first (left) and second (right) half shot charts side-by-side.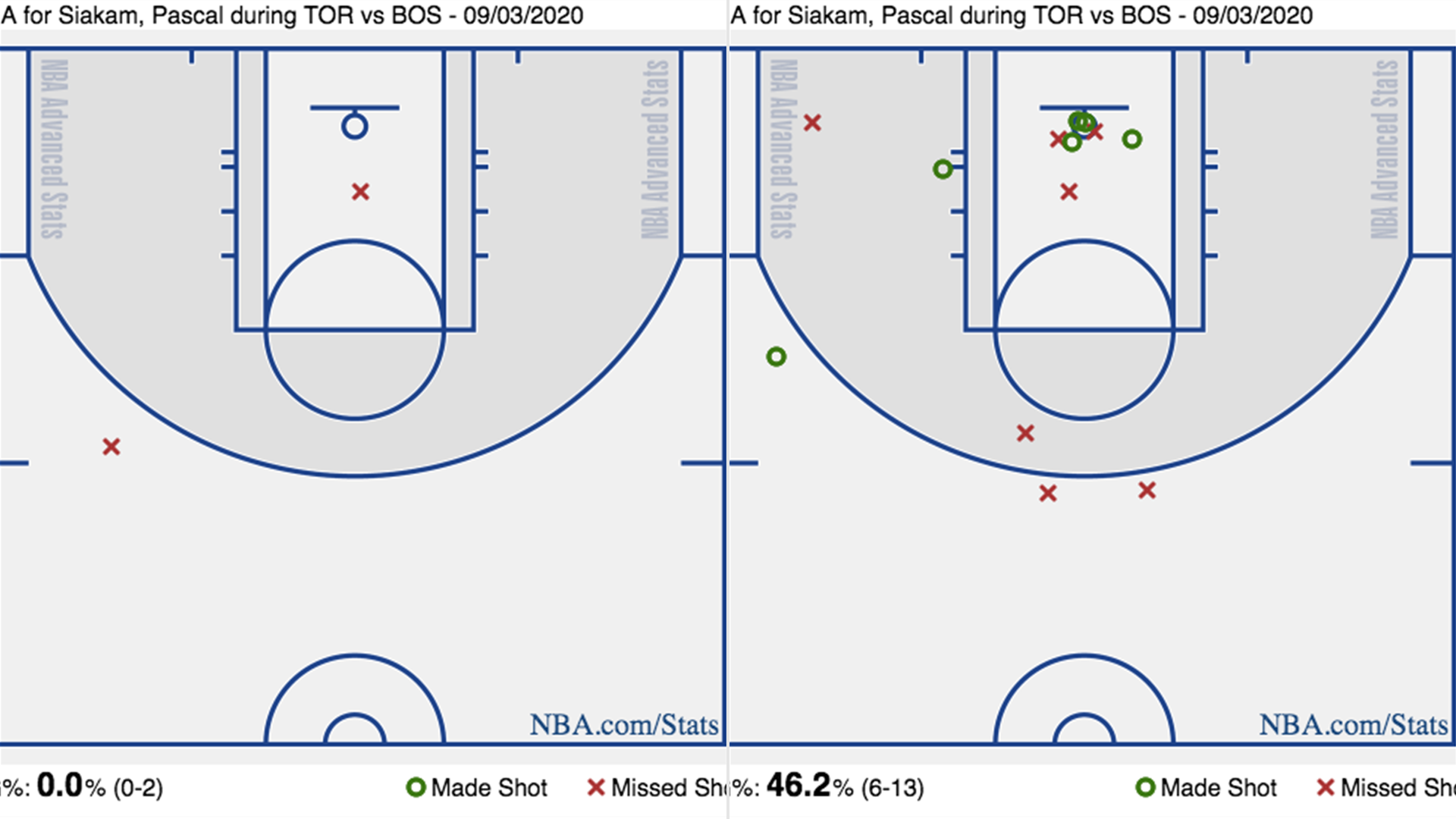 Celtics forward Jaylen Brown has given Siakam all he can handle. According to NBA.com, Siakam has just 17 points on 7-for-18 (38.9%) shooting from the field when guarded by Brown. It's taken him out of a rhythm and played a major role in him averaging just 15.3 points on 36.2% shooting from the field and 18.2% from 3-point range through the first three games.
But we finally saw a glimpse of the All-Star starter the Raptors got all season long. Can he carry that momentum into Game 4?
Bounce-back game for Jayson Tatum
At the start of the series, there were questions surrounding who the best player in this series was.
Celtics forward Tatum began to silence those questions after a solid Game 1 performance, but his Game 2 performance proved he was the best player on the floor. Torching the Raptors for 34 points to go with six assists, Tatum was constantly putting pressure on Toronto's defence. No matter who tried guarding him, he asserted himself to the basket and consistently got to the free throw line, where he was a perfect 14-for-14. He shot 4-for-7 from 3, including a couple "how did he hit that?" type shots with defenders right in his face.
Unfortunately for Boston, they got a different version of Tatum in Game 3.
The All-Star forward never found his groove, scoring just 15 points on 5-for-18 (27.8%) shooting from the field and 1-for-4 (25.0%) from beyond the arc. He didn't live at the free throw line like he did in Game 2, and his scoring production took a hit because of it.
The Raptors defence deserves the majority of the credit, making life more difficult for the superstar. They were tougher defending him on the perimeter and did a much better job of preventing him from getting all the way to the rim, forcing him to settle for midrange pull-ups. Centre Marc Gasol in particular gave him some trouble, always being available to help outside the restricted area, learning from the team's mistakes in Game 2 where Tatum killed Toronto as a slasher.
As a result, Tatum dished out a team-high six assists, but his lack of scoring left the Celtics short of a victory.
Will Tatum bounce back in Game 4 to help put his team one game away from the Conference Finals?
Transition, transition, transition
Transition offence was one of the major keys heading into this series. Can the Celtics prevent the Raptors from scoring in transition, forcing their lacklustre halfcourt offence to do damage?
In Game 1, our Scott Rafferty broke down one particular play where Boston exemplified how to stop Toronto in transition. You could tell head coach Brad Stevens harped upon that aspect of the game as a deciding factor, because the Celtics did a fantastic job of hustling to get back on defence every time the Raptors had the ball going the other way.
Toronto led all teams in the regular season and the first round of the playoffs in fast break points, averaging roughly 18 points per game in the open court. Since scoring just seven points on the break in Game 1, Toronto has done a much better job squeaking free for fast break points.
Fast break points by game

| | | |
| --- | --- | --- |
| Raptors fast break points | Game | Celtics fast break points |
| 7 | 1 | 6 |
| 16 | 2 | 13 |
| 14 | 3 | 2 |
Something else worth noting is that the Celtics typically try and run teams out of the gym, too. They averaged 15.2 fast break points per game in the regular season (sixth-best) and trailed only the Raptors for most fast break points through the first round of the playoffs, averaging 16.8 per game.
In Game 3, Toronto held Boston to just two (!) points in transition. The Celtics are only averaging 7.0 fast break points per game in the Conference Semifinals, the worst rate of any team still playing.
So while halting the Raptors transition attack was atop Boston's to-do list, Toronto has returned that favour in stopping the Celtics' fast break attack.
Will this trend continue in Game 4? If so, the Raptors will have a good shot at tying this series up.
Series Schedule
Game 1 - Boston Celtics 112, Toronto Raptors 94
Game 2 - Boston Celtics 102, Toronto Raptors 99
Game 3 - Toronto Raptors 104, Boston Celtics 103
Game 4 - Saturday, Sept. 5, 6:30 p.m. - Sportsnet
Game 5 - Monday, Sept. 7, TBD - TSN
Game 6 - Wednesday, Sept. 9, TBD - Sportsnet
Game 7 - Friday, Sept. 11, TBD - TSN
Games 6 and 7 if necessary.
The views on this page do not necessarily reflect the views of the NBA or its clubs.