The Toronto Raptors had a tough start to their Eastern Conference Semifinals series against the Boston Celtics but will look to bounce back quickly in Game 2.
Below we have you covered with information on where you can watch Game 2, as well as a few key things to keep an eye out for as the Raptors try and even the series.
Where To Watch
Date: Tuesday, Sept. 1
Time: 5:30 p.m. ET
TV: Sportsnet
Location: The Field House, Orlando, FL.
Three Things to Watch
Can Siakam and VanVleet shake off their Game 1 performance?
Keeping up with the Celtics' offence was already going to be a hard task for the Raptors, nevermind when their two biggest offensive threats shoot a combined 8-for-32 from the field and 2-for-14 from 3-point land.
Pascal Siakam was unable to get into a rhythm from the get-go, picking up three quick fouls in the first quarter to send him to the bench for the majority of the first half while Boston built a lead they wouldn't surrender. Even before the All-Star forward got into foul trouble, he still couldn't find his touch - an issue we witnessed in Toronto's first-round series against the Brooklyn Nets as well.
He came out of the gate aggressively attacking on offence, an encouraging sign for Raptor fans, but struggled to finish in the paint where he usually does his damage.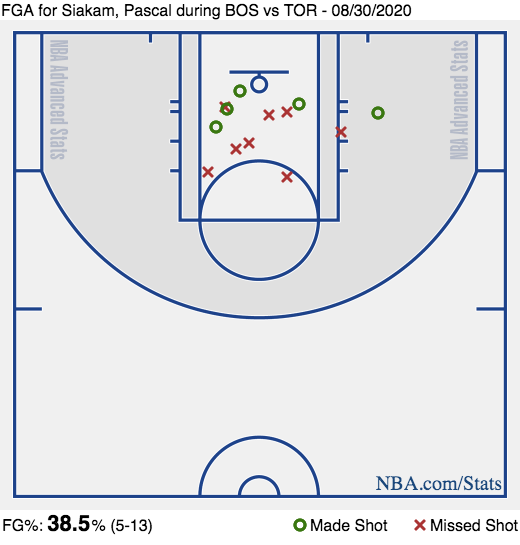 To add to that, his 3-point shot has almost completely abandoned him so far this postseason shooting 6-for-24 (25.0%) from beyond the arc. His field goal percentage has now dipped below 40.0% (39.8%, to be exact) and it appears as though teams are starting to figure out the 26-year-old budding star.
As for Fred VanVleet, he was looking to replicate the offensive outburst he produced in the first round before quickly finding out this Celtics defence is not the Nets defence he tore to shreds. VanVleet shot a blistering 55.9% from 3-point range in the first round, but couldn't find a similar stroke in Game 1 going 2-for-11 from beyond the arc. He shot 3-for-16 from the field, finding as much trouble finishing around the basket as his counterpart Siakam.
VanVleet was the Raptors' offensive catalyst in their first-round series sweep and they'll need every bit of that production if they're going to keep up with the three-headed monster that is Jayson Tatum, Kemba Walker and Jaylen Brown. While Freddy still had eight assists to add some sort of help on the offensive end of the floor, Toronto will need him to get back to the player that averaged 21.3 points per game last series.
MORE: Celtics bring greatest Raptors' concern to light in Game 1
The Celtics did a great job of slowing the Raptors down in transition, where Siakam and VanVleet usually do some damage. Toronto averaged over 18 fast break points per game in the regular season and their first-round series against the Nets but scored just seven points in transition in Game 1. When they can't get out and run, they're going to need Siakam and VanVleet to get a bucket when the offence goes stagnant.
These are two high-quality players who are no strangers to bouncing back from a slump, going out there and continuing to look for their shot. The Raptors will need that type of attitude if they're going to get a different result in Game 2.
Smart's offensive production
Notice in the section above, I reference the Raptors having to keep up with Tatum, Walker and Brown. That trio alone produces enough offence to give teams trouble as the only three players on the same team to average over 20.0 points per game this season.
That trio does not include Marcus Smart, who had a game-high 21 points (tied with Tatum).
Smart is known for his defence. He's out there to wreak havoc and make winning plays on that side of the ball. When he produces on offence, that becomes a nightmare for opposing teams.
His 21 points were the second-highest playoff scoring output of his career, as was his five made 3-pointers.
After shooting 2-for-15 (13.3%) from beyond the arc in the Celtics' first-round series against the Philadelphia 76ers, Smart finally caught fire in Game 1. While Toronto will often live with Smart jacking up shots, they cannot let him score 21 points on only 10 field goal attempts.
The Raptors have their hands full enough with Boston's primary scorers. It is pivotal that they're a bit more attentive to Smart and do not let him get going like that again.
The battle of the frontcourt
All season long it's been considered that the Celtics are outmatched in the frontcourt. That was supposed to be a clear advantage for the Raptors in this series with veteran centres Marc Gasol and Serge Ibaka and that could not have been more opposite in Game 1.
Boston's frontcourt pummeled Toronto's, as centre Daniel Theis put forward the best playoff game of his short NBA career. Theis had his first-career playoff double-double with 13 points and 15 rebounds, with the latter a career-high. He also blocked a pair of shots in the contest.
And then there was the raw, 22-year-old centre Robert Williams, whom head coach Brad Stevens typically just uses for bursts of energy but instead, utilized as an athletic force who could keep up with the Raptors in transition. Williams had an impressive showing with 10 points shooting a perfect 5-for-5 from the field to go with five boards and two blocks.
TIME LORD ⏰👑 pic.twitter.com/PqnHorXJPT

- Boston Celtics (@celtics) August 30, 2020
Between those two bigs, they significantly outplayed Gasol and Ibaka to take away Toronto's frontcourt advantage. While Ibaka still almost recorded a double-double with 15 points and nine rebounds, Gasol's impact was much more transparent on both ends of the floor and the Celtics out-rebounded the Raptors 50-40.
If Toronto wants to take Game 2 and even the series, they will need a much more valiant effort from their veteran duo.
Injury Report
The first injury report for Game 2 will be provided at 11 a.m. ET on the day of the game (Tuesday, Sept. 1).
Series Schedule
​Game 1 - Boston Celtics 112, Toronto Raptors 94
Game 2 - Tuesday, Sept. 1, 5:30 p.m. - Sportsnet
Game 3 - Thursday, Sept. 3, TBD - TSN
Game 4 - Saturday, Sept. 5, TBD - Sportsnet
Game 5 - Monday, Sept. 7, TBD - TSN
Game 6 - Wednesday, Sept. 9, TBD - Sportsnet
Game 7 - Friday, Sept. 11, TBD - TSN
* Games 5-7 If necessary
The views on this page do not necessarily reflect the views of the NBA or its clubs.