The Toronto Raptors welcomed Norm Powell back to Tampa for his first game against his former team, but it was the Portland Trail Blazers who walked away with the W, 122-117.
After scoring a season-high 74 points in the first half, the Raptors fell flat in the third quarter scoring just 10 points as CJ McCollum (23 points) and Damian Lillard (22 points, 11 assists) powered the Blazers to their third win in a row.
Pascal Siakam led the Raptors with 26 points and eight rebounds, while Fred VanVleet added 20 points and eight assists. OG Anunoby (19 points, 10 rebounds) and Chris Boucher (18 points, 11 rebounds) both finished with double-doubles on the night.
The Raptors are now 1-11 in their last 12 games, with just one win in the month of March and have lost 13 of their past 15 games.
Here are some key takeaways at the buzzer:
1. Old faces in new places
Just three days after the trade deadline, Norman Powell, Rodney Hood and Gary Trent Jr were all in action after swapping teams, with Hood enjoying the best game of the three.
Hood gave the Raptors a scoring punch off the bench with eight of his 13 points coming in the first quarter, capping off a strong first-half performance with this buzzer-beating three at the half.
That's HOOD 🚨 pic.twitter.com/7KY3rOQLiX

- Toronto Raptors (@Raptors) March 29, 2021
Trent Jr. managed just six points on 2-of-10 shooting and 1-of-5 from three, adding seven rebounds, while Powell recorded 13 points in his first game back in Tampa against his former team, staring down the bench following this steal and slam in the third quarter to put the Blazers up 83-82.
Norman Powell with the steal & slam for Portland! pic.twitter.com/OwaeFxCXNL

- NBA Canada (@NBACanada) March 29, 2021
2. Welcome back Norm
In just his second game for his new team, Powell is taking time to adjust to his new setting and at tip-off he briefly forgot what team he was on, lining up on the Raptors side at the opening tip.
You can forgive Powell, who spent his entire six-year NBA career with the Raptors.
Old habits die hard.
Norm accidentally lined up on the @Raptors' side of the tip. 🥺 pic.twitter.com/3rvelAAeTG

- Sportsnet (@Sportsnet) March 28, 2021
After scoring 22 points in his Blazers debut on Friday, Powell struggled to find his rhythm tonight after picking up two quick fouls in the first five minutes, forcing him to the bench.
Following the win, it was all love between the 27-year-old and his former teammates, many of whom he won a championship with in 2019, embracing the likes of Kyle Lowry and co.
Powell shares a moment with his former Toronto teammates post-game! 🤝 pic.twitter.com/SAbgs1NqOs

- NBA Canada (@NBACanada) March 29, 2021
3. Third quarter dooms Raptors
The Raptors put on an impressive shooting display in the first half, scoring a season-high 74 points on 52 percent from the field (26-of-50) and 45.5 percent (10-of-22) from the 3-point line, but it all went south in the next 12 minutes.
Portland ramped things up on the defensive end and the Raptors had no answers offensively, scoring just 10 points as their six-point lead turned into a seven-point deficit at the end of the period.
The Raptors 3rd quarter performance was their downfall Sunday night against the Trail Blazers pic.twitter.com/iRE6kUaJKF

- Sportsnet Stats (@SNstats) March 29, 2021
After Siakam scored inside with 6:27 remaining to put them in front 82-75, the Blazers reeled off a 14-0 run, thanks to triples from Damian Lillard and Robert Convington, plus buckets from Powell and Kanter as the Raptors were held scoreless for nearly six minutes.
The Raptors missed all 13 of their 3-point attempts in the period, going into the final frame down. 91-84.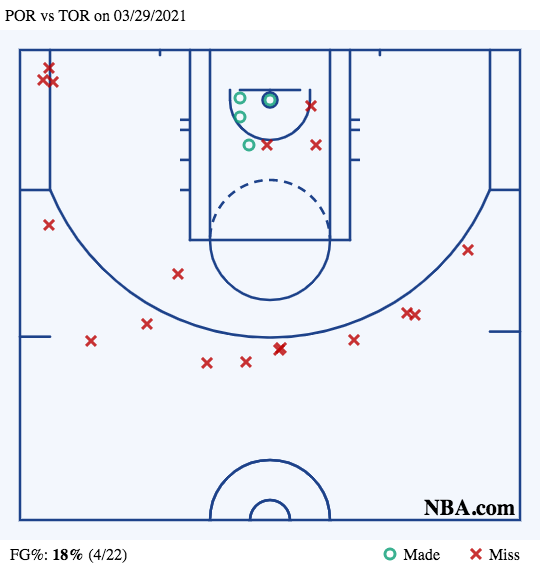 4. Lowry a late scratch
Kyle Lowry, who so often digs the Raptors out of holes like this with his ability to control the tempo of games and make timely buckets, was sorely missed after he was ruled out pre-game with a sore right foot.
"It's not maybe that long a thing, but it's a bit of a recurring thing so we've gotta keep an eye on it," head coach Nick Nurse said.
Lowry will travel with the team to Detroit for their next game, but it's unclear if he will play.
Nurse thinks Lowry will travel with them to Detroit for tomorrow's game vs the Pistons. He says that Kyle's foot soreness isn't serious but it's been a reoccurring thing so they'll keep an eye on it.

- Josh Lewenberg (@JLew1050) March 29, 2021
5. CJ takes over
After their poor third quarter, the Raptors chipped away at the lead and with 2:28 remaining they down 111-110 following Fred VanVleet's 3-pointer, but that only awoke CJ McCollum.
He scored seven of his 23 points in the final two minutes, scoring on three straight possessions to ice the win.
Is it officially Shark Week? Asking for a friend pic.twitter.com/0SopE61r7u

- Portland Trail Blazers (@trailblazers) March 29, 2021
6. Another narrow defeat
With tonight's loss, the Raptors fall to 18-28 on the season and are now 7-19 (.269) in clutch games - games within five points in the final five minutes - holding the NBA's second-worst 'clutch' record.
Meanwhile, the Blazers improve to 21-7 in clutch games, good for second in the NBA.
7. THAT Baynes dunk
Baynes scored just two field goals in the game, but this one could well have been the play of the night.
Such is the respect he's earned from the 3-point line, Baynes faked Jusuf Nurkic from beyond the arc, blowing by the Blazers center on the baseline before throwing down the one-handed hammer over Powell.
🛫 ARON BAYNES TAKES FLIGHT!#WeTheNorth pic.twitter.com/PS8FWKGG1u

- NBA Canada (@NBACanada) March 28, 2021
8. What's next?
The Raptors will look halt their two-game skid on Monday on the second night of a back-to-back when they travel to Detroit to take on the Pistons and former coach Dwane Casey at Little Caesars Arena.
Game tips off at 8:00 p.m. E.T.
See you then.
The views on this page do not necessarily represent the views of the NBA or its clubs.