It's not a surprise that the Toronto Raptors don't run much offence through Rondae Hollis-Jefferson. While he's worked his way into the rotation of one of the best teams in the league this season, he's always been known for his hustle and defensive versatility, not for what he can do with the ball in his hands.
And yet, that hasn't stopped the Raptors from running the occasional pick-and-roll for him, although the way in which they do it is rather unusual.
Despite being listed at 6-foot-6 and 217 pounds, Hollis-Jefferson operates primarily as a centre on offence, even when he shares the court with either Serge Ibaka or Marc Gasol. As a result, he's often defended by the opposing team's centre, players such as DeAndre Jordan, Bismack Biyombo, Karl-Anthony Towns and Hassan Whiteside.
The thought process behind that is rather simple: Hollis-Jefferson scores almost of his points in the restricted area - 85.6 percent of his made field goals this season have come at the rim - so matching up a centre with him allows teams to drop their biggest player back to the paint, putting them in better position to either prevent Hollis-Jefferson from getting to the basket or provide help on someone else.
Just look at how much space Denver Nuggets centre Nikola Jokic gives him on this possession: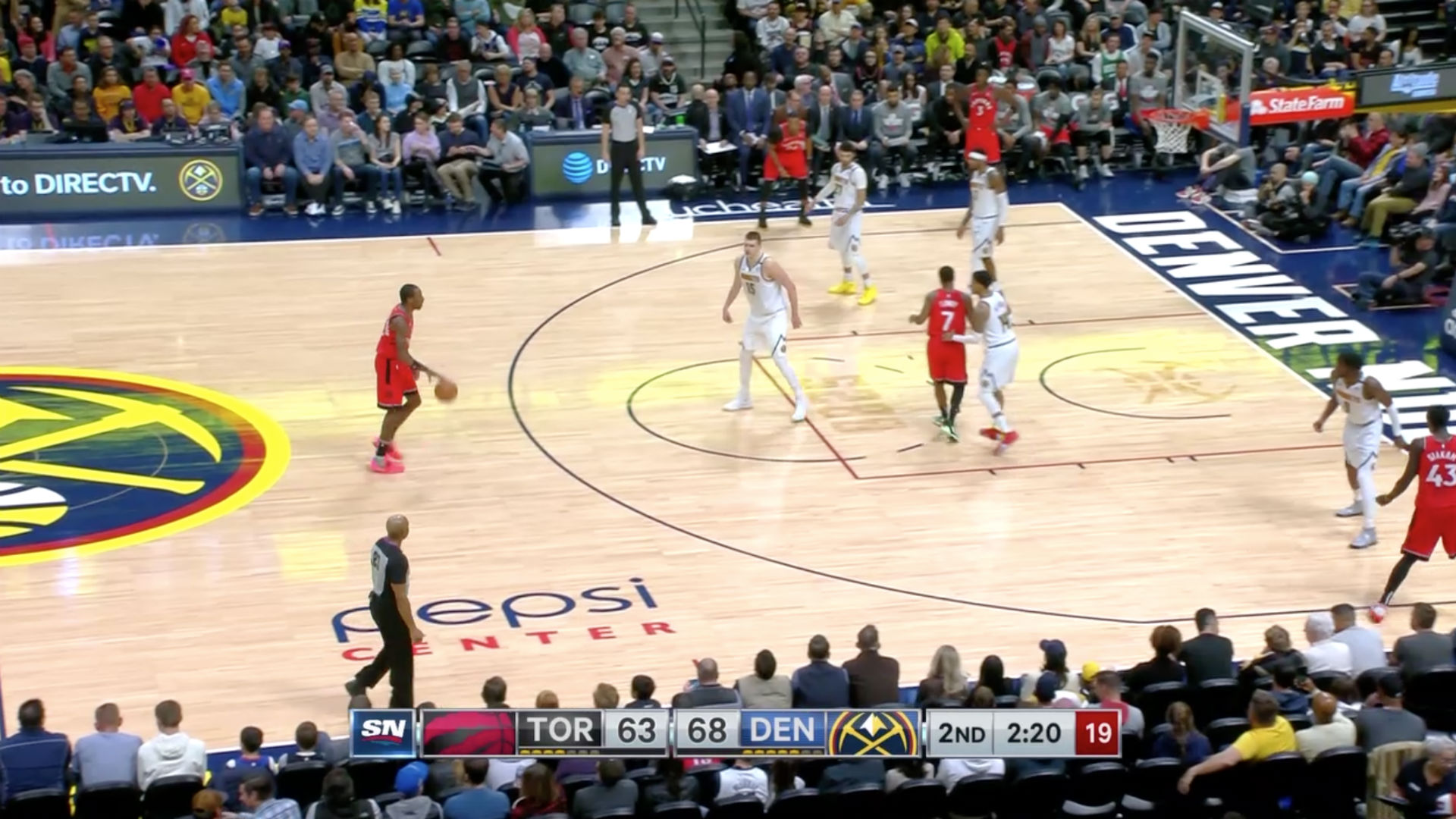 Again, Jokic is playing the percentages. According to NBA.com, Hollis-Jefferson has yet to attempt a pull-up from the perimeter this season, so Jokic knows he isn't going to shoot a 3-pointer off the dribble. Hollis-Jefferson has had more success from midrange (40.9 percent), but he's made a total of nine shots from that distance on the season. He isn't much of a threat from there, either.
The combination means Jokic and the Nuggets will live with him settling for any sort of jump shot, whether it's from the 3-point line or midrange, especially if Kyle Lowry, Pascal Siakam, Norman Powell or OG Anunoby go an entire possession without touching the ball.
But that's when the unusual pick-and-roll comes into play.
Instead of taking the bait, Hollis-Jefferson waits for Lowry to set a screen on Jokic while Siakam, Powell and Anunoby space the floor by spotting-up on the 3-point line - Siakam on the strongside, Powell and Anunoby on the weakside.
As soon as Lowry makes contact with Jokic, Hollis-Jefferson begins to attack the basket.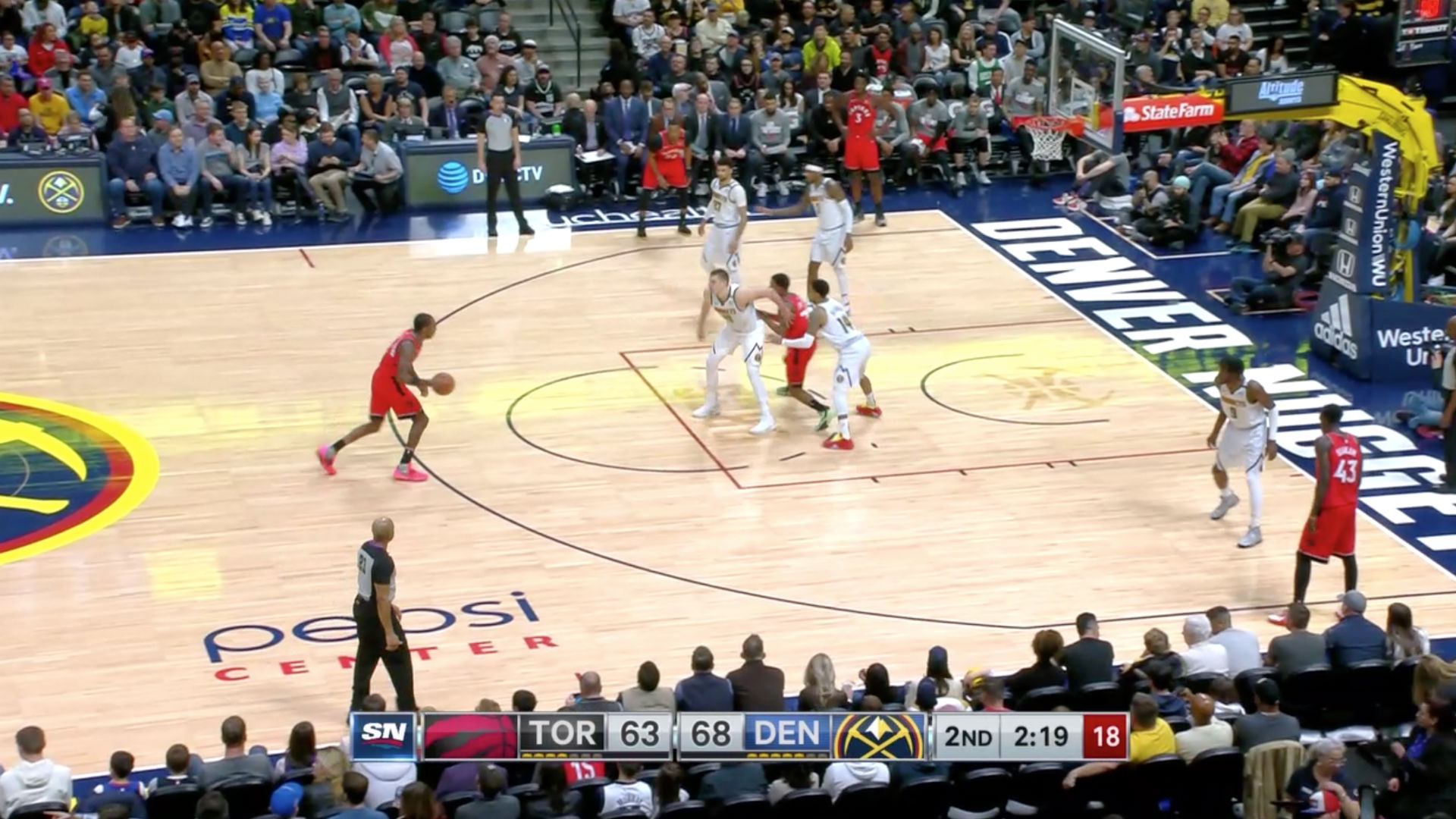 Lowry then flips the screen, moving from setting one on Jokic's left side to his right side. Jokic gets caught up in the screen, Hollis-Jefferson crosses it back over to his right hand and makes the most of there being no help defence by finishing strong at the rim with a dunk.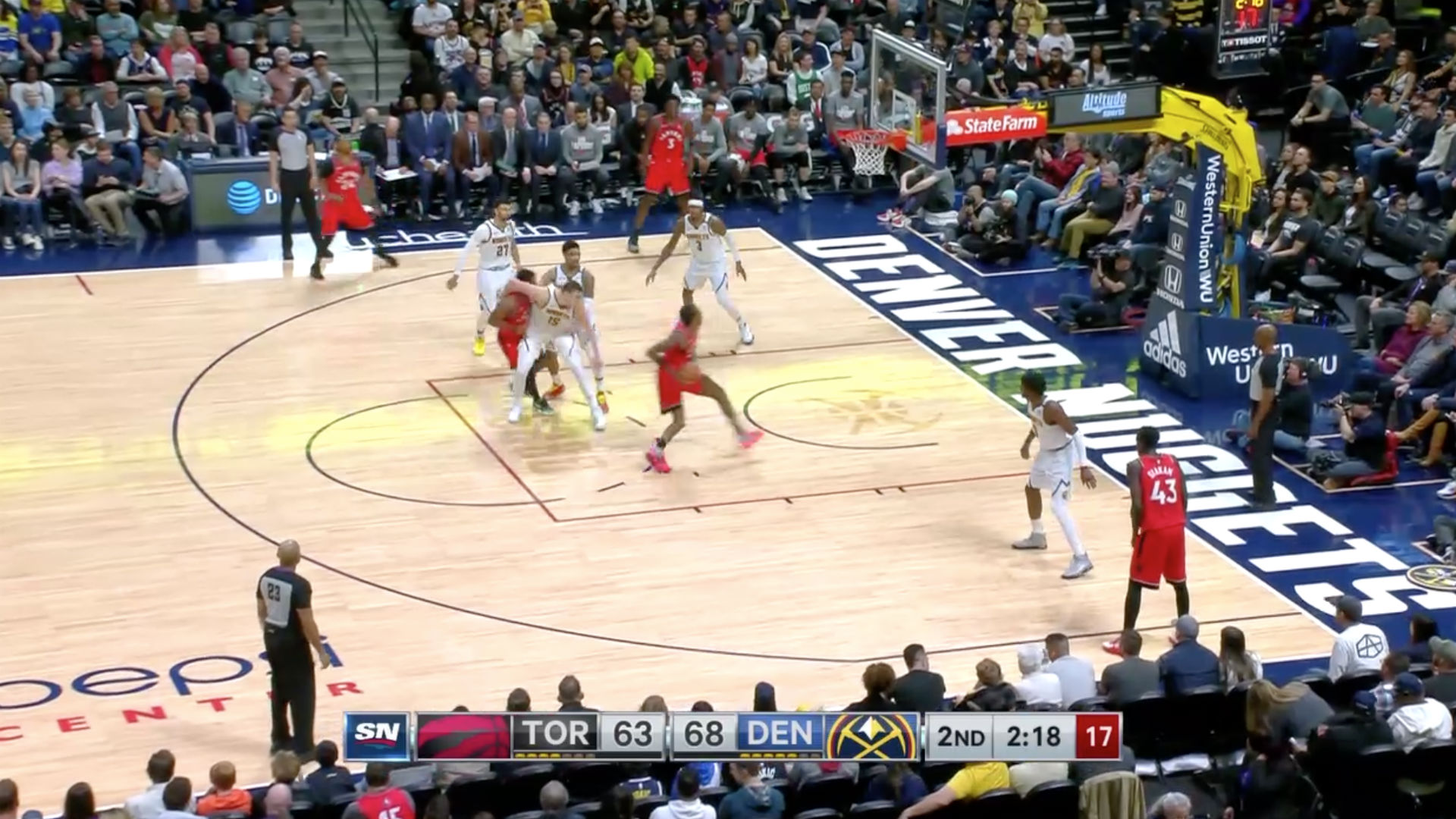 The reason the Raptors have Lowry set the screen and not Siakam, Powell or Anunoby is twofold:
Lowry is a sneaky good screen-setter. He's one of the stronger players at his position and he's incredibly crafty. Him switching the screen at the last second being a perfect example of said craftiness.
It makes it harder for teams to switch. Had Siakam or Anunoby set a screen, the Nuggets might have switched Jerami Grant or Torrey Craig onto Hollis-Jefferson, as they're both better equipped to match up with him physically. By involving Gary Harris in the play, they're less inclined to switch because Hollis-Jefferson has both a height and weight advantage over Harris. Had Harris switched onto him, Hollis-Jefferson might have taken the shooting guard to the post, where he's generated 9.5 percent of his offence this season at an above average rate (62nd percentile).
Even though Hollis-Jefferson isn't a true centre, there aren't many teams that run 5-1 pick-and-rolls, particularly for "centres" that do all of their scoring inside the painted area like Hollis-Jefferson does. What makes Hollis-Jefferson unique in that regard is that he's quicker than most centres and has a far better handle.
Both come into play on this possession, as Hollis-Jefferson helps lead Jokic into Lowry's screen with a crossover before quickly changing directions with another crossover and attacking the basket.
Here's another example of the Raptors running a pick-and-roll with Hollis-Jefferson as a ball handler and Lowry as the screener.
Once again, notice how far his defender is off of him - Jordan gives him even more space than Jokic did - and how Hollis-Jefferson is still able to get to the rim. Jordan is in position to contest his shot and force a miss, but the momentum Hollis-Jefferson builds when he gets downhill knocks Jordan back a couple of feet, freeing him up for a second chance opportunity.
Is it pretty? No. Does it work? Somewhat. The Raptors can't go to this every game - Hollis-Jefferson has scored off of it a handful of times this season by my count - but it's something they can go to in times of need and it always seems to catch the opposing team off guard because of how funky it is.
Raptors head coach Nick Nurse put it best when talking about it earlier this season.
"I know it looks a little … what's the word, un-smooth?" the Raptors head coach said. "Un-smooth sometimes, but it's effective."
Un-smooth but effective - the perfect way to describe Hollis-Jefferson-Lowry pick-and-rolls.
The views on this page do not necessarily reflect the views of the NBA or its clubs.