In a conference call at the beginning of July, Toronto Raptors head coach Nick Nurse was asked about the impact a fully rested Marc Gasol has on this team.
As part of his response, Nurse had the following to say about Big Spain.
"I think that Marc's in and out this year has really made Serge (Ibaka) kind of play a lot better. Serge has been better, he's improved, he's got more opportunities. So I think that that's only going to help us. I can envision us playing very big. We like to call our jumbo lineup with OG (Anunoby) at the two, Pascal (Siakam) at the three, Serge at the four and Marc at the five.
"I can envision that coming in handy here in this year's playoffs."
We've already written a lot about how well Ibaka has played this season, so I want to focus more on the jumbo lineup part of Nurse's quote than how Gasol's injury has forced Ibaka to step up. Not even that lineup specifically, but some of the different lineups the Raptors have used this season and what we can learn from them, both good and bad, ahead of the season possibly returning and the playoffs.
Keep in mind that stats don't always tell the story. We're also working with some rather small sample sizes because of the number of injuries the Raptors have dealt with this season. Even so, the Raptors are expected to be at full strength heading into the resumption of the season, in which case we will likely see a lot more of these lineups in the months to come.
With that in mind, onto the lineups!
Most used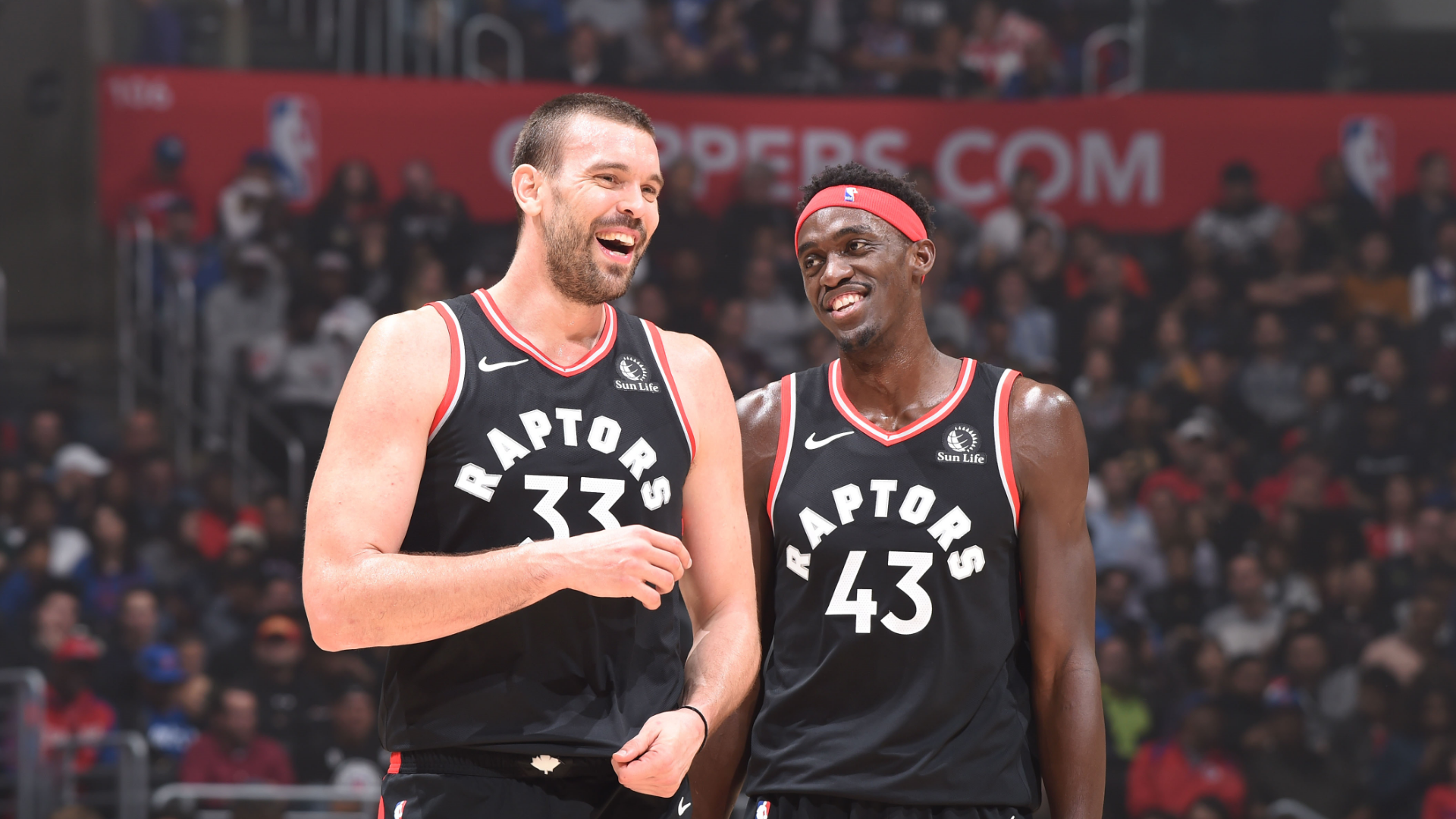 Lineup: Kyle Lowry, Fred VanVleet, OG Anunoby, Pascal Siakam, Marc Gasol
Minutes: 280
Offensive rating: 114.7
Defensive rating: 103.0
Net rating: 11.7
Even though Lowry, VanVleet, Siakam and Gasol have each missed extended time with injuries this season, Toronto's starting lineup is still its most used lineup. Surprising? Sort of. Although I suppose it shouldn't be seeing as the Raptors have had to use 15 different starting lineups this season because of all the injuries they've dealt with.
As was the case last season, the starting lineup has been incredibly effective. For context, their offensive rating of 114.7 would rank second in the league behind only the Dallas Mavericks, who have been historically good offensively this season, while their defensive rating of 103.0 would rank second behind only the Milwaukee Bucks. It makes sense considering Lowry, VanVleet, Anunoby, Siakam and Gasol can each put the ball on the floor, space the floor out the 3-point line and guard multiple positions.
When they're firing on all cylinders, it's basketball nirvana. The ball ping-pongs around the court on offence while the five of them wreak havoc on defence. Anunoby and Siakam have been two of the most versatile defenders in the league this season while Lowry and VanVleet have been two of the most disruptive off-ball defenders, with the two of them being among the league leaders in steals, deflections, loose balls recovered and charges drawn.
As for Gasol, his individual numbers are down across the board this season, but the Raptors continue to be a different team when he's on the court. He's still one of the best passers, shooters and defenders at the centre position. It's simple - when Gasol is playing, good things tend to happen.
Runner up: Kyle Lowry, Fred VanVleet, OG Anunoby, Pascal Siakam, Serge Ibaka (197 minutes)
Most intriguing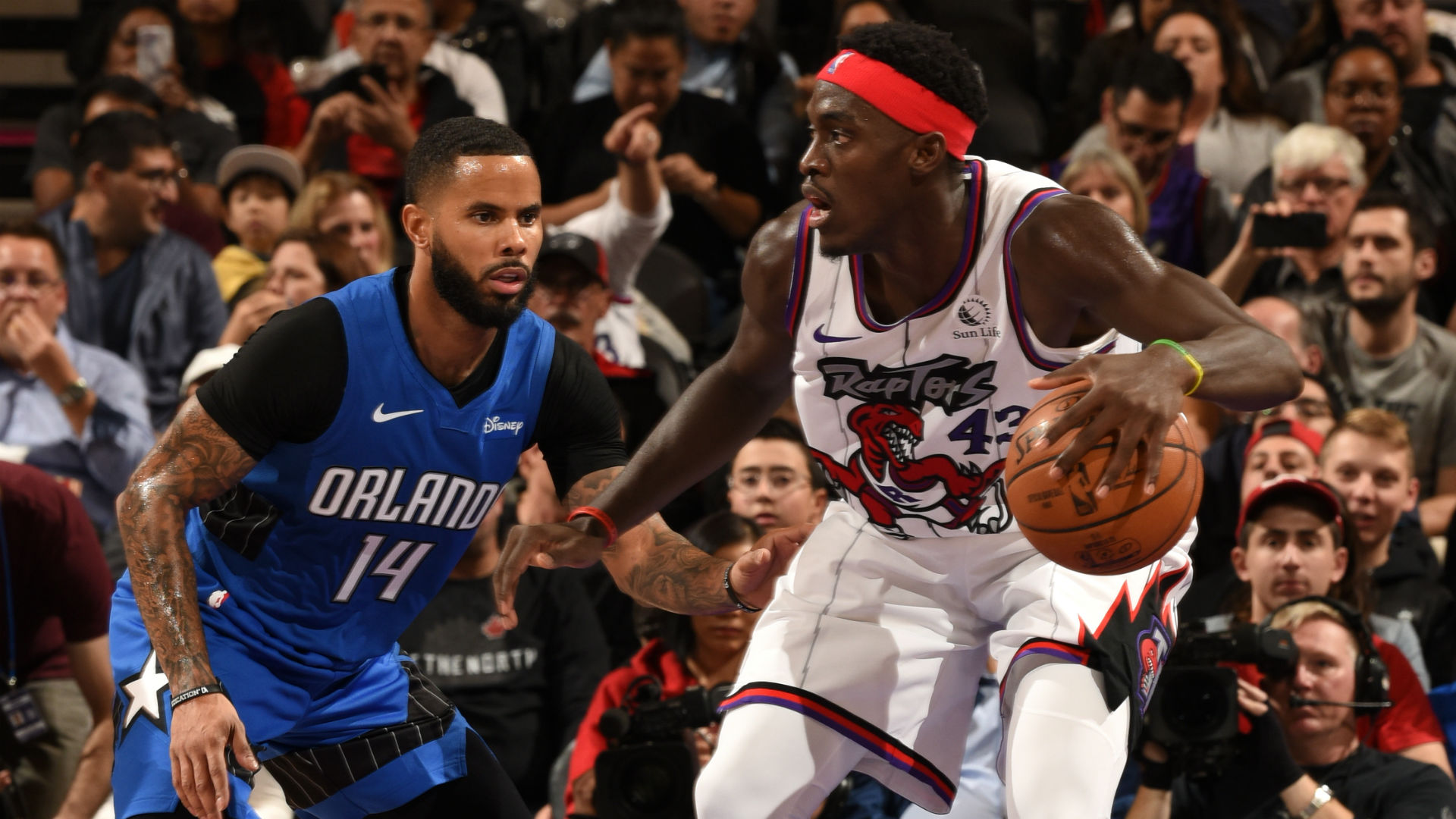 Lineup: Kyle Lowry, Norman Powell, Patrick McCaw, OG Anunoby, Pascal Siakam
Minutes: 23
Offensive rating: 123.1
Defensive rating: 113.0
Net rating: 10.1
Why this lineup? It's Toronto's most-used lineup with Siakam at centre.
Every other Siakam lineup that has played more minutes this season has featured either Gasol, Ibaka or Rondae Hollis-Jefferson. Hollis-Jefferson isn't a traditional centre, but he basically plays the role of a centre regardless of who is surrounding him because of his inability to score outside of the paint.
Besides, the point of playing Siakam at centre is to surround him with switchable defenders and 3-point shooters to maximize spacing. Lowry, Powell and Anunoby tick both of those boxes while McCaw ticks one and a half of them. (The half being the 3-point shooting. He's made 36.2 percent of his catch-and-shoot 3-point attempts this season, but McCaw is not the type of shooter who strikes fear in the hearts of opponents). Hollis-Jefferson only ticks one of them.
If you want, you could even switch McCaw out for someone else, whether it's VanVleet or Terence Davis. I don't even know if this is something Nurse would be willing to go to for extended minutes - they'd have no chance of stopping a Joel Embiid or Nikola Jokic and they'd likely get hammered on the boards - but putting Siakam at centre and surrounding him with versatile defenders and shooters could be Toronto's answer to smaller lineups.
It's worth keeping in their back pocket if nothing else.
The jumbo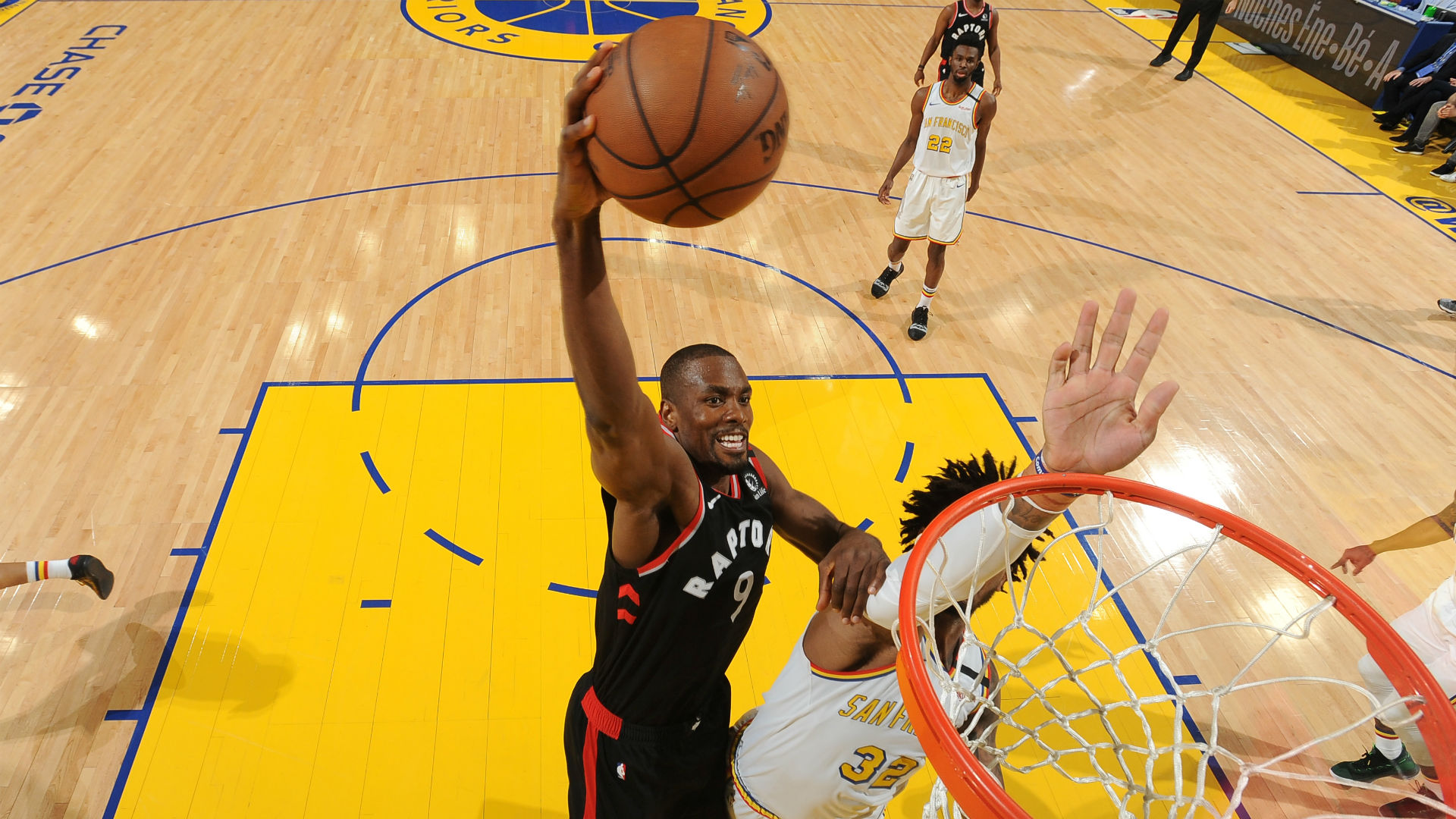 Lineup: Kyle Lowry, OG Anunoby, Pascal Siakam, Serge Ibaka, Marc Gasol
Minutes: 30
Offensive rating: 120.0
Defensive rating: 92.2
Net rating: 27.8
This is the one Nurse referred to on the call.
Again, be wary of the small sample size, but we have at least seen a variation of this lineup work on the big stage before. Mostly to combat Philadelphia's size in the playoffs, Nurse leaned on a lineup of Lowry, Danny Green, Kawhi Leonard, Ibaka and Gasol more in the postseason (32 minutes together) than he did in the regular season (13 minutes).
The results were surprisingly good. Not only were Lowry, Green, Leonard, Ibaka and Gasol almost impossible for the 76ers to score against, but they also fared better on the boards, where Philadelphia had given Toronto trouble in Game 2 and 3.
This season's "jumbo lineup" is slightly different because, of course, Leonard and Green are no longer on the team. Replacing them are Anunoby and Siakam. Defensively, the Raptors don't lose much - there's a case to be made that Anunoby is the best isolation defender in the league and Siakam is capable of doing many of the same things Green is when he's locked in. It's more on offence where they miss them, Leonard moreso than Green.
Nonetheless, this lineup still has potential. Their saving grace might be that Ibaka and Gasol are having the best 3-point shooting seasons of their careers. With both of them being bigger threats from there than they were last season, it opens up the floor even more for Lowry and Siakam to do what they do best. (More on that here).
It speaks to Toronto's versatility that it's even an option for them to go small or big depending on who they're matched up against. Most teams have one or the other. Even though we haven't seen much of either in the regular season, there's a chance we could see a lot more of them in the playoffs when there's far more at stake.
Most effective (50 minutes minimum)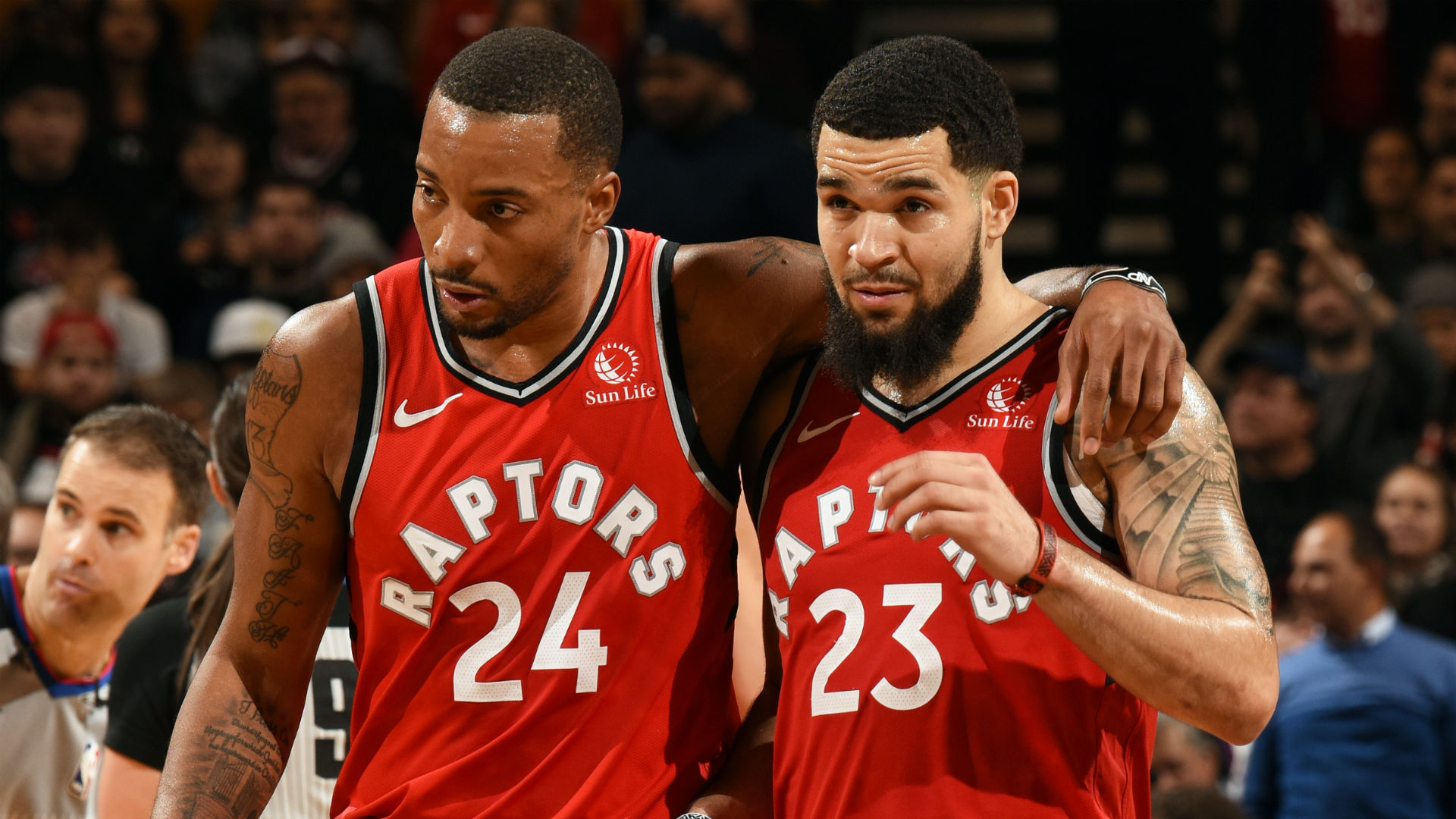 Lineup: Fred VanVleet, Norman Powell, OG Anunoby, Pascal Siakam, Marc Gasol
Minutes: 192
Offensive rating: 114.3
Defensive rating: 98.2
Net rating: 16.1
Otherwise known as the starting five, only with Powell replacing Lowry.
If anything, this is an encouraging sign for the day that Lowry is no longer Toronto's starting point guard. Granted, Gasol might not be on the team when that day comes either - he'll be an unrestricted free agent this offseason, so there is a world in which this is his last season with the Raptors - but VanVleet, Powell, Anunoby and Siakam should be part of the team's core for many years to come.
Powell is neither the playmaker for others nor defender that Lowry is, but he's a more natural scorer and is capable of getting after it on defence. If both VanVleet and Siakam can continue to improve and Powell can continue to play at the level he has this season, it would help make up for the loss of Lowry.
Something to keep an eye on: Siakam seems to suffer more without Lowry than VanVleet does. According to NBA.com, VanVleet goes from averaging 14.4 points, 5.7 assists and 3.5 rebounds per 36 minutes with Lowry on the court to 21.6 points, 7.8 assists and 4.0 rebounds with him on the bench this season. Siakam's points, rebounds and assists stay pretty much the same with or without Lowry, but his efficiency falls off a cliff when Lowry is on the bench.
Pascal Siakam's stats per 36 minutes (2019-20 season)

| | | | | | | | |
| --- | --- | --- | --- | --- | --- | --- | --- |
| | MIN | PTS | REB | AST | FG% | 3P% | FT% |
| With Lowry on the court | 1,192 | 24.1 | 7.7 | 3.4 | 47.9 | 35.6 | 83.0 |
| With Lowry on the bench | 690 | 23.7 | 7.6 | 4.1 | 42.8 | 36.4 | 74.2 |
That hasn't prevented this particular lineup from thriving, but it could lead to some bumps in the road in the future if Lowry really does have that much of an impact on Siakam's play.
Runner up: Kyle Lowry, Norman Powell, OG Anunoby, Pascal Siakam, Marc Gasol (+13.4)
Least effective (50 minutes minimum)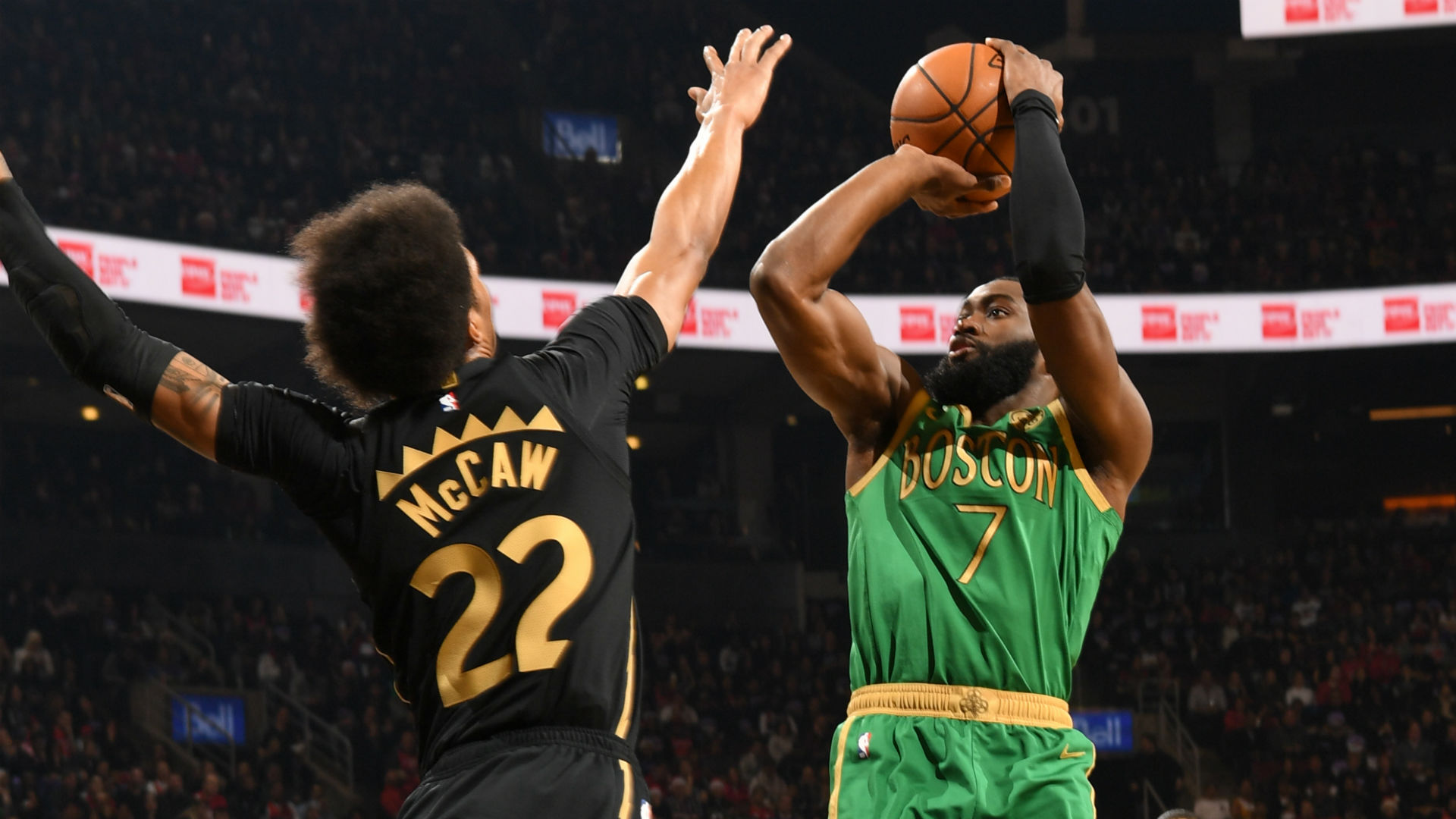 Lineup: Kyle Lowry, Fred VanVleet, Patrick McCaw, OG Anunoby, Serge Ibaka
Minutes: 135
Offensive rating: 99.0
Defensive rating: 107.7
Net rating: -8.7
Here's what our Micah Adams wrote about McCaw when grading his play this season:
"On the season as a whole, the 6'7" wing has shot just 41.4 percent from the field. He's certainly not out there for his scoring, but among the 242 players averaging at least 20 minutes per game, only four of them are averaging fewer points than McCaw (4.6 PPG). Though he's been given a larger role than in seasons past, his rebounding, assists and steals per minute are all about on par with his career averages, and it all adds up to a Player Efficiency Rating of just 7.3. Of the 271 players in the NBA this season who have played at least 800 minutes, McCaw's PER ranks 268th ahead of only Terrance Ferguson, Treveon Graham and Jordan Poole."
Not great.
We're not going to spend too much time on this and I don't want to pile on McCaw too much because I think he's better than he's sometimes made out to be. It's also unfair to pit this lineup being as bad as it has been solely on him because it's not like he's on the court all by himself.
Regardless, a lineup with Lowry, VanVleet, Anunoby and Ibaka shouldn't be this bad. It's not all McCaw's fault - it's not like he's out there all by himself and this same lineup with Siakam in place of McCaw hasn't been much better - but with how much he has struggled offensively this season, I can't help but feel like this lineup's limitations are a reflection of what Adams was getting at.
With how many minutes this lineup has logged this season, it'll be interesting to see if Nurse goes to this lineup much, if at all, in the playoffs.
Runner up: Kyle Lowry, Fred VanVleet, OG Anunoby, Pascal Siakam, Serge Ibaka (-5.5)
The views on this page do not necessarily reflect the views of the NBA or its clubs.