Welcome to our Canadian Pioneer series.
Each week throughout the month of April we'll be celebrating one of the pioneers of our game. The ones who helped elevate the game in our country. The ones who broke through glass ceilings and walked through closed doors. The names in the game that should never be forgotten.
This week, we highlight Tammy Sutton-Brown.
You can't tell the story of basketball in Canada without a chapter on Tammy Sutton-Brown.
A 12-year professional, Sutton-Brown became the second-ever Canadian to play in the WNBA when she began her career on June 7, 2001, at Sacramento's Arco Arena as a member of the Charlotte Sting.
But her story began decades earlier in Markham, Ontario, where she was born and raised.
According to Sutton-Brown, a basketball career might not have ever come to be had it not been for George Kraus, the head coach at Markham District High School:
"I was supposed to go to high school that didn't have a girls' (basketball) program and he pretty much convinced me to go to Markham High. And it was the best decision I made," Brown said of Kraus in a 2015 Sport Chek profile.
It was at Markham High that Sutton-Brown blossomed into a star, leading the Marauders to the Regional Basketball Championship for four consecutive years, earning the distinction of Canada's top female basketball prospect by The Toronto Star upon the end of her high school career.
Sutton-Brown's prowess as an elite prep player was reflected by the interest of numerous college programs in the United States.
During a 1997 interview with the CBC Evening News, a 19-year-old Sutton-Brown spoke on this widespread interest, sharing that "for the past, I'd say, year and a half-two years, it's been a lot of phone calls from different universities, trying to contact me and offer me scholarships."
Ultimately, the 6-foot-3 Sutton Brown elected to play for Hall of Fame head coach C. Vivian Stringer at Rutgers University in Brunswick, New Jersey, and her impact was felt immediately.
As a freshman, Sutton-Brown led the team in field goal percentage and blocks while Rutgers advanced to the Sweet Sixteen of the NCAA Women's Tournament. After earning Third Team All-BIG EAST honours in a sophomore season that saw the Scarlet Knights advance to the Elite Eight, Sutton-Brown helped lead her team to the 2000 Final Four, the first-ever appearance in school history.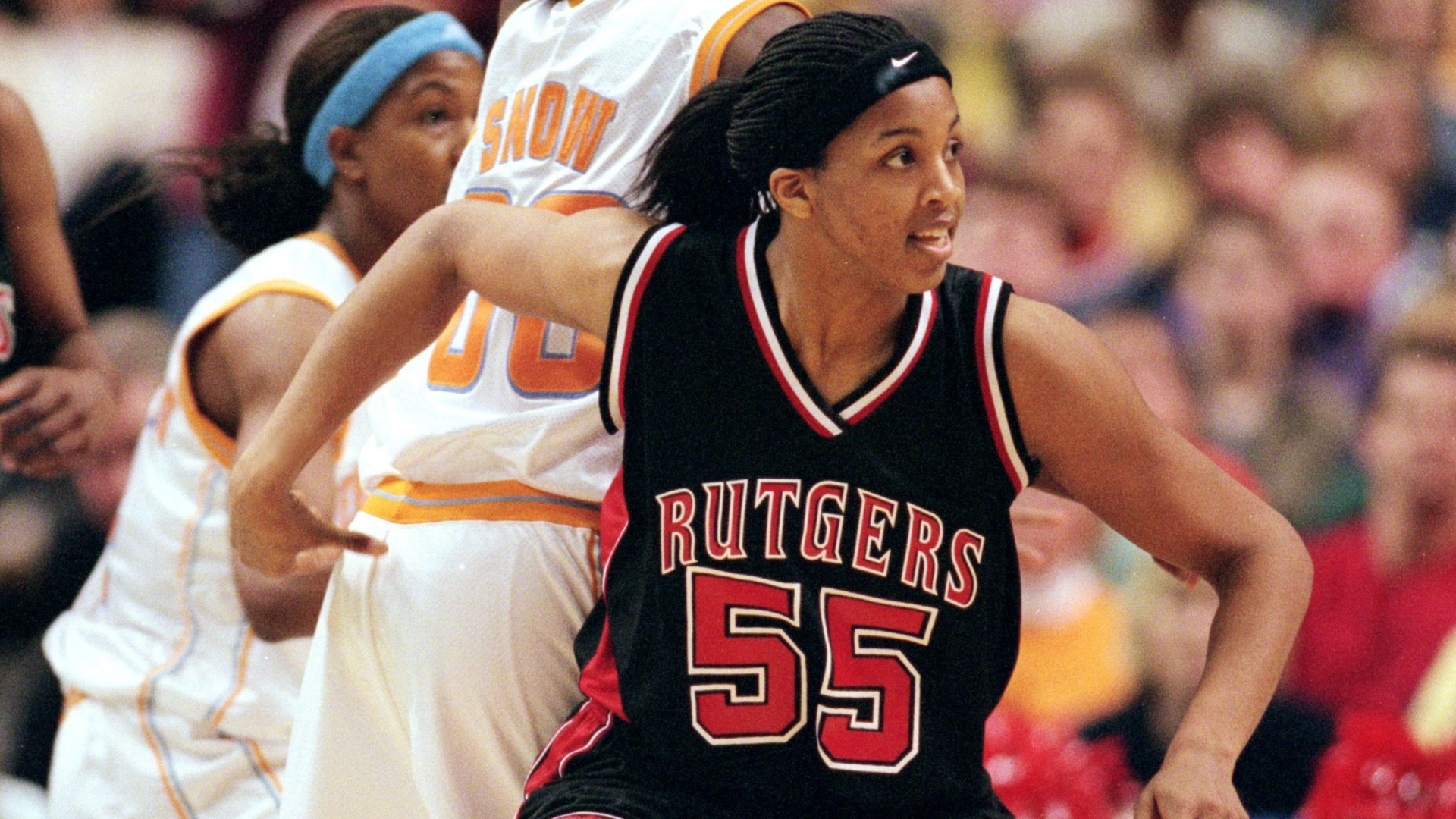 Just one win away from the National Championship Game, Sutton-Brown and the Scarlet Knights met a Tennessee Lady Volunteers team that featured a freshman Kara Lawson and a future Hall of Famer in Tamika Catchings. With Tennessee's legendary coach Pat Summit game planning to make things difficult for Sutton-Brown, Rutgers suffered a 64-54 loss to Tennessee in front of a sold-out crowd of over 20,000.
The Scarlet Knights' 1999-00 season came to an end just two wins shy of the mountaintop, but Sutton-Brown would go on to reach a different pinnacle in that same year.
As a 22-year-old rising senior, Sutton-Brown was one of 12 women selected to represent the Canadian Women's National Team at the 2000 Summer Olympic Games in Sydney, Australia. To represent your country an Olympian is an honour in itself but to do so prior to graduating college is something that many athletes only dream of.
Despite being one of the youngest members of the roster, Sutton-Brown made her presence felt on the Olympic stage, averaging 10.3 points and 7.3 rebounds over six games. That confidence gained from excelling on the international stage propelled Sutton-Brown into a senior season in which she again earned All-BIG EAST honours and was a candidate for the Naismith National Player of the Year Award.
Following the conclusion of her senior season at Rutgers, Sutton-Brown was selected with the No. 18 overall pick in the 2001 WNBA Draft by the Sting, who were coming off of the worst season of their four-year existence.
Fast forward back to that June night in Northern California, where Sutton-Brown finished her debut with six points as a reserve, a role she held for the first eight games of her career, a span in which Charlotte went 1-7.
Ahead of Sutton-Brown's ninth game as a pro, head coach Anne Donovan inserted the rookie into the starting unit, tipping off what would be the beginning of a six-game win streak for the Sting. After Sutton-Brown became a full-time starter, Charlotte closed the season with a 16-4 record, building momentum ahead of the 2001 WNBA Playoffs, where it would advance to the Finals before falling to the Los Angeles Sparks.
Year 1 of Sutton-Brown's career set the tone for the next 11 years of her professional career. In Year 2, she became the first-ever Canadian selected to the WNBA All-Star Game, doing so alongside an Olympic teammate in Stacey Dales, who was added as an injury replacement.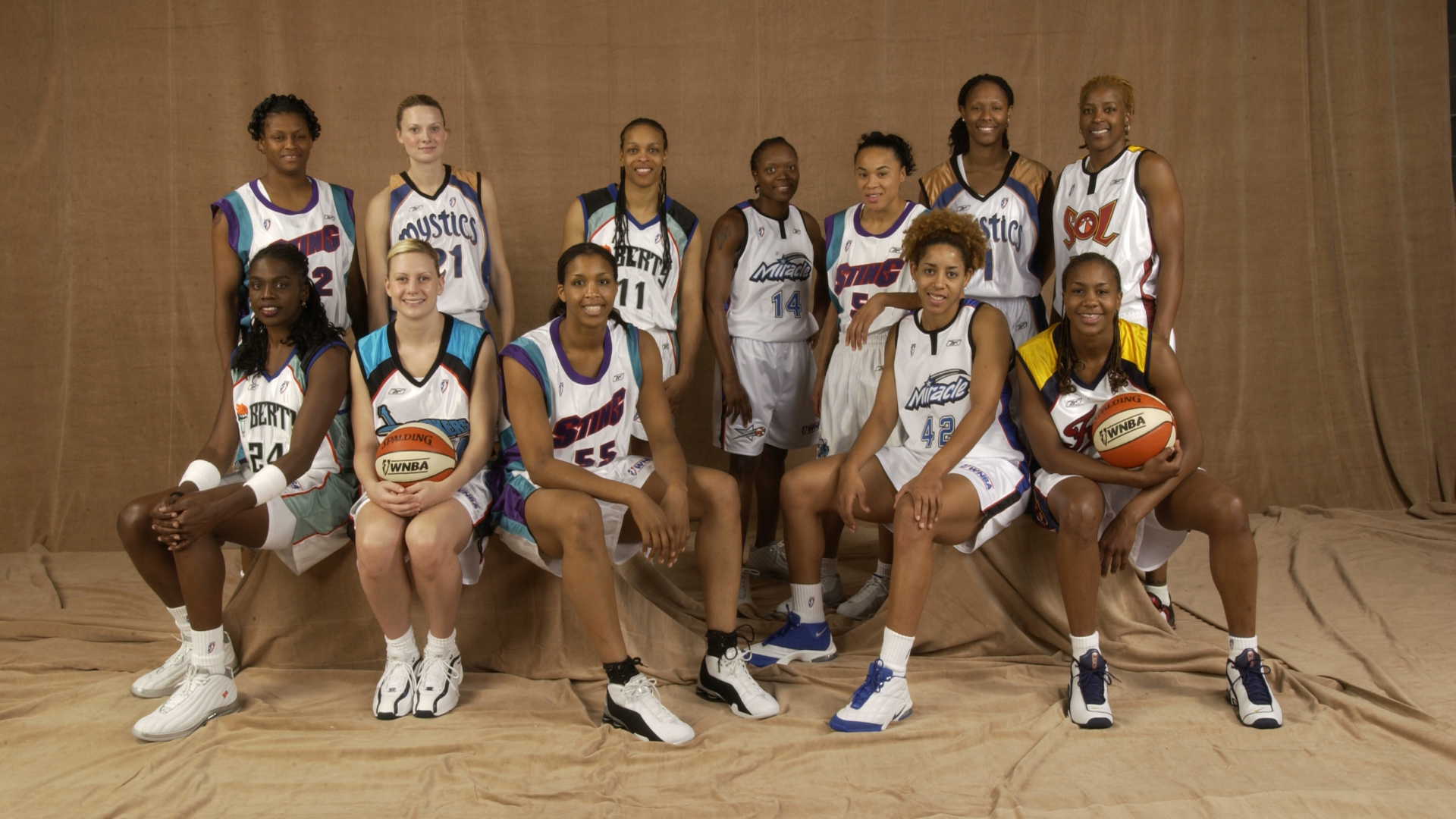 That 2002 season also saw Sutton-Brown do her part to lead the Sting to the second of three-straight postseason appearances with averages of 11.9 points, 6.0 rebounds and 1.1 blocks per game.
As many WNBA players do, Sutton-Brown spent her "offseasons" playing professionally overseas, spending time in Korea, Russia, and the Czech Republic from 2001-06, winning a Korean Championship in 2004. But in 2006, her basketball life changed on multiple fronts.
With the Sting franchise folding following the 2006 season, Sutton-Brown would be finding a new WNBA home for the 2007 campaign. Overseas, Sutton-Brown was also headed to a new home after playing for Dynamo Moscow in 2005.
Ultimately, Brown chose Turkish club Fenerbahce Ulker and the Indiana Fever, the places where she would spend the remainder of her professional years.
In each of her five seasons with Fenerbahce, Sutton-Brown and the club were crowned the Turkish National League champions, also winning the Turkish Cup in 2007, 2008, and 2009. On the WNBA side, Sutton-Brown earned the second All-Star selection of her career in her first season in Indiana, where the Fever advanced to the postseason in each of her six seasons with the franchise, again falling short of a championship in 2009.
2012 marked Sutton-Brown's final WNBA season and she rode off into the sunset as the Fever finished second in the WNBA's Eastern Conference before advancing to the 2012 WNBA Finals, where they defeated the Minnesota Lynx in four games to capture that elusive title.
It was the perfect ending to a legendary career.
While she retired in 2012, Sutton-Brown forged a legacy that will be felt for generations to come.
Inducted into the Rutgers Scarlet Knights Hall of Fame in 2013, Sutton-Brown's freshman season at RU was the first of a 15-year stretch in which the Scarlet Knights made 14 NCAA Tournament appearances.
Two decades after Sutton-Brown and the Canadian Women's National Team finished 10th at the 2000 Olympic Games, the Canadian Women's National Team enters the 2020 Olympic Games in Tokyo with realistic expectations to medal, a testament to the path blazed by Sutton-Brown and her generation of Canadian athletes.
And it doesn't stop there.
Today's WNBA features a number of Canadians, including 2019 All-Star Kia Nurse of the Phoenix Mercury and the Minnesota Lynx's duo of Bridget Carleton and Natalie Achonwa. When you see the heights they've reached, look back to Sutton-Brown as one of the key figures forging a path for them to follow.
After being immortalized as a member of Rutgers' Hall of Fame, Sutton-Brown's next accomplishment could very well be an induction into Canada Basketball's Hall of Fame.
She deserves it.
The views on this page do not necessarily reflect the views of the NBA or its clubs.