"Stat Just Happened" is our new series where we'll pair an important stat with how it actually unfolded on the floor. Our aim? To answer key questions, uncover hidden truths and peel back the curtain on why some numbers matter more than others.
Today, the Toronto Raptors take the spotlight.
38.6
According to NBA.com, that's Toronto's shooting percentage this season on catch-and-shoot 3s, which are 3-pointers taken within two seconds of possessing the ball and without a dribble, typically coming off of a pass from a teammate.
Why catch-and-shoot 3s? They make up the highest portion of the team's 3-point attempts on the season. And why is it noteworthy? It ranks the Raptors fifth in the entire league, trailing the Utah Jazz (41.3 percent), Miami Heat (39.4 percent), Washington Wizards (39.0 percent) and New Orleans Pelicans (38.8 percent). It's even more impressive considering the Pelicans are the only one of those teams taking more catch-and-shoot 3s per game than the Raptors. In total, those shots represent over a quarter (29.4 percent) of their field goal attempts on the season. Once again, there are only a handful of teams in the league ahead of the Raptors in that regard.
The Raptors have five players in particular who have been knocking down catch-and-shoot 3s at a blistering rate. Leading the way is undrafted rookie Matt Thomas, who has made 48.4 percent of those opportunities. Of players who have attempted at least 50 catch-and-shoot 3s on the season - an incredibly low bar that spits out 285 names - only Milwaukee Bucks guard George Hill is shooting a higher percentage (50.6 percent) than Thomas.
Following Thomas are Fred VanVleet, Norman Powell, Terence Davis and Marc Gasol, each of whom have made more than 40.0 percent of their catch-and-shoot 3-point attempts. Additionally, Serge Ibaka and OG Anunoby are making them at an above average rate compared to the rest of the league.
Thomas might be Toronto's most accurate catch-and-shoot threat, but Powell and VanVleet are its most prolific. As you can see in the table below, Powell and VanVleet take and make the most on the team. Together, they've helped make up for the loss of Danny Green, who was Toronto's most dependable 3-point shooter last season - in the regular season, at least. VanVleet has started in place of Green and Powell has either backed him up or filled in for him as a starter in the games he has missed due to injury.
Either way, the Raptors have had a Green-like shooter at shooting guard at almost all times this season.
Catch-and-shoot 3s (2019-20 season)

| | | | |
| --- | --- | --- | --- |
| Player | 3PM | 3PA | 3P% |
| Matt Thomas | 0.9 | 1.9 | 48.4 |
| Fred VanVleet | 1.7 | 3.9 | 43.9 |
| Norman Powell | 1.8 | 4.1 | 43.0 |
| Terence Davis | 1.1 | 2.6 | 42.3 |
| Marc Gasol | 1.4 | 3.4 | 40.2 |
| Serge Ibaka | 1.2 | 3.1 | 38.9 |
| OG Anunoby | 1.1 | 3.0 | 37.0 |
The value of having so many capable shooters at every position should be obvious: Raptors head coach Nick Nurse can put five players on the court who can either punish teams for helping off of them or prevent teams from helping off of them out of fear of leaving them open. The only non-shooter currently in the rotation is Rondae Hollis-Jefferson, but Nurse has been smart about surrounding him with four knockdown shooters pretty much whenever he's on the court, basically treating him as the team's centre even though he's only 6-foot-6.
Having all that shooting makes life easier for everyone on the roster, not just Hollis-Jefferson. Pascal Siakam, for example, generates a lot of his offence on drives to the basket. If you freeze frame any one of his drives from this season, you'll likely see something like this - four defenders trying to toe the line between helping out and not abandoning their assignment, opening up the paint for him to attack: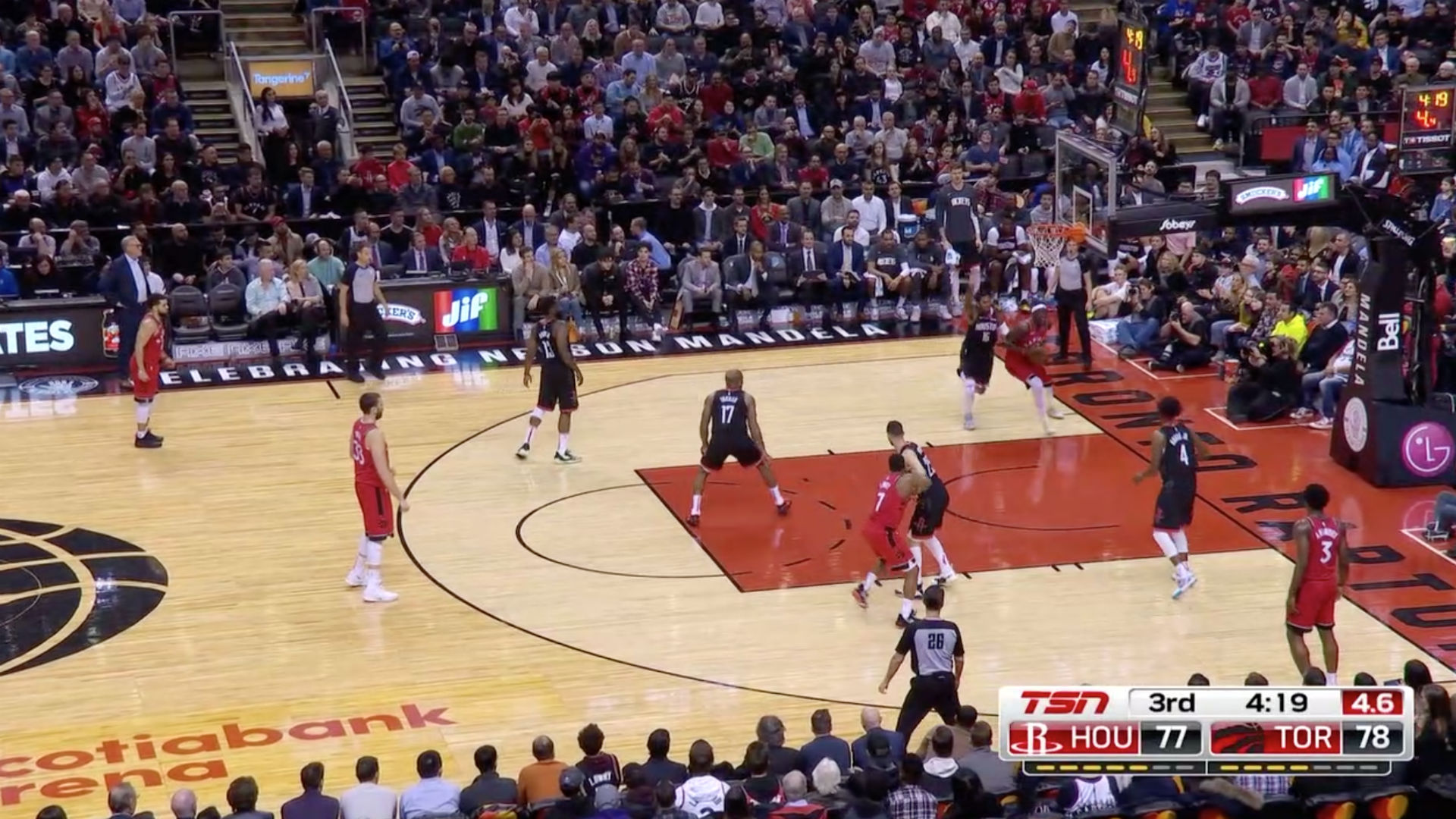 If teams do collapse on his drives to prevent him from getting all the way to the basket, it often comes at the expense of a shooter being left wide open on the perimeter, like so: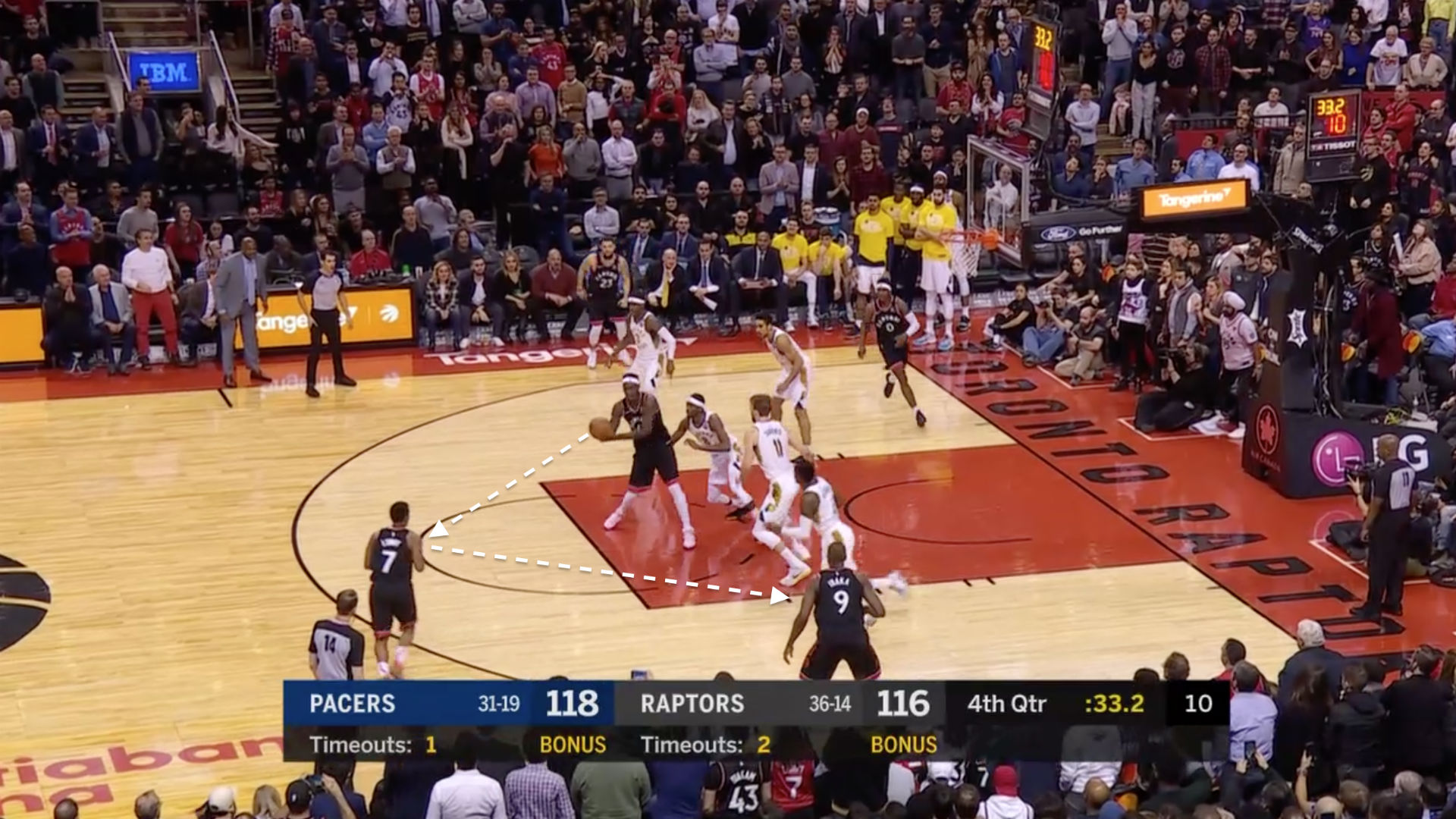 Siakam doesn't even lead the Raptors in drives per game. VanVleet does. Kyle Lowry also averages almost as many drives per game as Siakam does, so Siakam is only a close second to VanVleet. The three of them each have different tendencies when they drive - Siakam is more likely to shoot, VanVleet is more likely to pass, Lowry is somewhere in between - but that's what makes the Raptors special. They have multiple players who are capable of driving and kicking, each of whom can coexist with one another, giving them more bites at the apple when it comes to creating high percentage shots for themselves in the paint and catch-and-shoot 3s for their teammates.
The results speak for themselves. Not only do the Raptors take more catch-and-shoot 3s than most teams in the NBA, they're among the best at converting them.
The proof is in that one key number...
38.6
The views on this page do not necessarily reflect the views of the NBA or its clubs.