Saturday marks the one-year anniversary of the Toronto Raptors winning their first-ever NBA title with a clinching Game 6 win over the Golden State Warriors. As such, we're looking back at some of the biggest moments and stories from Raptors run to the championship.
---
Though Kawhi Leonard's Finals MVP capped a historic individual postseason which forever cemented his legacy as an all-time Finals legend, everyone on the Raptors did their part in what was truly an all-around team effort to defeat the defending champion Golden State Warriors.
With that in mind, let's take a trip down memory lane and relive the most memorable moments from each key player on the Raptors from last season's Finals run.
Leonard may have won Finals MVP, but it feels right to start with the greatest Raptor ever coming through with the best game of his life with everything on the line. Given how it started, it's fitting that Lowry's playoff run ended in the way it did.
After going scoreless in Game 1 of Toronto's first-round series with the Orlando Magic, Lowry saved his best performance of the playoffs for last, going for 26 points, 10 assists and seven rebounds in Game 6 of the Finals.
Lowry set the tone in the closeout game by scoring or assisting on 14 straight points to start the opening quarter. He came out as a man on a mission.
Kyle Lowry's stats from Game 6:

26 POINTS
4 THREE POINTERS
10 ASSISTS
7 REBOUNDS
3 STEALS#WeTheNorth | #NBAFinals pic.twitter.com/ROR5zfr4TG

- NBA Canada (@NBACanada) June 14, 2019
Kawhi Leonard
Leonard almost certainly locked up Finals MVP with his performance in Game 4.
The Raptors found themselves trailing by four points entering halftime of Game 4, putting them at risk of going back to Toronto with the series tied at 2-2. With his teammates struggling to generate offence, Leonard took matters into his own hands to make sure that wouldn't happen by scoring 17 of Toronto's 37 points in the third quarter.
Leonard got started by draining back-to-back 3s in the opening minute of the frame, the second of which gave the Raptors their first lead of the game. He then closed the period with a contested baseline jumper over Klay Thompson to give the Raptors a 12-point lead.
The Raptors went on to win by a final score of 105-92 and Leonard finished the game with 36 points, 12 rebounds and four steals. Based on Game Score, it's the most productive game he's ever had in the Finals.
Fred VanVleet
Did you know that VanVleet set a record for most 3s made off the bench in an NBA Finals series last season? He knocked down 16 3-pointers in total, doing so on 40 attempts.
During the 2019 NBA Finals, Fred VanVleet knocked down 16 3PT... the MOST EVER by a player coming off the bench!#WeTheNorth | #NBAFinals pic.twitter.com/2kaJfUtNls

- NBA Canada (@NBACanada) June 14, 2019
Of all those 3-pointers, VanVleet's final one of the series was the biggest. Not only did it give the Raptors a lead that they would hold on to the rest of the way in Game 6, it led to this iconic image of VanVleet: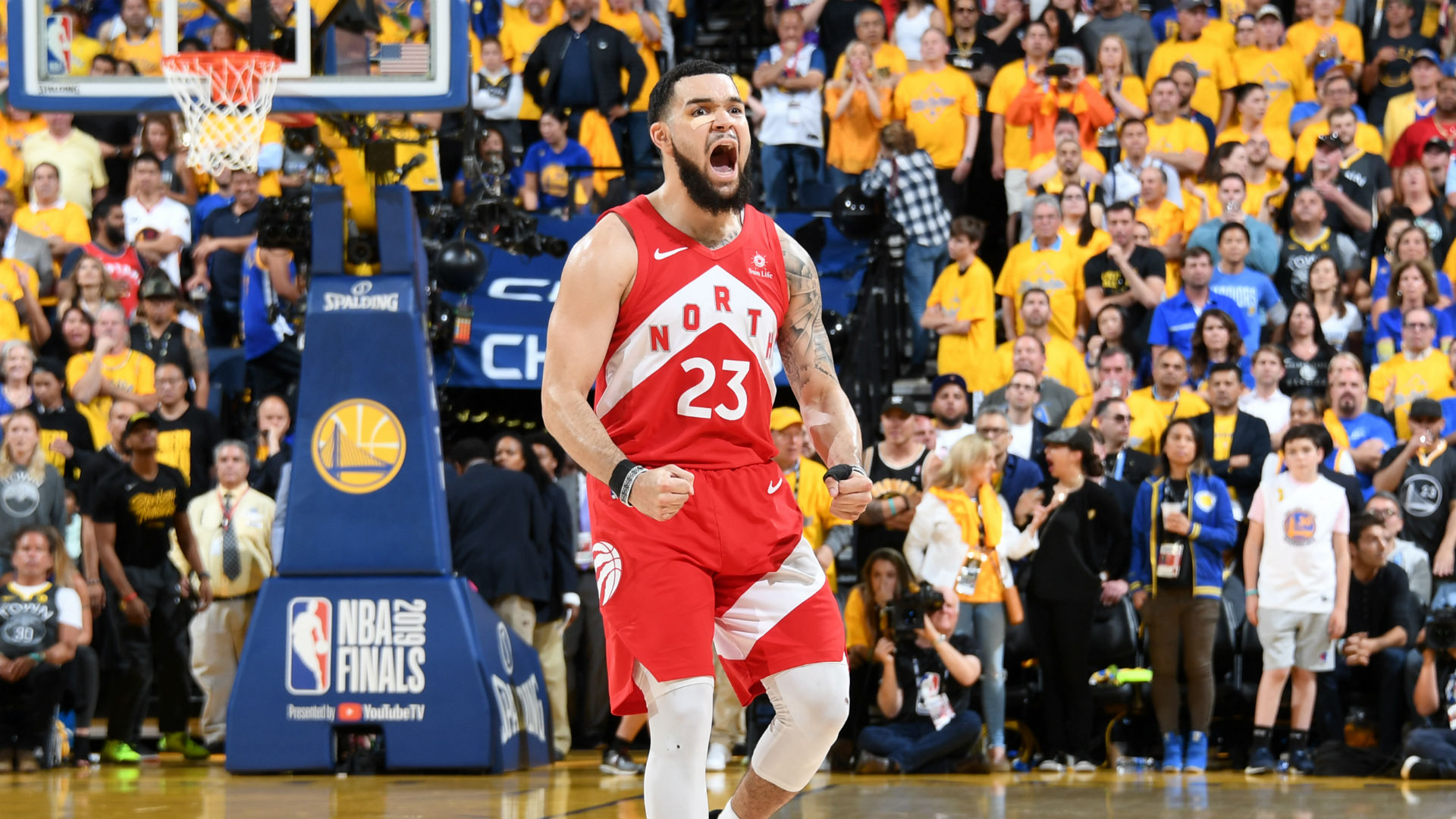 Honourable mention: VanVleet's defence on Stephen Curry. The days of one player being able to stop Curry are long gone, but VanVleet was able to make life difficult for the two-time MVP, holding him 41.4 percent shooting from the field in the series. A terrific all-around series from VanVleet.
Siakam made history in Game 1.
In scoring 32 points on 14-for-17 shooting, Siakam became only the seventh player in NBA Finals history to score 30-plus points on 80 percent shooting or better from the field.
You might have heard of some of the players he joined.
Pascal Siakam (32 PTS, 14-17 FGM - 82.4%) is the 7th player in #NBAFinals history to score 30+ points on 80% shooting or better. The only other players to accomplish this feat are:

Kareem Abdul-Jabbar
James Worthy
Adrian Dantley
Michael Jordan
Toni Kukoc
Shaquille O'Neal pic.twitter.com/LeC2u20SUd

- NBA.com/Stats (@nbastats) May 31, 2019
Siakam's 32 points were also the most scored by a player in their Finals debut since Kevin Durant in 2012, according to ESPN Stats & Info.
It's even more impressive considering Siakam did most of his scoring in Game 1 with Warriors forward Draymond Green, a one-time Defensive Player of the Year, guarding him.
Siakam finished the series averaging 19.8 points on 50.5 percent shooting from the field.
Danny Green
Green had a couple of big games in the Finals, but his chasedown block on Quinn Cook in Game 3 was by far and away his most memorable moment of the series.
In this edition of #NBABreakdown, we highlight Danny Green's 2019 NBA Finals chasedown block! #NBABlockWeek pic.twitter.com/ahyrsHgeuU

- NBA (@NBA) August 25, 2019
Green wasn't the only Raptor to have a block party in Game 3.
According to Basketball Reference, Ibaka became the first player to block six or more shots off the bench in a Finals game.
Serge Ibaka is the first player in our database to have 6+ blocks off the bench in a #NBAFinals game https://t.co/W9Ha0DJvFD @Raptors pic.twitter.com/uL9BxjEJGy

- Basketball Reference (@bball_ref) June 6, 2019
Ibaka had more blocks in that one game than he did in the rest of the series combined.
What else were you expecting?
Marc Gasol is living his absolute best life at the Raptors' championship parade.

(via @Sportsnet) pic.twitter.com/PY6Radw0q9

- NBA on TNT (@NBAonTNT) June 17, 2019
The views on this page do not necessarily reflect the views of the NBA or its clubs.