Throughout the season, we'll spotlight "Rookie Mirrors" for head-to-head matchups featuring rookies and established stars that they've been compared to. Some will explore which comparisons work best, which are far-fetched and what each player needs to do to reach their peak.
Up first? Toronto native RJ Barrett, who opens up his NBA career against former Toronto All-Star and current Spur DeMar DeRozan.
Micah Adams (@MicahAdams13): RJ Barrett makes his much anticipated NBA debut on Wednesday in San Antonio. There's no denying Barrett's immense potential and he enters with a chance to someday be the most prolific scorer from Canada, no small feat given it's a country that's produced more NBA players than anywhere outside the United States.
There's a lot of different comparisons thrown out for Barrett, but perhaps none more spot on than DeMar DeRozan, who he'll spend time matched up against in his debut. So let's just start here: Is the DeRozan comp a fair one for Barrett?
Kyle Irving (@KyleIrv_): I think it's the perfect comp for Barrett. DeRozan's 6-foot-7, 220 lbs; Barrett is 6-foot-6, 202 lbs. At just 19-years-old, you can expect he'll spend the majority of his career at the exact same size as DeRozan.
Their games are very similar too. Score-first shooting guards who both handle the ball and attack the rim well but are heavily reliant on that midrange jumper.
MORE: Some Harden, some Melo, some DeRozan ... exploring Barrett's comps
Adams: Toss in the fact that Barrett grew up a Raptors fan and came of age when DeRozan was getting buckets in Toronto, and it all just sort of ... makes sense. I'd expect Barrett to get off to a faster start than DeRozan once did for a reason that comes down to one word: opportunity.
He just logged over 37 minutes a game in preseason, FAR AND AWAY the most of any player in the NBA and the most by anyone in the preseason in nearly a decade. For what it's worth, the only other player in the entire league over 30 was Knicks teammate Julius Randle. Barrett is going to play a ton early on for the Knicks.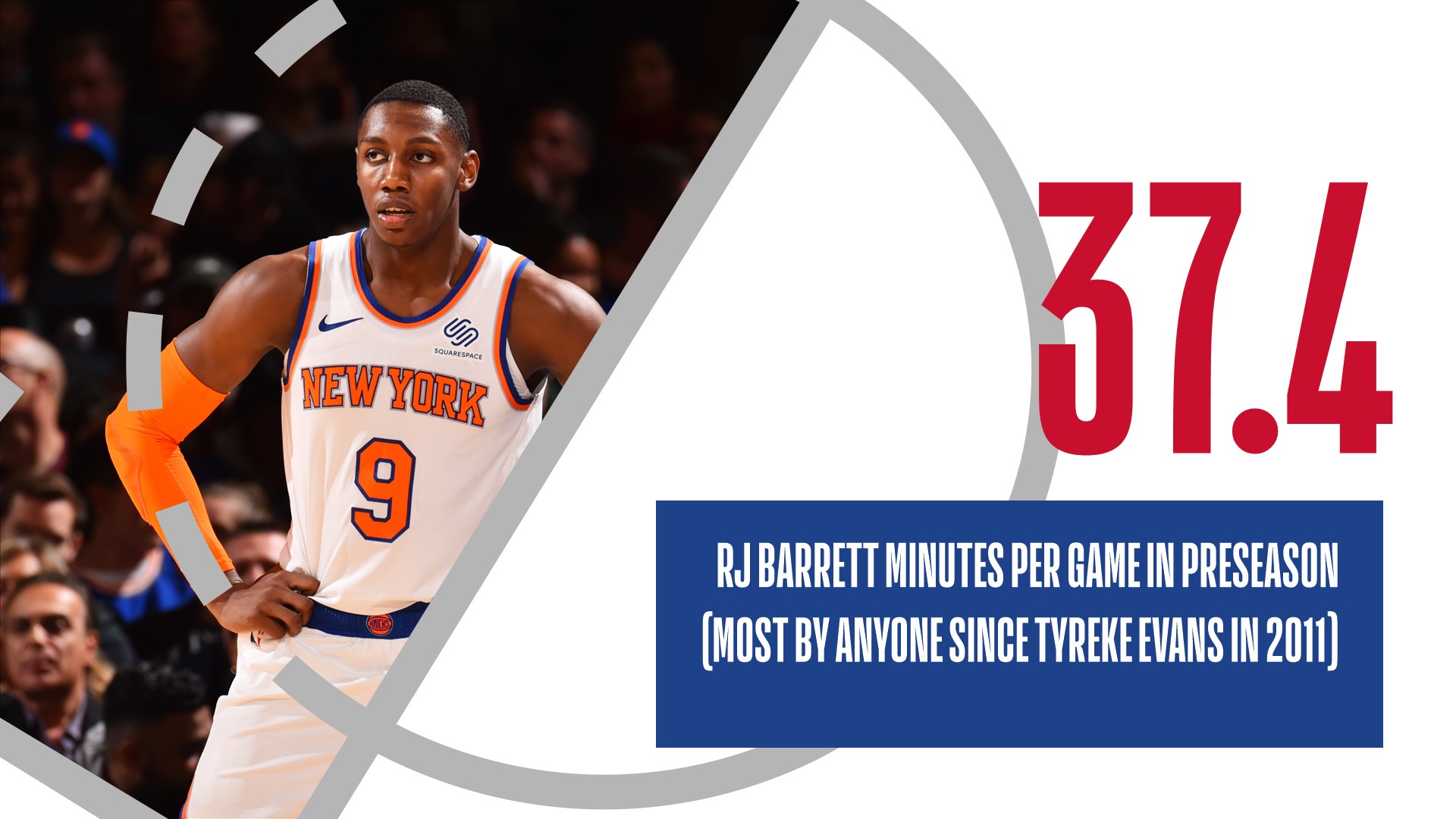 Irving: It makes me wonder if he's been modeling his game after watching DeRozan all throughout his childhood.
But it blows my mind that there are mumblings of him not being able to get enough shots on this Knicks team. He's the future. He's the cornerstone of this rebuild. This is RJ Barrett's team whether those veterans like it or not.
And I couldn't agree more that the opportunity is going to put him in a spot to get his career off the ground faster than DeRozan did. I think Barrett could lead this team in scoring this season.
Adams: One of the reasons I like Barrett and I think he's perfect for New York is that he won't shy away from anything. He shared the spotlight with Zion Williamson at Duke, a larger than life presence that very easily could have resulted in Barrett sliding into the shadows. Instead of worrying about stepping on toes, Barrett went the other way and led the ACC in scoring en route to scoring more points than any freshman in Duke history.
MORE: What Zion's injury means for the rookie class
He's not going to be pushed aside by the likes of Randle or Dennis Smith Jr. or Marcus Morris or Bobby Portis or whoever.
Irving: He's built for New York. He wants to be a Knick. That goes a long way in just having the right attitude and making the most out of the situation you're being placed into, even if your team is only projected to win 30-something games.
Adams: OK so we like the DeRozan comp. We like the fit in New York. Is there anything that jumps out about Barrett as something specifically to watch for in Year 1?
Irving: We know he can score, but can he do it effectively and efficiently? Efficiency is something every rookie typically struggles with, but I want to see Barrett taking good shots - the right shots. Letting the game come to him.
He also averaged 4.3 assists per game in college. Can he replicate and improve upon that at the next level? Those are things that interest me.
Adams: I'm glad you mentioned shot selection. Because while he certainly didn't shy away from the pressures of playing alongside Williamson in college, there were times when Barrett looked to press. Or times when instead of forcing a tough shot with multiple defenders collapsing, he could have - and should have - dumped it off for an easier look.
There are times he looks fluid as a passer. And there are times it looks like he doesn't see it. Maybe both things can be true, which is OK! He is a teenager after all!
It's one of the reasons I'm honestly not too jazzed about the partnership with Dennis Smith Jr. because I think Barrett would benefit greatly from growing alongside a steady pass-first veteran point guard.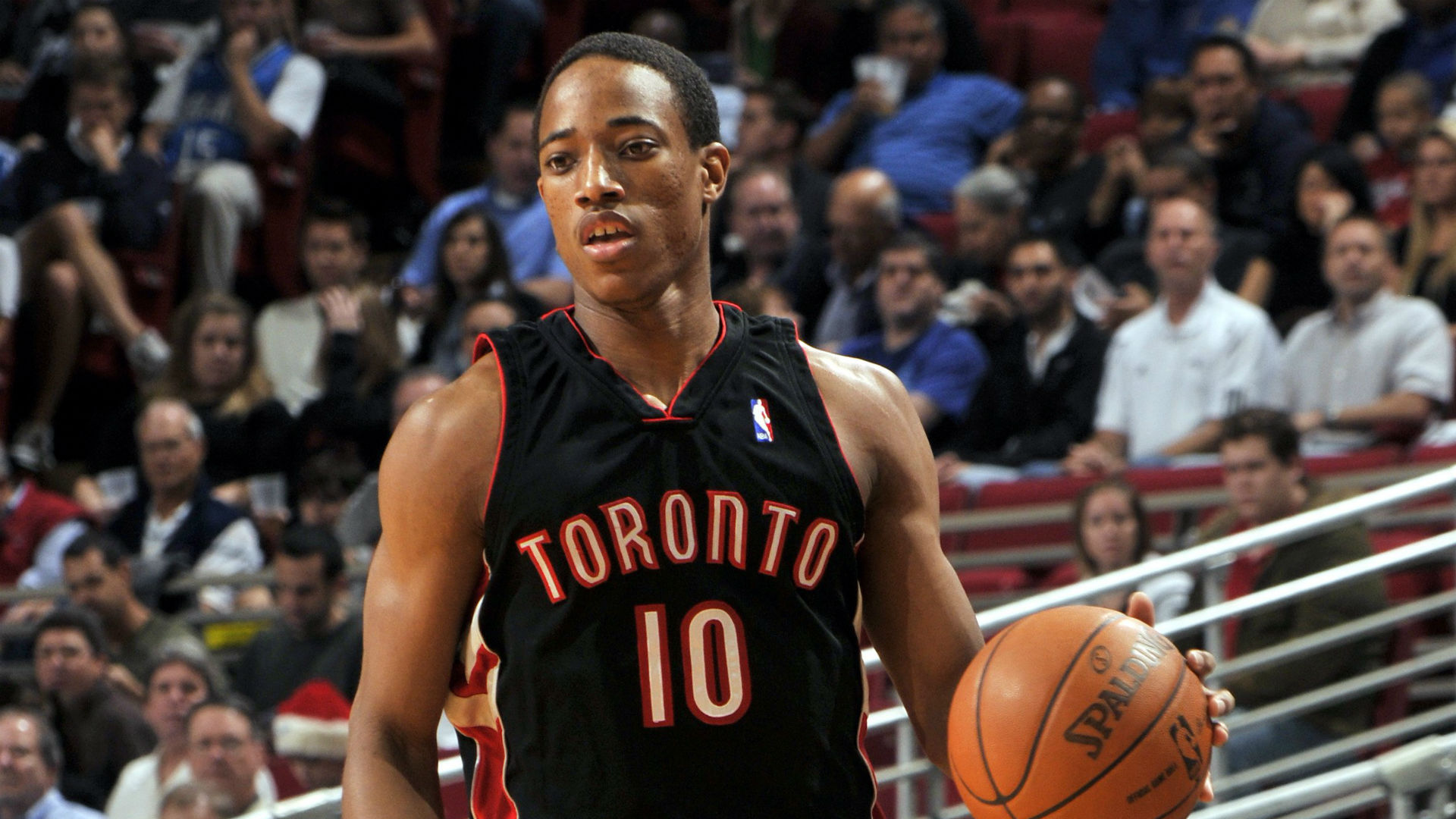 Irving: I agree with that too. Going back to the DeRozan comparison here - over the course of DeMar's career we've seen him grow as a playmaker. It took him five seasons to average 4.0 assists per game. He didn't average over 5.0 assists per game until his final season in Toronto and he's coming off of a season where he posted a career-best 6.2 assists per game in Year 10!
Head coach David Fizdale stated that the Knicks plan to experiment with Barrett at the point this season, and I think that's great. He already showcased some bright spots as a passer in college like you just talked about. Why not put the ball in his hands as much as possible and let him develop that part of his game from the get-go?
Adams: Am I allowed to disagree?
Irving: Even though that hasn't been the trend in this conversation so far, you are definitely allowed to disagree.
Adams: So here's the thing: playing in the NBA is REALLY hard. As an egregiously unathletic hack, it's nothing I would know from personal experience. However, the pressures of being a 19-year-old in the NBA, let alone doing so in New York of all places, can't be overstated.
It's why I hope they just let Barrett do what he does best: get buckets.
I understand the need for him to develop as a passer. And how in today's game, every No. 1 option ultimately needs to thrive with the ball regardless of actual positions. But as it did with DeRozan, I feel like all of that will come in time.
I'm in the camp of "let's pump the brakes and let the kid do what got him drafted in the first place."
Irving: And I'll take the side of "throw him into the fire and see if he can handle it," because I believe he's mentally ready for it and would come out the other end better because of it.
But anyway, DeMar DeRozan wasn't DeMar DeRozan right away - he only averaged 8.6 points, 2.9 rebounds and 0.7 assists per game as a rookie. I'd assume we're both taking the over on all of that for Barrett, correct?
Adams: If that's what Barrett's rookie season looks like, I'm sure Knicks fans will be entirely reasonable about it and not lament anything.
By Year 2, DeRozan was averaging over 17 points per game. He didn't cross that 20-point barrier until Year 5 when he made his first All-Star team. While that growth within the first two years is certainly reasonable, do you think he'll have the benefit of that level of long-term patience?
Irving: Playing in New York for the Knicks and playing in Toronto for the Raptors are two entirely different cases. So no, he will most certainly not receive that level of long-term patience. In the NBA in general, we're so quick to write off these 19-year-olds when they don't produce from the jump (see: Markelle Fultz - still just 21-years-old).
Add to it that he's playing in the biggest media market in the league, Knicks fans are going to expect him to perform at No. 2 pick quality right away.
Adams: Generally speaking, if the Knicks ultimately landed the second coming of DeMar DeRozan, I think that's a win.
Look, obviously the Knicks want a star and want one BADLY. Most assume that means a take-it-to-the bank, MVP-type of star. And who knows, maybe Barrett gets there some day. But from where we're sitting right now, Barrett looking in the mirror and seeing DeRozan counts as a win for the Knicks in my book.
The views expressed here do not represent those of the NBA or its clubs.