After opening the season 3-0 with wins over Cleveland, Boston and Washington, Toronto continued its winning ways with a wire-to-wire victory over Kemba Walker and the Charlotte Hornets Monday night.
Kawhi Leonard led the Raptors' scoring efforts with an efficient 22 points on 9-for-14 shooting and was one of five Raptors to finish in double figures. Kyle Lowry finished with a 16-point, 14-assist double-double, Jonas Valanciunas registered a 17-point, 10-rebound double-double off the bench, Danny Green scored 16 points (on 4-for-6 3-point shooting) while Serge Ibaka scored 15 points and added eight rebounds.
Toronto finished the game shooting a red-hot 57.5 percent from the field and connected on 15 of 39 3-point attempts to shoot 38.5 percent from deep. The team assisted on 36 of its 50 made field goals. The Raptors thrived in transition, scoring 31 fast-break points to the Hornets' five.
Charlotte was led by 26 points from Eastern Conference Player of the Week Kemba Walker, who tied an NBA record by sinking his 21st 3-pointer through four games. The Hornets, who came into Monday's game averaging a league-best 16.3 made 3-pointers per game, struggled to find a rhythm from deep; Charlotte finished the night shooting 9-for-28 from 3-point range.
If you missed any of the action, check below for highlights and updates from the first of three meetings between Eastern Conference foes.
Hornets vs. Raptors: Live score, highlights, updates
Final: Raptors 127, Hornets 106
9:44 p.m. - Final stats: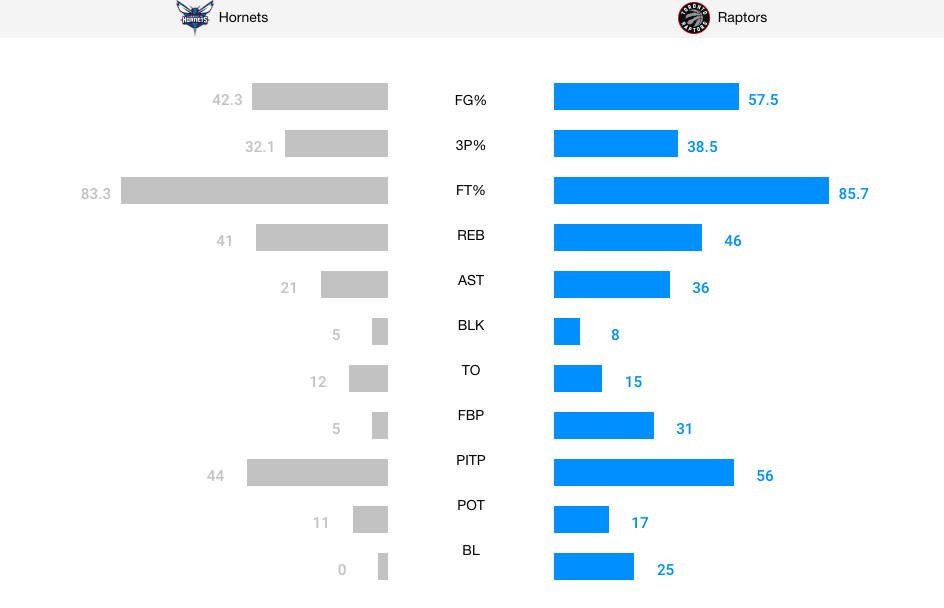 9:36 p.m. - The Raptors reserves are in to close the game but are continuing to move the ball as the first unit did. Toronto finishes with 36 assists on 46 field goals.
9:30 p.m. - Fred VanVleet gets the rookie Miles Bridges in isolation and uses the mismatch to his advantage; a driving layup from the Raptors guard gives the team a 23-point lead with under five minutes remaining.
Welcome to the Association PT 2 pic.twitter.com/Re7qiiYtm7

- Toronto Raptors (@Raptors) October 23, 2018
9:28 p.m. - Midway through the final frame, the Raptors lead the Hornets 113-92.
9:16 p.m. - Less than 90 seconds into the quarter, Hornets head coach James Borrego calls for time with the Hornets down 101-79.
End of third quarter: Raptors 97, Hornets 79
9:12 p.m. - Behind 22 points from Kawhi Leonard, 16 points from Danny Green and a 13-point, 13-assist double-double from Kyle Lowry, Toronto heads into the final frame with an 18-point lead over Charlotte.
Don't let up. #RTZ

Kawhi - 22p, 4r
Danny - 16p, 6r, 2b pic.twitter.com/k6axulWwrY

- Toronto Raptors (@Raptors) October 23, 2018
The Raptors are outscoring the Hornets in transition 25-5, thanks in part to big defensive plays like this chasedown block from Danny Green.
Rack it up Danny G! pic.twitter.com/vvvGWVczD9

- Toronto Raptors (@Raptors) October 23, 2018
9:04 p.m. - Like clockwork, the Raptors respond with yet another run. A 14-5 puts Toronto up by 20 points with less than two minutes remaining in the quarter.
9:00 p.m. - Since going down by 20 points, Charlotte has outscored Toronto 17-8 and now trails by 11 points midway through the third.
8:52 p.m. - Toronto is picking up right where it left off. Kawhi Leonard isolates, draws in the defense and dishes it out to Danny Green who sinks his fourth 3-pointer of the night.
It's 69-49 and the Raptors now have their biggest lead of the night at 20.
Halftime: Raptors 62, Hornets 47
8:35 p.m. - Halftime stats: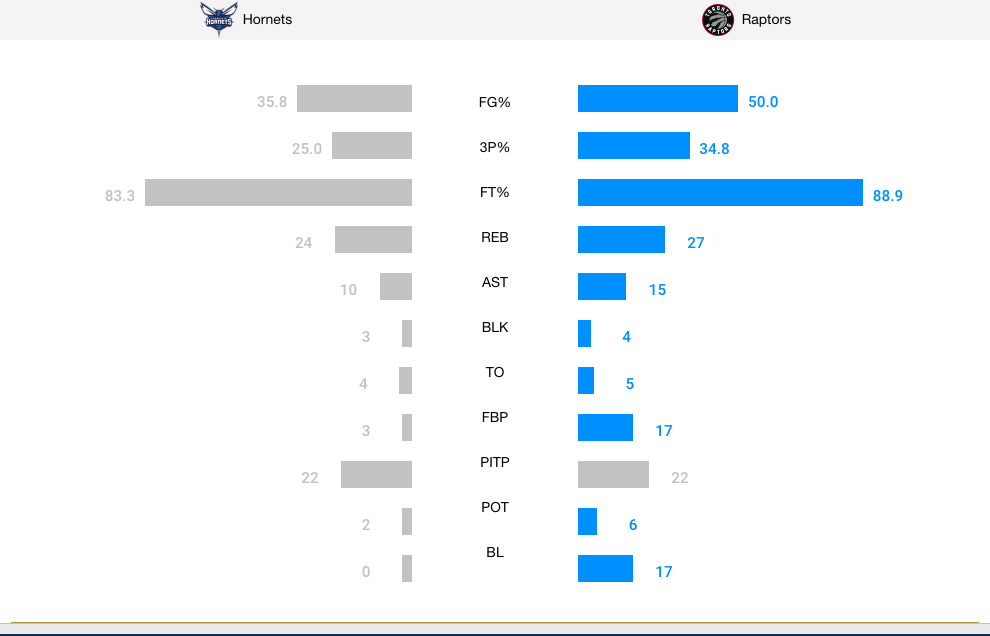 8:32 p.m. - After 24 minutes, Toronto takes a 15-point lead into halftime.
Kawhi Leonard got into an offensive groove late in the first half and has gotten his scoring total up to a game-high 15 points on 6-for-9 shooting from the field and 3-for-5 shooting from deep. Kyle Lowry added 10 points and seven assists while Jonas Valanciunas has nine points and five rebounds off the bench.
Charlotte is led by 13 points and four assists from Kemba Walker but is struggling offensively as a team, shooting 35.8 percent from the field through two quarters.
Kyle Lowry & Kawhi Leonard combine for 25 1st half PTS, as the @Raptors lead the @hornets, 62-47 at the half.#WeTheNorth is seeking their 4th straight win to start the season! pic.twitter.com/0Ijc0p7tmZ

- NBA (@NBA) October 23, 2018
8:25 p.m. - Kawhi Leonard is too smooth. The Raptors forward gets to double-figures on the night with an isolation 3-pointer and follows by setting up a transition 3-pointer for Danny Green.
The Raptors lead 55-42 with three minutes remaining in the half.
8:20 p.m. - It's a game of runs.
Toronto responds with an 8-0 run of its own, capped off by a C.J. Miles 3-pointer. Timeout Hornets. The Raptors now lead 47-36 midway through the second.
8:15 p.m. - Despite Powell's big dunk, the Hornets have maintained the momentum, using a 14-4 run to come within three points of the Raptors. Nick Nurse calls for time just four minutes into the quarter.
MILES. BRIDGES.

😱💀😱💀😱💀 pic.twitter.com/XfEyWYgsLr

- Charlotte Hornets (@hornets) October 23, 2018
8:12 p.m. - HELLO NORMAN POWELL.
The Raptors guard ends the team's scoring drought in emphatic fashion.
Norman Powell elevates for the thunderous slam!! #WeTheNorth pic.twitter.com/LpdFQTqjr2

- NBA (@NBA) October 23, 2018
8:11 p.m. - Toronto gets its lead up to 13 points, but an 8-0 run from Charlotte cuts the deficit to five.
.@AhmadMonk with the transition three and the @hornets are on an 8-0 run!#BuzzCity #CHAatTOR pic.twitter.com/U0w0c56Rs3

- FOX Sports: Hornets (@HornetsOnFSSE) October 23, 2018
End of first quarter: Raptors 31, Hornets 22
8:04 p.m. - One quarter is in the books at Scotiabank Arena and the Raptors hold a nine-point lead over the Hornets.
Kyle Lowry (8) and Kawhi Leonard (7) have combined for 15 of the team's 31 points. Jeremy Lamb's six points are a team-high for Charlotte; Kemba Walker has four points on 2-for-5 shooting.
Toronto has held Charlotte to 37.0 percent shooting in the first frame.
🚨

Know Your Score with @LendingTree | #Hornets30 pic.twitter.com/oW5obIjrlb

- Charlotte Hornets (@hornets) October 23, 2018
7:55 p.m. - Timeout on the floor; Toronto, who is shooting 52.9 percent from the field, leads 22-16 with 3:45 remaining in the first quarter.
Kawhi Leonard has gotten his total up to a game-high seven points and is 3-for-3 from the field. Kyle Lowry has scored six points and dished out five assists as well.
7:42 p.m. - Five quick points from Kawhi Leonard have gotten the Raptors to an early 10-4 lead causing Hornets head coach James Borrego to call a timeout just over two minutes into the game.
Kawhi's first bucket? This transition trey set up by a Serge Ibaka block.
BAKA: 👎🏽
KLAW: 👌🏽 pic.twitter.com/QQfUjjA1MX

- Toronto Raptors (@Raptors) October 22, 2018
7:20 p.m. - The Hornets are sticking with the starting lineup of Kemba Walker, Jeremy Lamb, Nicolas Batum, Marvin Williams and Cody Zeller.
STARTING 🖐 vs Toronto#Hornets30 pic.twitter.com/fTc9KVVNQW

- Charlotte Hornets (@hornets) October 22, 2018
7:00 p.m. - The Raptors will start Kyle Lowry, Danny Green, Kawhi Leonard, Pascal Siakam and Serge Ibaka tonight.
Reserve guard Delon Wright remains out with a left adductor strain.
Tonight's starting 5

PG: Lowry
SG: Green
SF: Leonard
PF: Siakam
C: Ibaka #WeTheNorth⁠ pic.twitter.com/0mVuU0Ngwe

- Toronto Raptors (@Raptors) October 22, 2018