Welcome to "One Play!" Throughout the 2021-22 NBA season, our NBA.com Staff will break down certain possessions from certain games and peel back the curtains to reveal its bigger meaning.
Today, Toronto Raptors forward OG Anunoby takes the spotlight.
Context: It's only preseason, but it's hard not to get excited about what we've seen from Anunoby through two games.
In Toronto's preseason opener, Anunoby led the Raptors to victory over the Philadelphia 76ers with a game-high 21 points. The Raptors fell to the 76ers in a rematch on Thursday, but Anunoby continued his strong play with a game-high 22 points on 8-for-14 shooting from the field and 4-for-7 from 3-point range.
The fact that Anunoby scored 20 or more points in back-to-back games is impressive in itself - he hasn't put together many 20-point streaks to this point of his career - but it's how he did it that jumped out.
You know what that means - to the film room!
The play:
Breakdown: Some miscommunication leads to 76ers star Joel Embiid getting a wide open look at a 3-pointer from the top of the perimeter. Fortunately for the Raptors, Embiid is unable to knock it down, and his missed shot sails out of bounds.
Fred VanVleet wastes no time inbounding the ball to Anunoby, who quickly makes his way past the halfcourt line.
Tobias Harris picks up Anunoby, leaving Danny Green on Gary Trent Jr., Seth Curry on VanVleet, Shake Milton on Goran Dragic and Embiid on Precious Achiuwa.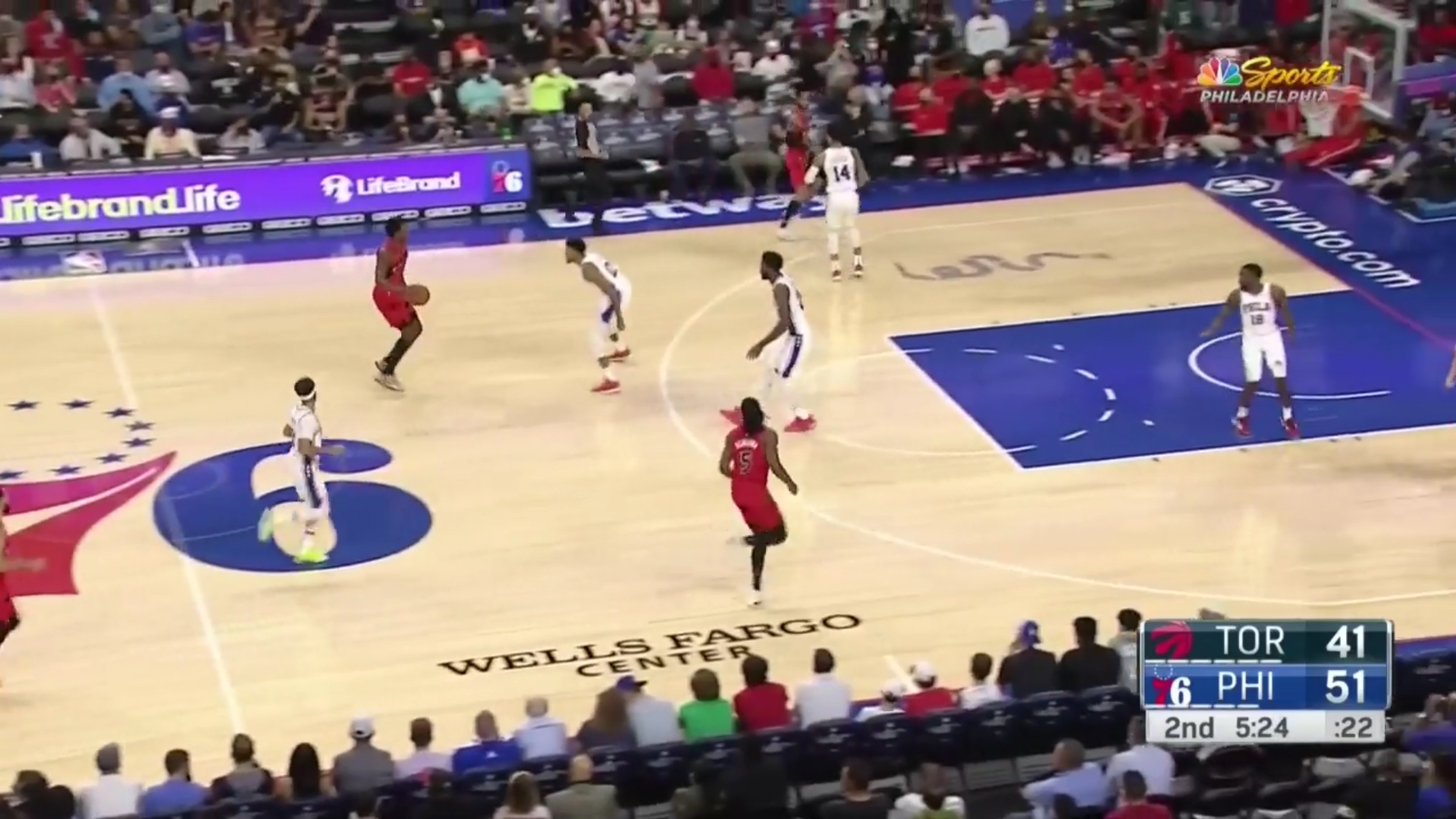 There's 5:24 remaining on the game clock and 22 seconds remaining on the shot clock as Anunoby approaches the 3-point line, but he immediately goes into attack mode.
Spotting an opening to his left, Anunoby crosses the ball over and tries to blow by Harris off the dribble.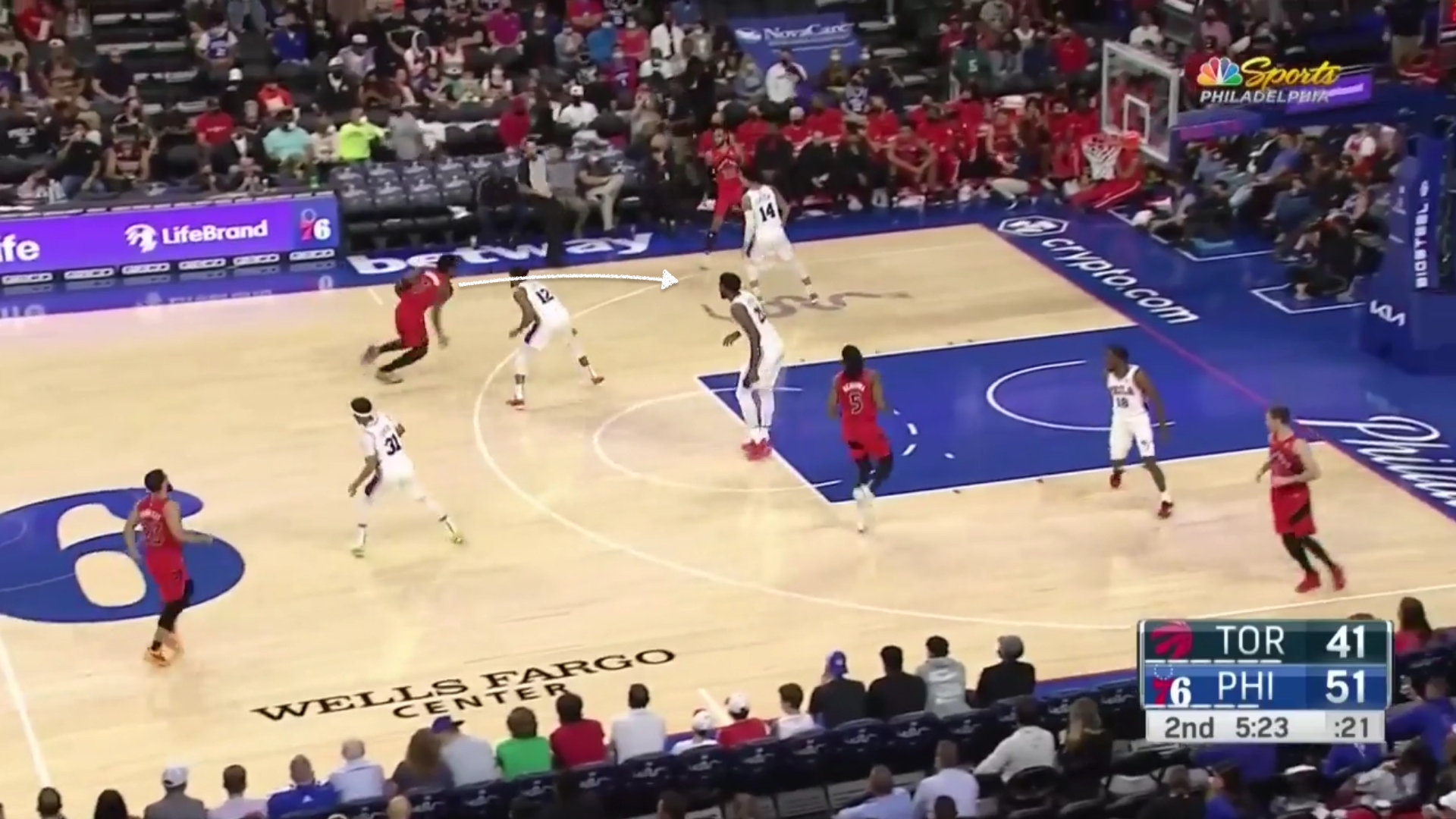 Harris keeps up with Anunoby, however, sliding his feet to prevent him from getting all the way to the basket.
With Plan A no longer being an option, Anunoby goes to Plan B.
With Harris backpedalling, Anunoby creates a slither of separation by picking up his dribble...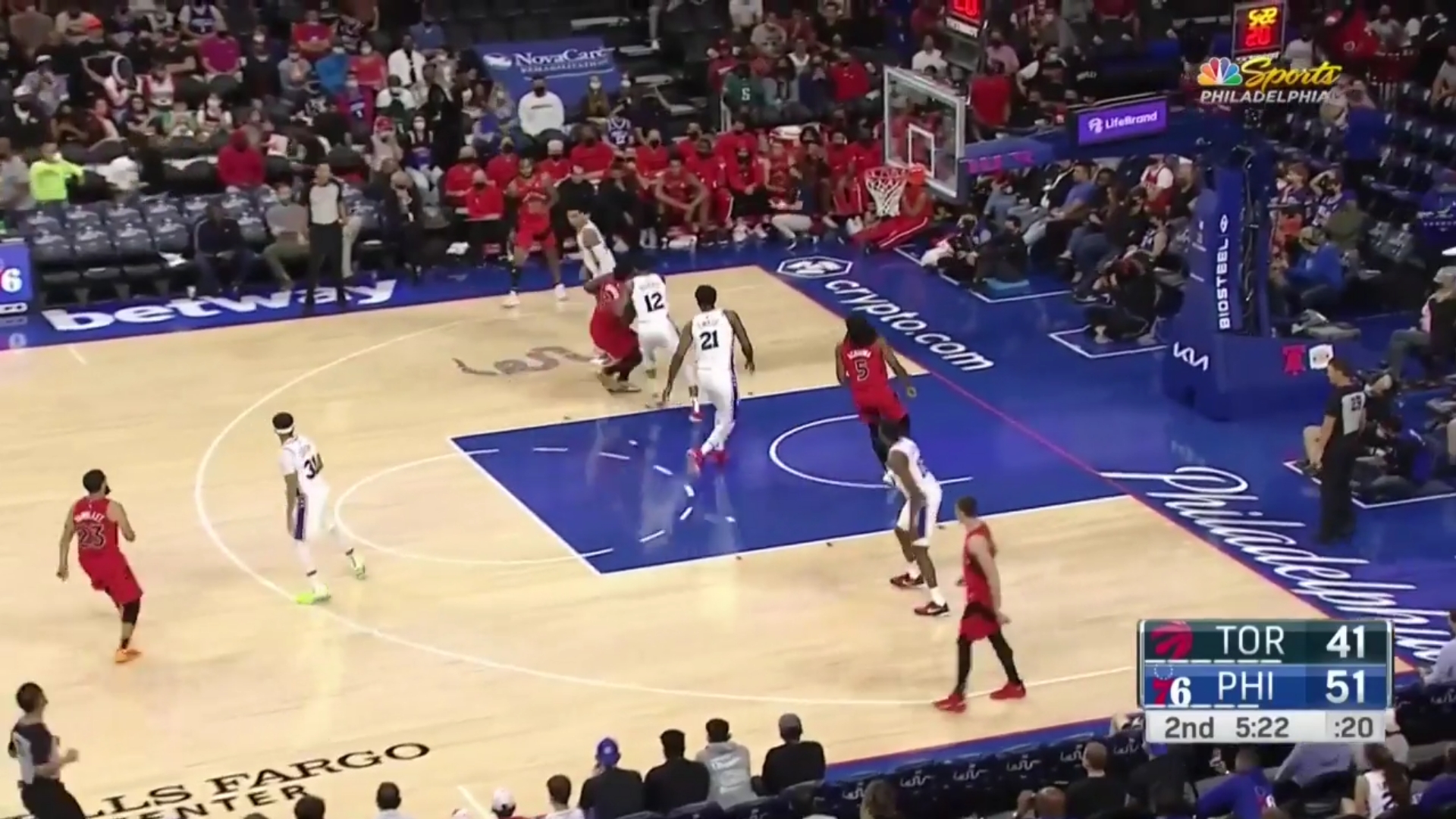 ...planting his right foot...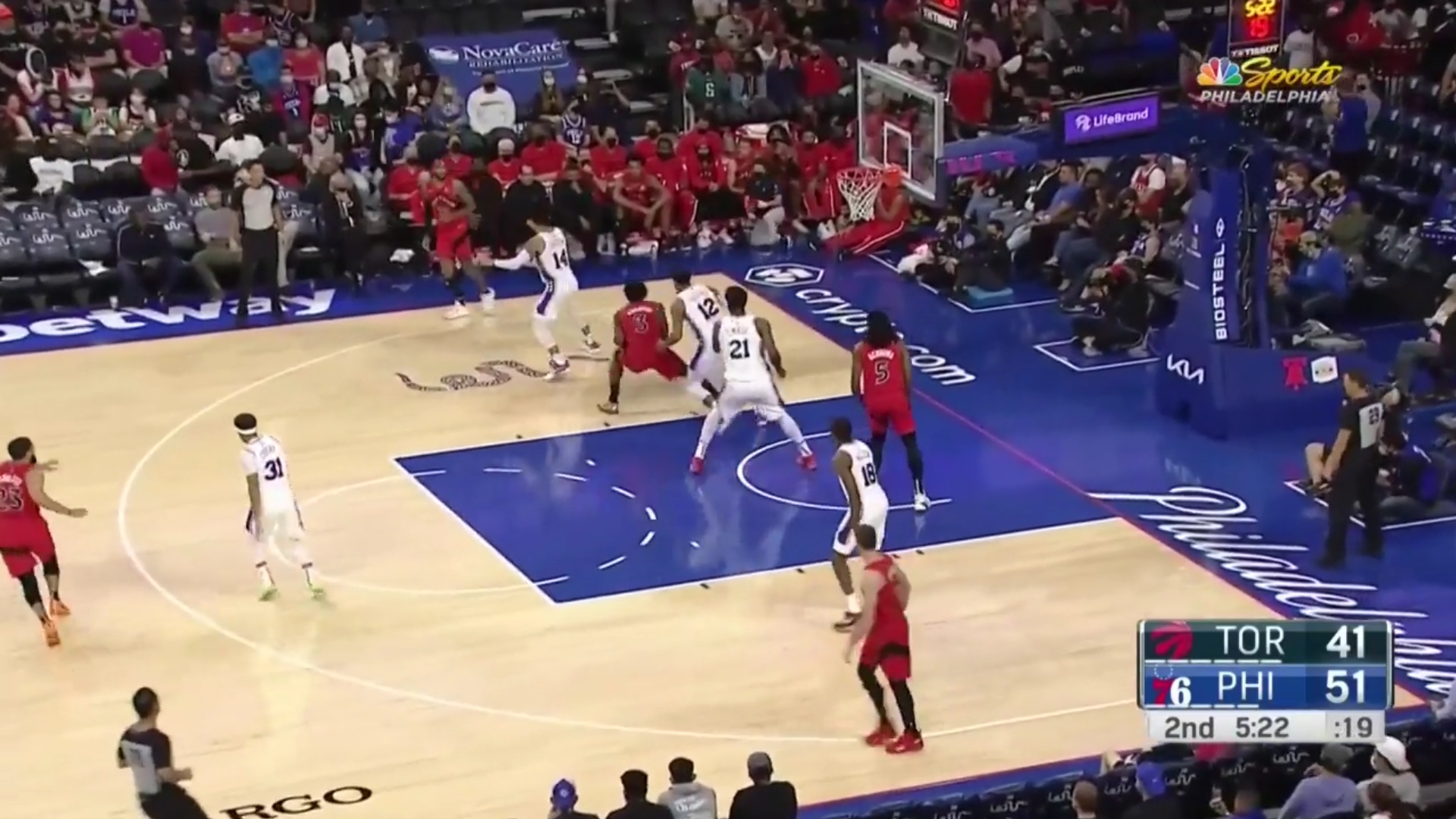 ...and pirouetting in the opposite direction.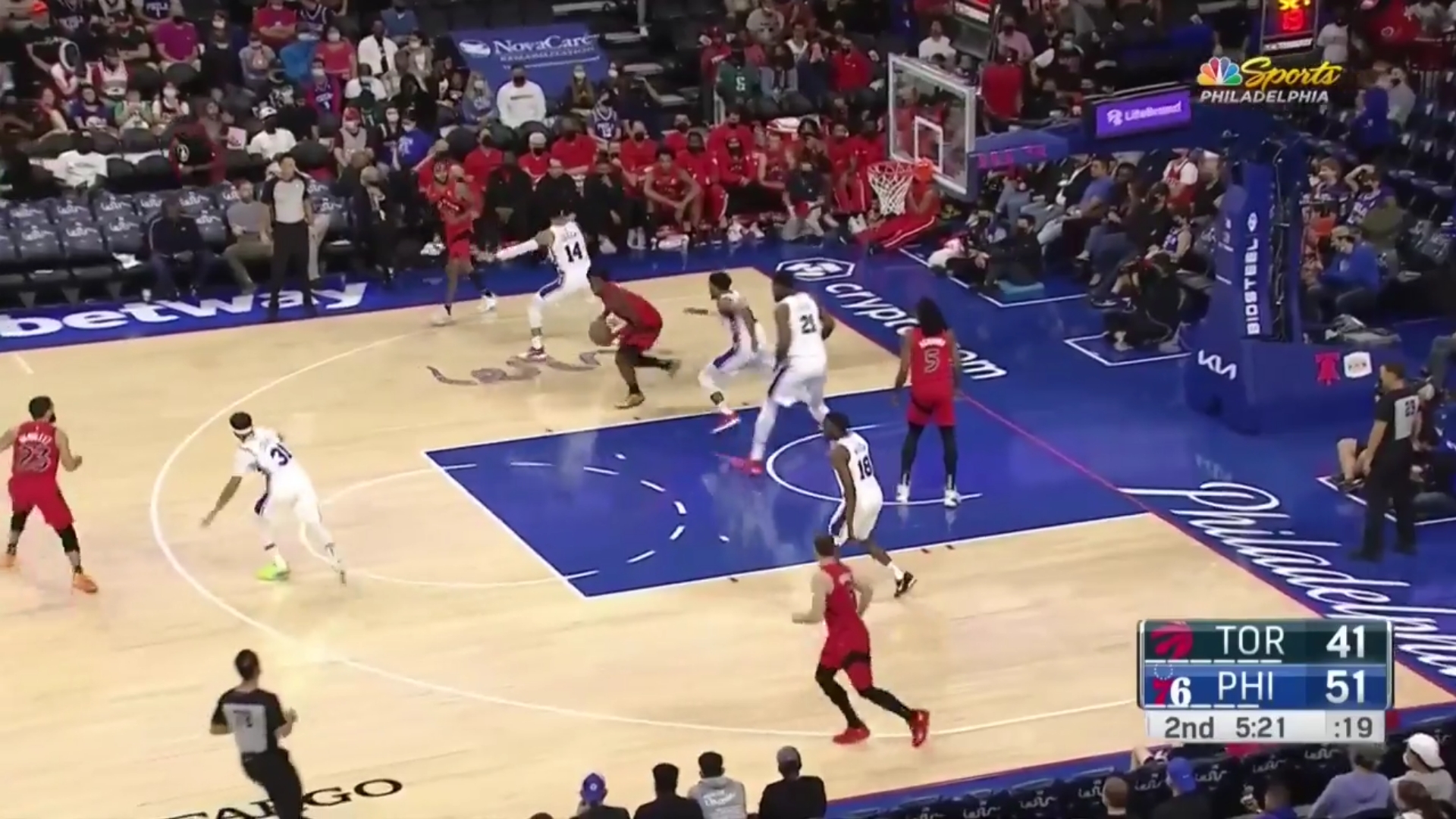 While there's still plenty of time remaining on the shot clock to reset - VanVleet repositions to make himself available for a kickout if needed - Anunoby confidently rises for a turnaround jumper over Harris.
Harris is able to get a hand in Anunoby's face, but Anunoby uses every inch of his 7-foot-2 wingspan to get his shot off.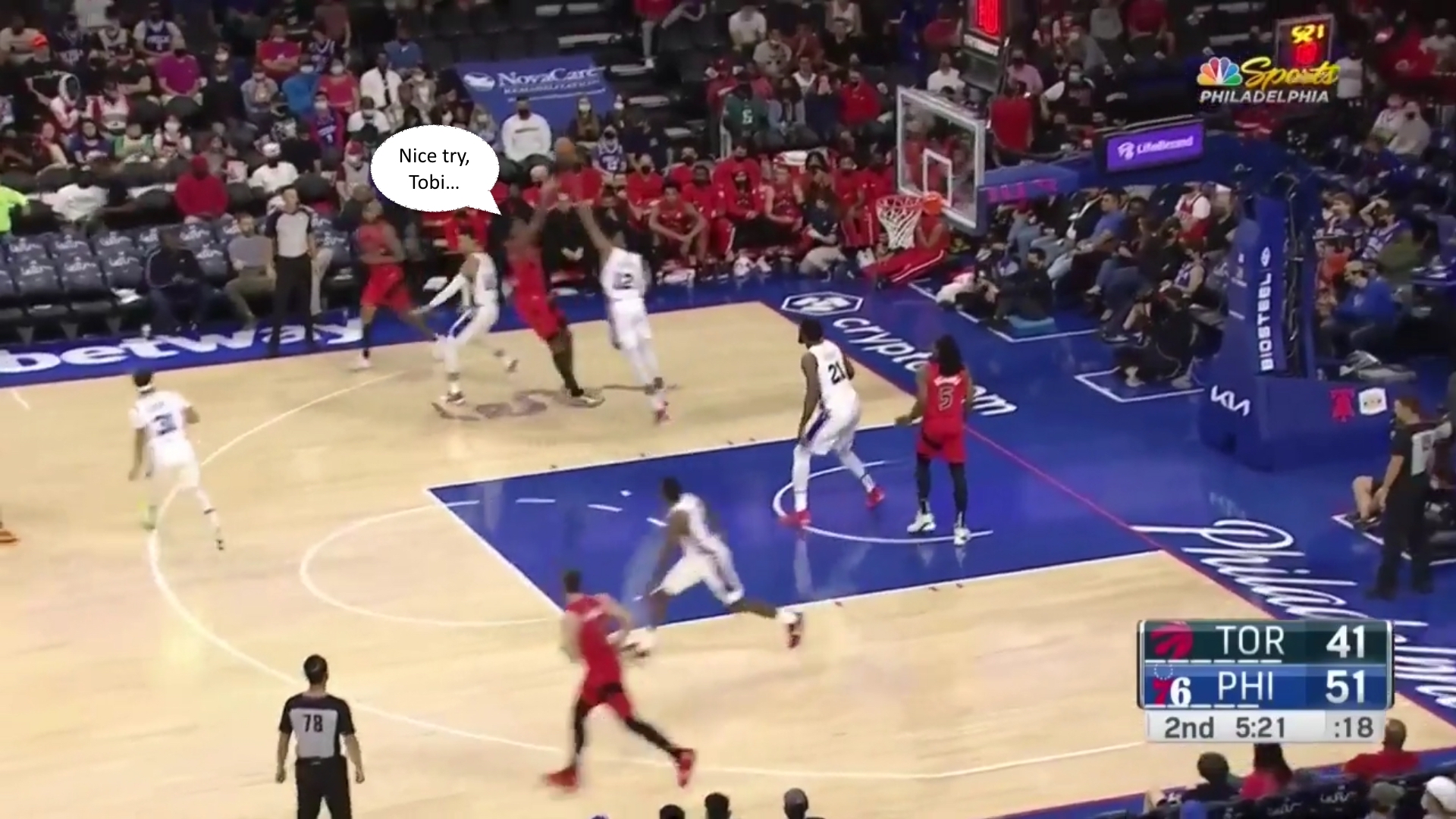 Why it matters: Anunoby has proven himself to be a pretty reliable catch-and-shoot threat from the 3-point line to this point of his career. The next development for him is to grow more confident creating shots for himself off the dribble.
As I detailed a couple of weeks ago, Anunoby attempted a total of 68 pull-up jumpers last season. 30 of those came from 3-point range (of which he made six) while 38 came from 2-point range (of which he made 13).
In total, those pull-ups made up a measly 13.1 percent of Anunoby's field goal attempts on the season. That was an increase from each of his first three seasons in the league, but it was still rare to see him create a jump shot for himself off the bounce. Especially in the first half of the season, his shot diet was essentially catch-and-shoot 3s and drives to the basket.
That's why it's encouraging to see Anunoby confidently stick a turnaround jumper over Harris. He's already an incredibly valuable player on the strength of his 3-point shooting and defensive prowess alone. (There's a reason why 3-and-D wings are in such high demand in today's NBA). The more he improves as an off-the-dribble shooter, the more his ceiling grows as a scoring option.
There was more where that came from as well. Earlier in the second quarter of the same game, Anunoby drained a pull-up 3 over Harris from the top of the perimeter.
He then punished Harris for being overly aggressive on a closeout in the third quarter with a one-dribble pull-up.
It's worth noting that this...
...looks a heck of a lot smoother than this pull-up attempt from early last season:
"When he gets that 3-ball up, man, you almost expect them all to go in," Raptors head coach Nick Nurse said of Anunoby after the game. "He's really shooting it with a confidence and stroke that really looks good."
Through two preseason games, Anunoby has now made four jump shots off the dribble. For perspective, he enters this season having made 47 pull-up jumpers in the first four seasons of his career (253 regular season games) combined.
Again, it's only preseason, but the seeds for Anunoby's (next) breakout are being planted.
The views on this page do not necessarily reflect the views of the NBA or its clubs.