With the NBA and NBPA agreeing to a Dec. 22 start to the 2020-21 NBA season, there's a heightened sense of urgency among all 30 teams, who must quickly prepare for a fast-approaching season.
Few teams have as many questions to answer as the Toronto Raptors, who last played on Sept. 11, and will quickly need to come with answers ahead of the upcoming season. From the draft to free agency and beyond, here's a quick primer of the biggest storylines facing the Raptors ahead of the 2020-21 season.
What happens with the draft?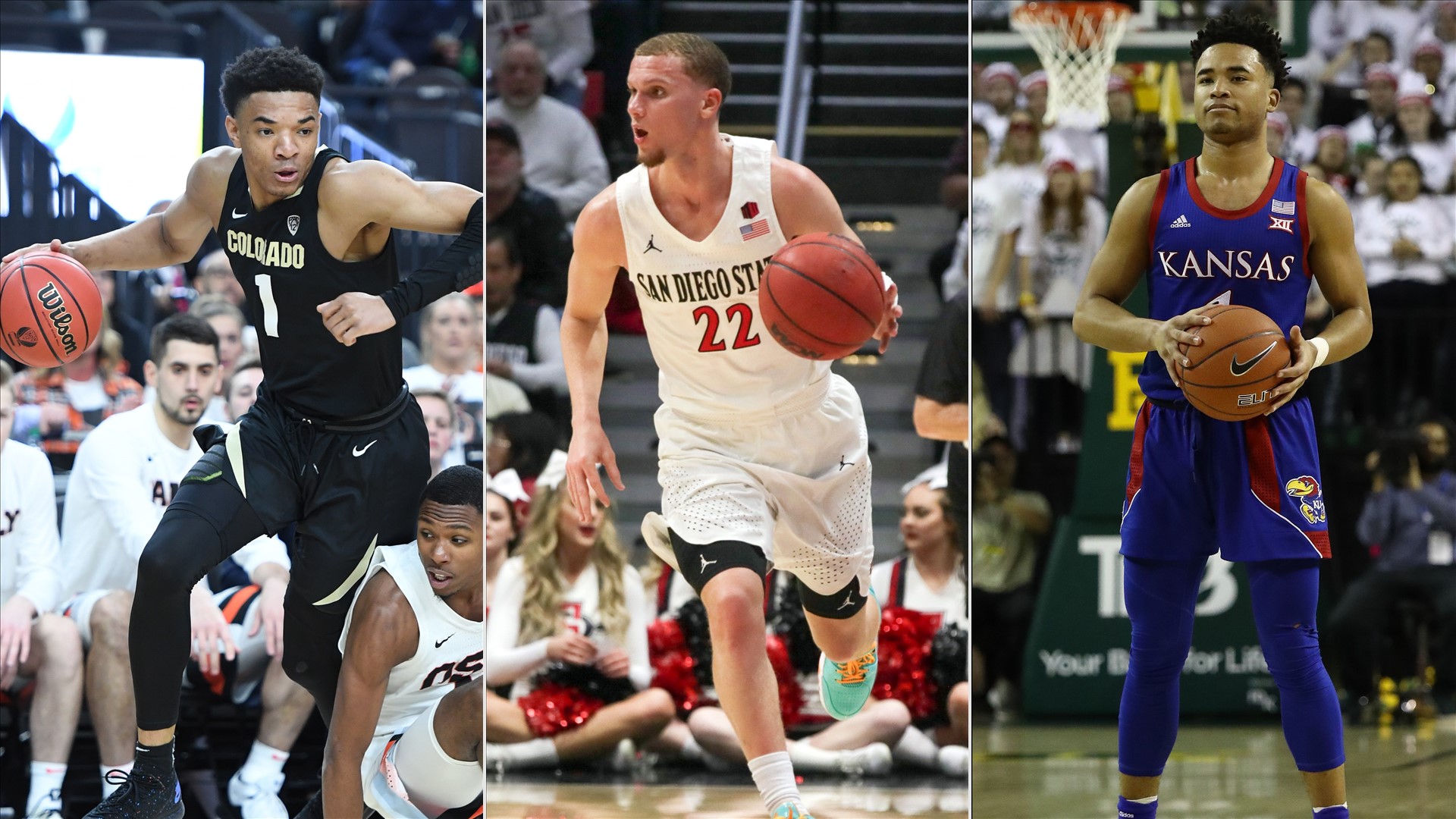 While the Nov. 18 date makes this draft later than ever before, it is still the first order of business to officially get the new season underway.
Toronto owns both of its picks this year, where it will select 29th and 59th, the result of earning the league's second-best record for a third consecutive year. Where this draft class may lack in surefire superstar power, it is complete with a number of players capable of developing into very solid role players.
With their two picks, the Raptors have a number of options.
Due to the coronavirus pandemic, teams are limited to 10 in-person workouts with draft prospects. Multiple reports have confirmed that the team has used at least three of those workouts, meeting with guards Malachi Flynn (San Diego State) and Devon Dotson (Kansas) as well as forward Tyler Bey (Colorado).
MOCK DRAFT 3.0: Who will the Raps take at 29?
Both Flynn and Bey are projected as mid-to-late first-round picks, though Bey's stock is rising after an impressive showing at the draft combine. Flynn, a solid two-way point guard, could be an option to round out the team's backcourt rotation regardless of whether or not Fred VanVleet elects to remain in Toronto.
Dotson is projected as a late pick, meaning he could be an option at No. 59 or could very well be the next undrafted diamond that the Raptors make the most out of.
With the draft coming before free agency, the team cannot base its selections based on who leaves but it could take into account the potential uncertainty in the backcourt and the frontcourt, meaning a number of bigs will be in play.
As the draft nears, keep an eye out for more reports of prospects linked to the Raptors.
A busy free agency period awaits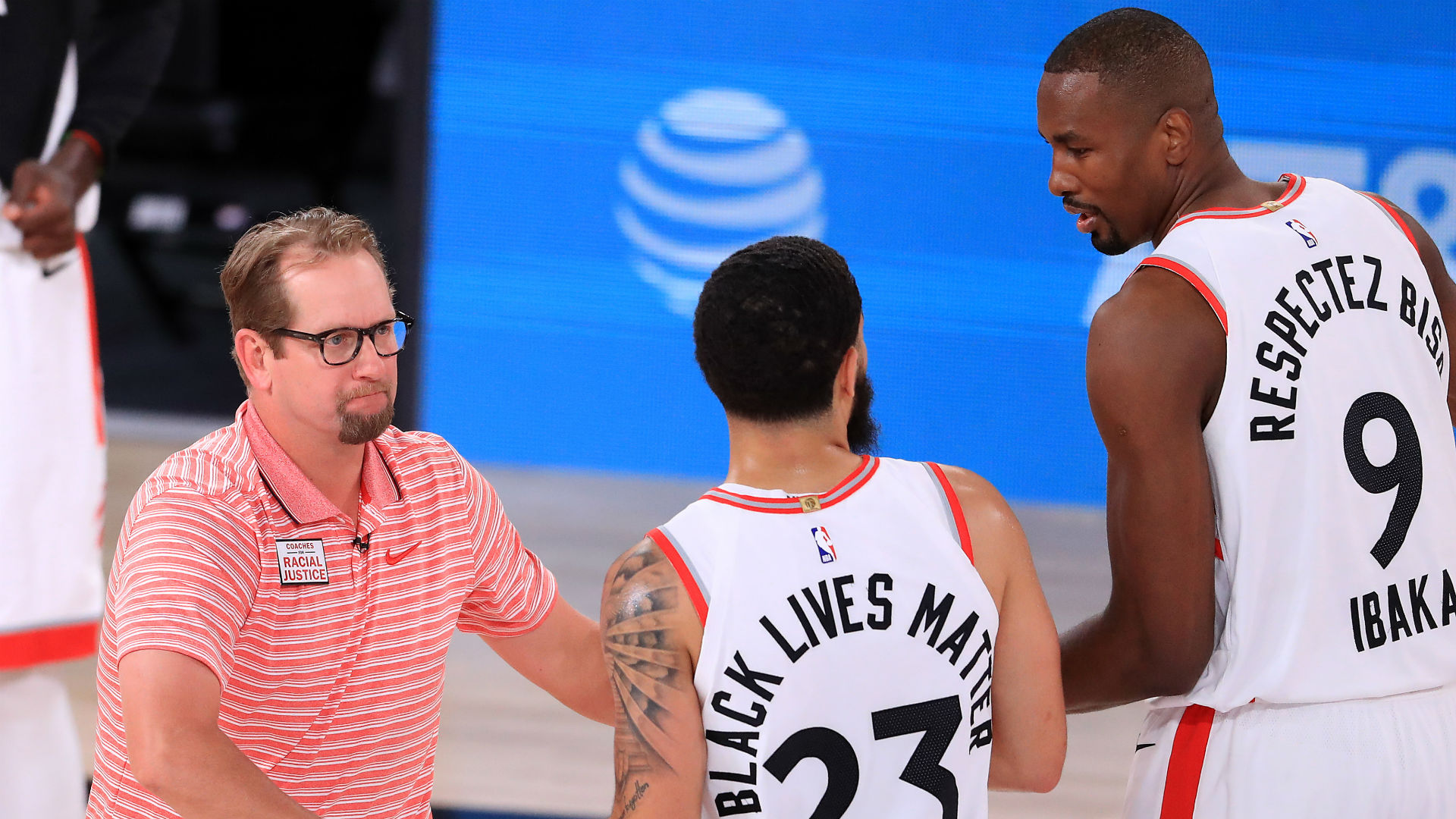 Per the agreement, free-agent negotiations will begin less than 48 hours after the draft at 6 p.m. ET on Friday, Nov. 20, meaning Toronto will have to have a game plan for an approach leading into the free agency period.
The first priority is the team's impending free agents, a list that includes unrestricted free agents in the aforementioned VanVleet, Serge Ibaka, Marc Gasol, Rondae Hollis-Jefferson, a restricted free agent in Chris Boucher, and Stanley Johnson, who has a player option that he will likely exercise.
From a priority standpoint, VanVleet and Ibaka are the two free agents with roles most crucial to the team's success followed by Gasol, who still showed great value as a starter despite the regression of his play during the past season and more specifically, the restart.
POTENTIAL FREE AGENT DESTINATIONS: VanVleet | Ibaka | Gasol | RHJ | Boucher
With high-profile free agents comes a high price, which complicates things considering the Raptors will look to retain financial flexibility ahead of the star-studded free agency class of 2021. Toronto will have to navigate the obstacles that come with keeping key players while not making shortsighted decisions.
The free agency period isn't limited to the Raptors impending free agents, either. Similar to the draft class, the 2020 free-agent class might not be star-studded but there are a number of players that can come in and make an immediate impact by starting in their respective roles.
Toronto could look to address one need via the draft and another in free agency, meaning targets could be players that can provide depth, be it in the backcourt or frontcourt. In recent memory, the Raptors have used free agency to sign players that were once top draft picks but sign team-friendly deals after being written off in many ways, similar to Johnson and Hollis-Jefferson last offseason.
As free agency hasn't been formally announced, there have been no sourced reports indicating Raptors interest in free agents but Kris Dunn, Harry Giles and Alex Len each fit the bill of first-rounders that can make big contributions in the right situation.
Contract extensions for the front office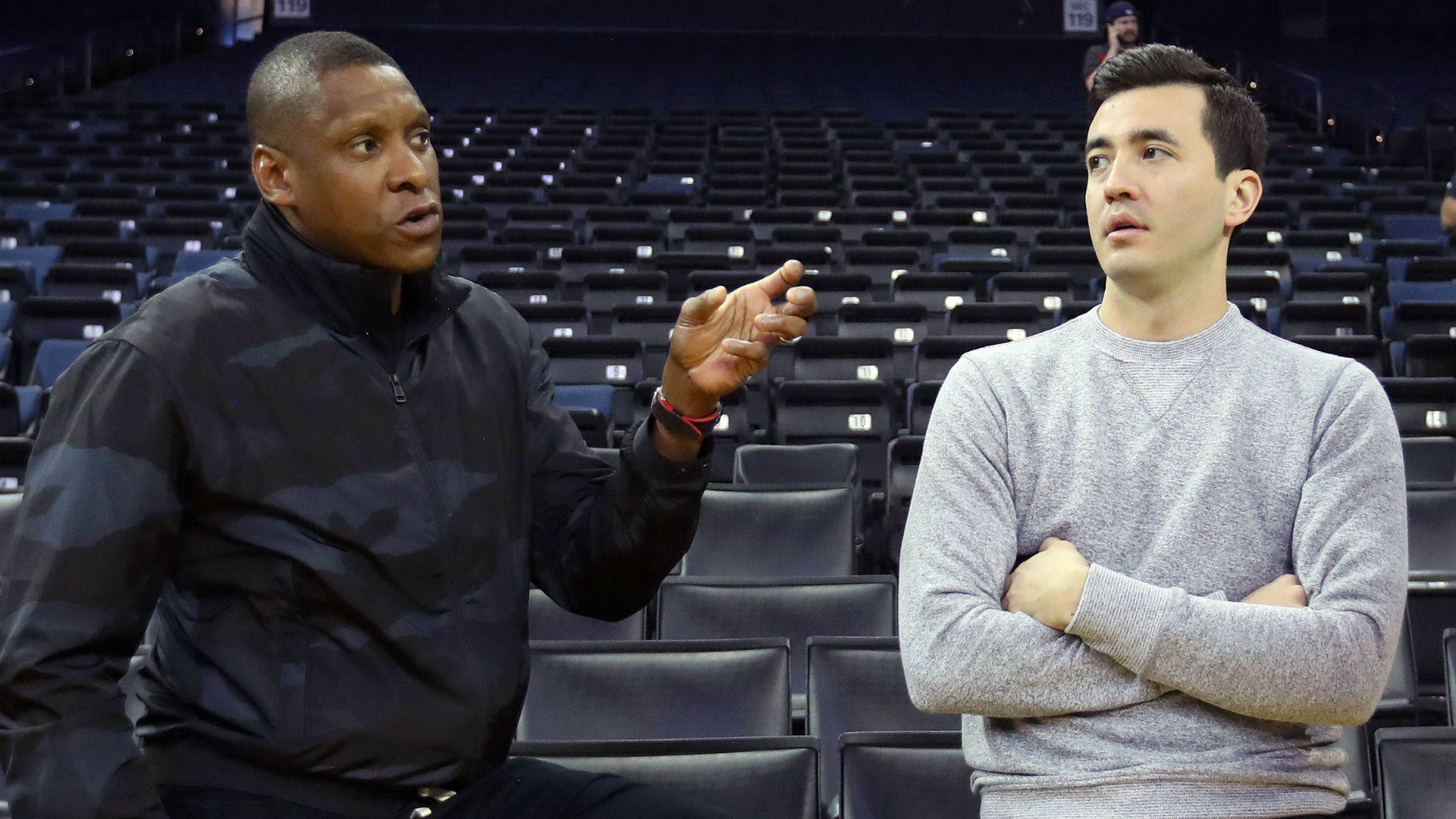 In times of looming uncertainty, Raptors fans can find comfort in the fact that the franchise's decisions are made by the triumvirate of Masai Ujiri, Bobby Webster and Nick Nurse.
Shortly after Toronto's postseason exit, Nurse was secured as a member of the franchise's future as he inked a contract extension that appropriately made him one of the league's highest-paid head coaches. Now, the franchise will look to do the same with Ujiri and Webster, who are both entering the final year of their contract.
Back when Nurse signed his contract extension, Kevin O'Connor said on The Ringer's NBA Show podcast that extensions for both Webster and Ujiri would be soon. Two months later, there has been no indication that either executive has come closer to agreeing to deals to keep them with the franchise longer, although there is no indication that they would be looking to move elsewhere, either.
The fact of the matter is that these two are some of the best at their jobs and while there would surely be widespread interest in either around the league, the fact that neither of them has yet to agree to an extension could very well be of direct correlation to the team's need to quickly figure out its approach for the draft, free agency, and the upcoming season.
Ultimately, when those concerns are addressed, there will still be plenty of time for an extension to be signed. And an extension for either could come at any point in the process.
Where will the team play?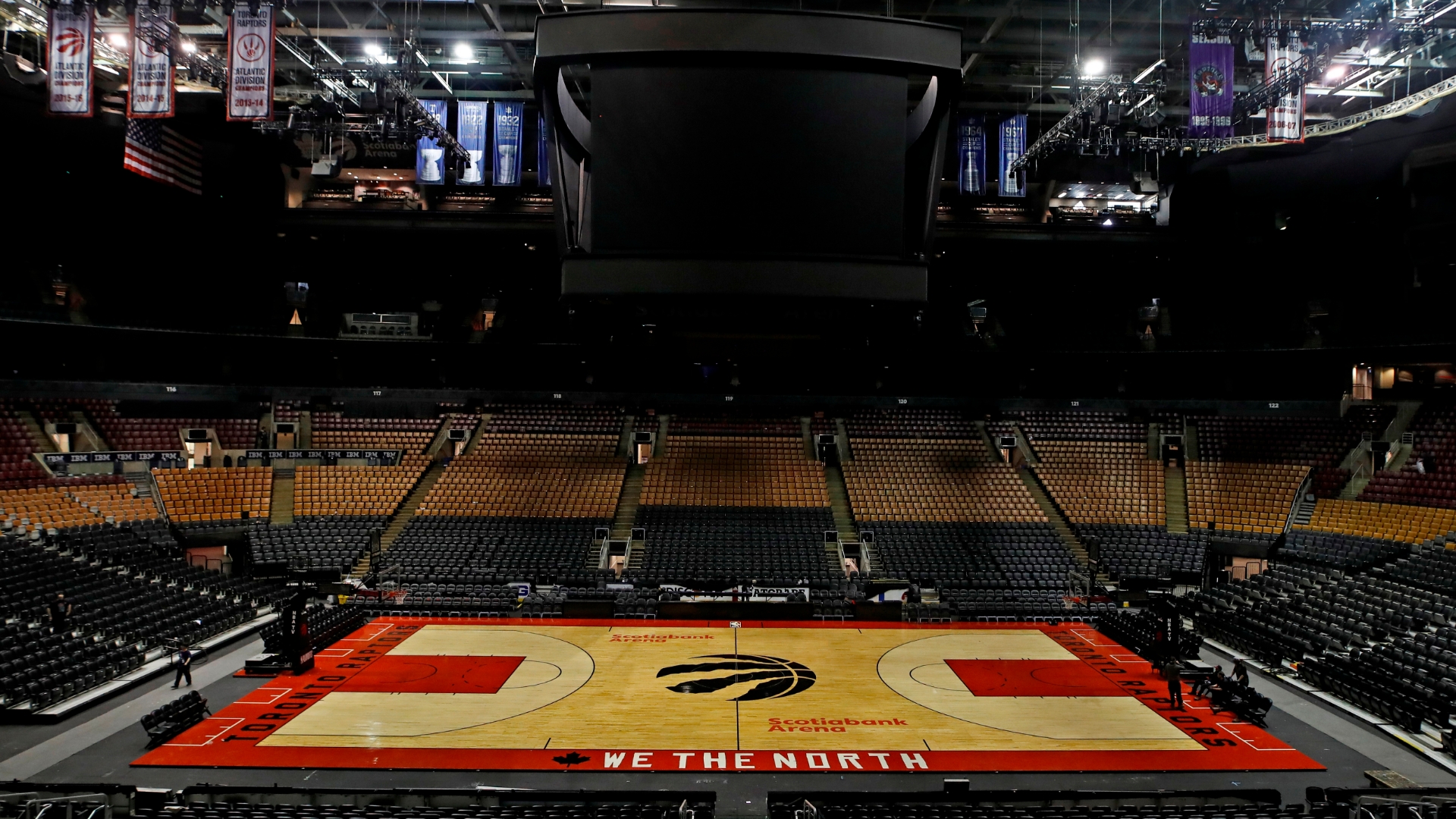 While the NBA season is returning, there are still a number of health and safety protocols and mandates that must be adhered to due to the ongoing COVID-19 pandemic. Among them, are the strict guidelines regarding international travel in Canada that could impact Toronto's ability to play its home games at Scotiabank Arena.
Over the summer, these same guidelines meant the MLB's Toronto Blue Jays would play their home games in Buffalo, NY and there have already been a number of reports linking the Raptors to a few different American cities.
Among the places the Raptors could call home for part - or all - of the upcoming season are Tampa, FL, Newark, NJ, Kansas City, MO and Nashville, TN, where Raptors brass was reportedly seen assessing the facilities in the past week.
Not being able to play in Toronto would be a disadvantage as the team wouldn't have access to its top-tier facilities nor would it have a chance to play at Scotiabank Arena, with or without fans in attendance. Given that the Raptors would be looking to make the most of an undesirable situation, this developing situation will be one to continue to monitor.
Getting back to the action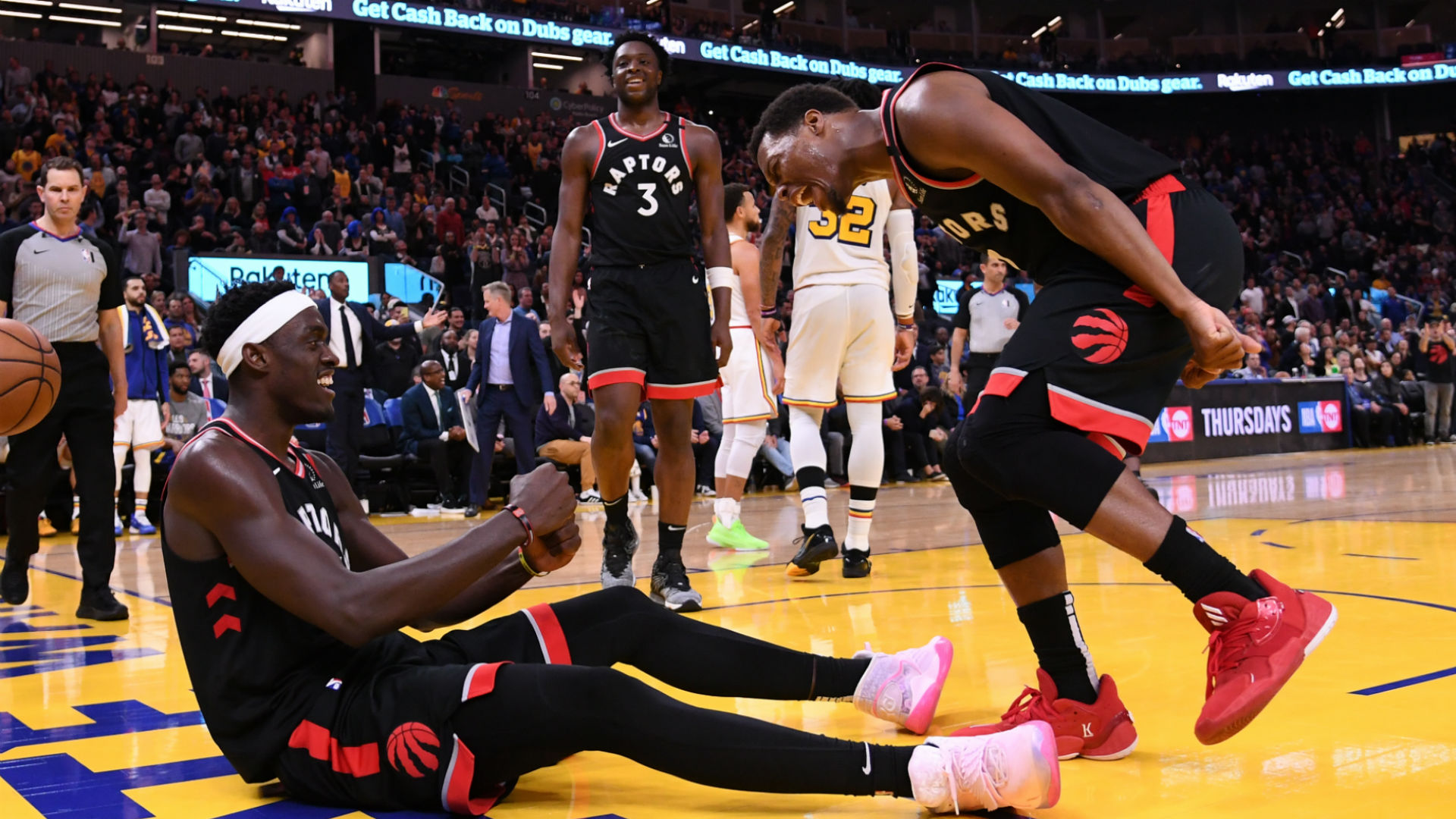 While many questions loom surrounding the upcoming season, there are, of course, a few certainties.
Regardless of free agency decisions, we know that barring injury, Toronto's opening night lineup will be centred around All-Stars Kyle Lowry and Pascal Siakam as well as OG Anunoby, who is primed for yet another leap into the next tier of contributing. That core alone makes this a playoff team but what is left to be determined is just how high of a ceiling the team will have.
Lowry's a year older, adding another dynamic to the quick turnaround that would come with a late December start. While 33-year-old Lowry got off to a hot start to begin the 2019-20 season, the 34-year-old Lowry faces an unheard-of turnaround after playing heavy minutes in the 2020 postseason.
2020 POSTSEASON REPORT CARDS: Lowry | Siakam | Anunoby | Powell
After the Raptors won the 2019 title, over four months - or 131 days - elapsed between the title clincher and ring night. This year, Toronto could get back to action just over 100 days after seeing its season end in Game 7 of the Eastern Conference Semifinals.
As for Siakam, all eyes will be on how he bounces back from postseason letdown, something he vowed to improve from. Up to this point in his career, Siakam has added a new wrinkle to his game each season, which is an encouraging prospect considering how good he was last season and how much room for improvement there still is.
It's not limited to the above three, either. Norman Powell could find himself in a starting role depending on the developments of the offseason, while the development of players such as Oshae Brissett, Dewan Hernandez, Stanley Johnson, Patrick McCaw, Matt Thomas and Paul Watson take on increased importance due to the uncertainties surrounding how the remainder of the roster fills out.
MORE: Paul Watson is up next
In spots, these players have shown they can contribute and we know the reputation of the Raptors development staff. In the event that just two of the above players make a noticeable leap in the upcoming season, Toronto would have fewer depth concerns and there are very realistic timelines in which each of the above players make big leaps.
The storylines and questions make for a uniquely exciting season that's fast approaching.
The views on this page do not necessarily reflect the views of the NBA or its clubs.