The Toronto Raptors are an experienced and deep team with legitimately seven starting calibre players... at least!
In addition to the starting lineup of Kyle Lowry, Fred VanVleet, OG Anunoby, Pascal Siakam and Marc Gasol, both Norman Powell and Serge Ibaka could likely start on at least half of the other teams in the league and nobody would bat an eye.
If you had to compare each of the Raptors starters to their positional peers, how would they stack up? Think of it in terms of a draft... if you're picking small forwards, how many would you take before getting to OG Anunoby?
For the purposes of this exercise, I looked at every player who has played this season which is why guys like Stephen Curry and Kyrie Irving show up.
I decided not to include anyone who hasn't suited up so if you're wondering why Fred VanVleet ranks ahead of Klay Thompson, well... check back in next season. Likewise, Kevin Durant, John Wall and Jusuf Nurkic are among the players not considered for these positional rankings.
MORE: Where do Raptors rank among title contenders?
I'm also taking a bigger picture approach. This is assuming good health and looking at only the here and the now. Would I rather have Ja Morant for the long haul? Yes. But if trying to win one game or one playoff series right now... Kyle Lowry still reigns supreme over Morant and several other up-and-comers. This is also not strictly about simply who had the better year. Did that weigh in? Of course. But it's not the end-all, be-all.
Got it? Great!
I've also filled out a table which includes every player ahead of each Raptor and the next player on the list.
Let's jump right into what I'm sure won't be controversial in the least...
Point Guard - Kyle Lowry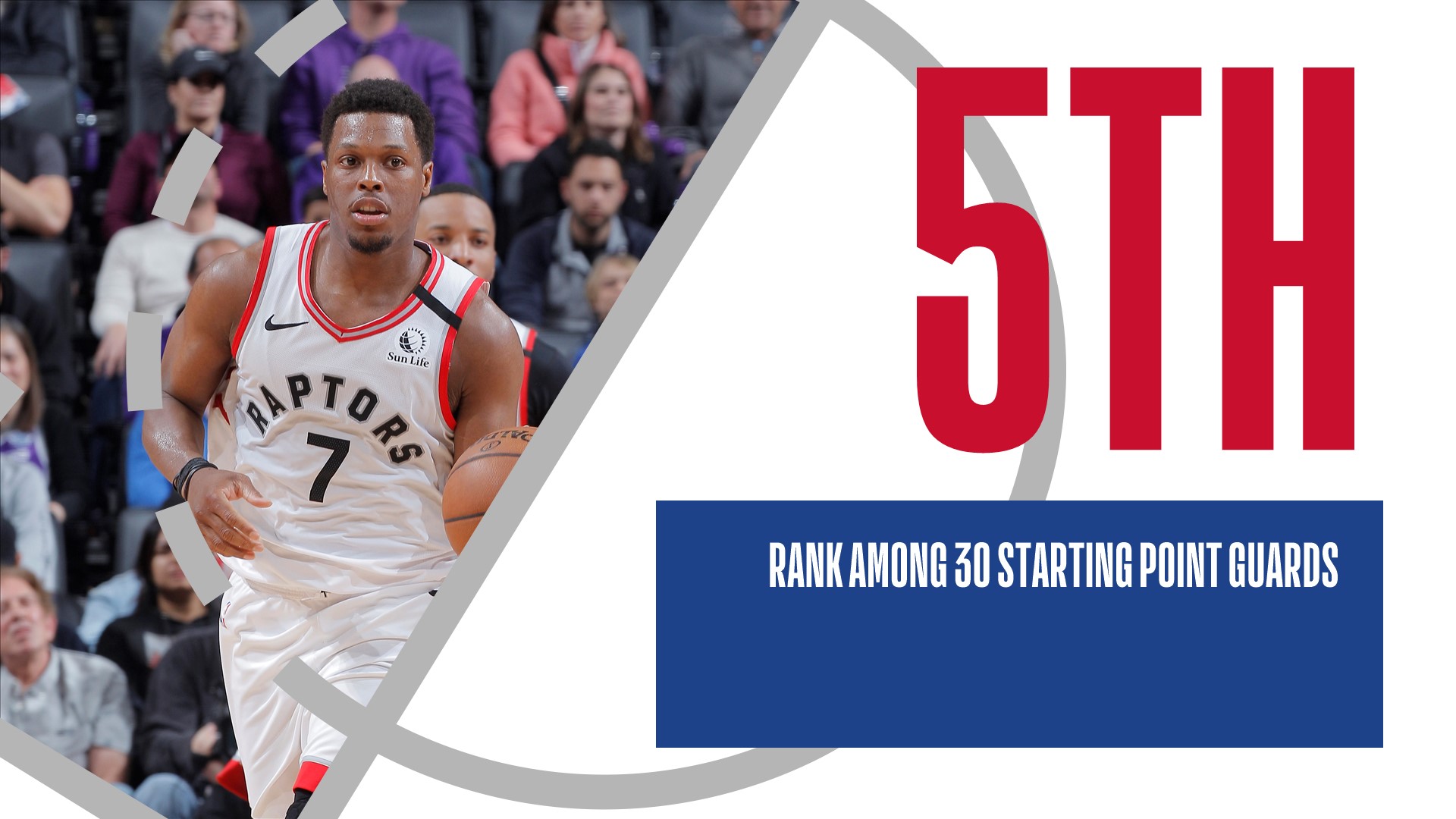 Point guard is perhaps the deepest position in the entire league as you can make a case that All-Star calibre players make up half of the NBA's pool of starters.
Ultimately, Lowry's strength as a two-way threat and experience as a big-game player catapulted him upto fifth in my eyes ahead of the likes of Ben Simmons, Kyrle Irving, Russell Westbrook, Kemba Walker, Malcolm Brogdon, De'Aaron Fox and Trae Young, among others. For my money, the only starting point guards ahead of Lowry in the point guard pecking order are Stephen Curry, Damian Lillard, Luka Doncic (he plays point guard in Dallas, I don't care what anyone says) and Chris Paul.
MORE: Why Kyle Lowry deserves an All-D spot
To me, there's a pretty clear top three after which Lowry is part of a deep tier that includes each of the aforementioned names.
Point guard and centre are eye of the beholder positions. For instance, could you make a case for Young as the NBA's fourth-best point guard? Absolutely. But I have him at 12th in part because we're still waiting on him to learn how to play a winning brand of basketball.
K-Low and CP3 fit into the same mould of player and although Mr. Raptor is coming off a championship, I'd probably take Paul if given the choice for one series at full strength.
Shooting Guard - Fred VanVleet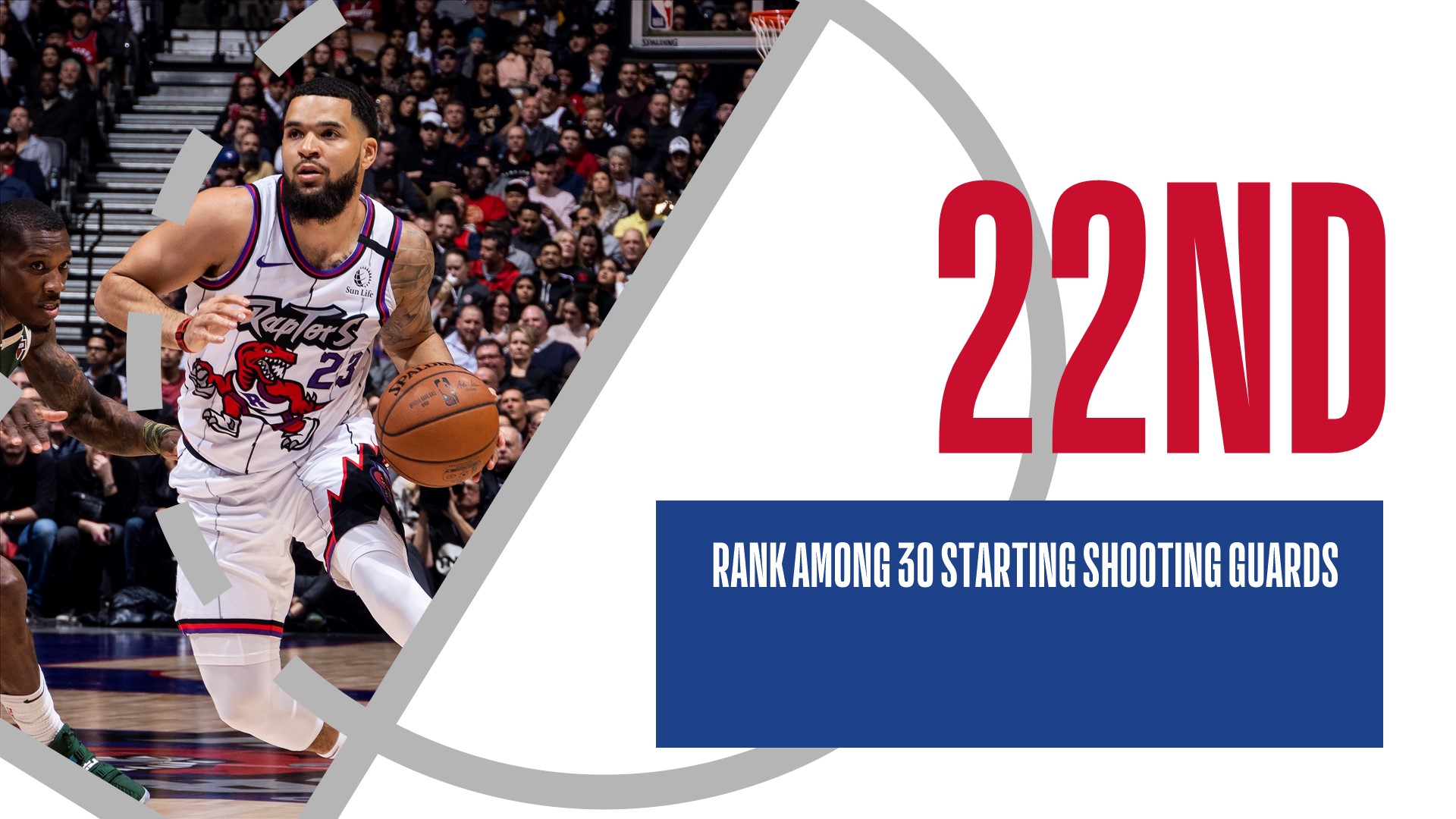 VanVleet isn't a shooting guard.
So let's just establish that right out of the gates. But he's played himself into that role with the Raptors thanks to a strong postseason performance, ability to stretch a defence and underrated play on the defensive end. Whenever he does get the opportunity to run his own team, VanVleet will step into the role as an above-average starting point guard from Day 1.
But for now, he slots in next to Lowry which means at 6'1" he gets to punch up a weight class and then some.
VanVleet sits in a tier of smallish twos that includes Seth Curry (19th), Gary Harris (20th), Malik Beasley (21st), DJ Augustin (23rd), Collin Sexton (24th) and Terry Rozier (25th). On any given day, VanVleet can outplay any of them and in a big spot - like perhaps, the NBA Finals? - there's a case to be made for Hubie Brown's 2019 Finals MVP selection to vault up a few spots. But he slots in here mostly due to his lack of size which does hold him back in some matchups.
Small Forward - OG Anunoby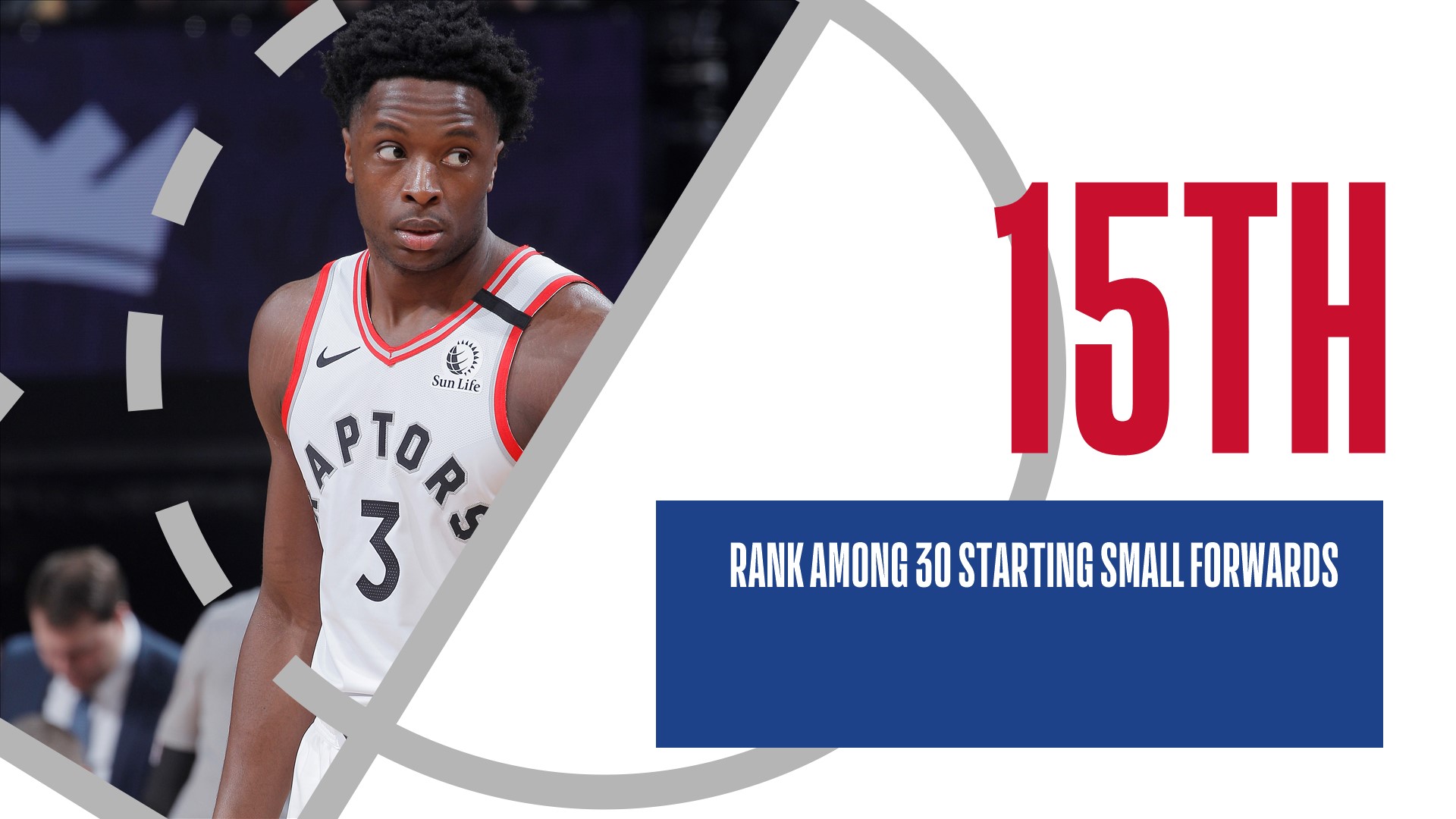 I struggled with where or how to place Anunoby more than any of the others.
On one hand, he plays the role asked of him perfectly fine. The Raptors ask Anunoby to guard the other team's top wing, to hit open shots and to fill in the gaps offensively while not really doing much on the ball. Although he's shown progress as a creator, the third-year forward more often than not operates as the fourth or fifth option whenever he's on the floor. He's an almost 40% shooter from beyond the arc and he should get some All-Defence love.
And yet there's something missing. For all of his 3-and-D glorification, Anunoby ranks outside of the top 40 at his own position in Real Plus-Minus which certainly isn't the end-all, but isn't exactly a ringing endorsement. Anunoby continues to trend upwards and he's gotten better every year. Perhaps with a bigger role he would shine in ways that have yet to come through. But for now, he ranks behind the likes of Andrew Wiggins (11th), T.J. Warren (12th), Otto Porter (13th) and Tim Hardaway Jr. (14th).
Top Small Forwards

| | | |
| --- | --- | --- |
| 1. | Kawhi Leonard | Clippers |
| 2. | LeBron James | Lakers |
| 3. | Jayson Tatum | Celtics |
| 4. | Jimmy Butler | Heat |
| 5. | Khris Middleton | Bucks |
| 6. | Brandon Ingram | Pelicans |
| 7. | Bojan Bogdanovic | Jazz |
| 8. | DeMar DeRozan | Spurs |
| 9. | Will Barton | Nuggets |
| 10. | Joe Harris | Nets |
| 11. | Andrew Wiggins | Warriors |
| 12. | T.J. Warren | Pacers |
| 13. | Otto Porter Jr. | Bulls |
| 14. | Tim Hardaway Jr. | Mavericks |
| 15. | OG Anunoby | Raptors |
| 16. | Mikal Bridges | Suns |
Power Forward - Pascal Siakam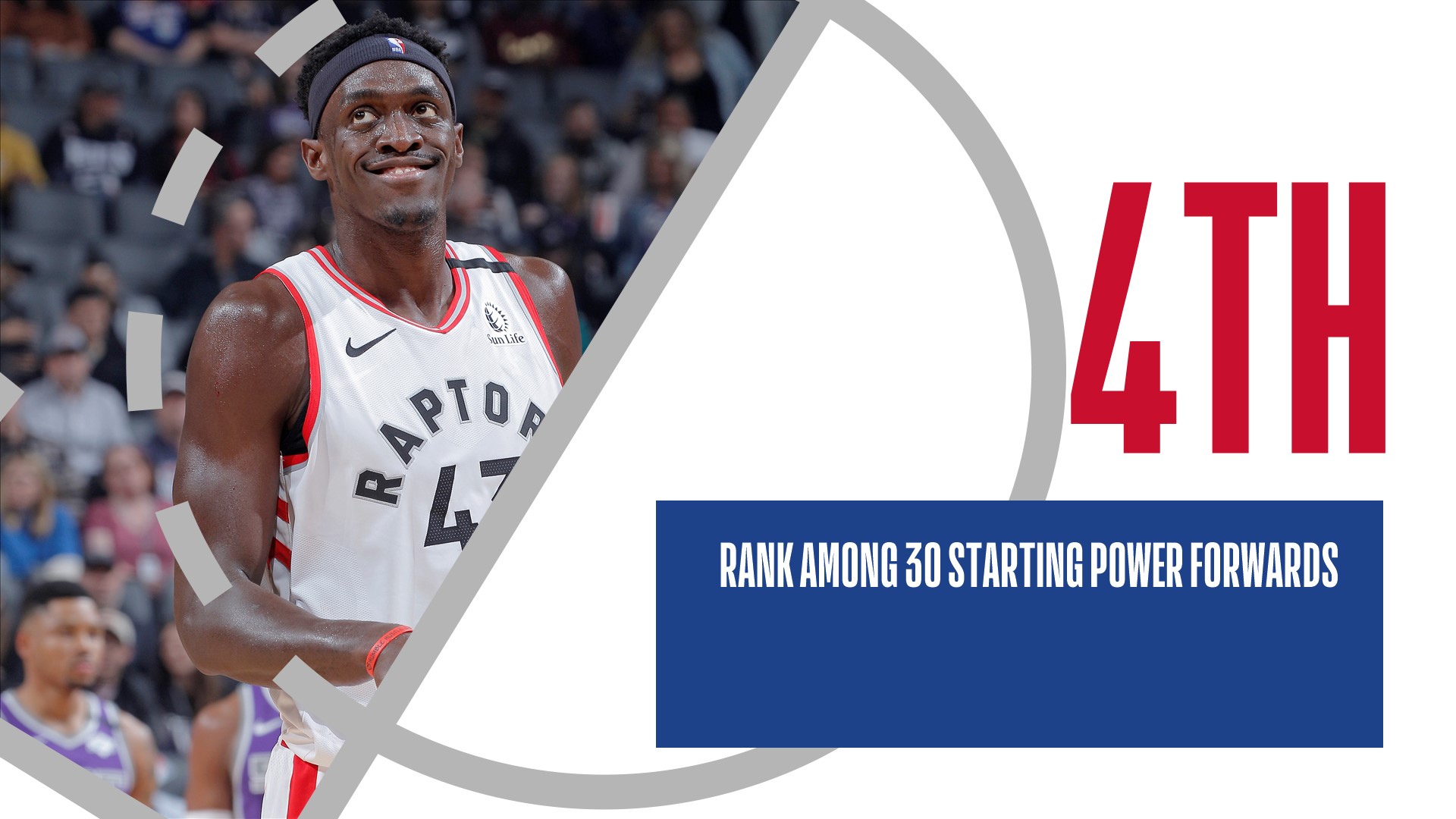 The top two are ironclad.
There's zero argument.
And then it gets tricky. Siakam, Zion Williamson, Domantas Sabonis, Blake Griffin (yes, still) and Draymond Green each enter the fray (I'm considering Bam Adebayo and LaMarcus Aldridge centres). Siakam started the All-Star Game and probably had the third-best overall season among them. He's a high impact two-way player who at times can shoulder the load as a No. 1 option even though Toronto does it by committee more than most.
The best days are in the rearview mirror for both Griffin and Green who warrant mention here more out of respect than out of realized production in 2020. And while I like Sabonis, I'm not quite sure he has the overall game-to-game impact of either Siakam or Williamson.
MORE: Let's talk about Zion's bad defence
Push comes to shove... I'm taking the high-flying rookie who demands full attention at all times. Even though Siakam is light years ahead of Williamson on the defensive end of the floor, the attention he commands offensively and the degree to which he changes the entire gameplan of other teams outweigh the amazingly solid and well-rounded play of Toronto's star forward.
Top Power Forwards

| | | |
| --- | --- | --- |
| 1. | Giannis Antetokounmpo | Bucks |
| 2. | Anthony Davis | Lakers |
| 3. | Zion Willamson | Pelicans |
| 4. | Pascal Siakam | Raptors |
| 5. | Domantas Sabonis | Pacers |
Centre - Marc Gasol
Gasol's a far better player than his overall stats might suggest. An amazingly brilliant defensive player and one of the best passing bigs in the game, there's not a team in the league who would pass up the opportunity to employ Gasol who doubles as a tremendous leader and lockerroom presence. He'll happily accept whatever role is asked of him and he's willingly adapted to a game that's increasingly perimeter-oriented.
Are there 12 centres I'd take ahead of Gasol to play the closing stretch of an NBA Finals game? Most certainly not.
But at this point in his career, it's fair to ask just how big of a role Gasol can carry from start to finish in any game or series. Each of the centres ranked ahead of Gasol with the exception of Brook Lopez (11th) log heavier minutes and are able to shoulder heavier burdens.
He's just behind a group that includes Myles Turner (8), Nikola Vucevic (9), Andre Drummond (10), Lopez and Clint Capela (12). Ultimately, I still ranked Gasol ahead of players like DeAndre Ayton, Steven Adams, Hassan Whiteside and Jonas Valanciunas, each of whom put up better numbers yet don't have the subtle impact of Big Spain.
Top Centres

| | | |
| --- | --- | --- |
| 1. | Nikola Jokic | Nuggets |
| 2. | Joel Embiid | 76ers |
| 3. | Karl-Anthony Towns | Timberwolves |
| 4. | Bam Adebayo | Heat |
| 5. | Rudy Gobert | Jazz |
| 6. | Kristaps Porzingis | Mavericks |
| 7. | LaMarcus Aldridge | Spurs |
| 8. | Myles Turner | Pacers |
| 9. | Nikola Vucevic | Magic |
| 10. | Andre Drummond | Pistons |
| 11. | Brook Lopez | Bucks |
| 12. | Clint Capela | Hawks |
| 13. | Marc Gasol | Raptors |
| 14. | Jonas Valanciunas | Grizzlies |
The views expressed here do not represent those of the NBA or its clubs.