First, Andre Drummond and Blake Griffin. Then, LaMarcus Aldridge. Now, P.J. Tucker.
On March 12, Houston Rockets head coach Stephen Silas revealed that Tucker and the franchise have agreed that he will no longer be with the team.
According to ESPN's Adrian Wojnarowski and Tim MacMahon, Tucker has "made it clear" that he'd prefer to sit out games until the Rockets find a deal for him ahead of the trade deadline on March 25.
With the NBA Trade Deadline inside of two weeks now -- and Houston losers of 14 straight games --- PJ Tucker has likely played his final game with the Rockets. https://t.co/k9vp3z4WX6

- Adrian Wojnarowski (@wojespn) March 12, 2021
Tucker is in the midst of one of the worst seasons of his career, averaging 4.4 points on 36.6 percent shooting from the field, but he's long been one of the league's most versatile defenders, as well as a knockdown shooter from the corners. He's the type of player who would fit in almost anywhere.
According to The Athletic's Shams Charania, "many of the league's contenders" are interested in Tucker, but which one needs him the most?
Let's take a closer look.
MORE: Six questions that will shape the trade deadline
Think of Tucker as a replacement for Jae Crowder, who started at power forward for the Heat in last season's run to the Finals. Tucker would fill an almost identical role, giving them a stretch four who can defend the likes of Ben Simmons and Giannis Antetokounmpo in a series.
Between Jimmy Butler, Bam Adebayo, Andre Iguodala and Tucker, the Heat would have the defensive versatility to match up with almost anyone in the Eastern Conference.
Who knows what it would take for the Heat to get Tucker - Bleacher Report's Jake Fischer reported that Houston has "posed" Miami trading Tyler Herro or Duncan Robinson for him, which wouldn't be worth it - but they wouldn't have a hard time matching his salary, as he's only on the books for $8.0 million this season. The Heat could build a package around Kelly Olynyk, Meyers Leonard or Avery Bradley, the incentive for the Rockets being an attached young player or draft pick.
One thing to keep in mind about Tucker is that he'll be an unrestricted free agent in the offseason. At the age of 35, he could be looking for one more big payday, so whichever team acquires him will have to be prepared to navigate his free agency.
In the same vein as the Heat, Tucker would make for a solid replacement for Jerami Grant, who left the Nuggets in the offseason for the Detroit Pistons. His defensive versatility would come in handy in the playoffs, as the Nuggets could face some combination of LeBron James, Anthony Davis, Kawhi Leonard, Paul George, Luka Doncic, DeMar DeRozan and Zion Williamson.
Even at this stage of his career, Tucker is better suited to defend those sorts of players than Paul Millsap or JaMychal Green are.
It would be even easier for the Nuggets to put together a deal for Tucker because they own a $9.5 million trade exception. They'd still have to part ways with something to make it worth Houston's while - again, the Rockets are almost certainly going to want a young player and/or a draft pick in return for Tucker - but it's one less obstacle to overcome.
If the Nuggets were to acquire Tucker, it's easy to imagine him complementing Jamal Murray and Nikola Jokic well on both ends of the court, much like how Grant did.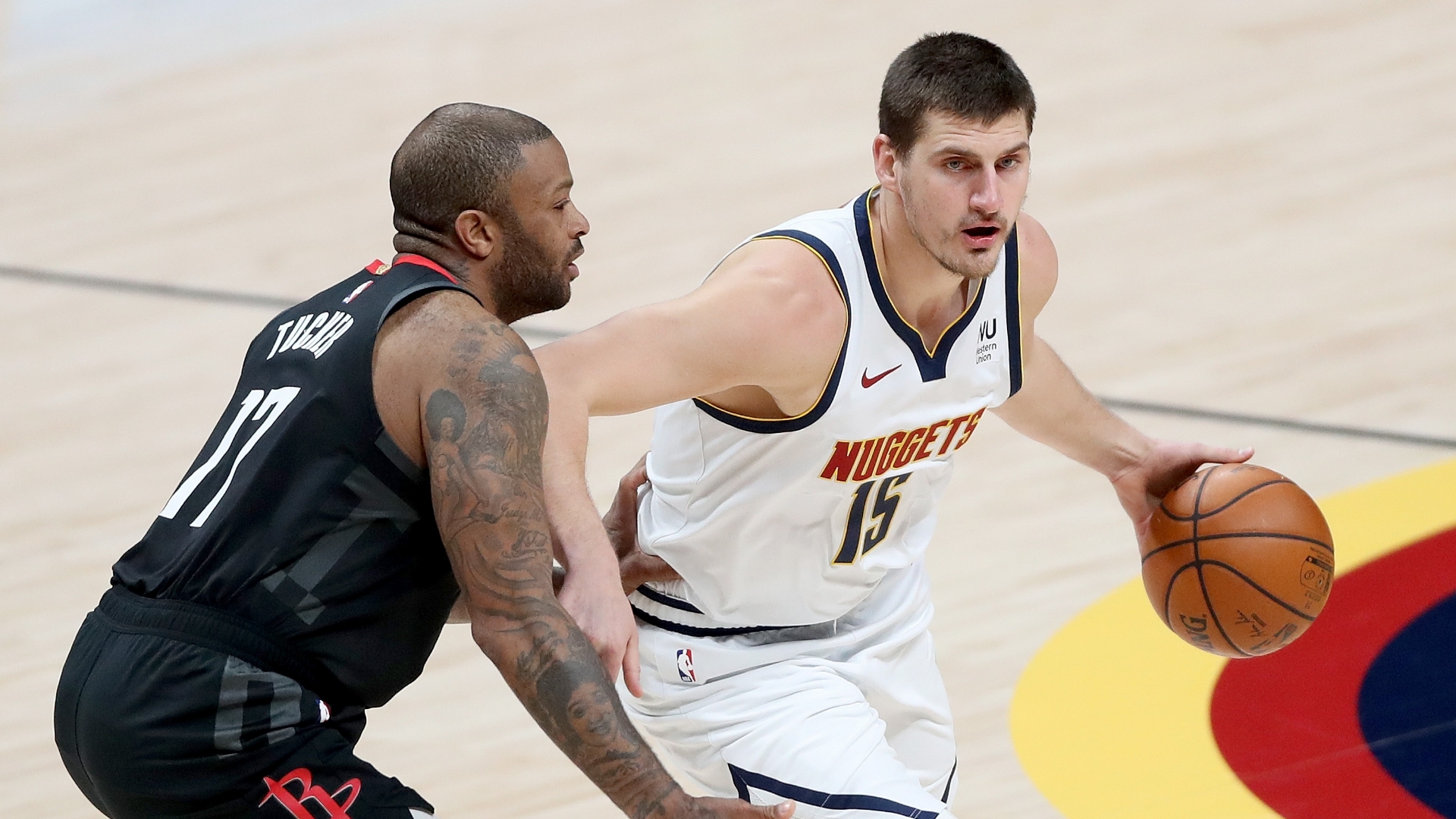 There are a few factors at play here.
One, Tucker would be a nice addition to Philadelphia's second unit, giving it a defensive-minded player off the bench who would work well next to Simmons and Joel Embiid, both in small ball lineups and traditional lineups.
Two, Tucker has a history with 76ers president of basketball operations Daryl Morey.
Three, acquiring Tucker would prevent another contender in the Eastern Conference from getting him, such as the Heat or Brooklyn Nets.
It helps that the 76ers have an $8.2 million trade exception, as well some intriguing young players and their 2021, 2022, 2023 and 2024 first-round picks. If they have interest in Tucker, they could put together an appealing package for him.
Brooklyn Nets
Ranking 25th in defensive efficiency, the Nets will be in the market for any defensive-minded player at this season's trade deadline.
Not only would Tucker take pressure off of Kyrie Irving, James Harden and Kevin Durant defensively, he'd be at home in Brooklyn's switch-heavy scheme. Additionally, Tucker has history with Harden and Nets assistant coach Mike D'Antoni.
If Tucker were to join the Nets, there would likely be little-to-no adjustment period.
MORE: Does Blake Griffin make the Nets better?
The barrier the Nets would face in making a deal for Tucker is matching his salary. Assuming that Joe Harris and DeAndre Jordan are off the table, their best options would be Spencer Dinwiddie or combining the salaries of Landry Shamet, Bruce Brown, Jeff Green and Tyler Johnson, the latter of which would gut their depth.
According to The Athletic's Shams Charania, several teams have pursued Dinwiddie in trade talks ahead of the deadline, but would the Nets be willing to give him up for Tucker and is he someone the Rockets would be interested in, knowing he could turn down his player option for the 2021-22 season to become an unrestricted free agent this offseason?
Honourable mention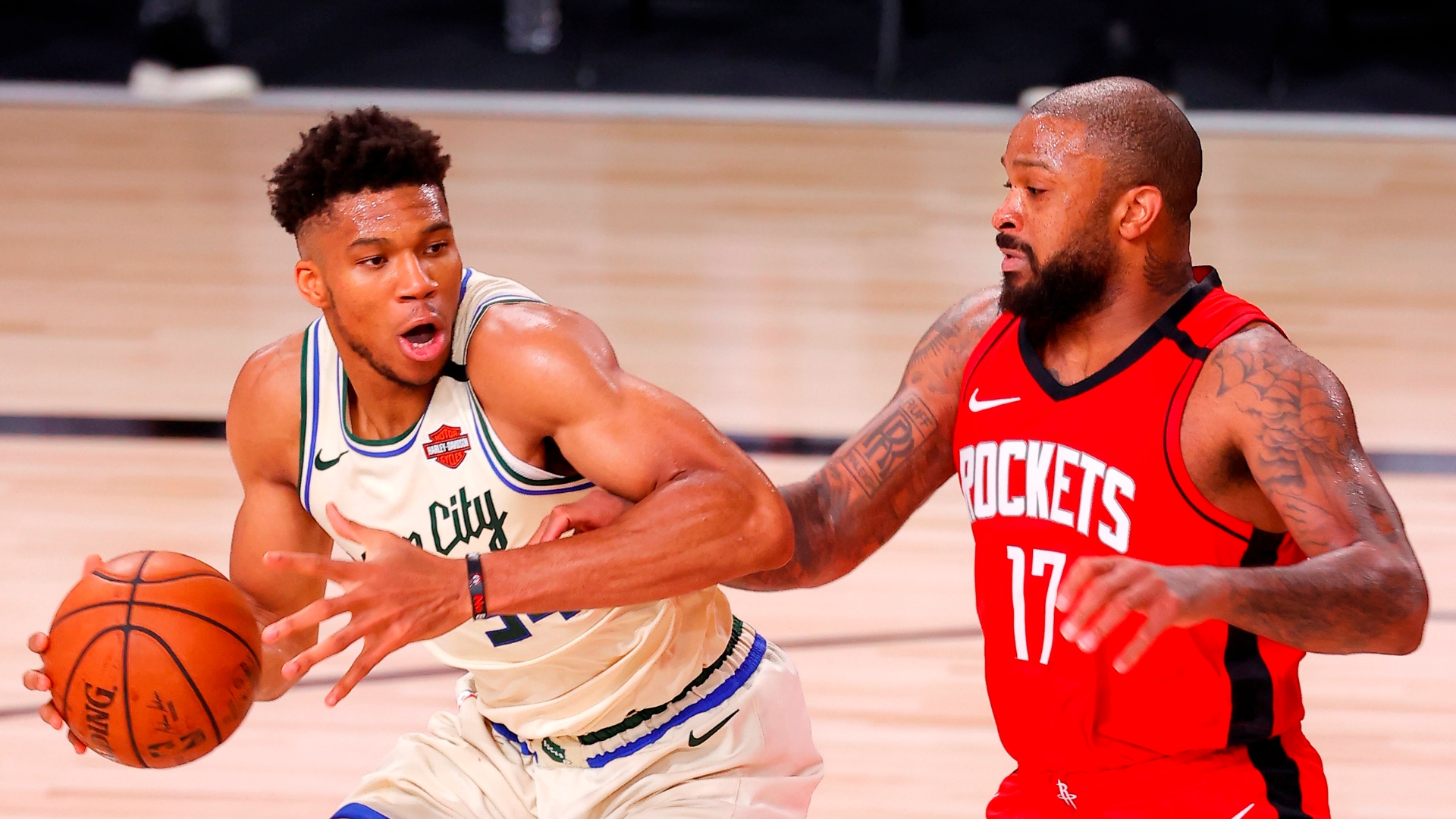 Milwaukee Bucks - Tucker would give the Bucks more switchability on defence and has the potential to thrive next to Giannis Antetokounmpo in smaller lineups.
Los Angeles Lakers - You can never have too much shooting or too many defenders around LeBron James and Anthony Davis.
Boston Celtics - Maybe not an option for their trade exception, but the Celtics have the assets to acquire Tucker without it. The combination of Marcus Smart, Jaylen Brown, Jayson Tatum and Tucker would be tough to score on.
Dallas Mavericks - Tucker would fit in like a glove next to Luka Doncic and Kristaps Porzingis. Like the Nuggets, his defensively versatility would come in handy in the playoffs.
The views on this page do not necessarily reflect the views of the NBA or its clubs.