Welcome to "One Play!" Throughout the 2020-21 NBA season, our NBA.com Staff will break down certain possessions from certain games and peel back the curtains to reveal its bigger meaning.
Today, Atlanta Hawks star Trae Young takes the spotlight.
Context: Trae Young does it again.
In Game 1 of Atlanta's second-round series with the Philadelphia 76ers, Young led the Hawks to victory with 35 points and 10 assists. The 76ers were able to make life more difficult for him in Games 2 and 3, both of which resulted in wins for Philadelphia, but Young helped the Hawks tie the series up at 2-2 by dishing out a career-best 18 assists in Game 4. He then followed that up with a 39-point outing in Game 5, marking a new playoff career high.
Led by Young's 29.6 points and 10.8 assists per game, the Hawks now hold a 3-2 lead over the 76ers, putting them one win away from their first Eastern Conference Finals appearance since 2014-15.
There are many facets to Young's game that make him such a tough cover, even for a team that has not one, not two, but three players who made an All-Defensive Team this season, but the part that's giving the 76ers the most trouble in this series is his floater.
You know what that means - to the film room!
The play:
Breakdown: Trailing 104-100 with 2:22 remaining in the game, Young brings the ball up the court following a shot clock violation from the 76ers.
Sharing the court with Young are Lou Williams, Danilo Gallinari, John Collins and Clint Capela. Collins parks himself in the left corner and Capela makes his way to the dunker spot while Gallinari and Williams meet near the elbow on the opposite side of the court to Young.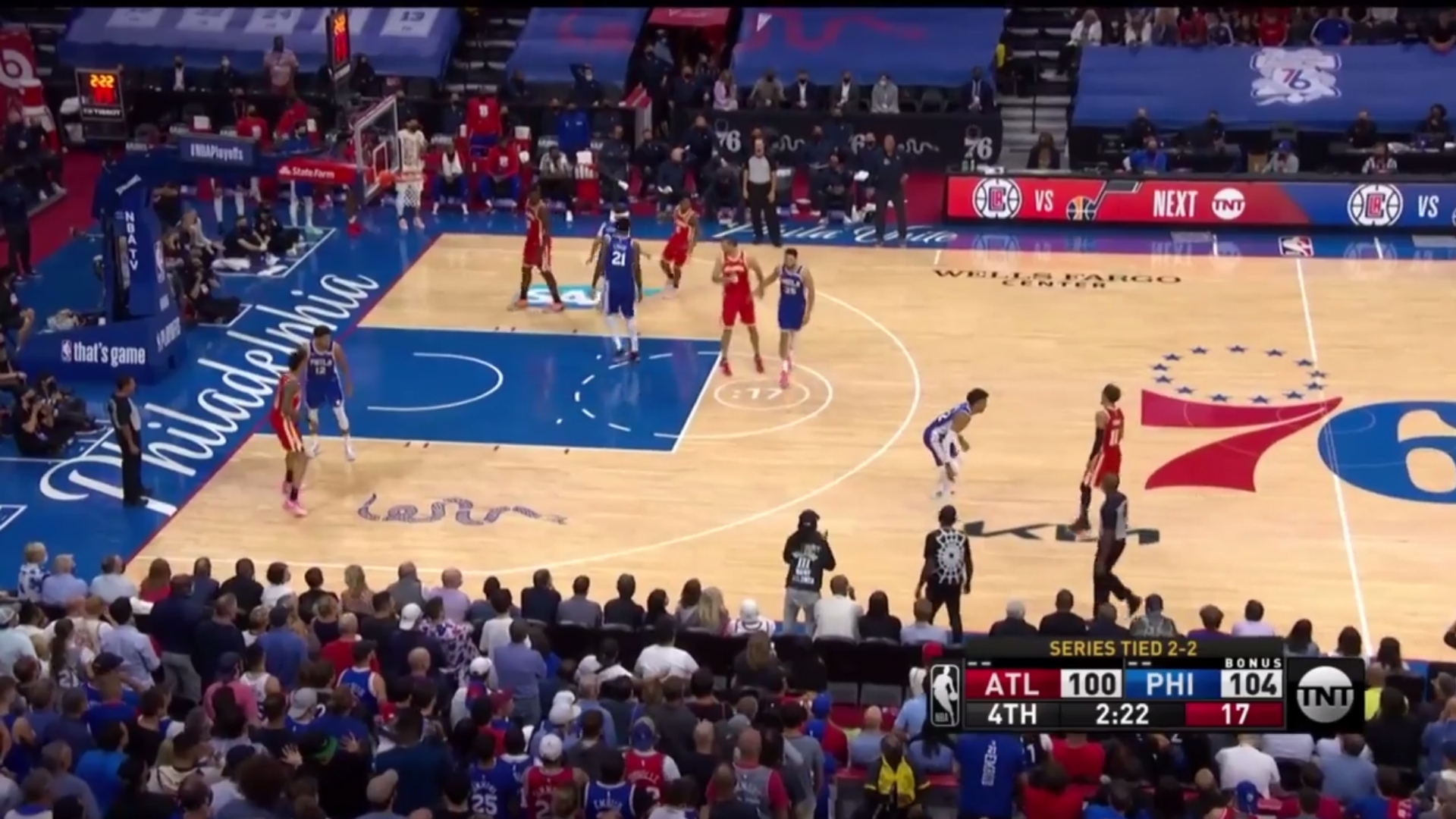 This is where things get interesting.
Gallinari moves towards Williams to set a down screen, but there seems to be some confusion between the two of them. Take your guess as to what the play was supposed to be, but it looks like it was for Gallinari and Williams to set a double screen for Young.
At least, that's what Williams appears to be signaling.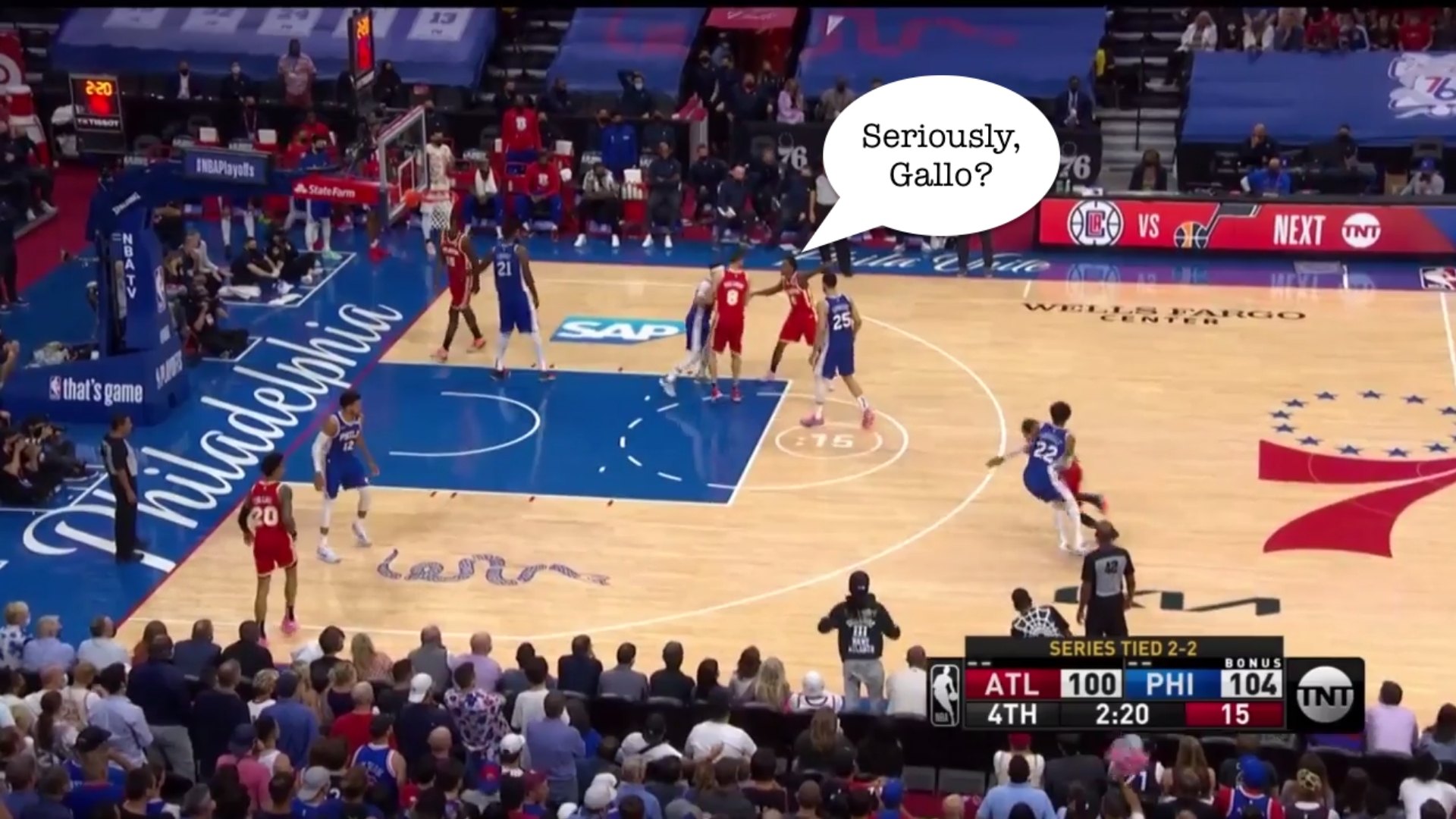 Instead of waiting for Williams and Gallinari to get on the same page, Young takes matters into his own hands.
Young blows by Matisse Thybulle and picks up his dribble around the free throw line. With Ben Simmons and Seth Curry caught up in whatever is going on between Gallinari and Williams, Philadelphia's only hope of stopping Young from getting a bucket is Joel Embiid, a 7-foot center who is one of the league's best rim protectors.
The problem? Embiid is a step slow in his rotation.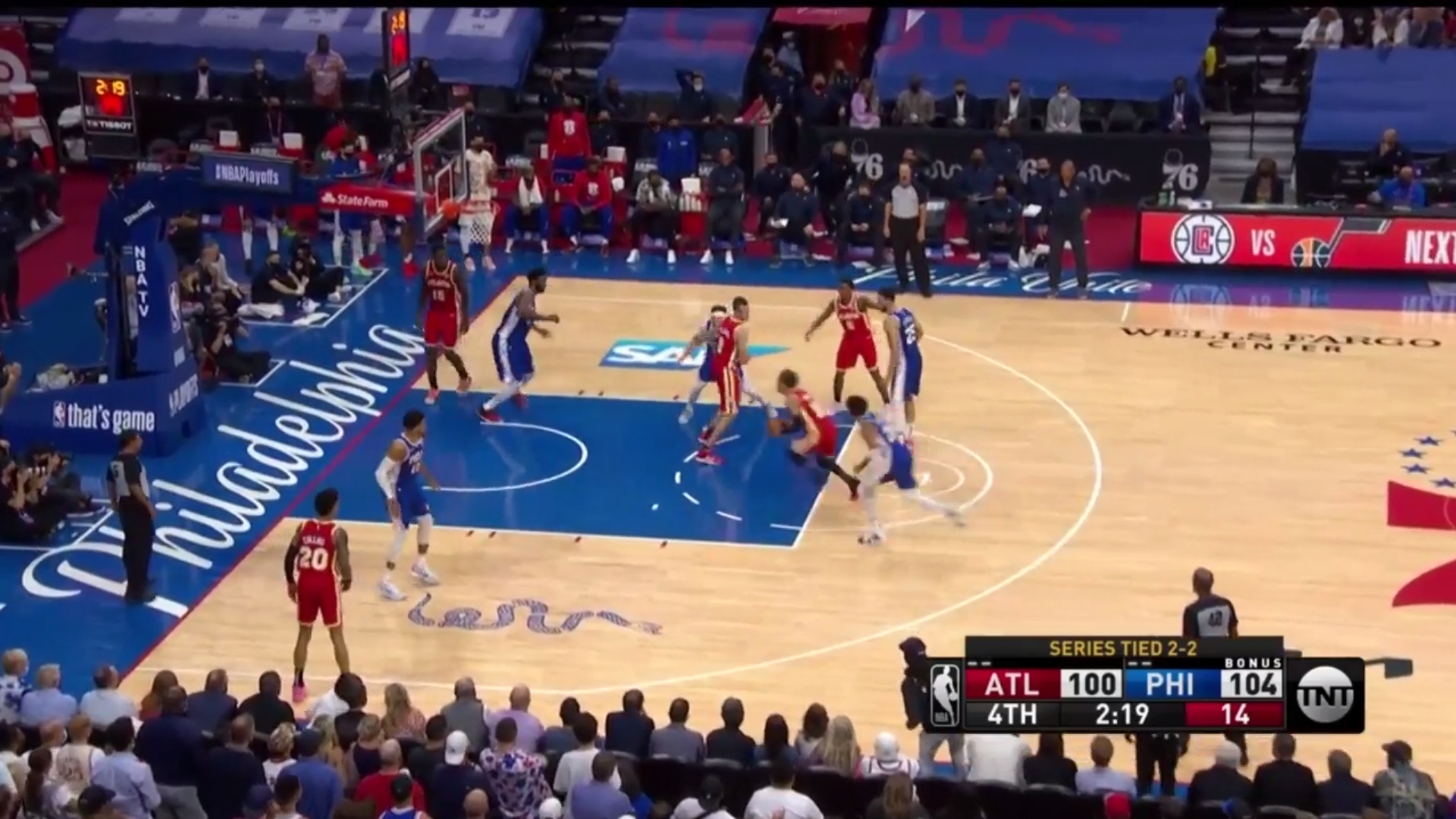 Rather than challenging Embiid at the rim for what should be obvious reasons - Young is, uhh, at quite a size disadvantage - he rises up at the dotted line and is able to get his shot off before Embiid can even think about leaving the ground to contest.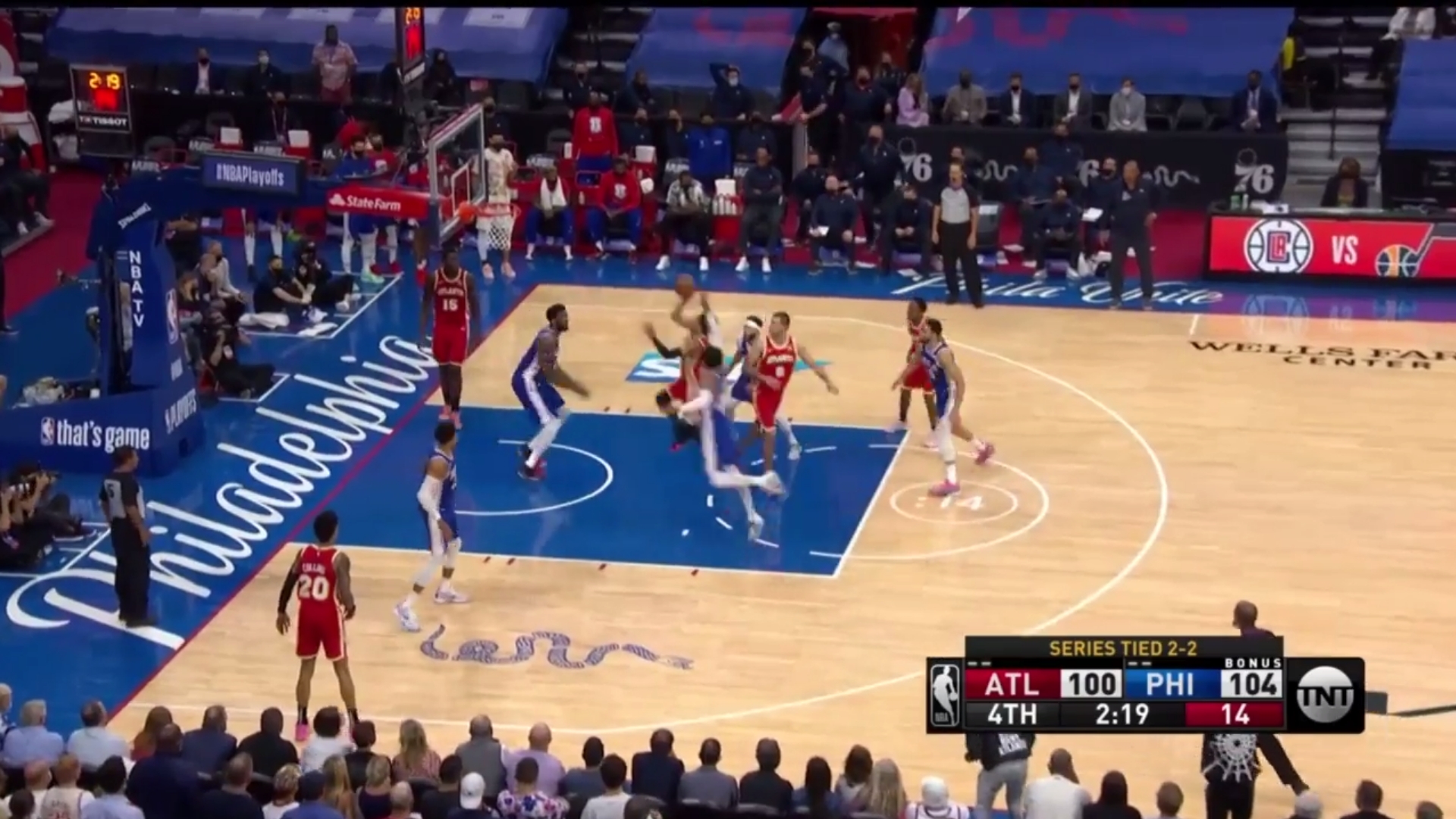 Young's floater bounces in, cutting Philadelphia's lead to two points with 2:17 to go.
Why it matters: For a couple of reasons.
One, Young might have the best floater in the game today. According to ESPN's Kirk Goldsberry, Young attempted a total of 252 floaters in the regular season, which was the most in the league by a long shot. (Nobody else in the league attempted even 200 floaters, believe it or not). Not only that, but Young converted them at a 45.6 percent clip, making him one of most efficient scorers at his position from floater range.
Of the 10 field goals Young made in Atlanta's Game 5 win over Philadelphia, four were floaters. And all four of those floaters came against Embiid.
Standing at a slight 6-foot-1 and 180 pounds, Young's floater helps him finish among the trees.
Two, there's more defenders have to worry about than Young rising up for a silky smooth floater in those situations.
Remember how Embiid was a step slow in his rotation on the first play? There could've been a few reasons for that - not seeing the ball and being fatigued, to name a couple - but it doesn't help that the player Embiid is defending, Capela, is hanging out in the dunker spot. Had Embiid stepped an inch or two higher or left the ground, it would've put him at risk of Young throwing a lob to Capela.
Not a single one of Young's seven assists from Game 5 went to Capela, but the two have established that alley-oop threat time...
...and time again in this series.
Reminder: Capela was on the receiving end of 136 assists from Young during the regular season. According to PBP Stats, only four players in the entire league received more assists from a single teammate, one of whom was Collins, who received 141 assists from Young. (That's right, Young was a part of two of the highest assist combinations this season). You best believe those alley-oops are on the scouting report.
The fun part? Young plays mind games with defenders like James Harden does by disguising a lot of his floaters as passes and a lot of his passes as floaters. It's almost as though he waits until the last possible second to decide what he's going to do.
Let's play this game again. Based on this image, do you think Young shoots a floater or lobs it to Capela?
The answer...
What about this one: Young floater or Capela alley-oop?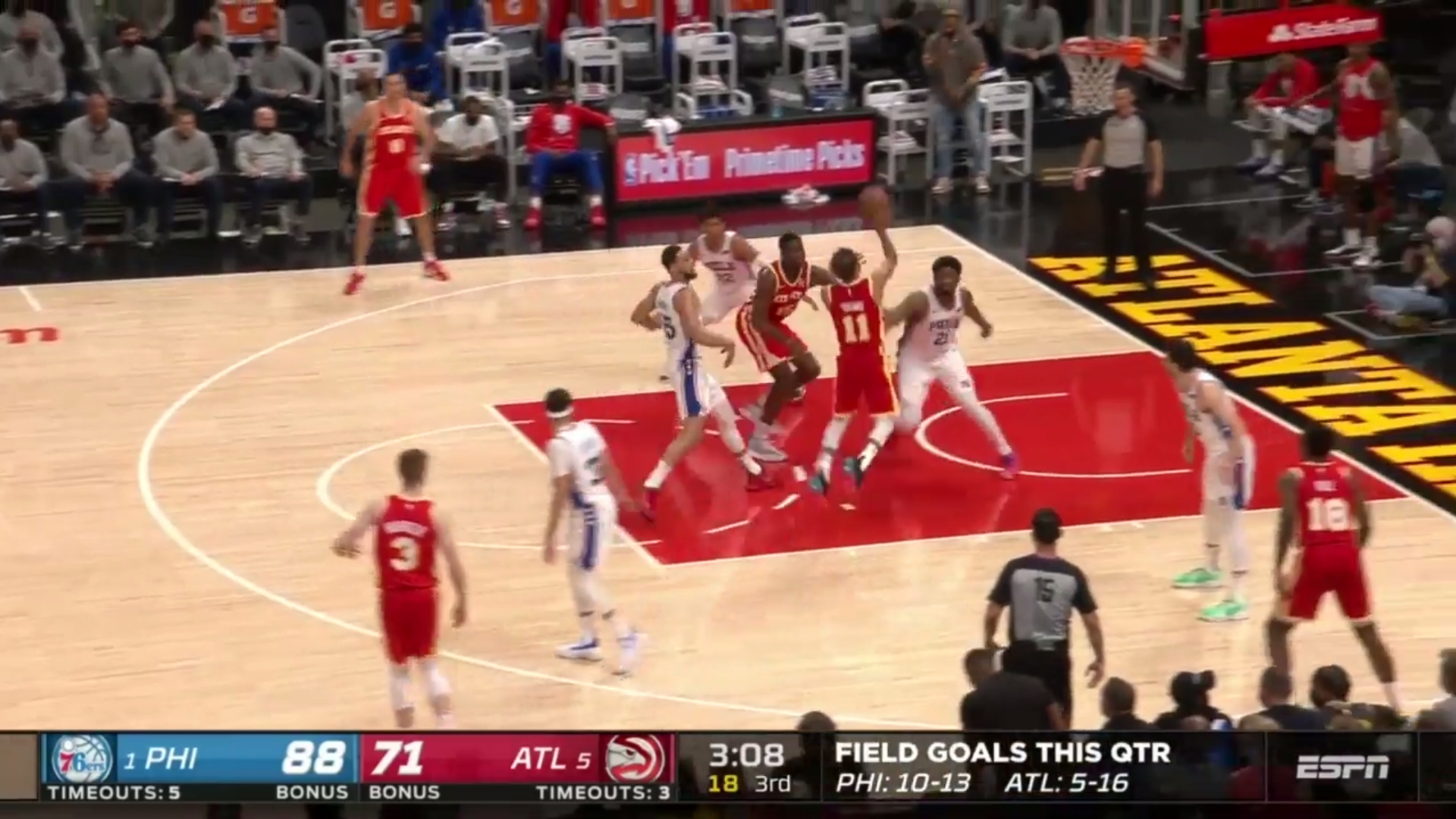 The answer...
Last one: Young floater or Capela alley-oop?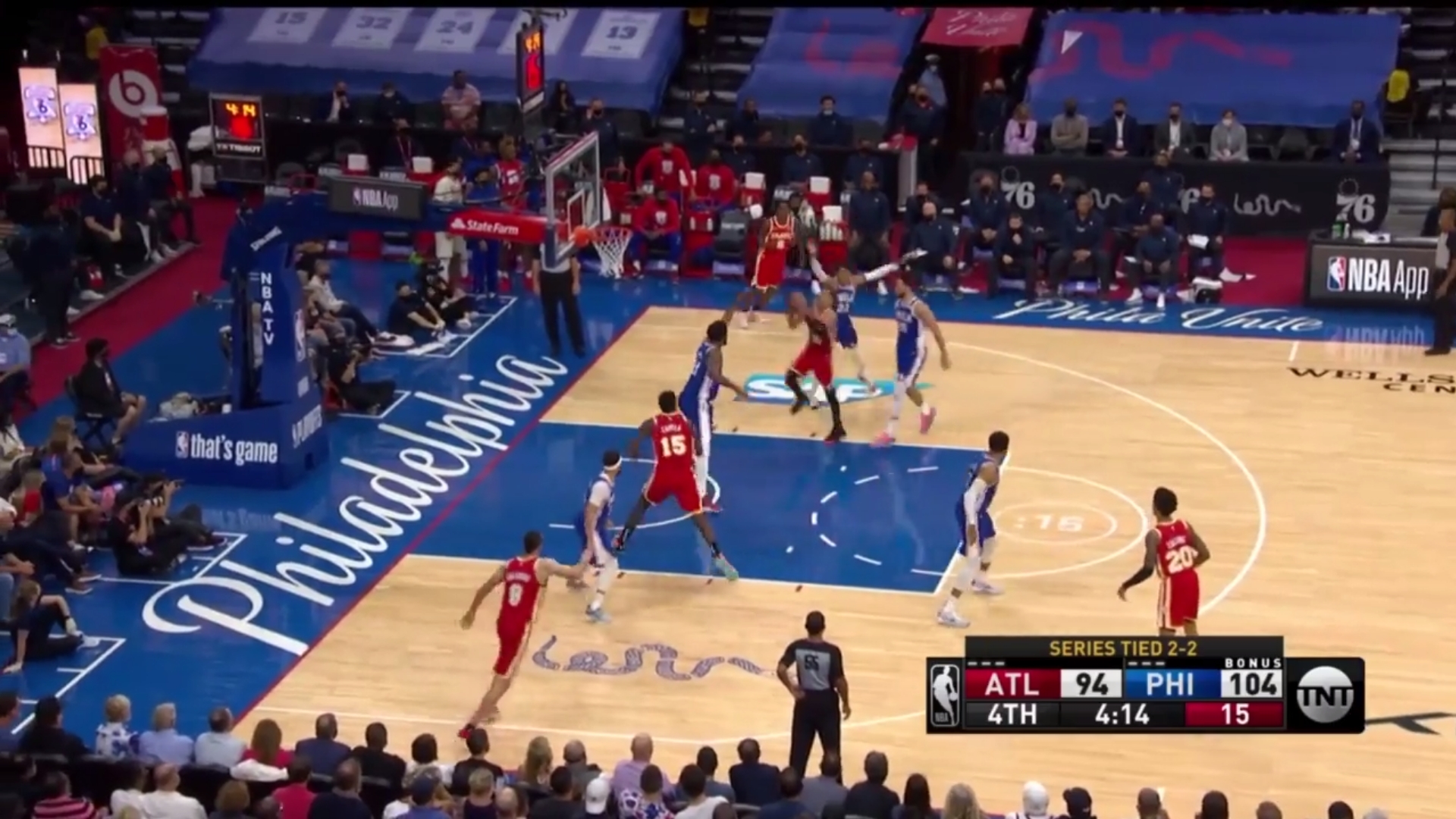 OK, I cheated - Young makes a layup, not a floater - but the point remains.
Pretty difficult, huh? Just imagine trying to figure it out in the 46th minute of game that's going down to the wire on a semi-broken play.
Now you know how Embiid and the 76ers felt at the end of Game 5.
The views on this page do not necessarily reflect the views of the NBA or its clubs.